BOSS PSA-230ES Power Supply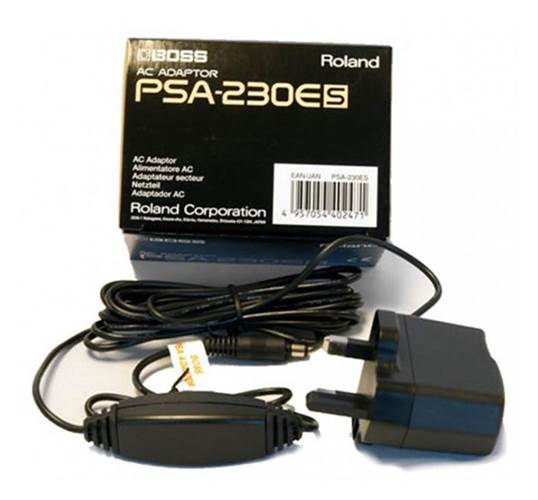 £25.00
Order now for Delivery on Friday
3-Year Warranty Included
We're the 1st, and only, UK guitar retailer to offer a 3-year warranty as standard. Buy with confidence today. Learn More
Delivery on Friday
With 1 hour Delivery slot
---
Click & Collect
Live Stock levels from all our stores.
Store
Availability
Edinburgh
In Stock, Collect Today
Glasgow
In Stock, Collect Today
Newcastle
In Stock, Collect Today
Birmingham
In Stock, Collect Today
Epsom
In Stock, Collect Today
Camden
In Stock, Collect Today
Frequently Bought Together
Manufacturer's ID: Boss PSA-230ES
What we say:
The only official choice for powering your BOSS compact pedal instead of constantly buying batteries! Here's a tip: if you already have a TU-3 tuner, buy one of these adaptors and a daisy chain cable: you can use the PSA and tuner as a power supply for a good number of extra Boss pedals! It's a great little life-hack from us to you.
Certain pedals like the DS-1 can go for absolutely ages without requiring a battery change whereas others like the DD-7 or the BF-3 seem to drink them dry in minutes! If you find this occurring to you, it may be a good time to invest in a BOSS PSA.
Specification

9V AC adaptor perfect for Boss compacts. Replaces the Boss PSA-240.
Input: 230v - 50Hz
Output: 9v - 200mA
Center negative 9v power supply suitable for all Boss compact pedals and many other Guitar and Bass effects. Made by the Kings of Guitar FX - Roland Boss.
Boss PSA230ES now includes a built in output current protection circuit!
Customer reviews
Overall Rating 4.9 (

87

reviews)
Purchased so no need to keep buying AA batteries
Works great with my boss Gt1 effects pedal
Good service, kept me informed
The Boss Psa 230 ES adapters are just what I?m lookin for. I thought about a big power supply like cioks or it?s like but this suits me just fine for my level, it?s nice & silent & a big step up from what I had before so no complaints?.just enjoying my pedals a lot more now.
Boss power supply you can't go wrong..
Great product price and service thanks
Super Clean Power! As described
its made by boss for boss a little more expensive but does what its to do.
A good quality product and reasonably priced.
I would say they have too many guitar pedal in the shop but there is no such things as too many
works! Thanks for recommending to me Andy and Nick.
It's a power supply and it works - all you need to know!
its a power supply should be with product rather than sold separately
Exactly what it says. Good quality equipment
Dirs the job, what else can I say about a PSU?
It works, nothing more to add.
does what it says, power on !
It?s a plug, it works. It has a light... quite expensive but you can trust it not to let you down I guess!
Can't fault their service.
excellent service. product as described and delivered next day
excellent product at a great price!
As advertised, works well
Does what it says on the box
Top quality product works better a cheaper alternative Splash out used with SPD one
First class service as always.
Great people to deal with.
Usual quality from Boss, I bought a second from Guitar guitar a few days later
Does the job, what else can I say.
excellent goods would order again
They were brilliant and SO helpful guiding us through buying busking equipment for our grandaughter. We were clueless and they could not have been more helpful. Highly recommend them. Our grandaughter will be so thrilled on Christmas Day - thanks to them.
Absolutely fantastic all-round
Its a good pedal and plays well has great sound
Does what it says it will!
It arrived; and it works!
Received what i ordered. Quick delivery - price good.
Helpful staff good stock apart from left handed guitars
Does what it should, not much else to report
Does what it says on the tin.
Quick and efficient service. Goods as described.
Just exactly what I wanted. In the past I have bought quite a few items from Edinburgh Gibson ES 335, 2fender Strats,Taylor 12 string,Fender Tele,Shure mic,,Laney amp, Boss Harmoniser,and various other odds and ends. Never had any problems with any purchases and been treated well. Would recommend GuitarGuitar to anybody
Does what it?s suppose to...
Does the job well, and great service
Great service and product. :)
Quality merchandise, just as expected.. :)
What you'd expect from BOSS. Top!
A must have to go with the me80
It`s a power adaptor and it works - what can you say?!
great psu works great and very quiet well worth the money
Purchased a Boss 9V DC power supply to power my EarthQuaker Devices Grand Orbiter pedal, which otherwise had no battery power option. Have been impressed with the clean sound of the pedal, no cut outs or noise from the power supply.
its good and matches the description
Saves battery changes. Excellent boss product.
As usual an excellent product
Excellent item, sounds perfectly
Show more reviews
You might also be interested in...
Keep up with our latest offers, news & events