£739.00
Available to Order
Place your order today and we will email you when we have an estimated delivery date.
3-Year Warranty Included
We're the 1st, and only, UK guitar retailer to offer a 3-year warranty as standard. Buy with confidence today. Learn More
Frequently Bought Together
Manufacturer's ID: 052292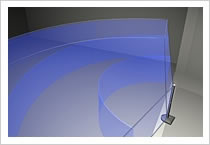 More than just a new type of loudspeaker, L1 portable line array systems provide a completely different approach to live sound. Using proprietary Bose technology, L1 systems combine PA and monitors into a single, highly portable unit that can be positioned behind or to the side of individuals onstage. This novel approach to amplification helps eliminate most of the issues with conventional PA systems—including excessive reverberation and extreme volume on and near the stage.
Specification
Spatial Dispersion™ loudspeaker technology
features six small drivers mounted at precise angles inside a slim, vertical enclosure. This proprietary Bose technology delivers nearly 180 degrees of horizontal sound coverage. Sound remains consistent even at extreme sides of the system.
Integrated mixer
in the power stand provides one microphone XLR input on channel 1; channel 2 has one instrument input, one RCA stereo input and one 1/8" stereo input. Both channels have two-stage clip lights, volume controls and a customized ToneMatch preset. Rear panel has one 1/4" balanced line output and one RCA stereo output.
Bose® Spatial Dispersion™ loudspeaker technology delivers sound evenly across the stage and throughout the audience—even to the extreme sides
Two ToneMatch® channels with fixed presets for a handheld microphone and an acoustic guitar
Integrated bass speaker in power stand
Two setup positions: collapsed for smaller spaces or extended for larger ones
Ideal for musical performances, mobile DJs, classrooms, business presentations and other events