Roland RH-5 Stereo Headphones (Ex-Demo)
Ex-Demo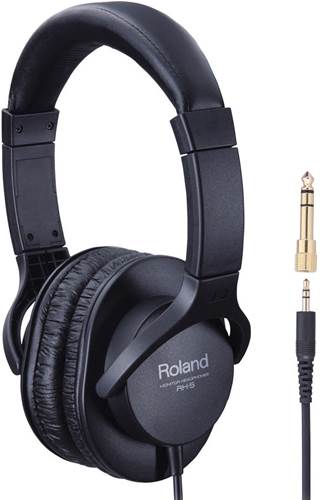 This product is no longer available.
This has replaced it: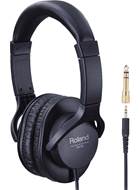 In Stock
Customer reviews
Overall Rating 4.7/5 (

90

reviews)
Bought these to replace my previous pair that have given over 10 years good service Really comfortable, great sound and amazing value
Good quality headphones suitable for monitoring live mixes in a relatively simple set-up at a competitive price.
Really happy with everything I have ordered from guitar guitar.
Comfortable and clear sound
Good quality sound, reasonable price
Good piece of kit, not quite soundproof but close
I was really happy wit it
Very pleased with the Headphones good value
Christopher B. - 25/6/2021
Great sound at a good price
Good quality sound for decent price.
Bought to use with electric drum kit. Nice long lead and good sound
A good pair of headphones for the price.
There very comfortable on my ears
For the price point they sound good and are of good build quality
Early days but pleased so far. Good sound quality for an inexpensive product. Build a little 'lightweight' but again, not an expensive model.
They are a good comfortable headphone
Christopher R. - 9/12/2020
Have been using ancient phones. For the price these are great quality. Love the long lead!
They do exactly what they say
These headphones are more than good enough for my needs. As a novice and just starting out with guitar they are spot on! Excellent value for money and a great name too.
Very good quality item. very pleased
For the price good value happy with product however it is early days
Does exactly what is expected
Good sounding headphones.
For the price point, these are decent monitoring headphones. Bought a second set.
Great sound quality for the price.
For the price, these are surprisingly good monitoring headphones. Highly recommended. I'll be purchasing a second set.
As above, Roland quality is excellent, and so affordable.
Excellent quality for the price. Easily adjustable, comfortable with a good length of cable. My dad loves them.
Comfortable and nice to look at. Sound decent.
Great value for money - they sound great, look really sturdy, and the cord is long enough to allow lots of flexibility
Very good service with a knowledgeable person at the end of the phone to help me with my purchase.
Very clear sound and comfy.
Very happy good quality!!
I did not realise that these headphones had no separate volume control etc which was disappointing so the volume can be quite low when listening via my laptop.
They do the job - no issues here!
Grat sound quality for the price.
Heaphones are comfortable and the sound is good
Supplied a quality product at a competitive price. Fast delivery and I would recommend.
Comfortable with great sound could do with being slightly louder but that may be the output from keyboard
Headphones are great and well priced. Very good sound and perfect for what I needed.
excellent service. product as described and delivered next day
Good product. The wife can?t hear me when I sneak off to practice!
Good sound quality and more robust than many headphones. Great for the price
Great sound, and very comfortable....
Excellent Will Use Tou Again
I've tried cheaper headphones before and the difference between those and these (inexpensive) ones is massive! Clear, accurate sound. Very comfortable. Well made. Only a little more in price but so worth it.
Great sound for what I wanted them for. They fit well on my head
Fine for what I want them for and comfortable to wear.
Excellent for the price, just as good as more expensive ones.
product was just what we wanted at a great price
Good headphones for the price
Simple and straight forward, super quick delivery
Having bought numerous products, including a BC Rich Mockingbird, I have to say they have always in top working conditions with no faults to report of.
Great sounding headphones
The earphones are fine. Perhaps the amp is too good. I've had it since Christmas and still haven't found out everything it can do.
Show more reviews
You might also be interested in...
Keep up with our latest offers, news & events