Roland LX706-DR Digital Piano ...
£2,899.00 In Stock
FREE Delivery on Friday
Click and Collect available
Roland LX706-DR Digital Piano - Dark Rosewood
Manufacturer's ID: LX706-DR
The high-end home piano with six-speaker system, grand tone and ambience effects
Specification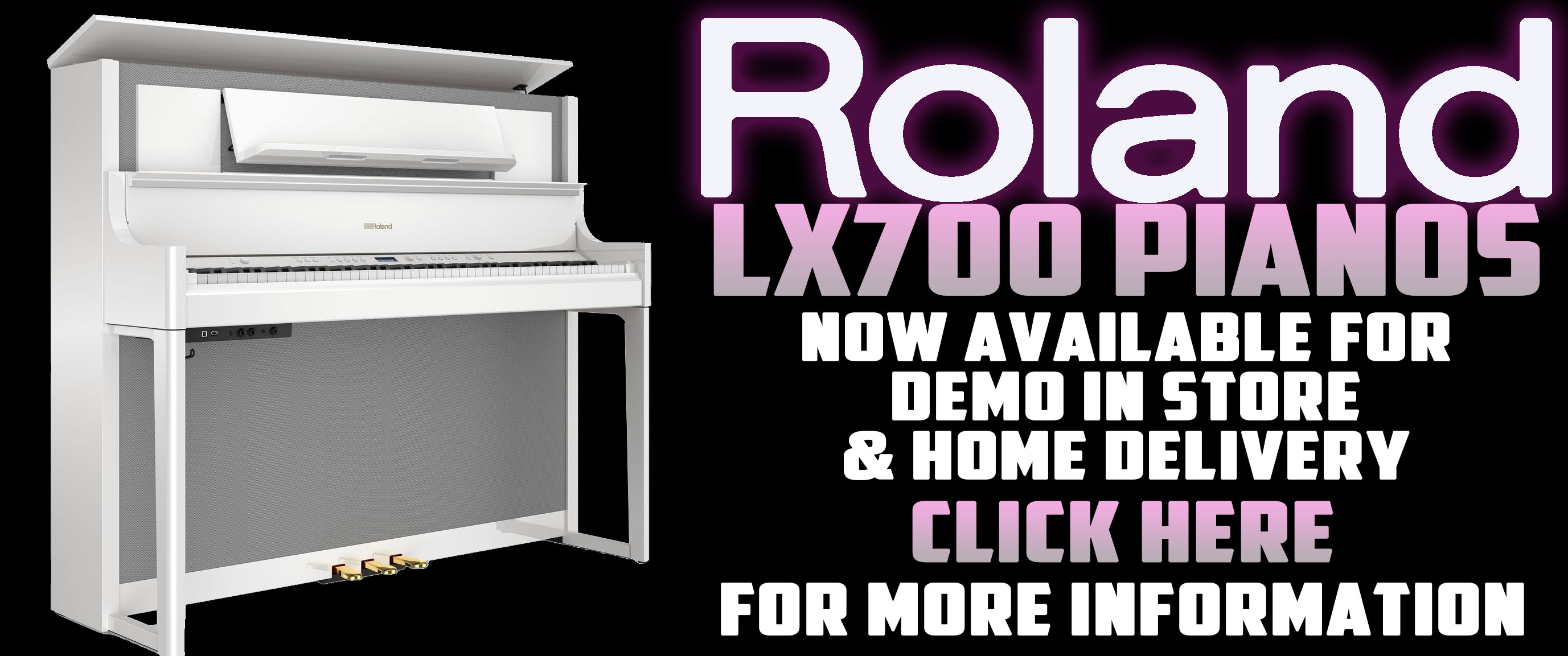 For players investigating the Roland LX700 series and looking for the right balance between features and price, the LX706 demands a closer look. Designed for discerning pianists, the LX706 sits at the mid-point of the LX700 range, recreating the classic performance of an acoustic grand in a home-friendly format. Just like the flagship LX708 model, you'll find a choice of authentic piano tones and onboard ambience technology, plus a dynamic Hybrid Grand Keyboard to spark your creativity. But with a more compact cabinet, closed-lid design and six-speaker system, the LX706 matches its pro-level performance with a budget-conscious price.
Compact cabinet design that invites you to play
With its shorter cabinet height and closed-lid format, this sleek model is ideal for players who can't spare the space for the taller LX708. The clean lines and lustrous finish instantly catch the eye, while closer inspection reveals the signature build features that make the LX series so enticing. Traditional and timeless – but with a twist – the LX706 is an instrument that complements your living space without dominating it. Available in polished ebony, dark rosewood and charcoal.
Three-way, six-speaker system for room-filling sound
With a more streamlined take on the LX708's Acoustic Projection System, the LX706 is still powerful and flexible enough for any musical scenario, with a three-way, six-speaker layout. Each of the three pairs of speakers are optimised to deliver superior sound reproduction across the piano's dynamic range – even down to the noise as the hammers strike the strings, or the resonance of the cabinet as the sound reverberates through the piano's body. Whether playing or streaming, you'll hear your music with crystal-clear clarity.
What's In The Box
LX706 Piano top and cabinet
Owner's Manual
Leaflet "USING THE UNIT SAFELY"
"Roland Piano Masterpieces" Book
Power Supply
Size + Weight
Width: 1,383 mm/54-1/2 inches
Depth: 493 mm/19-7/16 inches
Height: 1,118 mm/44-1/16 inches
Weight: 96.5 kg/212 lbs 12 oz
£2,899.00
Order now for FREE Delivery on Friday
Includes extended exchange
Buy with confidence: Items bought 1st October 2019 to 24th December 2019 are eligible for our Extended Christmas Exchange and can be exchanged until Friday 31st January 2020. Learn More