Zoom H3-VR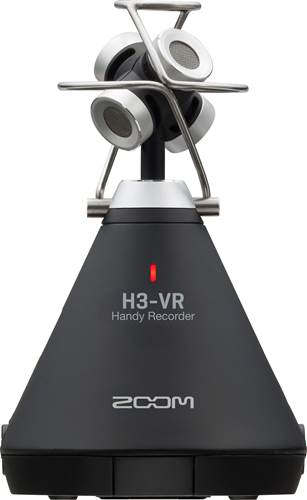 £299.00
Order now for FREE Delivery on Monday
Manufacturer's ID: ZRCH3
Whether you're a game developer, filmmaker or musician, virtual reality is the undeniable future of content creation. While 360-video is exploding in popularity, the ability to easily create 360-audio has lagged behind…until now.
Specification
One-Stop VR Audio
The Zoom H3-VR virtual reality audio recorder is the complete solution for capturing and processing spatial audio for VR, AR and mixed-reality content. With a built-in Ambisonic mic, recorder and decoder, the H3-VR puts 360-audio in the palm of your hand.
A New Way to go from A to B
In the past, capturing VR audio required a dedicated Ambisonic mic, a separate recorder and a computer for encoding the audio from raw Ambisonics A format to VR-ready Ambisonics B format. Now, with the H3-VR, all of the encoding and decoding is done on board, saving time, money and effort at every step.
Fits Anywhere, Captures Everything.
The H3-VR's compact, conical design captures audio from multiple angles without getting in the way of the camera or the action.
6-Axis Motion Sensor
Auto Mic Position and Level Detection make placing the H3-VR simple. Whether positioned upright, upside down, endfire or endfire inverted, the H3-VR automatically calibrates so your audio and video are already aligned for post.
Upgrade Your Game Experience
The slam of dungeon doors, growl of monsters or howl of the wind can make or break a player's fantasy. With the ability to capture high-quality in-game audio, you can elevate your player's experience to new levels.
Designed With Intention
Output Volume Controls: The H3-VR's line out volume control lets you adjust the output volume to a DSLR camera, additional headphone, etc.
Headphone Jack: A dedicated headphone jack allows for stereo binaural monitoring of your audio while recording.
Dynamic Display: A directionally-responsive LCD screen provides a bright, clear display even when upside-down.
Transport Controls: The Home, Play/Pause, Forward, Reverse and Menu buttons are positioned for quick access.
Power/Hold Button: Lock your settings on the H3-VR while recording using the unit's Hold function.
Precise Internal Clock: The H3-VR's highly accurate internal clock with 0.5 ppm discrepancy reduces audio/visual drift.
Slate Tone/Sound Marker: Using the slate tone enables you to easily calibrate the H3-VR and camera audio levels. Use the sound marker to output a tone when recording starts to make syncing audio and video easy.
Built-in Limiter: The H3-VR's advanced onboard limiter offers distortion-free signal at high volumes.
Low Cut Filter: The H3-VR's adjustable low cut filter removes unwanted low-end frequencies.
Input Volume Gain: With the single-knob gain control, you can easily adjust the gains of all four mic capsules simultaneously for accurate, balanced 360-degree audio.
Power Options: Two AA batteries can power the H3-VR for over 11 hours. For longer shoots, the H3-VR can also use portable USB batteries or be plugged in via an AC adapter.
3.5mm Line Out: The H3-VR fits right in with your existing gear, featuring a dedicated line out for a wide range of 360 cameras or other external devices.
Lightweight/Portable Design Weighing less 5 ounces (120g), the H3-VR is the perfect Ambisonics recorder to take on the go. And since H3-VR records directly to an SD card, there's no need for external gear.
Full Features
4 built-in mics arranged in an Ambisonic array
Full-sphere surround sound recording
Single-knob gain control of all input levels
Onboard Ambisonics A to B decoding
Three recording modes: Ambisonics, Stereo Binaural or Standard Stereo
Record up to 24bit/96kHz
Stereo binaural monitoring of Ambisonics signal
Headphone output and line output
Slate tone
Extensive metadata
Auto Mic Position Detection using 6-axis gyroscope (upfront, endfire, upside-down, endfire inverted)
Level Function to ensure precise angle placement
Wireless iOS remote control available through the BTA-1 Bluetooth adapter
Onboard Ambisonics playback with audio rotation
Accurate internal clock with .5ppm discrepancy
USB 2.0 Audio Interface Mode
Zoom PC/Mac post-production software to play, change a direction, and convert
to binaural, stereo,and 5.1ch surround file
Powered by 2 AA batteries or USB bus power
Records to SD card up to 512GB
What's Included
H3-VR Handy Recorder
Foam windscreen
Dual mounting bracket
AA batteries