Presonus ioStation 24c USB Interface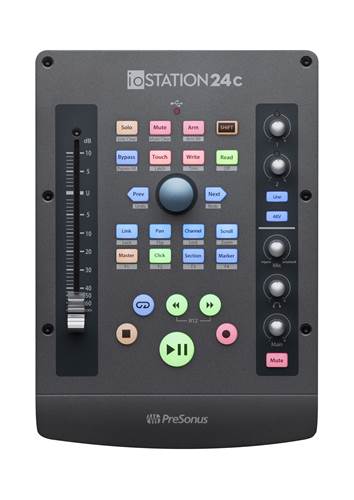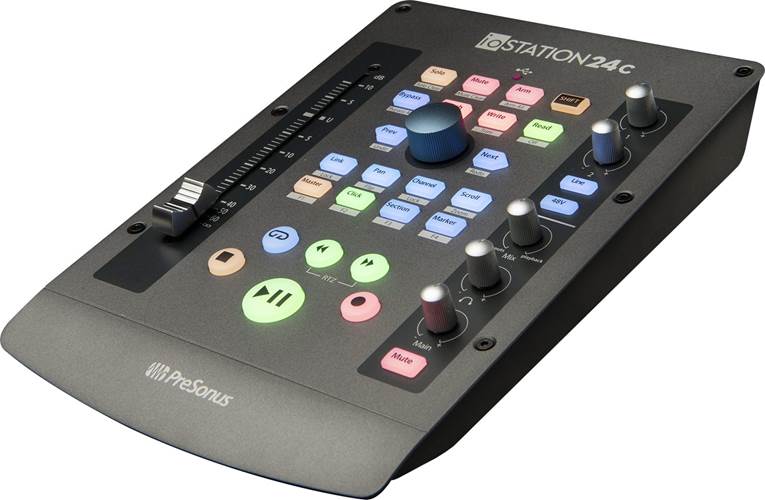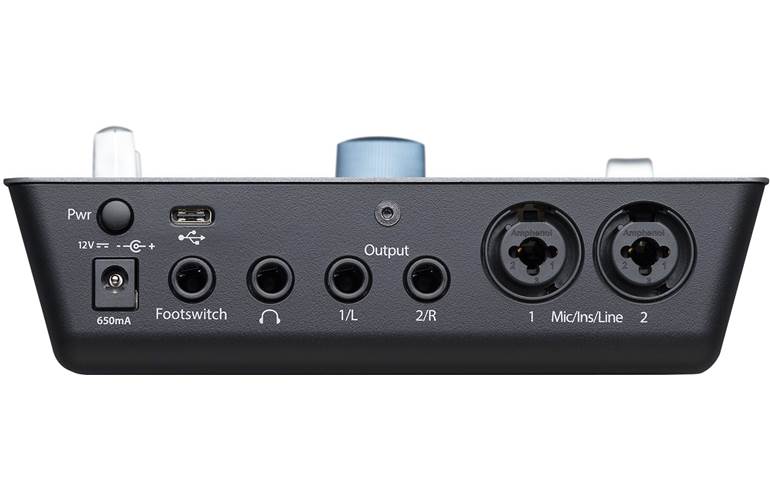 £249.00
Order now for FREE Delivery on Thursday
Includes extended exchange
Buy with confidence: Items bought 1st October 2021 to 24th December 2021 are eligible for our Extended Christmas Exchange & can be exchanged until Monday 31st January 2022. Learn More
Make 3 payments of £83.00

No fees.
Learn more
Frequently Bought Together
Manufacturer's ID: IOSTATION 24C
The collaborative partner for the solo artist
When you're a solo artist, you have to be more than just creative to realize your vision; you must also be a producer and an audio engineer. The ioStation 24c audio interface and production controller provides the tools needed for all of these diverse roles in a compact, ergonomic desktop design that will fit into any home studio. Record your audio through two pristine XMAX mic preamps and high-definition 24-bit, 192 kHz analog-to-digital converters. Navigate your recordings with easy-to-use transport controls. Edit your production and automate parameters in your favorite DAW with the powerful Session Navigator and mix it all with a 100 mm touch-sensitive motorized fader. Whether you're a musician producing your latest album or just getting started with your first podcast, the ioStation 24c gives you the tools you need to record and mix with the ease of hands-on, tactile control—all in a single device that doesn't clutter your creative space.
Superior front-end for superior results
Audiophile-grade digital converters and transparent preamps create a superior recording and listening experience. The ioStation 24c audio interface features two of PreSonus®' acclaimed XMAX Class A analog microphone preamps, which deliver incredibly high headroom, deep lows, shared smooth highs, and a rich overall sound. You'll hear every breath, transient, and detail in your recordings. High-quality converters provide 115 dB of dynamic range to capture complex musical harmonics smoothly and naturally. The result is clear, consistent audio that makes mixing easier and creating a polished sound faster.
Work smarter
We've incorporated elements from the award-winning FaderPort®-series controllers into the ioStation 24c. Rather than forcing you to reinvent your mixing method, the ioStation 24 augments the way you currently mix. You will still use your faithful keyboard and mouse for things they do well, while the ioStation 24c handles what you really want to get your fingers on: your mix. This is DAW control the way you always hoped it could be!
Streamlined workflow and support for the Mackie Control and HUI protocols make it fast and easy to control Pro Tools, Logic Pro X, Cubase, Ableton Live, and more. No driver installation is necessary; just plug in your ioStation 24c and take command of your mix. Deep integration with the included PreSonus Studio One® Artist will let you mix at lightning speed.
World-class recording software included.
Seamlessly integrated with the included PreSonus Studio One Artist music production software, the ioStation 24c audio interface works with virtually all macOS® and Windows® recording software. Easy to learn, Studio One enables you to compose, record, and produce without getting distracted by the tools or hemmed in by track limitations. Need a new loop or sample for your latest production? Studio One lets you shop, audition, and purchase new content and upgrades without even opening your browser, building the version of Studio One that's right for you. Combining a flexible single-window user interface with drag-and-drop and a modern, beat-based production workflow, Studio One lets you dictate how you work and what you work on.
Your studio assistant
The ioStation 24c's unique Session Navigator is your caffeine-fueled assistant engineer, providing easy access to eight mission-critical functions for maximum flexibility. Use the large encoder button and companion buttons to edit and mix with greater efficiency and speed. Scroll through your timeline using the encoder, or work measure-by-measure with the arrow buttons. Zoom in and out on the timeline with the encoder and make your tracks larger or smaller with the arrow buttons. Navigate and drop markers and maintain constant control of your main level. Once you start using the Session Navigator, you'll wonder how you mixed without it.
One is the happiest number
Whether you're just getting into audio production or looking to streamline your recording rig, the ioStation 24c audio interface and production controller will give you clear, clean, ultra-high-def sound with professional mixing tools in a compact, space-saving design. While it's a perfect companion for any recording software, the ioStation 24c and included Studio One Artist provide you with a complete, affordable recording solution that will make you sound great.
Apple Silicon M1, iOS, and iPadOS compatibility—standard
The PreSonus ioStation 24c is natively compatible with Apple Silicon M1-based Mac computers*, as well as iOS and iPadOS devices, including iPad Pro, iPad, iPad Air, iPad Mini, iPod Touch, and iPhone. Because it's USB class-compliant, there are no special drivers or applications to download and install. You'll be able to produce on the go—everything from podcasts to folk rock to trap—wherever sound takes you.
Make your own magic
At PreSonus, we want to make sure that our audio products come with everything you need to craft your own mesmerizing spells in the studio. That's why we include Studio One Artist with every audio interface and controller product we make, from the 2-channel AudioBox USB 96 to the 64-channel StudioLive 64S, ATOM to FaderPort 16, but we didn't stop there. Why? Because here in Louisiana, we have a word: lagniappe. It means "a little something extra," and it's in that spirit that we also include the Studio Magic Suite of software with our audio interface products and–new for 2021–our award-winning controllers as well.
New additions to the Studio Magic 2021 edition include:
PreSonus® has updated its popular Studio Magic Suite for macOS® and Windows®. An amazing $1,099 value that is provided free to new and existing registered owners of any currently available PreSonus audio interface or mixer, the 2021 Studio Magic Suite software bundle now includes popular standalone applications; plug-in effects and virtual instruments in VST, AU (Mac), and AAX formats; lessons; and more.
Arturia Analog Lab Intro delivers some of the most iconic synth and keyboard sounds of all time, taken from Arturia's 28 expertly crafted V Collection instrument emulations. From analog synthesizers to revolutionary digital workstations, these are sounds that made history.
Cherry Audio Surrealistic MG-1 Plus Synthesizer is an authentic re-creation of the Realistic MG-1 synthesizer sold in Radio Shack stores in the 1980s. The Surrealistic MG-1 Plus delivers fat analog tone in spades, along with a unique polyphonic oscillator section, "bell tone" ring modulation, glide, auto-repeat note triggering, oscillator sync, and a number of improvements that tremendously expand its capabilities.
Ghosthack Essential Sounds is the perfect sound pack for music producers and content creators alike, delivering professional one-shots, loops, MIDI files, and full music tracks.
UJAM Virtual Bassist ROWDY is your loudmouthed, high-energy bassist with bite! ROWDY adds picked, overdriven electric bass sounds to your track that are suitable for a variety of styles, from powerful punk to rock and modern metal. If your bass has to cut through heavy drums and a wall of guitars, ROWDY is the solution.
The 2021 edition of Studio Magic Suite also now includes a three-month subscription to Soundsnap, home to over 380,00 high-quality, project-ready sound effects. Soundsnap members include some of the biggest names in film sound, podcasting, game design, and music production.
Of course the 2021 edition of Studio Magic Suite still contains your favorites from the 2020 edition.
Back by popular demand are Ableton Live Lite DAW, Brainworx bx_opto compressor and bx_rockrack guitar-amp modeling plug-in, Cherry Audio Voltage Nucleus modular synthesizer, iZotope Neutron Elements compressor/EQ/exciter/transient shaper, Klanghelm SDRR2tube multi-purpose processor, KV331 Audio Synthmaster Player semi-modular synth, Lexicon MPX-i Reverb, Mäag Audio EQ2 two-band equalizer, Melodics custom piano lessons, Native Instruments Replika delay plug-in, Output Movement rhythm processor, Plugin Alliance SPL Attacker Plus attack-event amplifier, and UVI Model D concert grand piano.
Specification
| | |
| --- | --- |
| Microphone Preamp | |
| Type | XLR Female (via Combo), Balanced |
| Maximum Input Level | +16 dBu (Balanced, min. gain) |
| Gain Control Range | 80 dB |
| Frequency Response | 20 Hz to 20 kHz (±0.15 dB, unity gain, 48 kHz) |
| Dynamic Range | > 107 dB (A-wtd, min. gain) |
| Total Harmonic Distortion | < 0.007% (1 kHz, min. gain) |
| EIN | < -128 dBu (max gain, 40Ω, 22 kHz BW, A-wtd) |
| Input Impedance | 1.6 kΩ |
| Phantom Power | +48V, > 8 mA per input |
|   |   |
| Instrument Inputs |   |
| Type | ¼" TS Female (via Combo), Unbalanced |
| Maximum Input Level | +15 dBu (Unbalanced, min. gain) |
| Gain Control Range | 80 dB |
| Frequency Response | 20 Hz to 20 kHz (±0.2 dB, unity gain, 48 kHz) |
| Dynamic Range | > 110 dB (A-wtd, min. gain) |
| Total Harmonic Distortion | < 0.012% (1kHz, -1 dBFS, min. gain) |
| Input Impedance | > 1 MΩ |
|   |   |
| Line Inputs |   |
| Type | ¼" TRS Female (via Combo), Balanced |
| Maximum Input Level | + 22 dBu (Balanced, min. gain) |
| Frequency Response | 20 Hz to 20 kHz (±0.05 dB, unity gain, 48 kHz) |
| Dynamic Range | > 114 dB (A-wtd, min. gain) |
| Total Harmonic Distortion | < 0.007% (1 kHz, -1 dBFS, min. gain) |
| Input Impedance | 10 kΩ |
|   |   |
| Main and Line Outputs |   |
| Type | ¼" TRS Female, impedance balanced |
| Maximum Output Level | +18 dBu (Balanced) |
| Frequency Response | 20 Hz to 20 kHz (±0.2 dB, unity gain, 48 kHz) |
| Dynamic Range | > 109 dB (A-wtd) |
| Total Harmonic Distortion | < 0.005% (1 kHz, +4 dBu) |
|   |   |
| Headphone Outputs |   |
| Type | ¼" TRS Female, Stereo, Unbalanced |
| Maximum Output Level | 150 mW/channel (56Ω load) |
| Frequency Response | 20 Hz to 20 kHz (±0.2 dB, 56Ω load, 48 kHz) |
| Dynamic Range | > 107 dB (A-wtd) |
| Total Harmonic Distortion | < 0.02% (1 kHz, -1 dBFS, no load) |
| Headphone Impedance (working range) | 32Ω to 300Ω |
|   |   |
| Digital Audio |   |
| Connection Type | USB 2.0 over USB-C® Compatible Connection |
| ADC Dynamic Range | 115 dB (A-wtd) |
| DAC Dynamic Range | 115 dB (A-wtd) |
| Bit Depth | 24 bits |
| Internally Supported Sample Rates | 44.1, 48, 88.2, 96, 176.4, 192 kHz |
|   |   |
| Clock |   |
| Jitter | < 70 ps RMS (20 Hz – 20 kHz) |
| Jitter Attenuation | > 60 dB (1 ns in => 1 ps out) |
|   |   |
| Power | 12 VDC, 1.2A, external power supply |
|   |   |
| Physical |   |
| Height | 2.4" (61 mm) |
| Depth | 6.8" (172 mm) |
| Width | 9.6" (244 mm) |
| Weight | 2.2 lbs (1 kg) |