Wampler Plexi Drive Mini Overdrive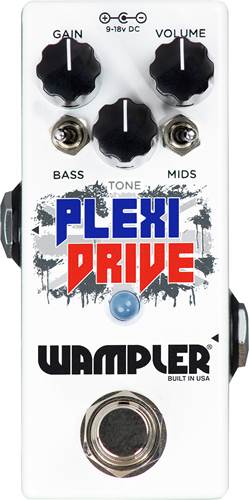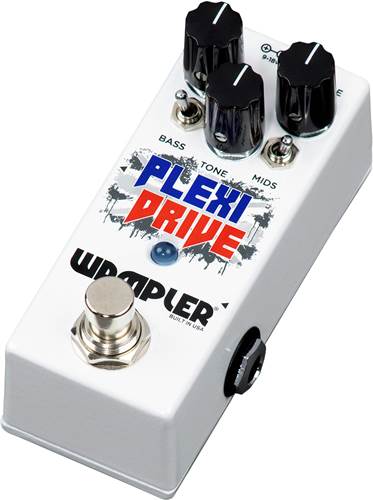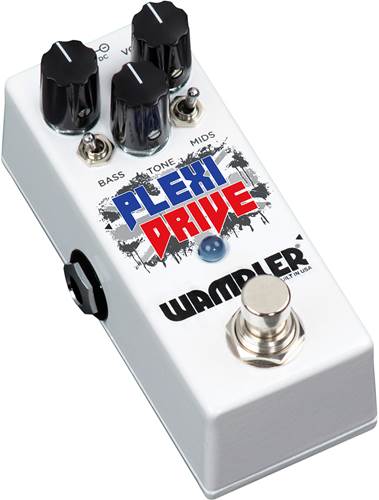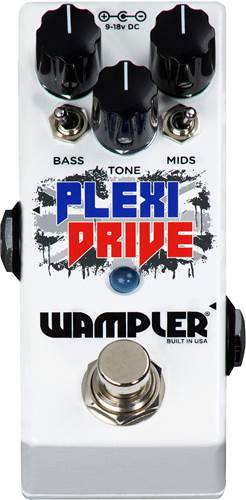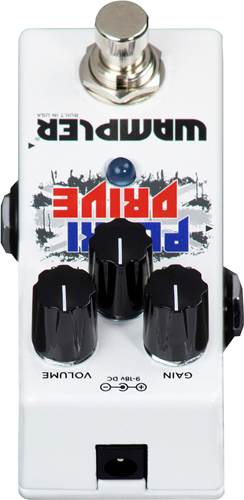 £139.00
Order before 1PM for Delivery Tomorrow
Make 3 payments of £46.33

No fees.
Learn more
Manufacturer's ID: PLEXDRIVEMINI
What we say:
At A Glance:
Looking for the unmistakable tight overdrive and rounded bass of the 'British' sound that originated from these shores in the 60's? Want it in a small, compact housing with some great tonal options? Then look no further than the Wampler Plexi Mini: All the power of that famous sound has came to Wampler's mini range and it does not mess about when it comes to iconic sound!
Features We Love:
Small footprint!
Wampler's mini range takes all the knowledge and prime sound they are known for and crams it into a micro sized chassis that take up very little real estate on the pedal board.
The Bass Switch
This intuitive feature switches on a faux 4x12 cab sound for full bodied beef and more bass response. Ideal for making a big sound even bigger!
Legendary tone.
The British sound has been at the forefront of Rock and Roll since 60's and is an essential part of any guitarists arsenal and having the mini version the Wampler Plexi Mini is providing you can have it without disturbing the fragile eco system of a packed pedalboard!
Highlights:
Classic vintage appeal and tone
Tiny footprint for easy assimilation onto any board big or small
The Bass switch delivers the beef you deserve at the flick of a switch!
What's Included:
Specification
Wampler have added their special Bass Boost switch which when activated gives Brian's interpretation of the difference a 4x12 speaker cab will make vs a 2x12. Imagine that Plexi stack sound with more thumping bass tone and a lovely warm rounded bottom end. This gives you a huge amount of power in a tiny package. There is also an all new Mid Boost circuit that hasn't featured on any of our previous Plexi style pedals. For this, Brian has created a warm throaty tube-like boost by tweaking several gain stages of the circuit at once. Many love to run their 'Klone' type pedals into the Plexi-Drive for added midrange warmth as well as a bit of a gain boost. Brian implemented gain stage and EQ changes within the circuit to approximate a similar response and the result is astounding.
Since the early 60's, Marshall Amplifiers have lead the way in rock tones with its legendary tight overdrive and coveted bass response. Early rock legends such as: Jimi Hendrix, Led Zeppelin, Cream, and AC/DC helped lead the way in creating some of the most iconic rock tones ever produced and catapulted Marshall into rock legendary status. Like the original, the Plexi-Drive Mini's unique gain structure can cover everything from Vintage '68 style Plexi tones to the all-out massive rock tones of a JTM-45 cranked to ten, or even eleven…This is the mini pedal for classic rock and metal fans - have no doubt!
To this day, the original Plexi-Drive is still one Brian's favorite pedals and never left his personal pedal board. For a man who is said to be never satisfied with his tone, the Plexi-Drive has stayed with him throughout and is still inspiring him gig after gig. The new Plexi Drive Mini, with its smaller board footprint, has become Brian's Plexi pedal of choice. The Plexi-Drive Mini will fill your "British Distortion Voiced Amp" void and give you the crunch, response, boost and feeling that your rig begs for. Whether you are playing sold out shows or rocking out by yourself – the Plexi-Drive Mini will take your tone and allow you to create your own flavor of rock!
Gain: This controls the total amount of overdrive that is heard. The more you turn it clockwise, the more distorted the sound will become.
Volume: Controls the total output volume of the pedal.
Tone: Adjust the mix of Bass (Anticlockwise) or Treble (Clockwise) that is output from the pedal.
Bass Boost Toggle: This toggle switch allows you to emulate the feeling of the low-end thump of a 4×12" cabinet (or two) at the flick of a switch. The bass boost will allow you to dial in your low end at lower volume gigs or at bedroom volume levels.
Mids Boost Toggle: This toggle switch allows you to engage a multi gain stage boost that emulates a warm treble and gain boosting circuit going into the Plexi-Drive.
Power: This pedal was designed around the usage of a 9V or 18V DC power source, and is intended to sound its best at 9V. To avoid damage to the pedal, do not exceed 18V DC, do not use center pin positive adapters, and do not use AC power. Using an incorrect power adapter can lead to damage and will void the warranty on the pedal.
Built in USA
High-grade components selected for their superior sound and response
Dimensions: 1.5" x 3.5" x 1.5" (38.1mm x 88.9mm x 38.1mm) – height excludes knobs and switches
Includes Wampler's limited 5-year warranty