Roland RP701-LA Light Oak Digital Piano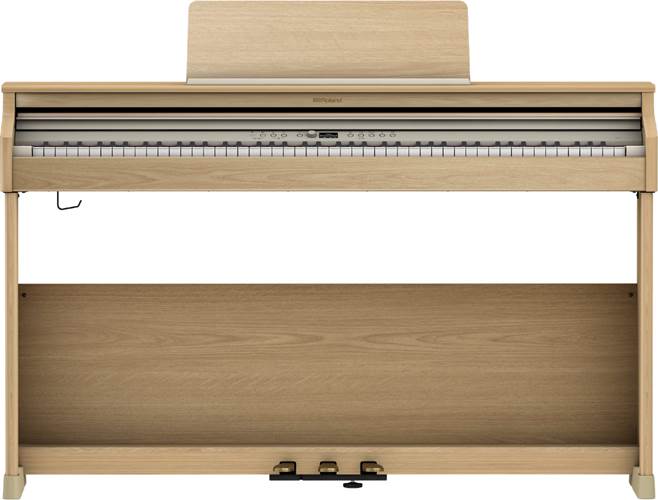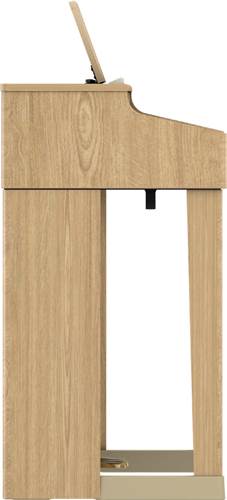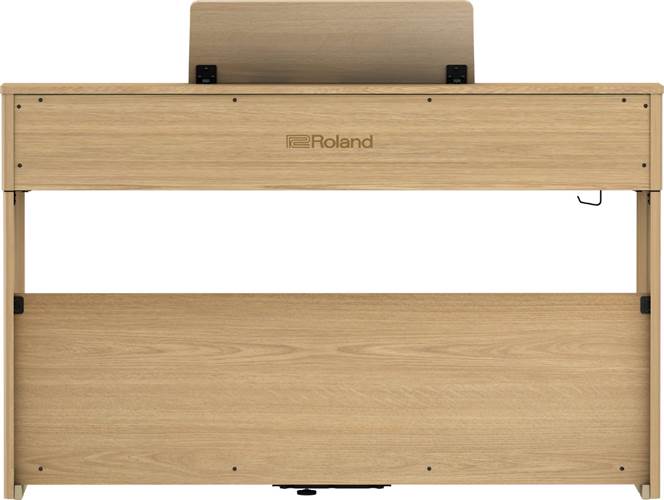 ---
RRP
£1,176.00
Save £77.00
£1,099.00
Available to Order
Place your order today and we will email you when we have an estimated delivery date.
3-Year Warranty Included
We're the 1st, and only, UK guitar retailer to offer a 3-year warranty as standard. Buy with confidence today. Learn More
Manufacturer's ID: RP701-LA
What we say:
At A Glance:
The Roland RP701 is a cutting edge piano aimed at players looking for an authentic acoustic piano experience with some extra features.
The piano features the natural feeling PHA-4 keyboard, with a triple pedal that uses Progressive Damper Action technology and the flagship SuperNATURAL sound engine. The result is an instrument that accurately captures the essence of what it's like to play an acoustic piano.
Plus with over 300 sounds and excellent features like 3D Ambience technology for using headphones, and compatibility with Roland's Piano Every Day and Piano Designer apps, beginners and experienced players are set to get everything they need out of the RP701.
Features We Love:
SuperNATURAL
With acoustic instruments sampled in high-quality audio, SuperNATURAL gives you a full and rich tone that only acoustic instruments possess. However, while most manufacturers settle for giving you purely sample-based sounds, Roland recognised that there is still something lacking from an acoustic instrument sampled at different velocities.
The subtle characteristics created from moving parts, and by strings and notes that resonate even when not being struck, create a much bigger picture than what's captured with audio sampling. These intricate characteristics have been synthetically recreated to enhance the character of each voice and the result is a rich and organic tone that's full of character and charm.
Piano Every Day
The Piano Every Day app is available for iOS and Android and is designed to be engaging for young, new and experienced players. The app encourages daily playing and is host to simple training games, sheet music and other features that help you learn, record and review your playing. It's an excellent way to learn and improve your technique, and because your piano can wirelessly connect to your device via Bluetooth, it's easy to set up and get started.
Piano Designer
Roland's Piano Designer app for iOS and Android can also connect to your piano via Bluetooth. The app allows you to dive into the SuperNATURAL sound engine to tweak its characteristics to suit your taste. Elements like opening up the lid, hammer noise and damper resonance can be changed to your preference and you'll find they can really bring your piano to life in your home. This can also be an excellent educational tool for kids.
3D Ambience
The FP-30X also features Roland's 3D Ambience technology taken from their flagship home piano models. This technology realistically emulates the acoustic response of an acoustic piano inside your headphones, which is a breath of fresh air compared to the sterile playing experience some digital pianos offer when using headphones. This is an excellent feature for both learners and experienced players looking to practice without bothering the household.
Highlights:
PHA-4 keyboard gives you an authentic piano experience
SuperNATURAL sound engine and Piano Editor gives you the best possible sound
Over 300 sounds that never need to be tuned
5 year warranty
What's Included:
Roland RP-701 Piano
Owner's Manual
Leaflet "USING THE UNIT SAFELY"
The collection of scores "Roland Piano Masterpieces" (CHINA only)
AC adaptor
Power cord
Headphone hook
Specification
| | |
| --- | --- |
| Piano Sound | SuperNATURAL Piano |
| Max. Polyphony | 256 voices |
| Tones | Total 324 Tones |
| Keyboard | PHA-4 Standard Keyboard: with Escapement and Ivory Feel (88 keys) |
| Pedal | Damper (Progressive Damper Action Pedal, capable of continuous detection) |
|   | Soft (capable of continuous detection, function assignable) |
|   | Sostenuto (function assignable) |
| Speakers | 12 cm (4-3/4 inches) x 2 |
| Rated Power Output | 12 W x 2 |
| Headphones | Effect: Headphones 3D Ambience |
| Touch Sensitivity | Key Touch: 100 types, fixed touch |
|   | Hammer Response: 10 types |
| Master Tuning | 415.3--466.2 Hz (adjustable in increments of 0.1 Hz) |
| Temperament | 10 types (Equal, Just Major, Just Minor, Pythagorean, Kirnberger I, Kirnberger II, Kirnberger III, Meantone, Werckmeister, Arabic), selectable temperament key |
| Effects | Brilliance, Ambience |
| Piano Designer | Lid |
|   | String Resonance |
|   | Damper Resonance |
|   | Key Off Resonance |
|   | Single Note Tuning |
|   | Single Note Volume |
|   | Single Note Character |
| Internal Songs | Total 377 songs |
|   | Listening: 10 songs |
|   | Ensemble: 30 songs |
|   | Entertainment: 20 songs |
|   | Let's Sing with DO RE MI: 30 songs |
|   | Lesson: 287 songs (Scale, Hanon, Beyer, Burgmuller, Czerny 100) |
| Playable Software | Standard MIDI Files (Format 0, 1) |
|   | Audio File (WAV: 44.1 kHz, 16-bit linear format, MP3: 44.1 kHz, 64 kbps - 320 kbps, requires USB Flash Memory) |
| Recordable Software | Standard MIDI Files (Format 0, 3 parts, Approx. 70,000 notes memory) |
|   | Audio File (WAV: 44.1 kHz, 16-bit linear format, requires USB Flash Memory) |
| Bluetooth | Audio: Bluetooth Ver 3.0 (Supports SCMS-T content protection) |
|   | MIDI: Bluetooth Ver 4.0 |
| Compatible Android / iOS Apps (Roland) | Piano Every Day |
|   | Piano Designer |
| Convenient Functions | Metronome (adjustable Tempo/Beat/Down beat/Pattern/Volume/Tone) |
|   | Dual |
|   | Split |
|   | TwinPiano |
|   | Transpose (in semitones) |
|   | Speaker volume and Headphones volume automatically select function |
|   | Volume limit function |
|   | Speaker Auto Mute |
|   | Panel Lock |
|   | Auto Off |
| Cabinet | Music rest: Fixed angle, with Music holders |
|   | Key cover: Slide type, with Classic Position |
| Display | Graphic OLED 128 x 64 dots |
| Connectors | DC In jack |
|   | Input jacks: Stereo miniature phone type |
|   | USB Computer port: USB B type |
|   | USB Memory port: USB A type |
|   | Phones jack x 2: Stereo miniature phone type, Stereo 1/4-inch phone type |
| Power Supply | AC adaptor |
| Accessories | Owner's Manual |
|   | Leaflet "USING THE UNIT SAFELY" |
|   | The collection of scores "Roland Piano Masterpieces" (CHINA only) |
|   | AC adaptor |
|   | Power cord |
|   | Headphone hook |
| Width | 1,366 mm / 53-13/16 inches |
| Depth | 463 mm / 18-1/4 inches |
| Height | 1,027 mm / 40-7/16 inches |
| Weight | 46.0 kg / 101 lbs 7 oz |