Fender Acoustasonic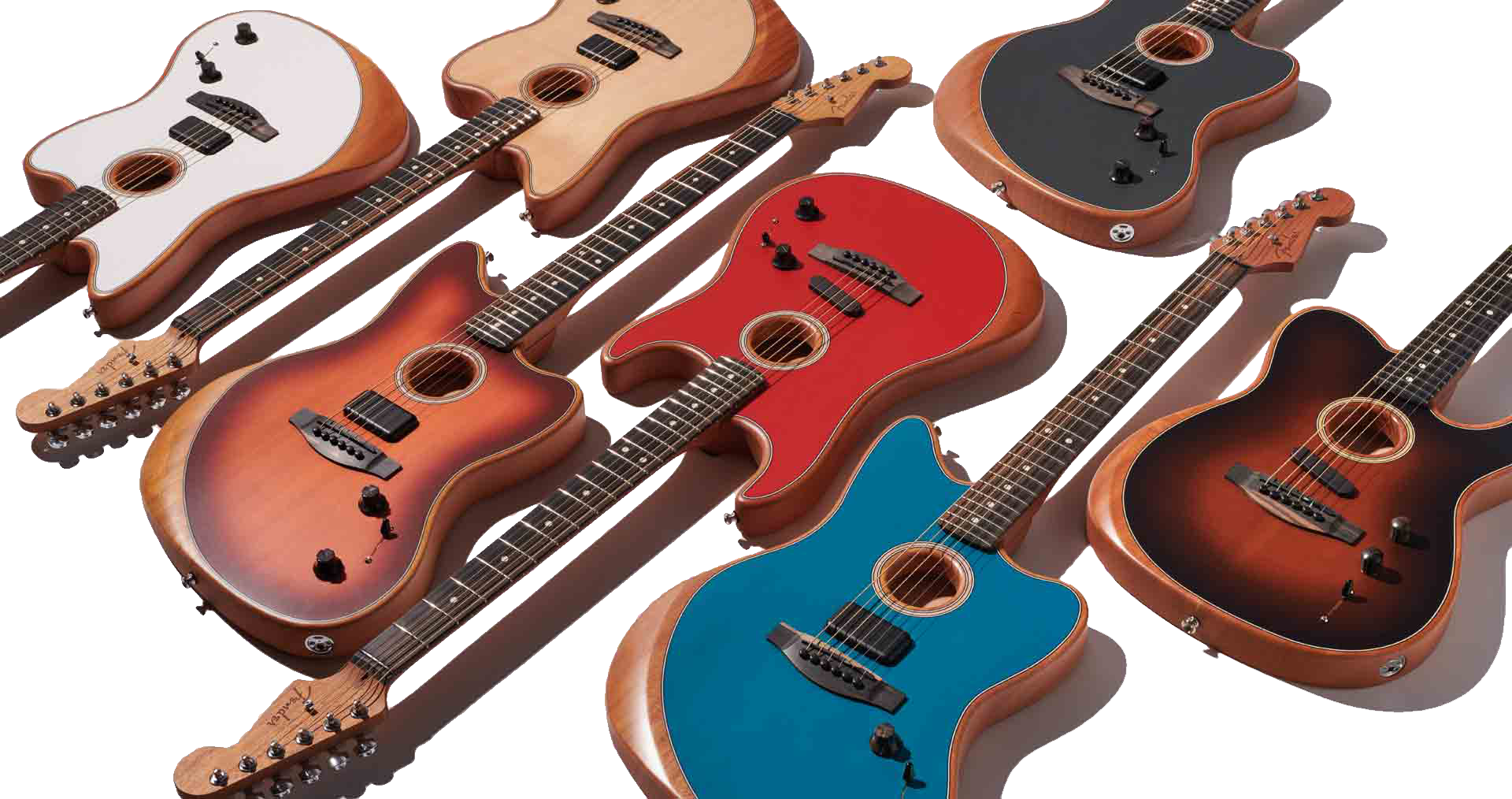 The Fender Acoustasonic produces an organic acoustic tone with the feel and playability of an electric, plus multiple voicings to suit any scenario. A new standard of instrument has been born.
Acoustasonic Player Series
American Acoustasonic Series
Player Acoustasonic Telecaster
Innovative design at an affordable price point
Building off of the success of the American-made Acoustasonic series, the Acoustasonic Player Telecaster brings the same innovative hybrid design and many of the same features to the Player series for a more affordable entry point to the Acoustasonic.
Fender/Fishman Acoustic Engine
2 Pickup System (Piezo, Noiseless)
6 Voicings
Crafted at Fender's Ensenada Facility
Carved Neck Heel
Open Pore Finish
Tuned Soundhole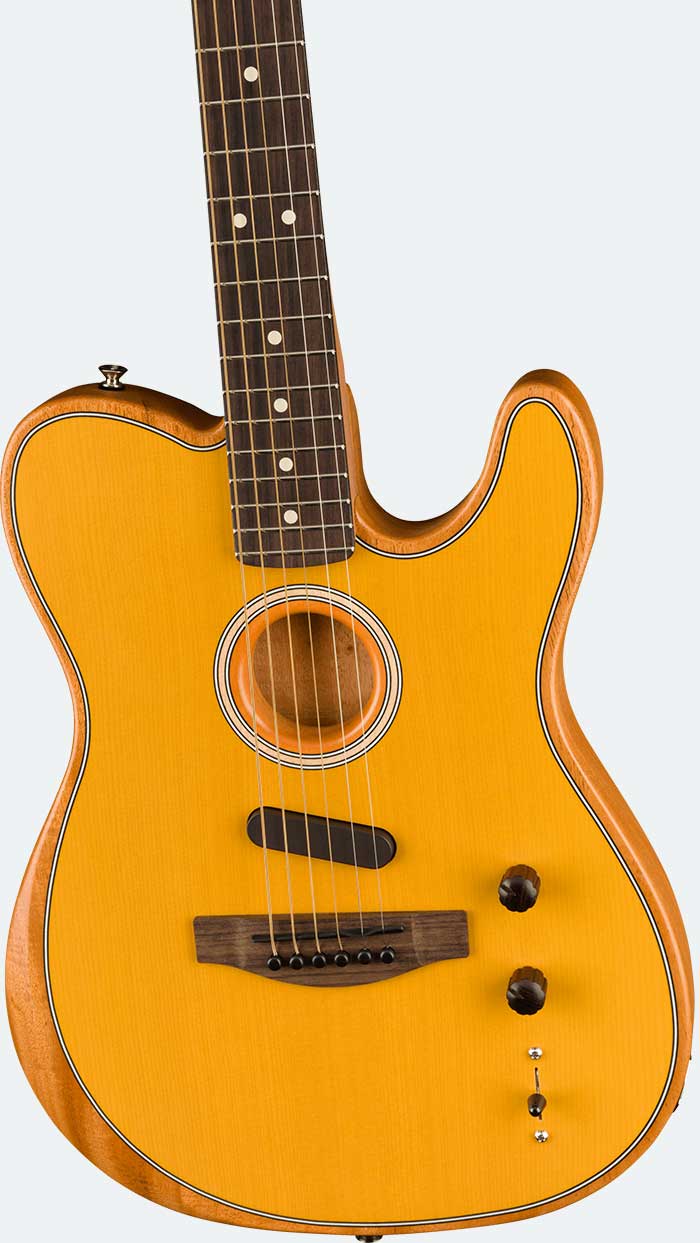 American Acoustasonic Stratocaster
The new breed of an all-time classic
A model that has always been praised for its versatility, this incarnation of the Strat takes it even further thanks to cutting-edge technology and expert craft. It features more electric voices than its Acoustasonic counterparts, such as the bold Fender Electric Dirty sound. This makes it great for studio musicians and those transitioning into the world of hybrid guitars.
Fender/Fishman Acoustic Engine
3 Pickup System (Piezo, Sensor, Noiseless)
A Collection of Unique Voicings
Hand Crafted in California
Carved Neck Heel
Open Pore Finish
Tuned Soundhole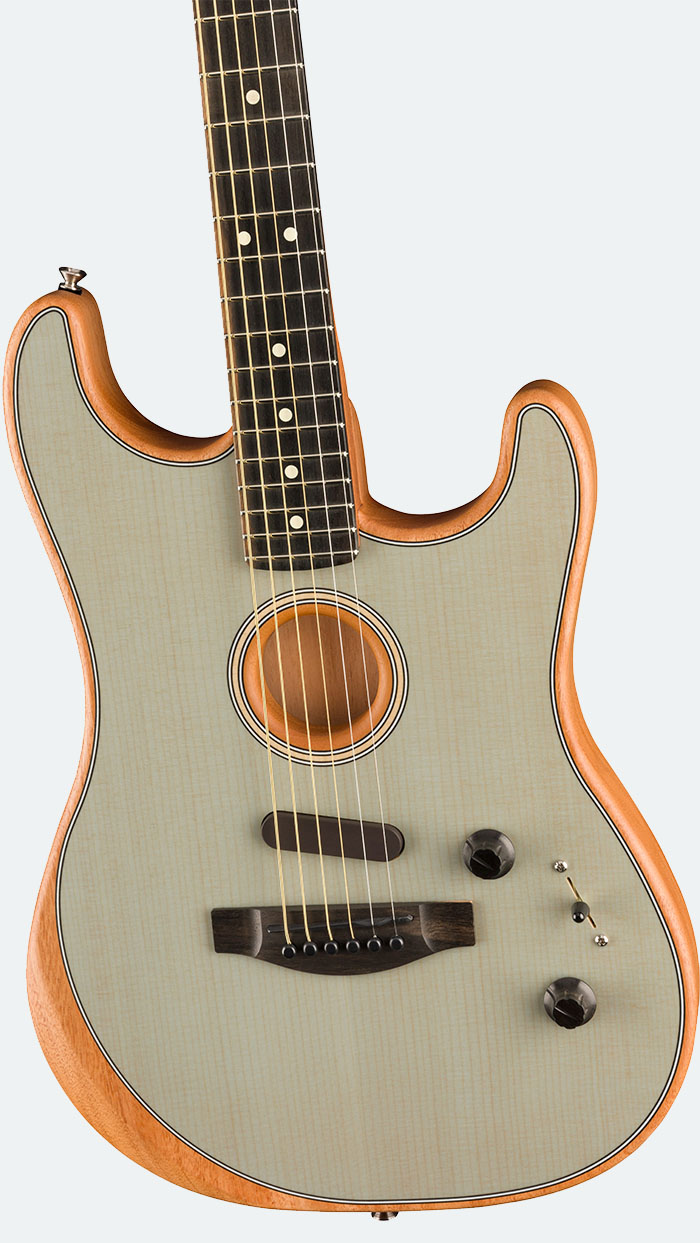 American Acoustasonic Telecaster
Rewriting the book on versatility
Thanks to the Acoustic Engine this model benefits from an impressive number of acoustic voices and goes beyond any Tele you've previously known in terms of performance and tonal capabilities. The Telecaster's neck gives it a familiar feel and the classic body shape produces a first-rate acoustic sound.
Fender/Fishman Acoustic Engine
3 Pickup System (Piezo, Sensor, Noiseless)
A Collection of Unique Voicings
Hand Crafted in California
Carved Neck Heel
Open Pore Finish
Tuned Soundhole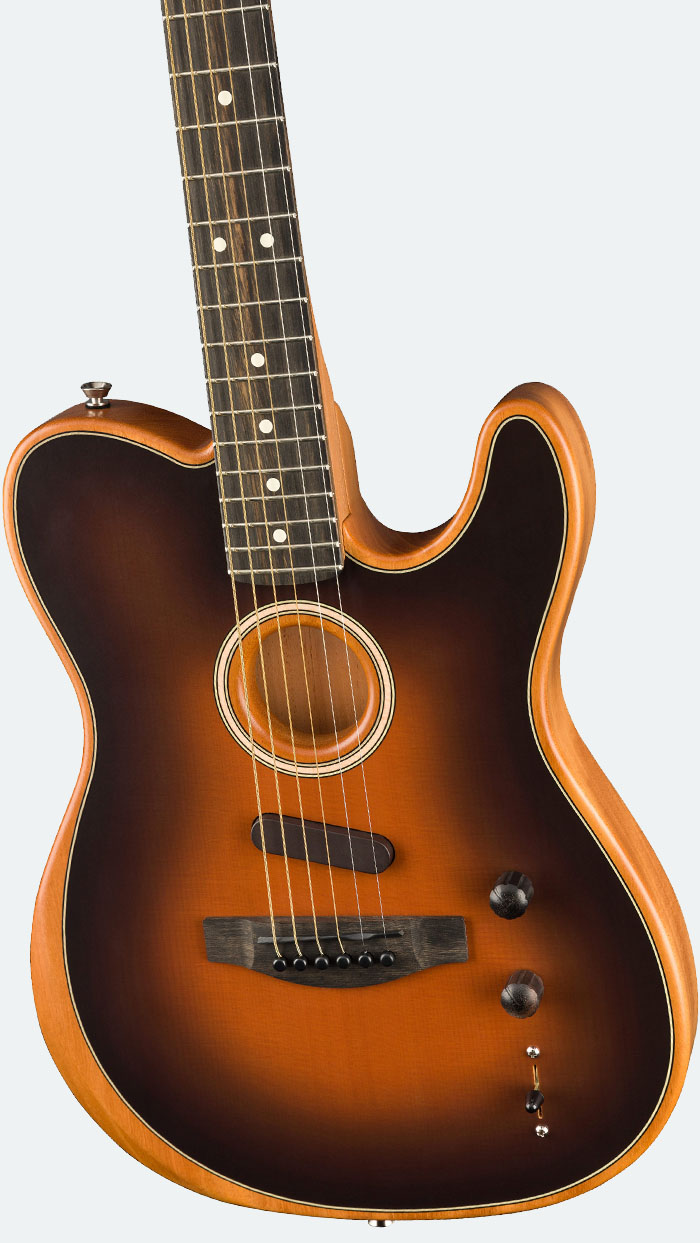 American Acoustasonic Jazzmaster
Taking the alternative into new tonal realms
Set apart not only by its looks, the Jazzmaster Acoustasonic features a Tim Shaw-designed humbucker and its own unique set of voices ranging from Fender Overdriven Electric to Mahogany Jumbo. With a specially sized tuned soundhole positioned for the offset body, this revolutionary new take on the beloved offset represents Fender ingenuity at its very best.
Fender/Fishman Acoustic Engine
3 Pickup System (Piezo, Sensor, Shawbucker)
A Collection of Unique Voicings
Hand Crafted in California
Carved Neck Heel
Open Pore Finish
Tuned Soundhole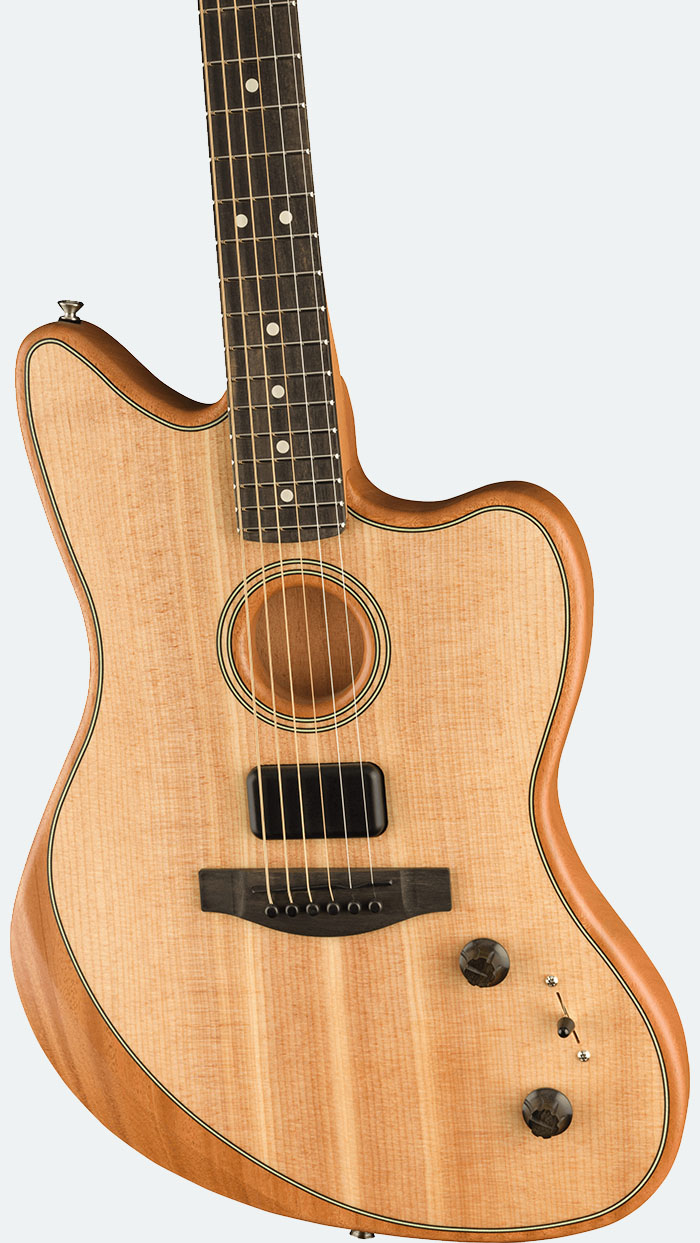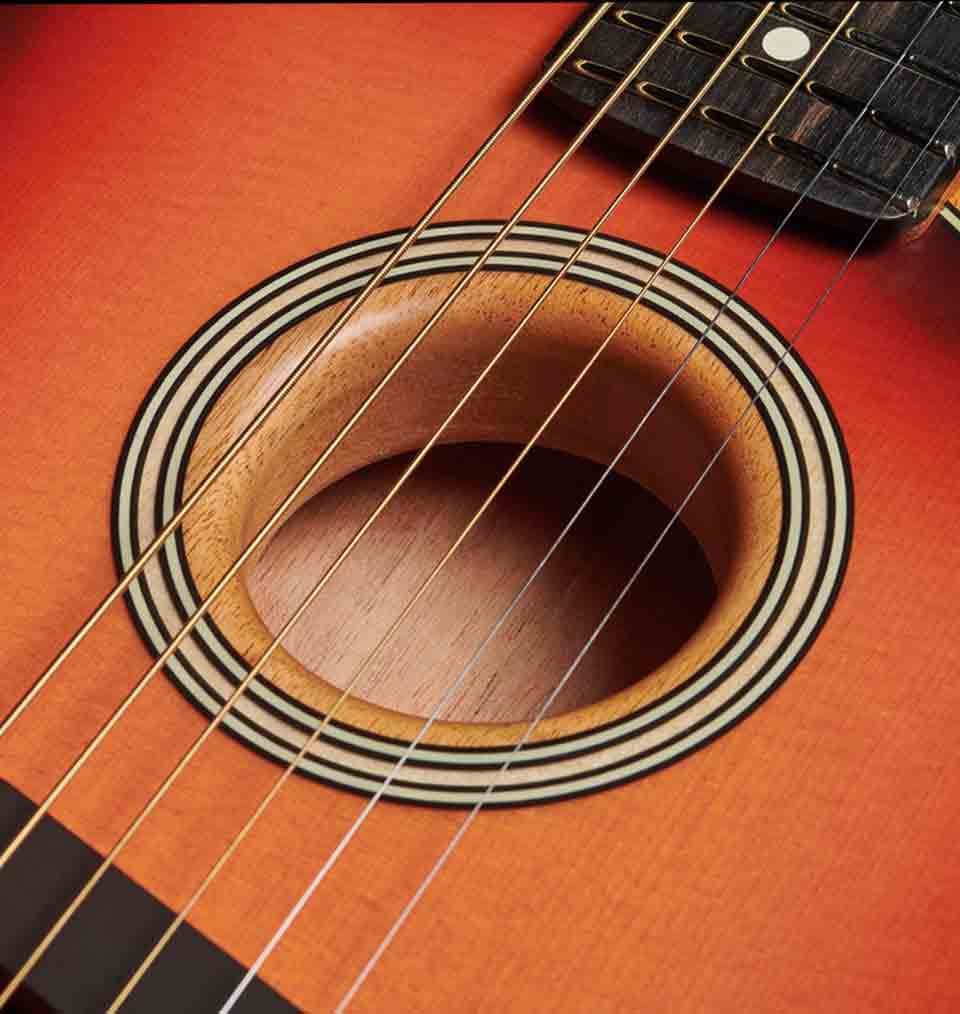 True Acoustic Sound
With a tuned "waterfall" soundhole and open-pore finish, the Acoustasonic range sounds incredibly natural and full with excellent projection.
View The Full Range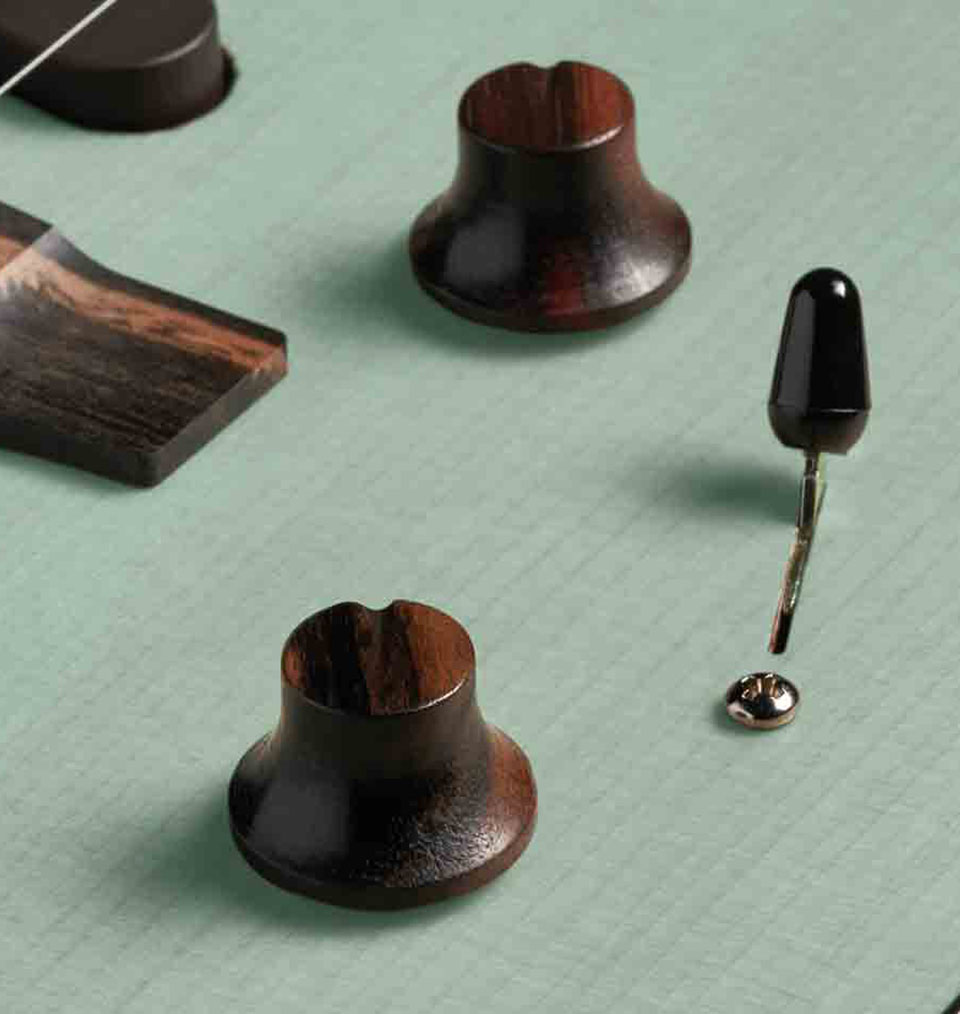 Multiple Voicings
Thanks to a cutting-edge Acoustic Engine designed by Fender and Fishman, each model features its own unique set of tones ranging from different acoustic wood and body sounds to full-on electric wonder.
View The Full Range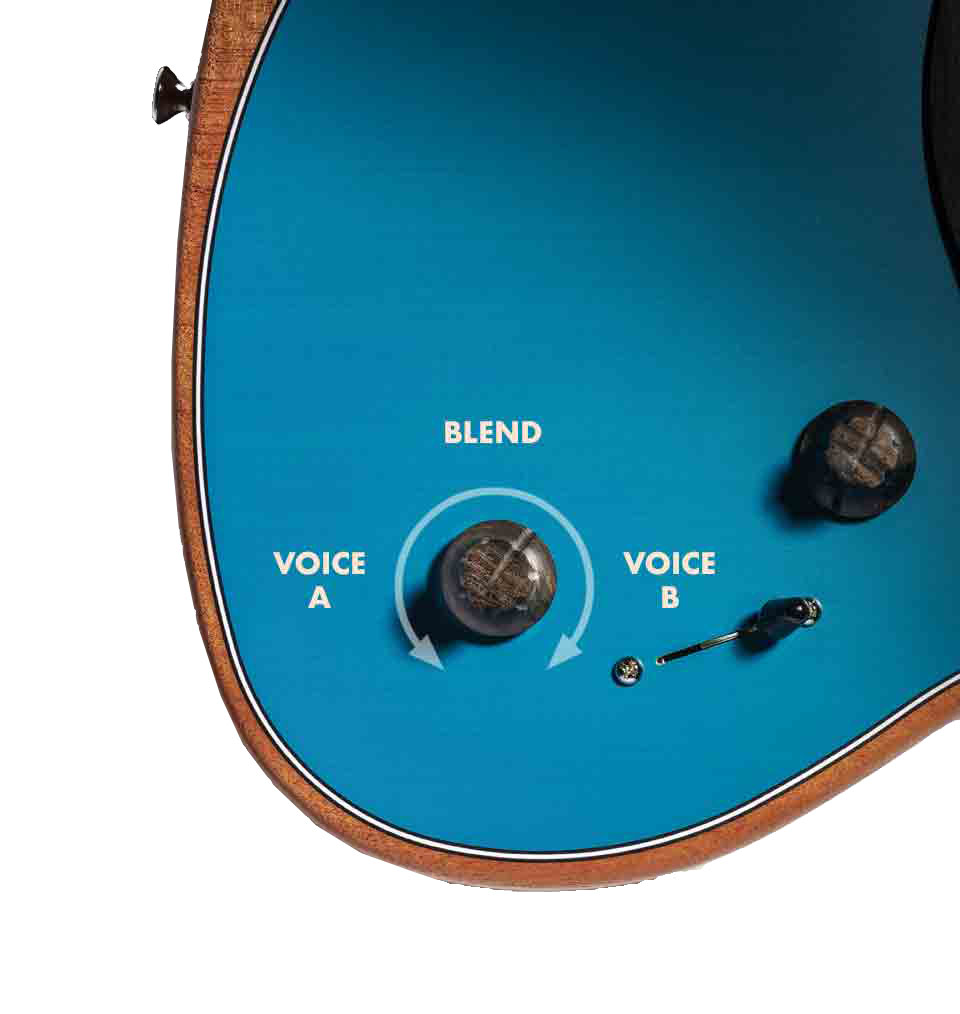 Find Your Tone
Each model features a Blend pot which allows you to combine the A and B voices on each of the 5 selections, putting the power of unique tonal identity in your hands.
View The Full Range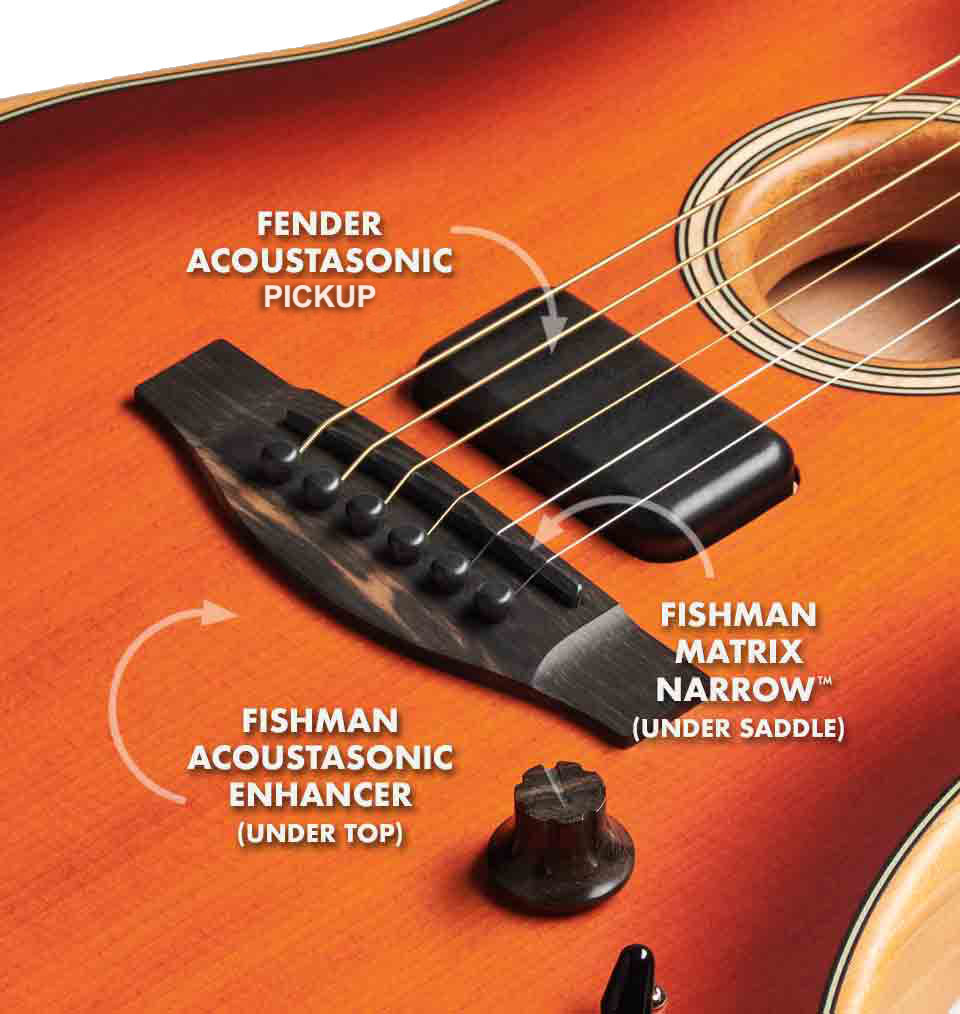 Three Pickup System
The finest details of your playing are perfectly captured and articulated by way of a three pickup combination working in unity.
View The Full Range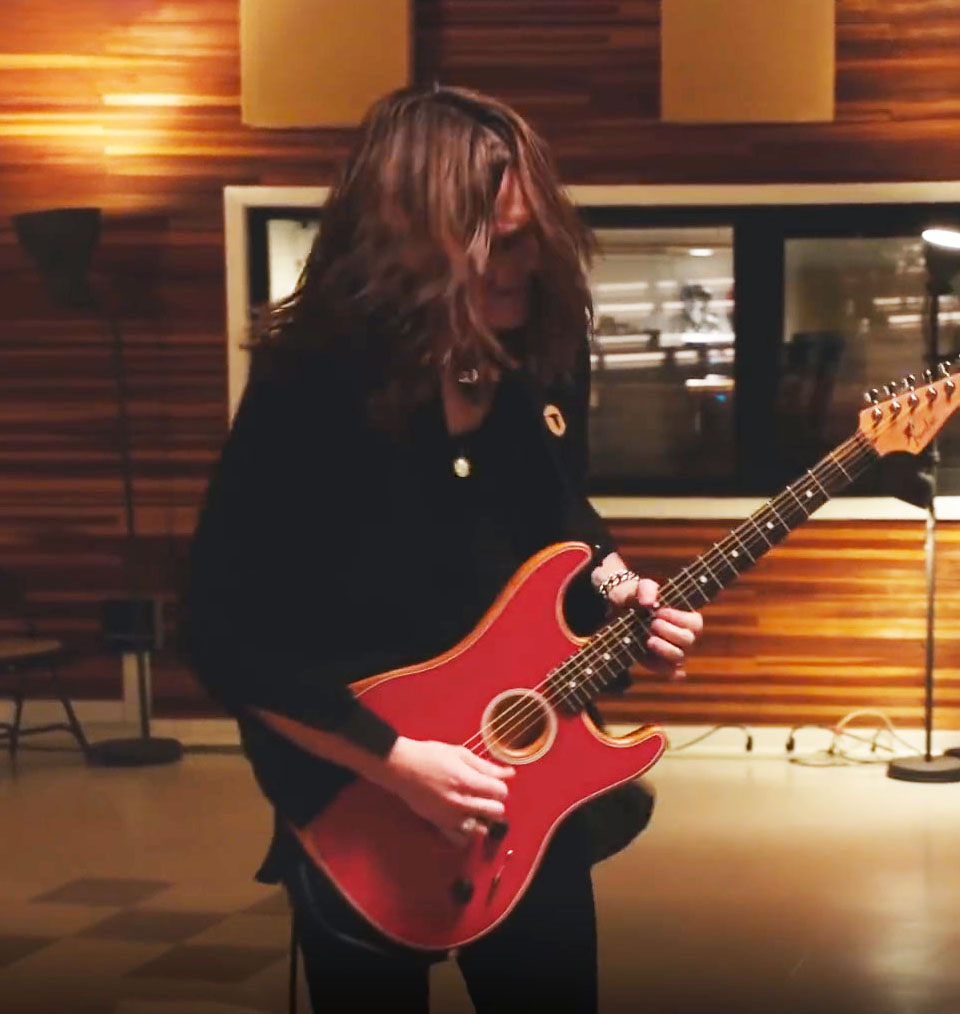 Ready For Any Scenario
With a high degree of versatility from the multiple professional-grade tones, this would be a huge asset to a studio/session musician who needs everything in one guitar or the enthusiast who is limited on space at home.
View The Full Range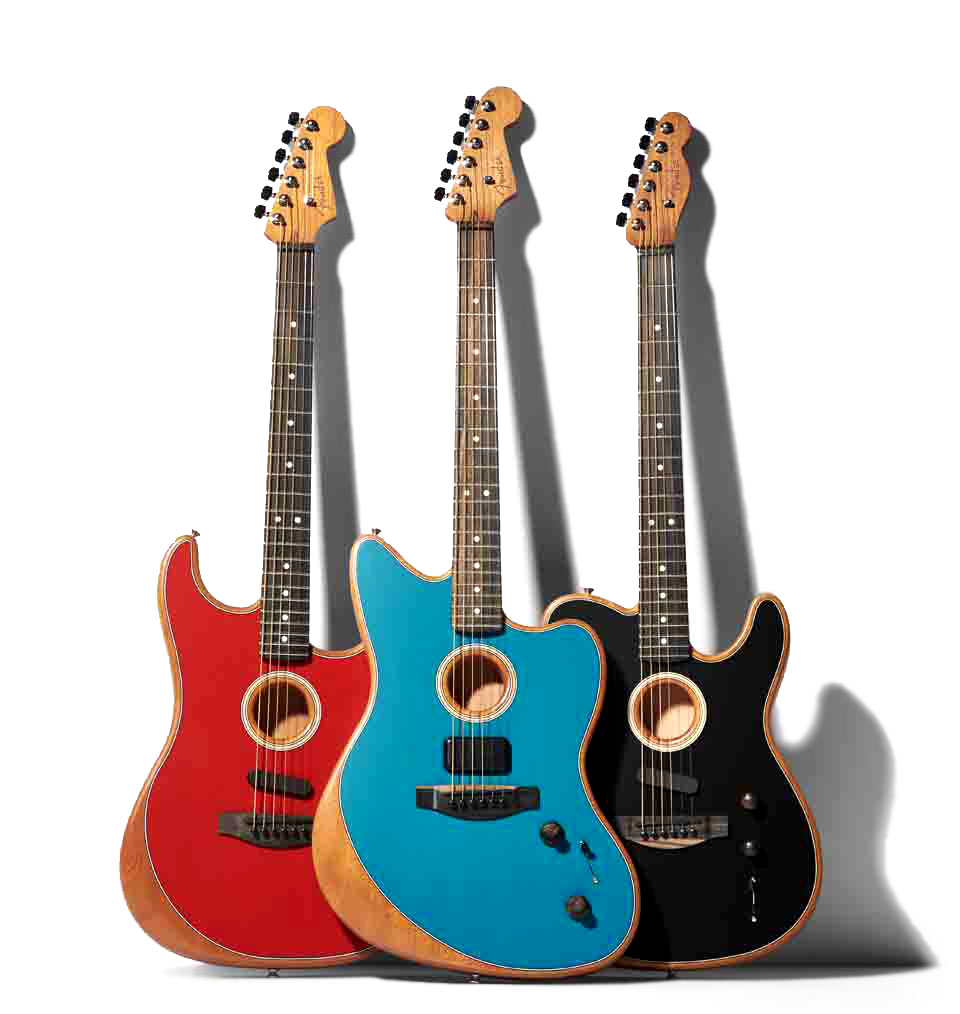 Iconic Body Shapes
Featuring Fender's best-known and highly loved body shapes, these guitars have a familiar look and feel that adds to the continued legacy from one of the biggest names in guitar history.
View The Full Range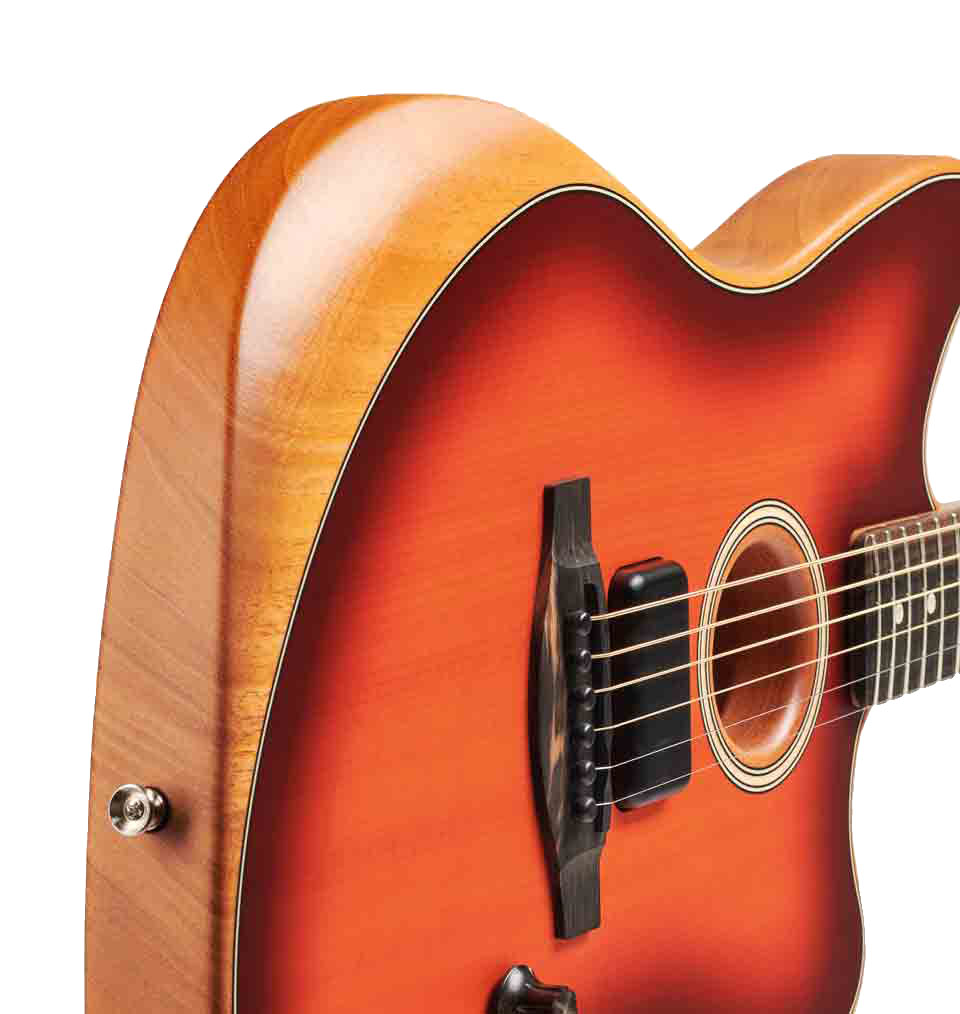 Superior Comfort
A smoothly carved neck heel and sleek forearm contour provide a superior level of comfort which is fully appreciated during long performances and sessions.
View The Full Range

Match Your Look
Each model has an array of different classic-inspired colours to choose from. Regardless of your style, Fender has you covered.
View The Full Range
Fender Acoustasonic
1-29 of 29
products
About Fender Acoustasonic
The Fender Acoustasonic series is a collection of innovative and high quality electro acoustic guitars. Keeping with the revolutionary ethos of the company, these are unique designs that have opened up a world of possibilities. As always with Fender, at the heart of any new innovation they have the player in mind. Part of the reason these guitars have been created is to harness an extra level of creativity and performance. They encourage players to experiment with sounds and styles they may not usually find themselves using. The result is an incredible enjoyable playing experience.
There are currently 4 models available in the series; the American made Acoustasonic Telecaster, Acoustasonic Stratocaster and the Acoustasonic Jazzmaster. The Acoustasonic takes the traditional body shapes that we all know and love and offer unparalleled levels of tonal options. First and foremost, they are well made and great sounding acoustic instruments. The usual high quality of craft you would associate with an American Fender is present in abundance. The natural sound of the instruments is powerful and ideal for anyone playing at home, in a writing group, live or in the studio. The fourth model in the line up is the new Acoustasonic Player Telecaster which builds off the success of the American-made series - a more budget friendly alternative, made at Fender's Ensenda acoustic facility.
The Acoustic Engine is what really sets this range apart and gives it a personality unlike any other. Designed by Fender and Fishman, it provides the player with an impressive collection of voices covering both electric and acoustic tones. A number of pickups are present to accurately capture all the nuances of the player. These are instruments that really need to be heard to be believed.
Our Fender Acoustasonic guitars come included with a guitar gig bag.
Why Should I Choose a Fender Acoustasonic?
A unique series building on Fender's rich legacy of innovative instruments
Incredibly versatile in terms of sounds and applications
Excellent construction and materials
Frequently Asked Questions about Fender Acoustasonic
Question: Is it an acoustic or an electric?
Simple put, it is both. The hollow body allows the guitar to sing with a full and organic sound. The combination of several pickups and the Acoustic Engine offer a wide variety of electric sounds that cover a whole range of styles.
Question: Who would these guitars be suitable for?
They are ideal for the professional musician looking for an instrument that will excel in a number of different situations. The fact that there are so many tonal options available make them the perfect solution for many styles and they can easily change to these are the flick of a switch of turn of a knob.
Question: Which model is best for me?
That is really down to personal preference. Some people prefer the look and feel of a Stratocaster body while others are die hard Telecaster fans. At the heart of each instrument are the forward thinking Acoustasonic features so no matter which you choose, the end result will be an incredibly impressive instrument.