Events: Phil X Clinic guitarguitar Camden
Published on 21 May 2019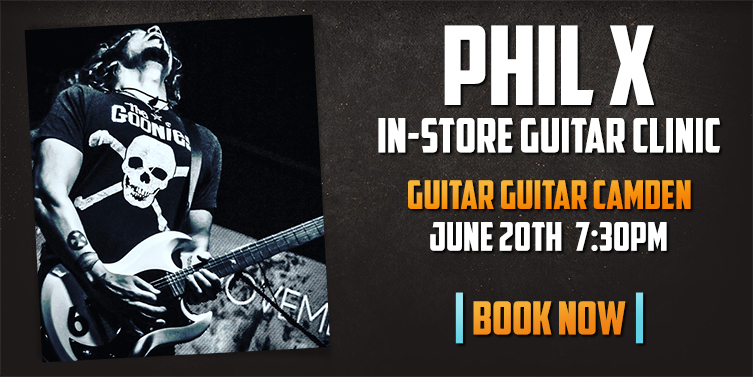 Easily among the most well-known bands on the planet, there aren't many of us who haven't cranked up the Bon Jovi at some point or another! With killer riffs and tones, along with some of the catchiest hooks of all time, the band have truly conquered the world and while Jon might be the face of the operation, it's guitarist Phil X who has caught our attention since joining the group in 2011. Bringing some unbelievable tones and techniques to the table, Phil spent a large portion of his career as a songwriter and session guitarist, playing alongside countless iconic acts such as Rob Zombie, Tommy Lee, Chris Cornell, Orianthi and Alice Cooper, amongst many others. He also has a dedicated following on YouTube and has stunned us more than a few times with his captivating demos and playthrough videos. Now slotting perfectly into Bon Jovi's classic sound, while taking no prisoners with his own band, The Drills, he's very much flying the flag for all the rockers out there and we really can't get enough of his playing.
So, when we heard Phil had a rare break from ripping apart crowds big enough to make most of us cower in fear, we knew we had to ask him along to the store...

On the 20th of June (7:30PM), we're very pleased to share that Phil X will be stopping by guitarguitar Camden for a clinic the day before Bon Jovi's gig at Wembley Stadium! Phil will be running through his gear, showing off his fantastic signature Friedman Head, breaking down some of his techniques, taking questions and, of course, doing plenty of playing. It's not often you get the opportunity to learn from a guitarist of this calibre so we'd thoroughly recommend reserving a place and joining us. Not only is Phil an exceptional musician, he's also a total character so we can see this being a really special evening! Book your tickets now to avoid disappointment!

Tickets are £10 - click here to book yours now!

Can't wait for the event? Check out one of our favourite performances from Phil below!