15 Years of guitarguitar: A Personal History
Published on 28 May 2019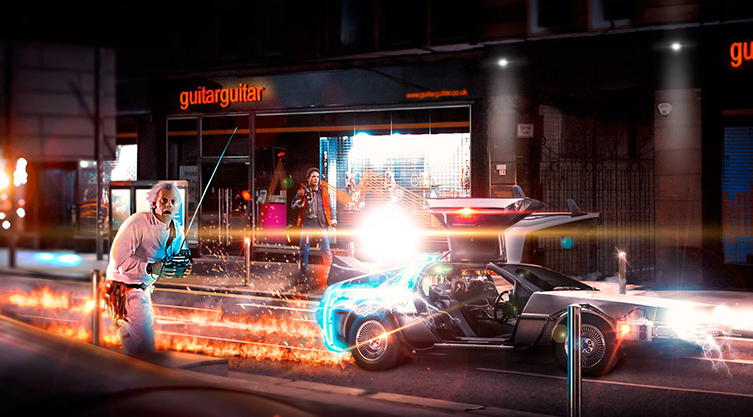 June 2019 marks the 15th Anniversary of guitarguitar! 15 years of guitarguitar. That's quite a milestone these days, and whilst we are not normally ones to look backwards and get sentimental, it has been quite a journey this far! Taking a little time to reflect and take stock is appropriate at this stage, so please join me as I go back to the beginning and recall the path that has led to the here & now! You'll laugh, you'll cry, you may even feel slightly aghast at the passage of time, especially if you're in this story like I am!
2004. The date still sounds futuristic but really, we are reaching back into the mists of time here: a time when Greece hosted the Olympic Games, and NASA's Spirit Rover successfully touched down on Mars. 2004 saw the launch of Facebook, the legalisation of same-sex marriage in (some parts of) the US, the final episode of Friends and the release of Green Day's American Idiot.
It also saw the opening of the first guitarguitar store in Edinburgh. Not far from Edinburgh Zoo, the 1st guitarguitar store unassumingly opened its doors for trade. Unlike later stores, there were no A-list celebrities to cut the ribbon, and no online presence to announce us to the world. It was an inconspicuous start, as beginnings often are.
Our original print adverts have become semi-legendary (at least throughout the company) and, realising that many people may have missed these iconic, masterfully composed pieces of modern propaganda, we felt like here was an appropriate place to share. Behold: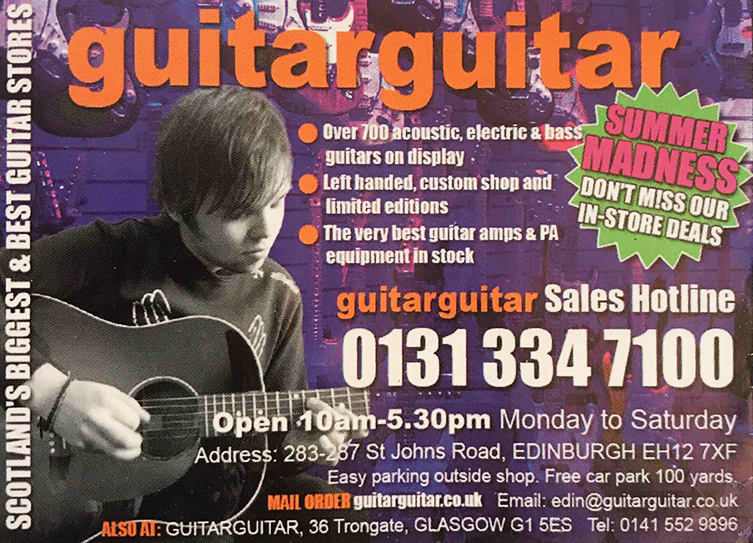 Our original store is still there, of course, staffed by some original members who were there from the start. An acoustic expansion was later added to increase the size of the store and this is how it remains today, a busy hub in the centre of sleepy Corstorphine. Chris and the team will almost certainly have the kettle on, so head in next time you're in Edinburgh!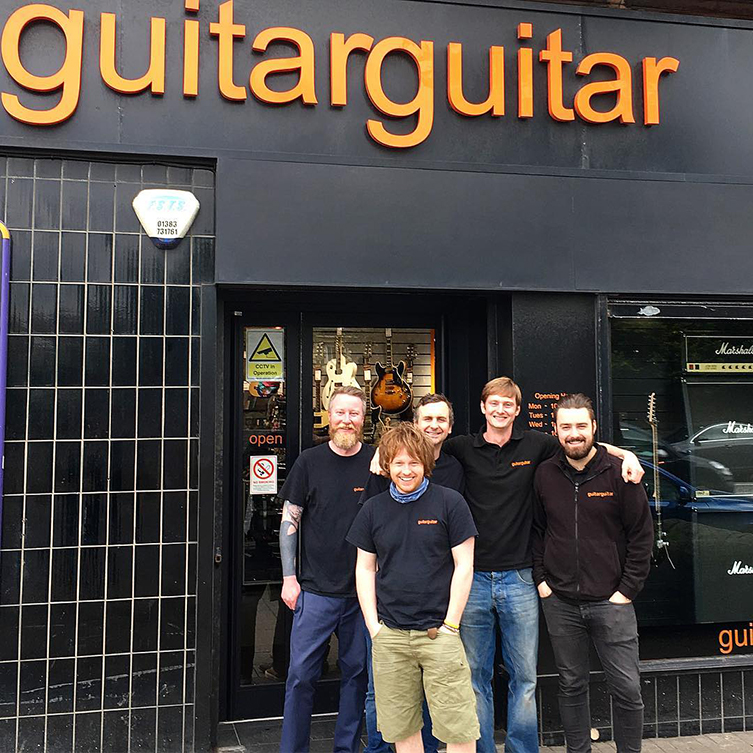 Some of the Edinburgh team brave the Scottish sunshine to wish you a personal welcome!
Edinburgh have also played host to a great many artist clinics and jam nights at several venues in the 'old town'. One frequent friend is no less a figure than Paul Gilbert, one of the world's defining shred guitarists. A lovely guy to boot, we have welcomed him in Edinburgh twice now for sold-out clinics and interviews.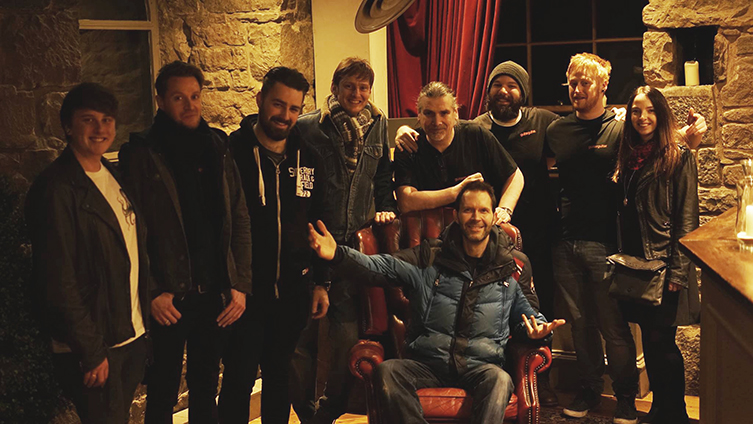 Paul Gilbert takes a load off with some of our Edinburgh and Glasgow crews.
The flagship Glasgow store followed a few months later, with celebratory articles in national newspapers. Located in the Trongate area ('tron' is old Scots chat for 'town' and the area used to mark the boundary for the city, making our street quite literally the 'town's gate', fact fans!), the Glasgow store started off relatively large and has multiplied in size numerous times since! Memories of an old wallpaper shop next door staffed by old ladies who smoked indoors fades into the distant past, as does the 'Discount Store' on the other side, which sold everything from framed pictures of Tony 'Scarface' Montana inside a dollar bill to some politically dubious soft toys sitting sun-faded and withered in the window. Every town and city has at least one of these...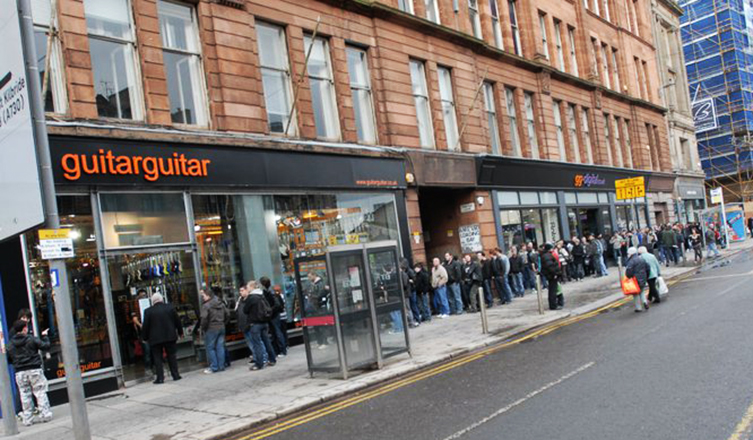 Crowds go 'Wylde' for a special in-store appearance.
Enjoy this exclusive pic from the archives of our original Glasgow office! Times have certainly changed from when this was the actual centre of operations for the entire company, and where the team would eat lunch too! Most of our current team won't even remember these heady days, but a few from this pic remain at guitarguitar, bringing up the 'I remember this company when...' moments with much authority, and amid plenty of rolled eyes. As the first non-original 'replacement' staff member (I joined in 2007), I missed this particular pic by a mere month or two. Here we have it: the stuff of which Empires are built! A rare peek behind the curtain to reveal the inner-workings indeed...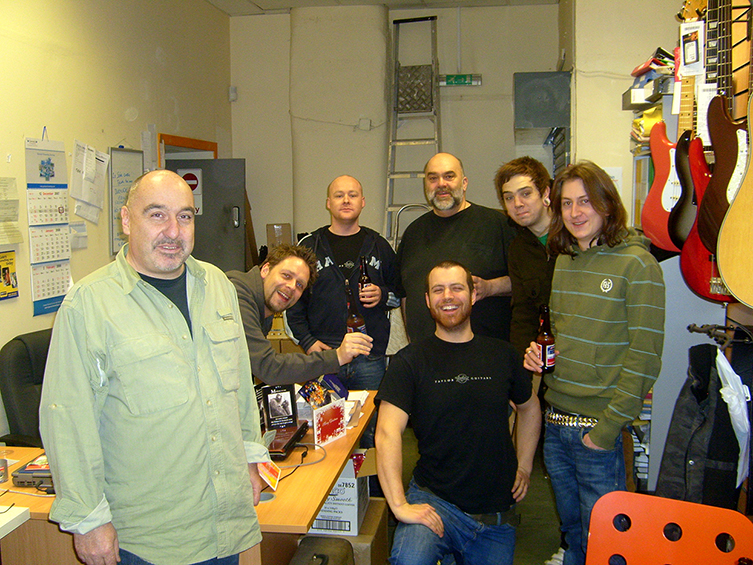 The original guitarguitar 'Master Control Centre' in 2004. Several repeat offenders remain as integral parts of the guitarguitar family today.
Back to the story. Those colourful stores next to us eventually passed and made way for two additions to the Glasgow store. First of all, in 2010, the premises next door transmorphicated into what is now GG-Digital, Scotland's only dedicated hi-tech store. Pianos in the window, digital drum kits lined up with merciful amounts of headphones connected, we ignored the unusual naming convention of the GG-prefix (there were clearly no guitars for sale) and charged ahead into a glorious new digital realm! Early memories for this writer include spooky, dusty journeys next door, torch in hand, into the bowels of pre-Digital's cavernous warehouse, with the premises still in mid-shop-fit state, in order to grab Squier starter packs that had been stashed there for Christmas stock overspill. Sawdust, darkness, tools and lamps lay around like lost relics of some forgotten culture. Navigating the stairs at the back was (and still is) something that required a deep breath. Digital Goods-in staff will definitely share stories of the shop ghost when prompted on staff nights out. Whilst not quite an Indiana Jones moment, these little thrills all lodge in the memory as brief signposts in time, marking the transition from one era to the next.
The Glasgow store is also located a stone's throw from the world-famous Barrowlands venue. This means that we often have well-known visitors popping in for a chat and a peruse!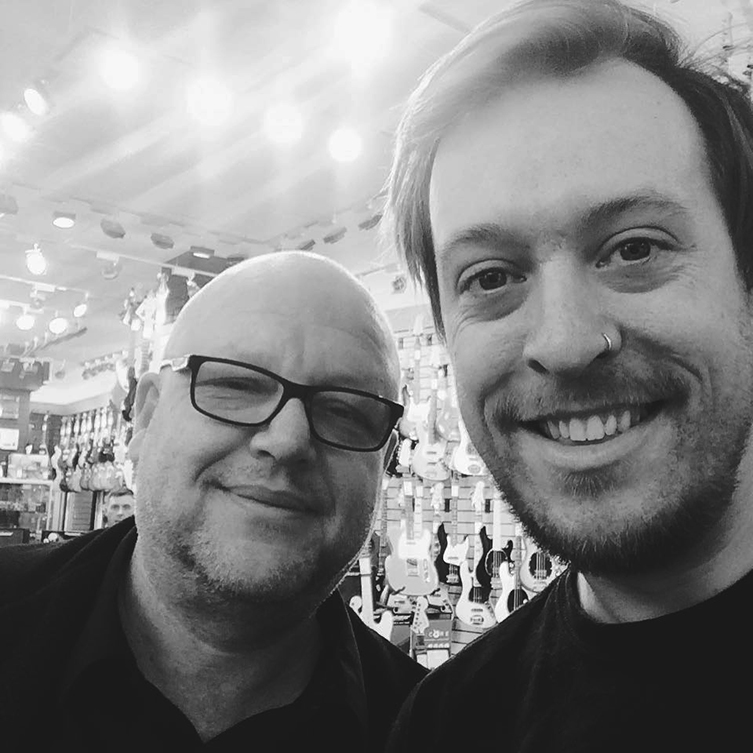 Ray has a hero worship moment with the Pixies' Black Francis as he bought a tasty handwired Marshall from us!
Meanwhile, Newcastle had already gotten into the action: the current location you'll know these days is, in fact, the second place we have occupied in that great city of the North. Prior to our current home on Grainger Street, guitarguitar Newcastle lived in the Newgate Shopping Centre. Now better known as a crumbled, wrecked pile of dust and ash, the Newgate Shopping Centre was once home to such businesses as Jessops, Wimpy and a (presumably) fantastic men's boutique known as 'For the Exclusive Man'. Future students, who will no doubt be living here in the forthcoming luxury accommodation, will have no idea of the rich history they sit upon.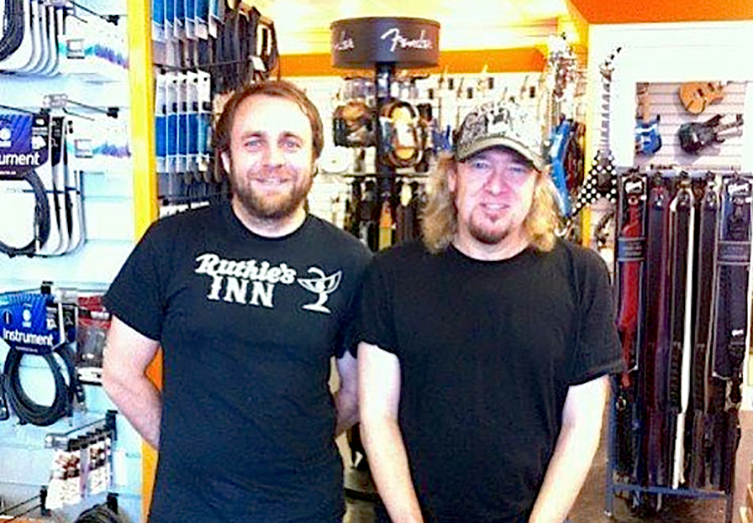 Iron Maiden's Adrian Smith drops in to our Newcastle store to hang with Jon.
The much more suitable location of 27 Grainger Street has been home to guitarguitar now since 2009, supplying the North with top end guitars and top end patter ever since. As with Edinburgh and Glasgow, many of the team working in Newcastle today have been with us since the beginning. Newcastle is also home to our web support team, the first line of aftersales service for all of our web customers, as well as all other guitarguitar customers in need of advice. Mon the Toon!
A map of the UK at this point would show guitarguitar as a considerable force up at the top, but with no 'flagged' areas further South. Whilst we are not members of the House Stark, and indeed this is not Westeros, it was clear that expansion to the South would be the correct way forward. With Birmingham being home to Black Sabbath, Baltis and a huge number of guitar players, there was little argument in deciding where the next shop should be. Birmingham's guitarguitar was opened in 2010, bringing this most rocking of cities a healthy dose of the GG magic! Birmingham has become one of our largest guitarguitar stores, attracting customers from all around the centre of England. Slade's Dave Hill likes to drop in too, as evidenced in our pic with shop manager Steve!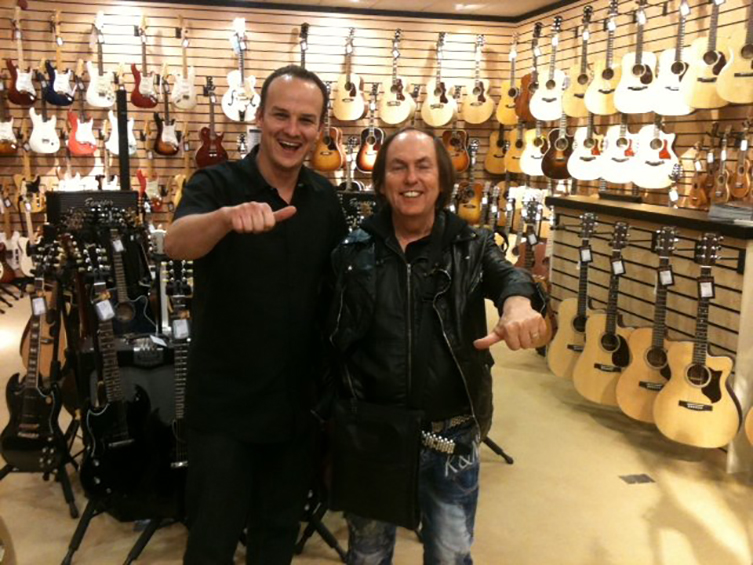 This was the same year that saw Glasgow's Digital store opening, to put some clear perspective in place throughout this twisting timeline! Divided from the other Glasgow stores by the infamous Tontine lane, guitarguitar Digital is a haven for all technophages, synth-wizards and PA warriors. There isn't another place like it in the country, and it is filled with jaw-dropping computer Mainframe Electronic Spectaculars, the likes of which will make your home studio resemble a Bond villain's lair. Our dedicated staff, like Dave pictured below, are here to answer all of your awkward interface questions and point you towards the Moogs.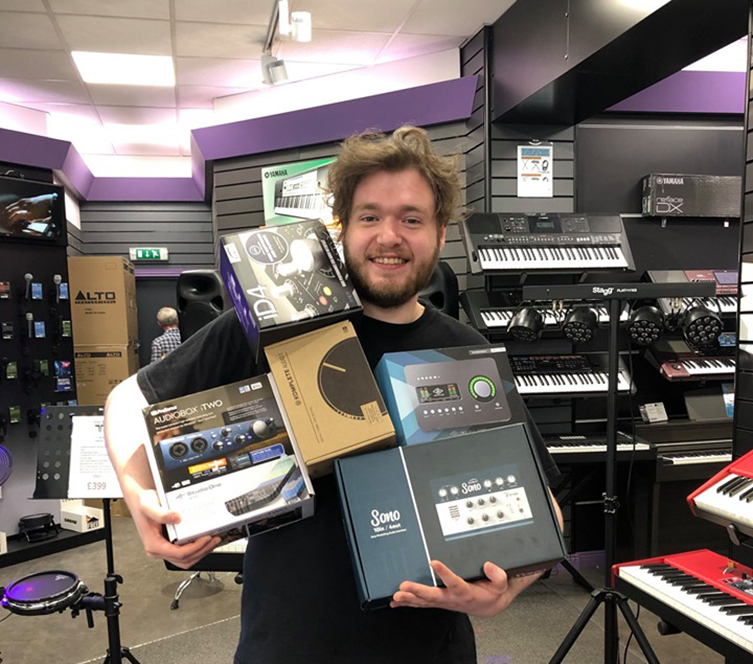 The digital virus has, in fact, spread throughout certain other guitarguitar shops! Fear not, it isn't contagious. We just recognise that more and more musicians are becoming producers and mixing engineers too, and they need catered for us much as anyone! Staff like Sara in Epsom are on hand to guide you through the world of keyboards, DAWS, ARPS and plugins!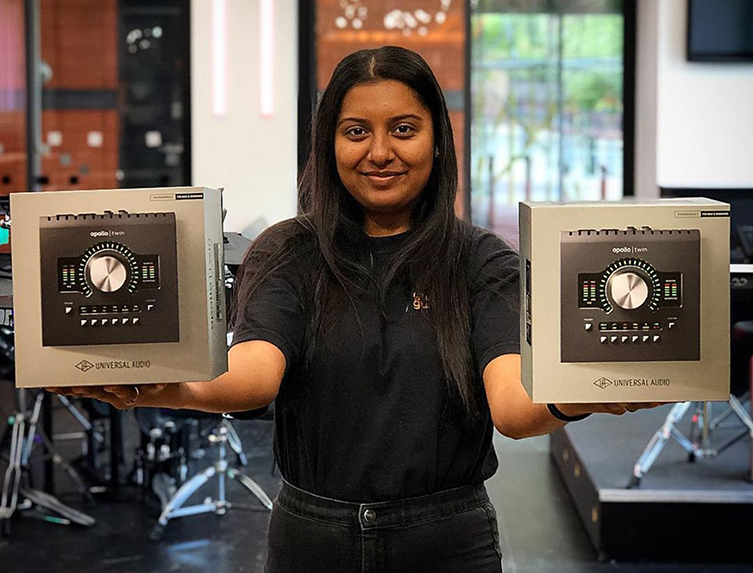 Back to the timeline: whilst all this conquesting was happening, there was still time for plenty of special in-store moments. We have been lucky and honoured to host a brace of very special guests within our collective doors. Devin Townsend made the first of several visits to us in 2011, bringing his army of die-hard fans to our Glasgow store. Zakk Wylde chose us as the venue for his MXR/Dunlop pedal launch: check out the picture here of Zakk shyly requesting an autograph from Yours Truly.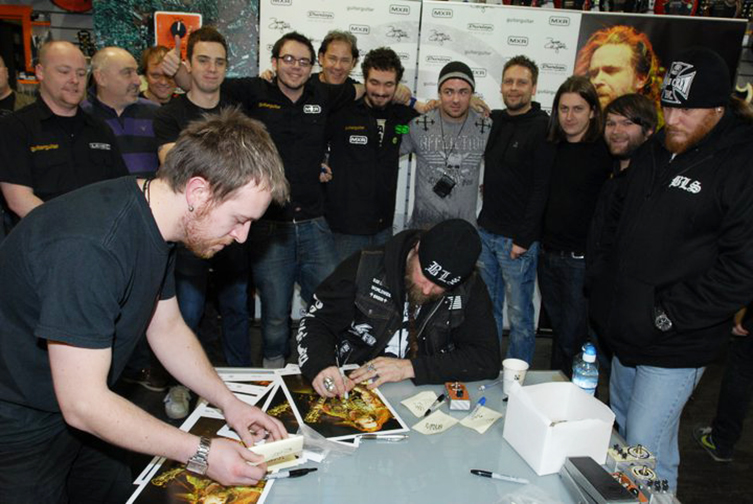 Ray, always good to his fans, signs an autograph for Zakk Wylde. These things are important.
Another legend in the form of iconic Guns 'n' Roses megastar Slash joined us as we intercepted the M25 ring and opened our then-largest store in Epsom. We were all a little star-struck at the appearance of Slash. The top hat, the shades, it's evocative stuff! The Epsom store, which opened in 2011, is guitarguitar's most Southerly store. The staff there, led by Luke, will be familiar to many of you for their top class Facebook live videos, which go out every Friday! Guitarguitar Epsom is a real treasure trove and a proper destination point for musicians in the South. Here is a before-and-after, from the work-in-progress shop floor (shop-fits are a mind-bogglingly complicated task, who knew?) to the official opening, with guitars on the walls and Slash in fine form.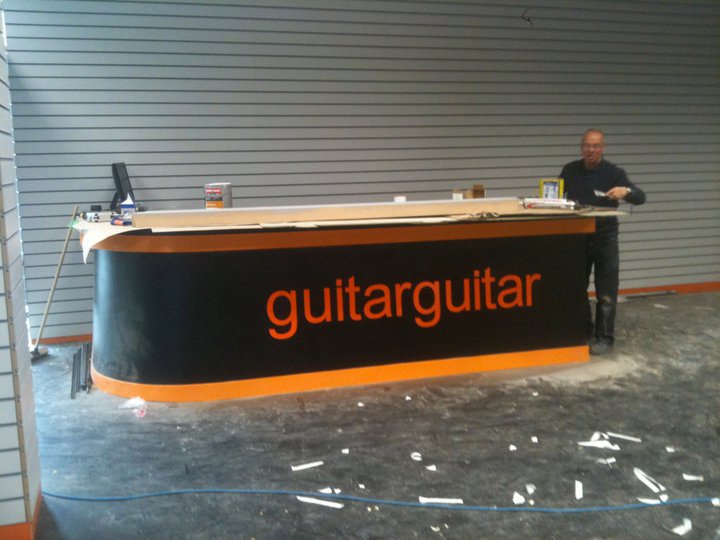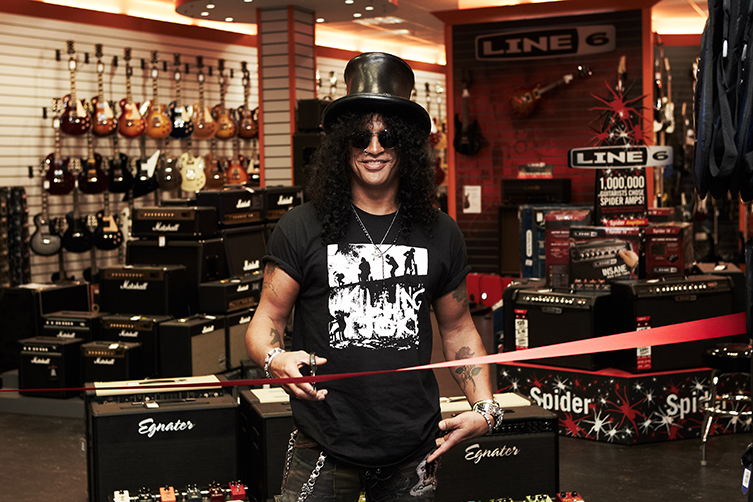 Guns 'n' Roses guitar legend Slash cuts the red tape at our Epsom store launch. Great Killing Joke t-shirt!
Joe Bonamassa is a regular to our stores, popping in whenever he's in town. He is a welcome and familiar face to staff and customers alike, always happy to chat to people and have a casual play. Rob Flynn is a frequent and most welcome visitor too, dropping in whenever Machine Head are playing close by.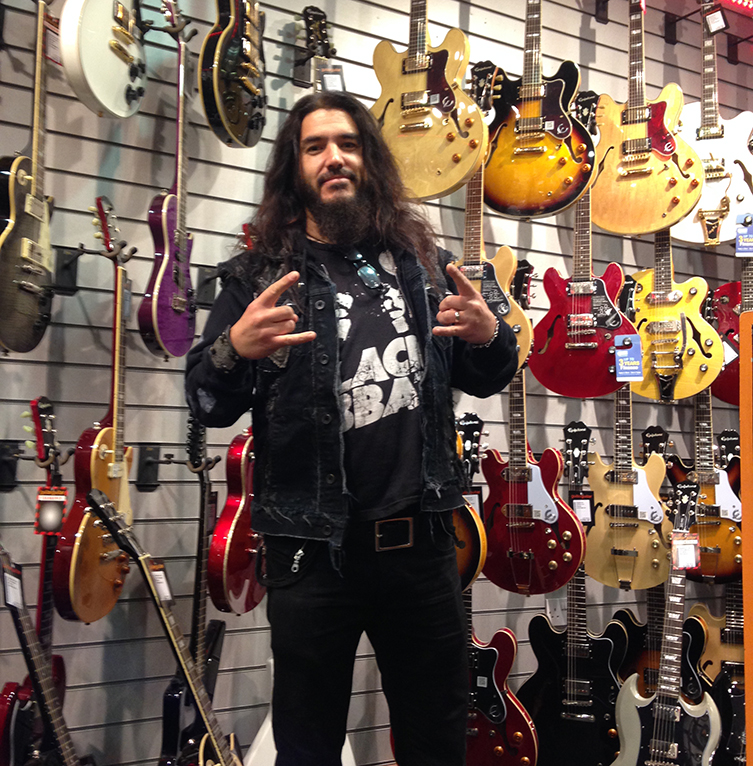 We have also headed out to meet some special artists on their turf, too. Opeth, John Petrucci, Gary Numan and John 5 are just a few of the artists we've been privileged to rub shoulders with. Mr Petrucci, in particular, left quite an impression on everyone who met him!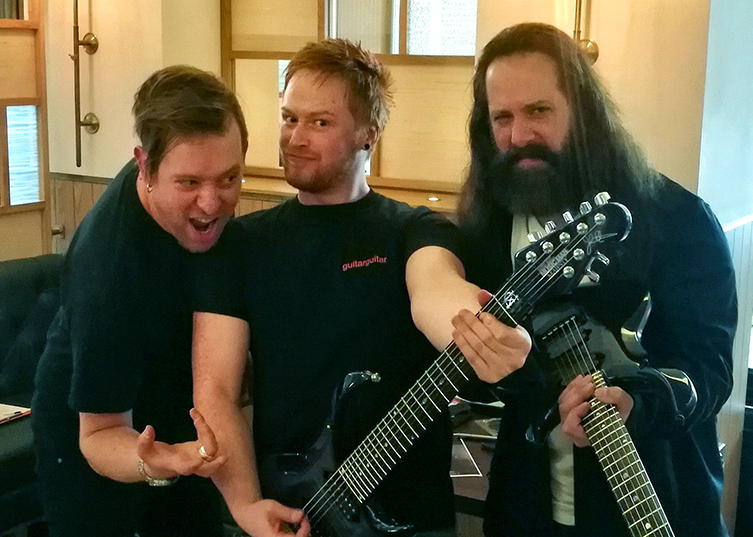 Ray and Arran make the most of some interview time with 'Papa John' Petrucci. Incredible human being!
Sharing special moments like these with not only famous guitarists but the lines of people who have waited to meet them is a special thing for us. There is always a great vibe at these events and the feeling of fun and goodwill really spreads throughout the store. We know only too well that our customers are the real stars: these are the people who visit us every weekend, or on their days off, and they (i.e. YOU) are the biggest and best reason for us to exist. It's nice to show off pictures of us hanging with big names but the lifeblood of guitarguitar is the passion of our customers who come through our doors every day. We thank you wholeheartedly and without reservation. You are the reason we're here, it's that simple.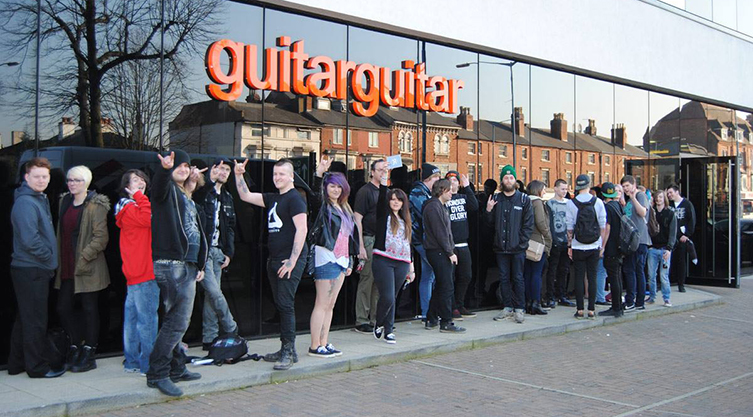 The good people of Birmingham give us the Horns, so to speak, whilst queing for Architects! You guys totally ROCK!
Okay, onward with the story! Glasgow gained a dedicated acoustic department in 2013, taking over the space next door. The Glasgow premises now reaches across three stores in a row, even though somehow there still isn't enough space for everything! How does that happen?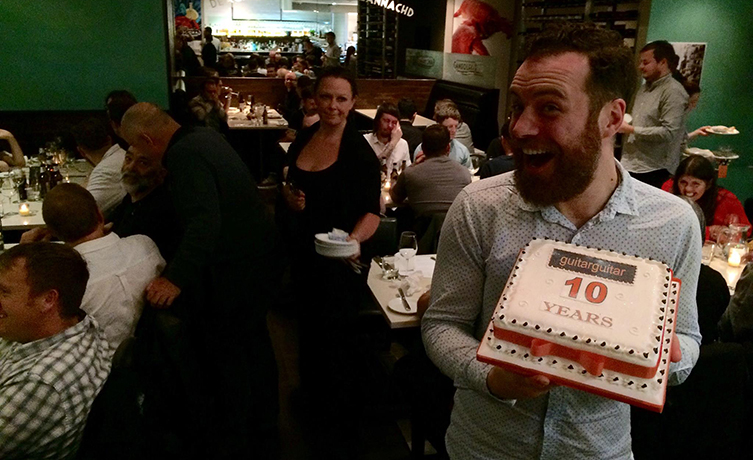 Gav, as usual, spearheads the celebrations as we hit 10 years old in 2014.
By this point, we had been in business for a while and had fostered some special, long-lasting relationships with brand leaders and guitar-makers whom we are proud to call friends. Because of friendships with people like John Suhr, Paul Reed Smith and, not least, the late, great Jim Dunlop, guitarguitar has been able to offer some special, exclusive, limited-edition guitars, pedals and accessories to our customers. That was always part of the plan: to be specific, detailed and personal in our stock choice, with staff who were passionate experts. We never wanted to be a faceless warehouse and we think we've hopefully avoided that. Going the extra mile to offer you something special has been guitarguitar's modus operandi from day one, and that is as true today as it was in 2004. Every staff member is a gear obsessive, and this filters through into every guitargutiar-special guitar we spec up, every piece of timber we choose for a guitar's top, and every custom pedal brand we introduce to our stores. After all, what else is there?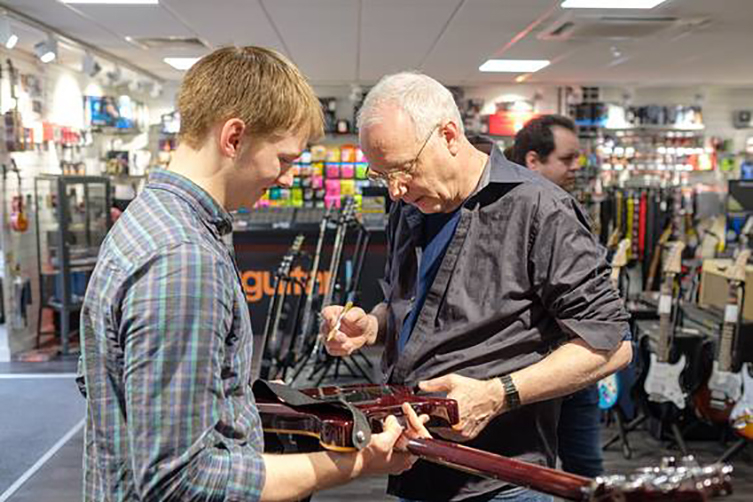 Paul Reed Smith, friend to guitarguitar, signs backplates and glad-hands the great people of Camden.
Every year, a team of intrepid staff members have faced the outright evils of a Scottish Summer and provided sanctuary and entertainment for artists playing at T in The Park (now TRNSMT festival). John and Mick have led the way, shooting the breeze with Lady Gaga, Trent Reznor and Pharell Williams, amongst many others. As ambassadors for guitarguitar, we think they represented themselves in an appropriate manner indeed. Good work, chaps.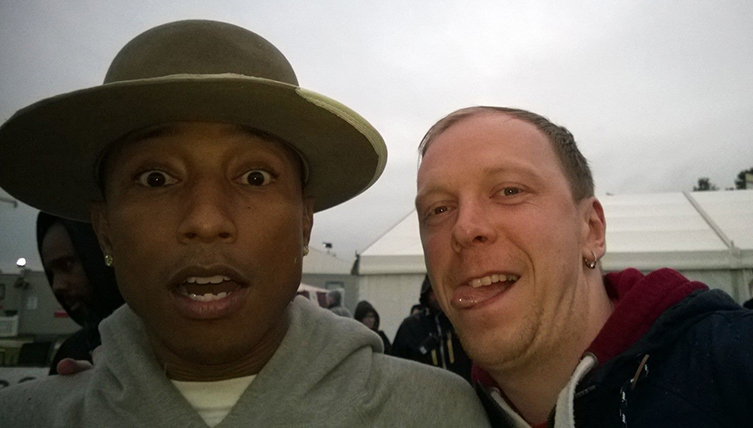 Mick introduces Pharell to the finer points of Scottish hospitality.
In a crude paraphrase of Joe Strummer, London was calling. Our beautiful Epsom store catered for a whole new market, but we found that, whilst it's close to London, it isn't actually in London. London is where we needed to be, and Camden is the spiritual London home of music and alternative culture, so it seemed like the perfect place for us!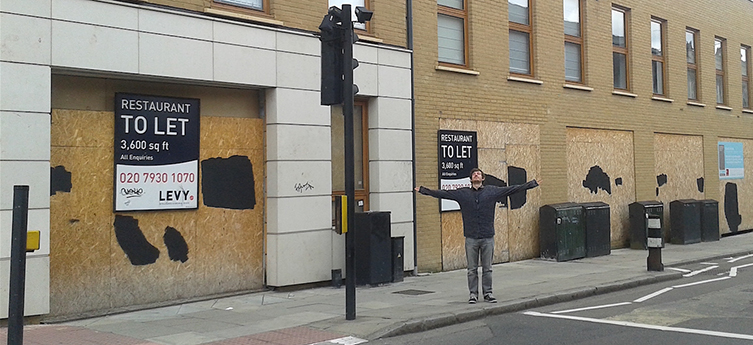 Andy in Camden, pre-guitarguitar-glory
We've been in Camden since October 2016 and this store is, without doubt, one of our busiest. Having a presence in this most energetic of metropolitan areas has completed our line-up of UK-based stores. Staff form our Camden stores also go along to events like the London guitar show, as evidenced here by Kieron and his herculean lifting skills!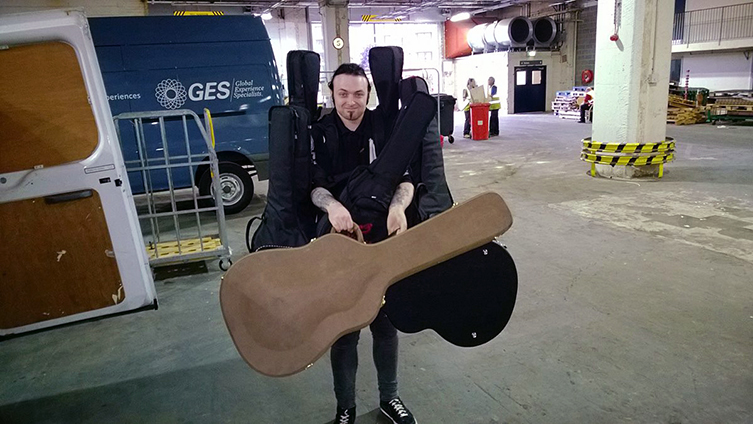 In terms of the guitarguitar that you don't necessarily see, there is the web support office in Newcastle that we already mentioned, plus a warehouse in East Kilbride (the place that inspired George Orwell to write 1984, make of that what you will) and the company's headquarters (known to us as Central Support) in Glasgow's Merchant City. Central support is where the coders, buyers, bloggers and marketeers reside, 5 stories up with a view of historic Glasgow. We are a Living Wage employer, and we have over 150 staff throughout the entire company, working tirelessly to bring you the greatest guitar-related goods and content.
As we hit this landmark 15th birthday, we'll hopefully dodge the 'awkward teenager' phase of life and head straight for a slightly more mature, almost-adult status. It has been a fun, twisting, turning, strange adventure for us without a doubt! Life, in the words of some boy-band, is indeed a rollercoaster. We have grown and changed a lot since we began in 2004, much as the world around us has also changed. It is now 2019 and, in terms of guitars at least, some things are different (digital modeller amps are the norm for big bands, for example) but most things are not: Fender and Gibson still rule the roost (though Gibson had quite a close shave recently), Metal is as popular (more so, in fact) as ever, and the best-selling colour for a Stratocaster is still White! Hendrix, Page and Gilmour are probably still the Titans of the guitar playing Pantheon, but new players like Tosin Abasi and Jared James Nichols are also flying the flag for unadulterated guitar action. The country may be a mess, the world may at times seem to be turning completely upside down, but while we have electric guitars, distortion pedals and riffs, we can withstand anything!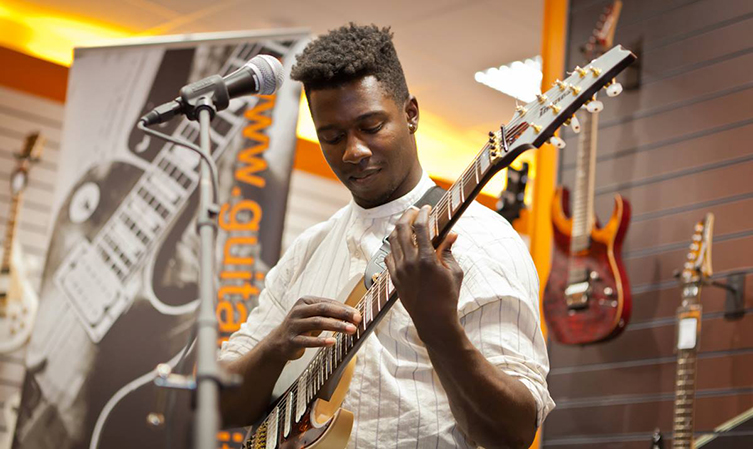 Animals As Leaders' Tosin Abasi, bringing the Nu-Shred in Epsom.
Having you join us so far on this ride has been a considerable pleasure! Again, we thank you all for being an extended part of the guitarguitar family. On behalf of the staff, we have met a great number of excellent individuals over the years, many of whom have become cherished friends! Long may it continue as we advance into the next 15 years! Stick with us for some great things as we move ahead into the wide-open, blue-skied future! To guitars!
Ray McClelland