A Closer Look: Solar guitars
Published on 09 July 2019
We have a brand-new range of incredible guitars here for all you Hard Rock and Metal players! We're excited to introduce you to Solar guitars, a superb new range of instruments for the contemporary technical and progressive guitarist.
Solar guitars as a brand are less than two years old, but already they are taking the Metal world by storm! Solar guitars are headed up by none other than Ola England, whom a lot of you will be familiar with. For those who aren't, Ola is a Swedish Internet personality, YouTuber and, most significantly, guitarist in the bands Feared and The Haunted.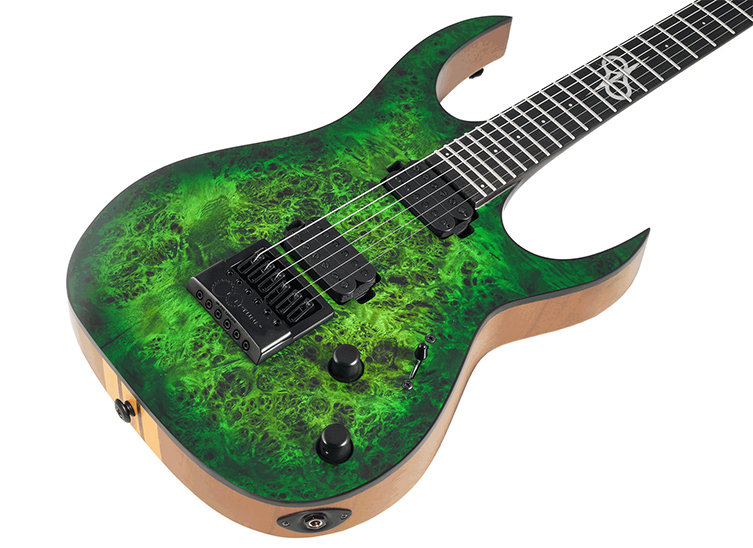 Ola has been very visible online for years as a product demonstrator, with legions of fans and subscribers watching his channel every month. His mission, throughout his professional life, has been to finally design, as he puts it, "...an absolutely killer line of guitars for the modern guitar player, no matter if you are a beginner or a professional. We don't like labelling players; everyone has their own musical goals and aspirations. Solar Guitars is more about providing you with the right tools to help you reach those goals."
To this end, Englund has imbued Solar guitars with a high level of quality. Precision and innovation are key to the brand, with certain models in the line featuring Evertune Bridges, stainless steel frets, through-neck construction and more.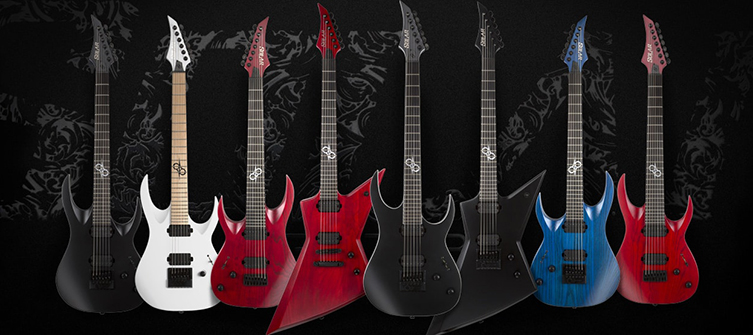 Significantly, Englund has collaborated with Seymour Duncan to create a range of 'Duncan Solar' pickups for the range. These are broadly similar to the 'Duncan Designed' pickups you'll find on other quality imported guitars, but these models are exclusive to Solar guitars. They are unavailable elsewhere. Different Solar guitars have different Duncan Solar pickups, but they are all tweaked versions of existing Seymour Duncan models and, therefore, sound amazing!
Ola Englunds' level of respect within the online guitar playing community has proven to be instrumental in developing the range. Solar guitars have arisen and benefitted from Ola talking to musicians, finding out what they want, what they need and indeed what they can do without. This open attitude to public input has helped Chapman guitars enjoy a lot of interest (and success) in recent years, and that seems to be the case here too.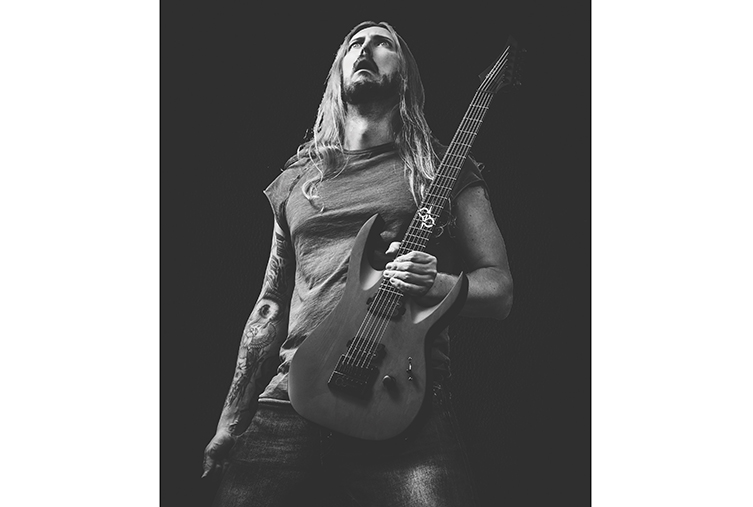 So, to the guitars themselves. There are many models available, but they boil down to five main styles:
Type A: This is a contoured Superstrat with distinctive scoops in at the (already generous) cutaways, to provide unparalleled upper fret access.
Type B: This is a more slab-bodied Superstrat.
Type V: A mean-looking V with a slightly offset lower shoulder.
Type E: A sharp and aggressive Explorer style.
Type G: An LP-style single cut, with a variety of body contours depending on the model.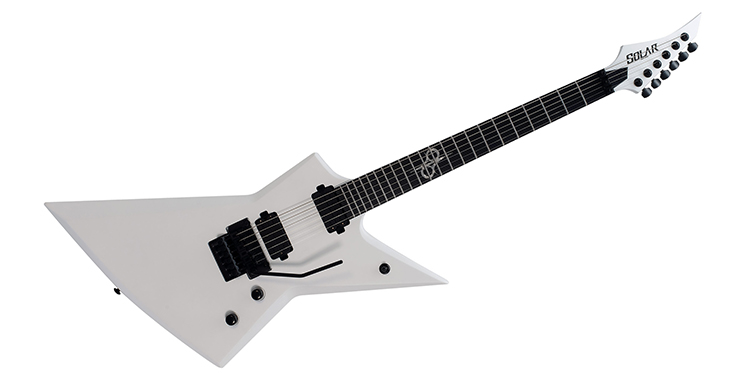 All Solar guitars have a pointed, reverse headstock. Each body Type is available, depending on the model, with either a hardtail, a Hipshot hardtail an Evertune bridge, a Floyd Rose tremolo or a TOM fixed bridge.
Prices range from under £600 to just under £1200. In order to illustrate the range properly, let's take a closer look at two of these mighty beasts...
Solar A2.6LN Lemon Neon Matte
This head-turner comes from the more affordable end of the Solar spectrum. We've picked this model to demonstrate just how much you get for your money! The A2.6 is available in a range of finishes but we couldn't resist picking this bold and beautiful Lemon Neon! Make a statement on stage!
So, it's a Type-A model, the Superstrat style with the scooped cutaways. The body is made from Mahogany, while the through-neck (it's a Maple neck) has a very generously scooped heel at the back. Nose-bleed area fretboard excursions are evidently encouraged on this high-performance machine!

Even at this price, Solar have put a proper Ebony fingerboard on here, filling it with two full octaves' worth of Super Jumbo frets. This is a shredder's dream! The profile is a thin C shape, with a 13.78" radius and a standard 25.5" scale length.
What other highlights are there? Let's delve deeper! There are a set of 18:1 ratio tuners, a string-through body hardtail bridge, a graphite nut and a 5 way selector blade. And of course, that superb finish.
The quality of workmanship is impressive, especially at the price! The neck is smooth and speedy, with a comfortable, inviting feel. This Solar feels solid and ready for action, with a sound that is frankly more versatile than we expected! Those Duncan Solar humbuckers bring the shred, as you'd expect, but work well with the guitar's volume and tone pots, providing a malleability that belies the guitar's quite specific looks.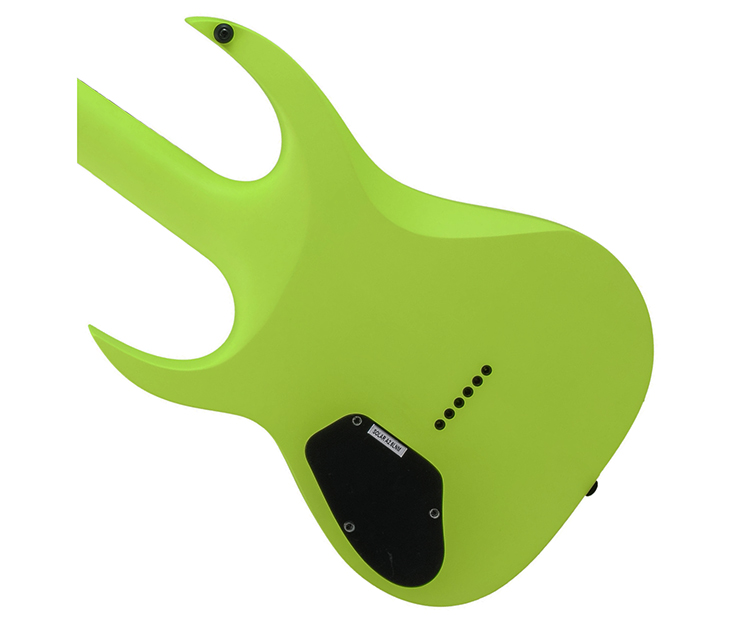 (This back view shows the generous heel contouring, providing exceptional upper-fret shredding access!)
We like! This guitar greatly displays what Solar offer at the lower end of their line. It's most impressive! But what lies up toward the far end? Let's pick another and have a gander...
V1.7FBB
Now this is a monster. It's a primordial Megalodon, a massive shark of a guitar! We think it's a shame to talk about Metal-biased guitars without including a V, so we've gone bust and opted for this sleek Leviathan here! The Solar V1.7FBB (maybe catchier names are needed...?) is their top-of-the-line 7 string V, finished in a matte Black Burst. It looks very 'wow' indeed!
The V is made from Mahogany and is topped with Flamed Maple. This Flame is applied to the headstock too and looks pretty exceptional, getting the balance correct between opulence and Rock aggression! The overall design looks great: very balanced and aesthetically pleasing. This time, the Ebony fingerboard has stainless steel frets, whilst the tuners are locking versions with the same 18:1 ratio.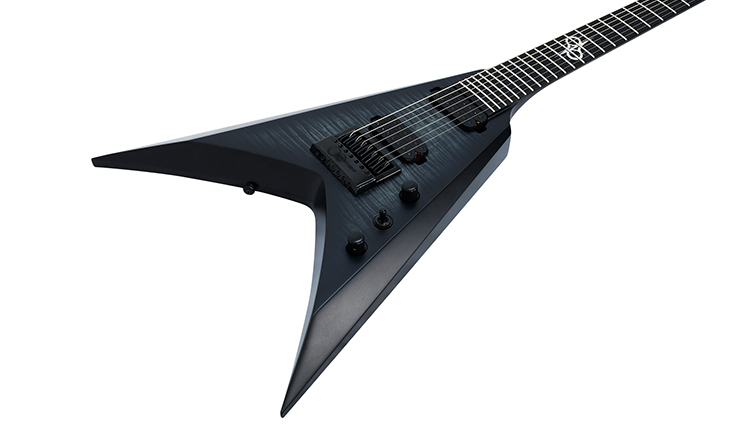 The bridge is an Evertune, an innovative unit that uses weight and counterbalance to keep your guitar more in tune than any bridge ever has before. It's a chunky big beast, which suits the style of the Solar V1.7TFF just fine.
Elsewhere, the Duncan Solar pickups are coil tapped, the side fret markers are made from glow-in-the-dark Luminlay, and the jack socket is cleverly placed in a 'facing up' position on the back of one of the body's fins. This speaks to the well-thought out nature of Solar guitars: having the input located in this position makes it easier to hang your cable through your strap, as well as hiding it from view and also stopping the cable from being pulled out of your guitar if you accidentally stand on it!

The build quality is flawless. This is a very well put together guitar with excellent attention to detail. Modern Metal and Prog players will love this Solar V: it's everything they need with style, class and quality.
Final Thoughts
We think Solar guitars are superb. Due to the association with Ola Englund (it's much more than association: he designed them!), we were expecting good things, but the results exceed our expectations. The quality is applaudable across the board, with concessions to market price points being made in all the correct places. It never feels like corners have been cut with these guitars, and the whole range has a collective identity that hangs together really well.
If you are in the market for a sleek, modern performance instrument, Solar guitars simply must be on your list of guitars to try. Don't miss out on what could be one of the best buys you've made in years!
We have a great selection of Solar guitars available right now in all of our guitarguitar stores. Head to your closest store and check them out today!