The guitarguitar Interview: LIVE's Chad Taylor
Published on 09 August 2019
It's good to have LIVE back. The Alternative Rockers from York, Pennsylvania shot through the 90s like a meteor, selling over 20 million records in the process. Heavy hitting but full of melody, atmosphere and spiritual awareness, LIVE bring a unique and timeless voice to the world of Grunge and Alternative Rock. Their optimistic, hopeful songs search for truth in everyday life, with a grounding in Small Town America but with a gaze directed at the stars.
Chad Taylor, LIVE's lead guitarist and co-writer, has always provided a tasteful and unorthodox voice on the guitar. An ensemble player, Chad is never the less a musician with personality and a level of expression that has won him legions of fans across LIVE's history. With their breakthrough second album, Throwing Copper, celebrating its 25th Anniversary this year, LIVE are touring the world and celebrating. It's been a while since we've seen them over here in the UK, so we wanted to take any advantage we could to get a conversation in! We caught up with Chad to discuss hometown influences, the secrets of tone, and the joys of studio pet dogs! Chad was very generous with his answers, giving us warm, friendly and interesting info into the processes of these highly successful artists.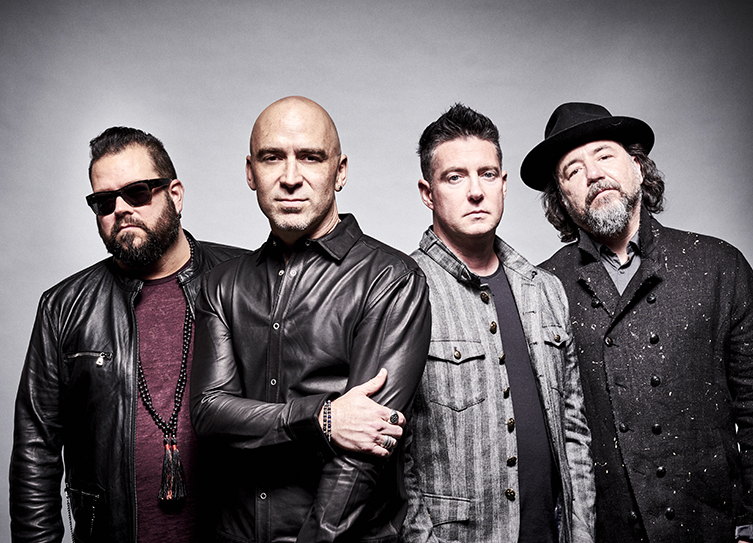 (Photo by Clay Patrick McBride)
Chad, thank you so much for talking to me! Now, first things first: your mega-selling album Throwing Copper has just had it's 25th birthday! How does it feel to have made a body of work with such longevity? And did you ever think, back then,that people would still be listening to it a quarter century later?
C: For me, songwriting is a deeply personal process. It starts someplace void of thought.
What I mean is that I can't just sit down, and say, 'let's write a song'. In fact, whenever I've tried to write from an active mind, it's given me terrible results. I've got to escape into a passive place through the meditation of playing my instrument. It's when I lose myself, lose track of time and place that my best material has been birthed. I wrote Lakini's Juice that way, Be A Giver, Man and Honest Man. In each scenario, I landed on a series of chords or a riff that just worked.
This means admitting to myself that my process of creativity is somewhat accidental. I've created my best music when I was least expecting it. I've even written songs while watching television, guitar in hand, with no intention of writing. It's like the distraction allows the spirit of a song to take control.
Your question points to elements of expectation and longevity. I've never been able to anticipate how other people will react to my songs. I never create with anyone else in mind - other than when something is coming together, I will think to myself: how will Ed relate to this idea? Will he be inspired to write lyrics and a melody? If the answer is 'yes' then there is some hope that it will become a LIVE song. Of course, Dahlheimer and Gracey bring a tremendous amount of influence into the area of arrangement, and what the final pocket will feel like.
Otherwise, I just forget the progression/idea and move forward towards something new. I've got hundred of demos that I've collected over thirty-years of writing for LIVE. Sometimes, I will revisit ideas that I never submitted to Ed, if I feel they fit the vibe of the moment. We tend to write in batches - a group of fast songs, a group of mid-tempo songs, or even embracing other artists. We recently had our Velvet Underground faze, covering "Venus In Furs" on the Local 717 EP.
I was once writing songs on a vacation with friends, and our hostess said, "so when will this album be finished?" The answer unfortunately is never. I'm never finished being creative. So no, there was very little anticipation of either longevity or mass appeal.
But...when I first heard the completely mixed and sequenced Throwing Copper album, I did feel moved to tears. I was greatly excited to see if this body of music could translate to others. After twenty-five years, it obviously worked pretty well but I had no clue it would sell the way it did. I can't count to ten thousand, let alone eight-million. That's a lot of acceptance.
I also acknowledge that Chad, Patrick, Ed and I came together on a spiritual plane making that album; it's extremely difficult to synchronize four human beings into one breath, one effort, and one sound. I'm not sure we've ever been more aligned, other than when we decided to reunite.
When we were recording Throwing Copper, I think we had to remind each other of our unique strengths when we were in the studio performing. We each held a certain degree of gratitude towards each other, but also wanted to prove to ourselves that we really did matter individually to the music we birthed. Ed is absolutely the epicenter of this bands music but LIVE would never thunder, hiss or moan without the more magical elements of a true ensemble experience. LIVE really is a band.
It took me thirty-years to truly appreciate how fortunate we are to have formed our group age of thirteen - prior to the demands and struggles of adulthood. At that age, the only priority was our music, and if anything, our fans count on our personal bond with each other more than even the music. That still blows me away.
LIVE were in London on June 30th for the first time in a long while: how did that go?
C: The London show was a blast! I love the city and it's culture. It had been more than ten-years in the making. Far too long!
I even turned 21 in London and recall ingesting hash brownies at a small pub because it was nothing special to buy a drink. So, London triggers a flashback to our youth, and how incredibly excited we were to bring our music to England.
Of course, English bands played a substantial roll in moulding LIVE. We supported Johnny Rotten's P.I.L. throughout the UK, just like the Ramones took us under their wing in the states.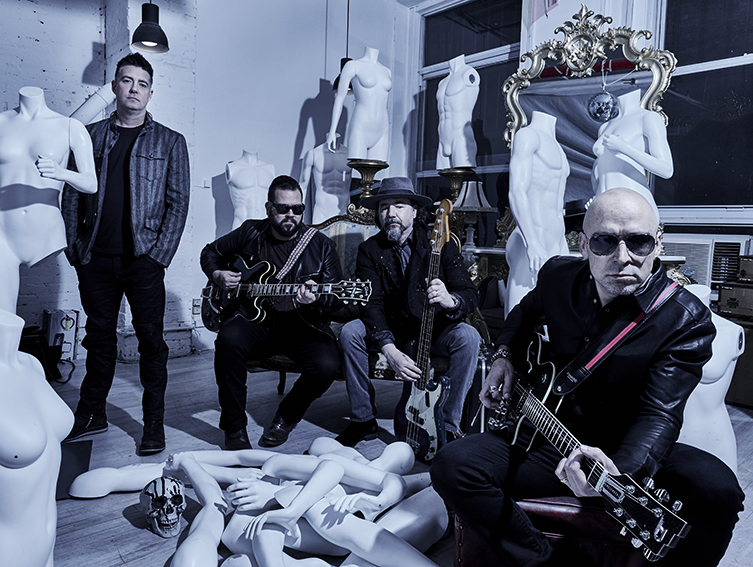 (Photo by Clay Patrick McBride)
With one brief exception, LIVE have had the same line-up since you were all in high school. Presumably, the relationships within the band run very deep. How does this affect the music you make together? Do you try to surprise each other musically?
C: Correction, it's been the same lineup since middle school. And I've known Ed since kindergarten. There is a massive upside to how we came together but we also act like brothers, who can take each other for granted. I guess some degree of entitlement can't be helped as we really are a family. Even some of our road crew have been with us for twenty-five years and counting. I just know in my heart, like deep down in my soul, how lucky we are to have this shared musical experience. I think our fans know we're back and better than ever.
LIVE came to prominence during the 90s Grunge and Alternative Rock eras. Unlike a lot of those bands, LIVE have an unapologetically optimistic and spiritual focus to a lot of the music. Do you think this may be why Live have outlasted so any of your Alt Rock contemporaries?
C: If I'm honest. Luck has a lot to do with our longevity. For one, we've remained healthy and for the most part we've avoided the heavy pitfalls of addiction, anxiety and depression; qualities that often lead to bad places.
All humans have their problems but the personas that embody rock stardom have always drawn close the complex array of lower chakra energies; where indulgence and excess are at the ready. It can be incredibly difficult to maintain balance especially if you begin to use these resources as a primary source of energy or motivation. So many great musicians get swept away by these powerful tools that they eventually lose some part of themselves to it. And sure, I've had my fun but when it came to anything that could take away my love of making music, I've tried to push it to the side. The word temperance comes to mind.
Touring is not a particularly healthy experience, and on a daily basis we are confronted with a running list of distractions. My friends, the ones who lead normal lives, want to glorify the sex, drugs and rock n' roll aspect of our career - but most could never tolerate the psychological or physical responsibility associated with our gig. Of course, I bet they'd like to try!
I'm also not some whiny prick - I'm very privileged to make my way as a musician. I've worked hard jobs too, and have family who worked even harder, so you won't catch me complaining. And it's why I'm so grateful to our fan base. I'm going to have fun, and soak this in. Maybe that's what you mean when you call our music optimistic?
It's kind that you view our songs as spiritual but for me it's just the blues. White, Discussion or Lakini's Juice are marinated in the same seasoning as John Lee Hooker or Howlin' Wolf. It's my favorite aspect of LIVE. We easily sink into the Delta.
You all grew up in York, Pennsylvania, and have referenced it in songs like Pillar of Davidson and Shit Towne. Do you guys still live around that area? And how does this part of the world influence your writing? How would you describe York to someone who has never been there?
C: My life outside of the band has become increasingly dynamic and I spend a great deal of time in downtown York. When I was a teenager, I couldn't wait to escape the small city where we grew up. As an adult, I recognize that I have an opportunity to help make York a better city through economic growth and community partnerships. LIVE are graduates of William Penn, a diverse inner-city school, and nothing motivates me more than thinking about how incredibly challenged these young students are to find meaningful employment and education opportunities.
Since 2008 my business partners and I have invested heavily to create new jobs and new economic opportunity. This includes our Think Loud headquarters at 210 York Street, as well as numerous companies that occupy the building and surrounding campus.
In 2012, I co-founded United Fiber & Data and helped assemble a management team that has deployed nearly 400,000 fiber-miles interconnecting York with both Ashburn, VA and New York City. This is a multi-state greenfield build that directly links the financial epicenter of Wall Street to the largest Internet hub in North America. A tremendous feat given the intense regulation and monetary hurdles we faced.
Of course, now that the band is actively touring, I no longer work in the same capacity, but I'm so proud of our team and especially the jobs we've created.
We've also built an amazing recording studio, Think Loud Studios, and have artists from all over the globe recording at the facility. My happy place is inside this studio.
Come to York and see for yourself! We've got some great local breweries and restaurants to visit, and maybe I'll show you the Throwing Copper bar, and you can meet Thor, my loyal studio dog.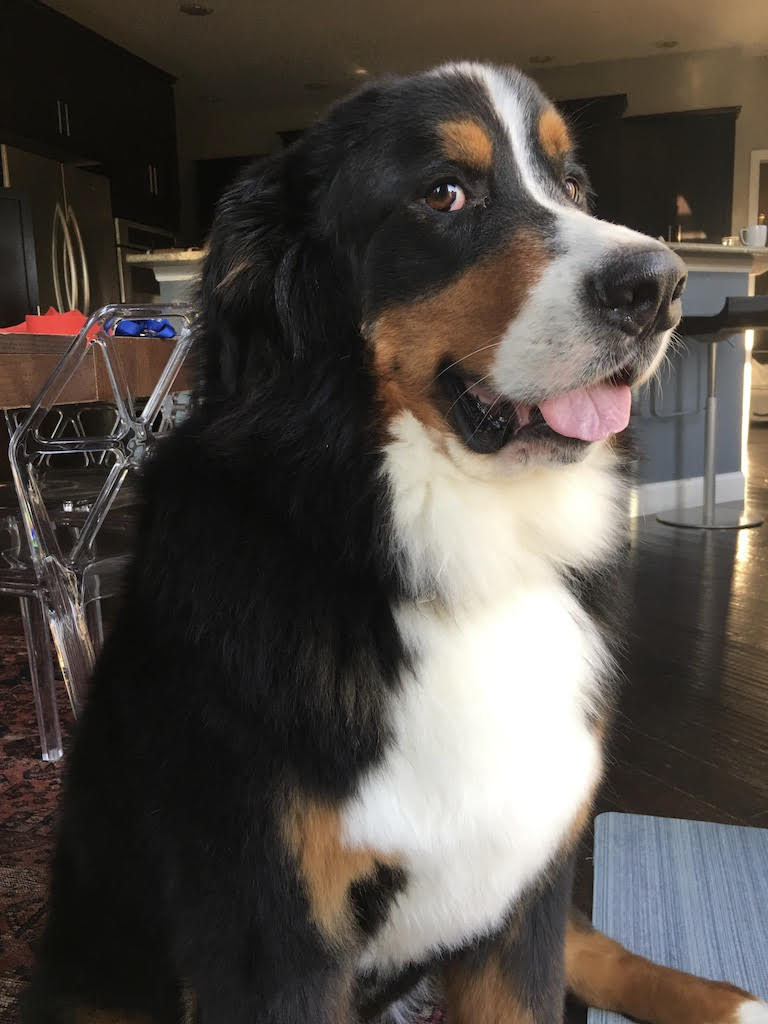 Thor! (Pic courtesy of Chad Taylor)
I'll take you up on that! Gotta meet Thor! So, I've always thought of Live as having something of a 'Stephen King' vibe of small town horror and mystery, especially in songs like The Dam at Otter Creek, Freaks, Rattlesnake, River Town and Graze. Do you guys recognise that in your music or is that just me?
C: I may have written the music to Otter Creek but it's Ed's lyrics and melody that really bring it to life. Funny thing, I've never asked Ed a question about his lyrics. Ed would prefer we each find our own meaning. I like it that way. I'm always impressed with his vision for a song, and in recent years, have had the privilege of recording and producing his vocals.
What I can tell you is that Otter Creek, and the dam, are real. We used to go swimming there as young men and the water was incredibly cold - bone chilling - but that never stopped us from jumping in. Now about the 'dead man in sheets', you'll have to explore that on your own!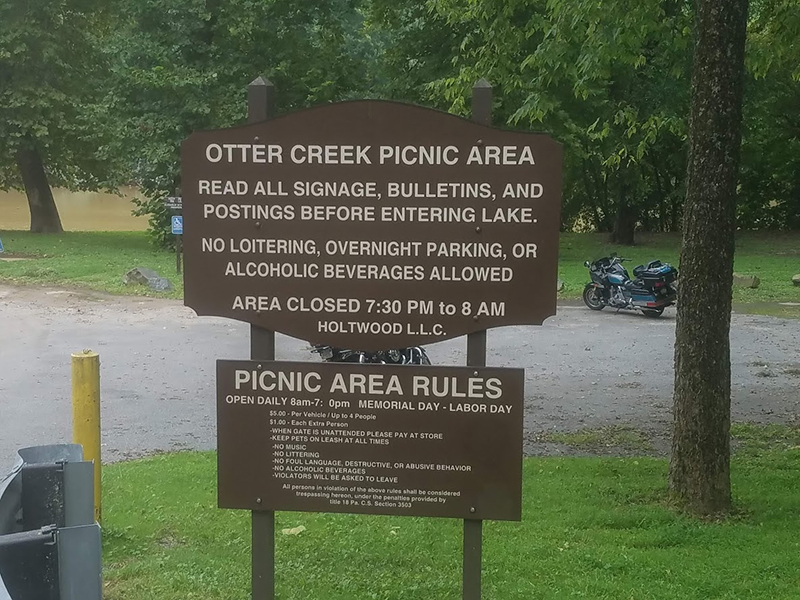 (Pic courtesy of Chad Taylor)
Haha, maybe it's better if we don't! Only kidding. When you guys hit, you hit big and were one of the best-selling bands of the 90s. What do four young guys do with all of that success? Is it important to keep your feet on the ground, so to speak?
C: It's honestly a blur. I recall the ride being pretty fun!
From then till now, the industry has changed dramatically. People are generally streaming music instead of buying it. For even a large band like yourselves, how does this affect your way of doing things? Is playing shows more important than ever?
C: I'm so blessed. I just focus on having fun, enjoying my instrument and the strong musicianship of Chad, Ed and Patrick. I try hard not to follow trends or even keep up too much with outside music. I have no clue what new distribution formats will arise but I'm a huge fan of Third Man Records and their effort to keep music real. I love the flaws and imperfections of authentic music and rarely find a Third Man album that I don't have a deep appreciation for. I'd really love to work with Jack White in really any capacity.
Chad, you have always been an inventive and tasteful player. Who are your main guitar playing influences?
C: Keith Richards, Chuck Berry, Wes Montgomery, B.B. King, John Lee Hooker, Albert King, George Harrison, Neil Young, Johnny Marr... the list is so long and it just keeps growing with each year. And I just listed guitar players - I'm really inspired by great music, so you better include Bob Marley, Johnny Cash, Bob Dylan, Miles Davis or Coltrane, or even James Brown.
You are often described as a 'textural' player, but you also love a great Rock riff too: is there a frustrated shredder lurking within you somewhere? Do you secretly play huge solos all day and just leave them off the recordings? Haha!
C: Just the word 'shred' makes my skin crawl. Give me a great chord progression and a few tasteful licks and that's all I need. I can appreciate technical players but it's just not in line with the lineage of musicians I follow.
I remember one of your favourite guitars was a vintage Fender Jazzmaster called Ruby Lou. Am I right in saying that it was stolen and then recovered? What makes it such a special instrument?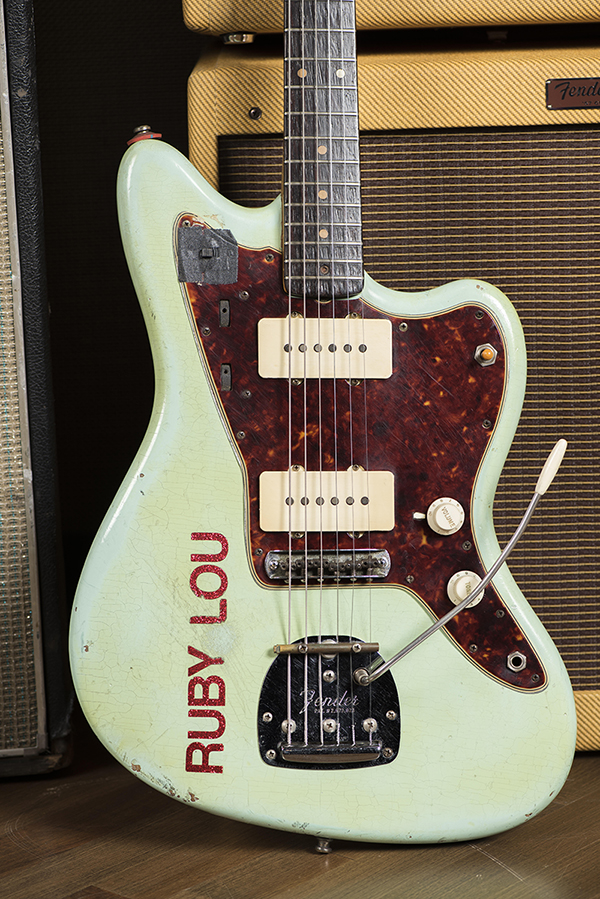 (Pic courtesy of Chad Taylor)
C: You're correct - my guitar was stolen and returned to me. It's a 1961 Fender Jazzmaster named after our oldest daughter, Ruby Lou, who is now 21 years old. That guitar birthed Lakini's Juice and Unsheathed, and Heropsychodreamer from the Secret Samadhi album. After that, it's just always been with me. I purchased the guitar from my friend Cesar Diaz, who was Stevie Ray Vaughn's guitar tech.
You are also keen on Les Pauls: what do you look for in a good Les Paul?
C: My first guitar was an LP, and these guitars just have great tone. In the end, the song picks the guitar, not the other way around. I'm not partial to any one style of instrument - in fact, I own and play Gretch, Gibson, Fender, Nash, National, Martin, Taylor, EVH, and on and on. Maybe that why I own my own guitar shop? It's called Tone Tailors.
Nice work! Can I ask what string gauges and plectrums you use?
C: Gauges change on all instruments. Gibson's are generally 10's and Fender's are 11 or 12's. Ernie Ball strings on electrics and Martin strings on my acoustics. I play medium Dunlop picks.
Have you tried using digital amp modelling? I'd be interested in knowing your opinion, given that you have loads of top-quality vintage gear. Touring with big amps can be an issue, right?
C: LIVE tours involve an entourage of tractor trailers, so I've had no reason to switch to modeling technology. I have both an Axe-FX and a Kemper for the studio but in general, I always use an amplifier once we're past writing and demoing. I'm always exploring, so you never know what future tours have in store.
Since you've been playing for so long together, how often do you guys actually get together in a rehearsal room and play?
C: Literally, never.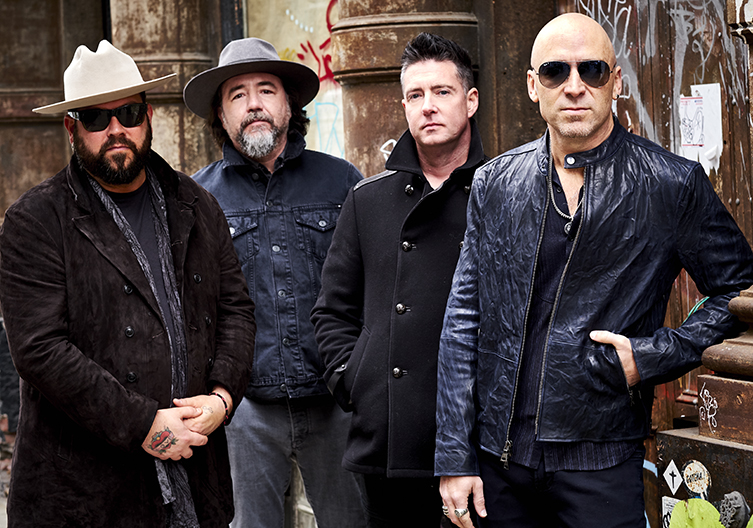 (Photo by Clay Patrick McBride)
Wow! So, how do Live go about the songwriting process? Do you individually work up full demos for the band on a home laptop studio, or is it more like a rough phone recording that the members all then contribute to?
C: Songwriting in LIVE happens one of two ways. Ed will present a song usually with an acoustic guitar, wholly written and ready for our arrangement. Typically what makes LIVE sound like LIVE is our unique approach to the arrangement combined with Ed's foundation. For example, Gracey would prefer to never hear a demo with placeholder drums. Examples of this process would be I Alone, Dolphin's Cry, Turn My Head, Heaven or Lightning Crashes. Ed is obviously a powerhouse when it comes to writing. I'd like to think that we do the material justice with our interpretations.
The next format is where either Patrick or I write music and present the progression to Ed for lyrics and melody. Examples would be Run To The Water, White, Discussion, Selling The Drama or Stood Up For Love.
Chad, what is currently on your pedal board?
C: Classic Hendrix - Fuzz, Octavia, Vibe and a wah. In recent years I've been using a wet/dry/wet signal path that includes an Eventide H9, Strymon Timeline & Big Sky. The system is controlled by a Custom Audio Electronics rig that Bob Bradshaw built for me two years ago. It's a workhorse of a rig, thats lightweight for fly gigs and diverse for both stage and studio use.
Also, is the secret to the lead guitar sound on The Dolphin's Cry a Whammy pedal?
C: Octavia and a wah - it's really the same tone as Hendrix's Foxy Lady.
Amazing! I even own the TAB book and it says 'Digitech Whammy pedal', though it never sounded right, haha! Now, you guys have recently released an EP, Local 717. Is this musically a sign of things to come? Have you been working up more new songs?
C: We've been on a non-stop tour. No new material just yet. Maybe next year? I recently listened to Local 717 - its got some real power. I'm hoping to hit the studio as soon as the tour ends in October.
Do you guys still get the same thrill of being onstage as you did in your twenties?
C: Yes, but being on stage is even better now. I know my job and I'm completely comfortable and happy doing it.
It's not easy to keep a band going for over 30 years: what's the secret?
C: Being grateful and humble.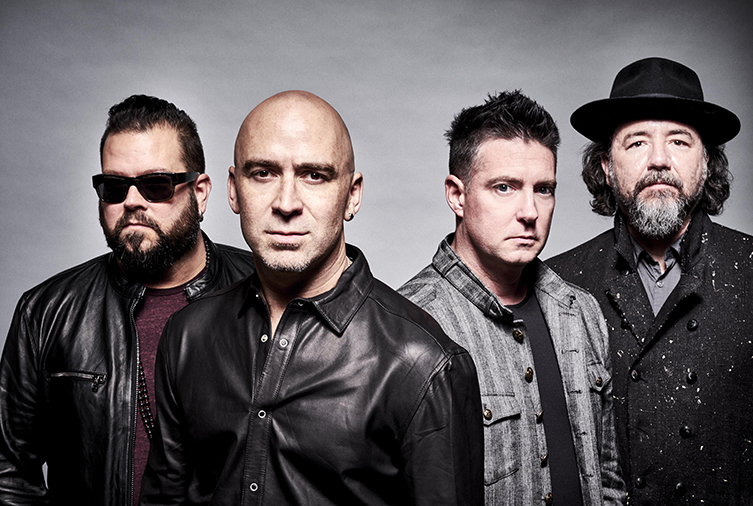 (Photo by Clay Patrick McBride)
LIVE have genuine classics like 'Lightning Crashes' and 'Overcome' in your repertoire: what are your own favourite Live tracks to both listen to and play live?
C: I can't choose any one song. I like material for different reasons. I might enjoy playing a song because I can see it pleases one of my bandmates. The legendary jazz drummer, Ben Riley once told me, 'you can't love every song, so look for the musician who does love it, and play for them!' Wow. Words to live by.
Finally, for people reading this who may not have come across LIVE before, what record to you recommend they begin on?
C: Start with Mental Jewelry.
Fair enough: start at the start! Thank you Chad!
With that, our conversation was up. Chad scores ultimate points for sending over a picture of Thor! LIVE have a catalogue of songs to rival any top band out there. They show no signs of slowing down and we look forward enthusuastically to hearing and seeing their next moves. Keep up with LIVE on their official website, and check out Chad's amazing studio, Think Loud Studios in York, PA.
We'd like to thank Chad for his time and generosity.
Ray McClelland