The Greatness of the Gretsch White Falcon
Published on 10 December 2019
The greatness of the White Falcon is obvious for all to see.
Perched, as it is, atop the great mountain of guitar magnificence. Resplendent. Omnipotent.
Dear White Falcon, how majestic you are...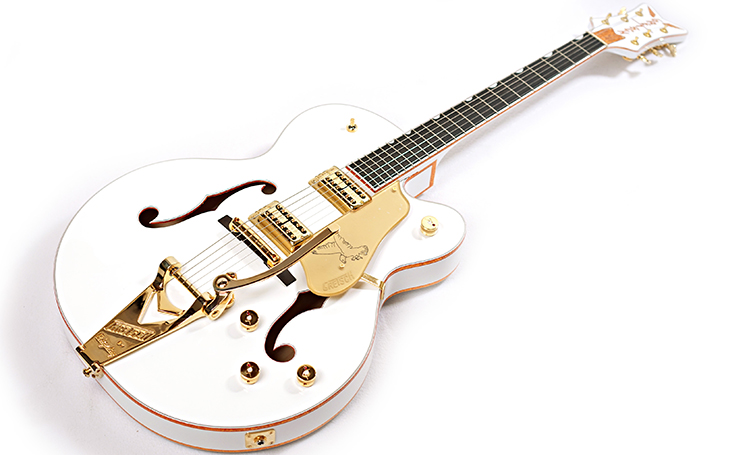 The White Falcon: we want to write sophisticated poetry in its honour, but alas we lack the ability to appropriately capture its magnificence in rhyme and metre. Sigh.
Instead, oh dear Whitest of Falcons, we will humbly talk about why you are so incredible.
There are actually some people out there who don't think that the White Falcon is one of the most amazing guitars ever. We know! It's a funny old world. But then, there are some people out there who don't like Golden Retrievers, too. There's nothing we can do about these people, so let us quickly forget about them and move on to inspect the hows and whys of Gretsch's finest!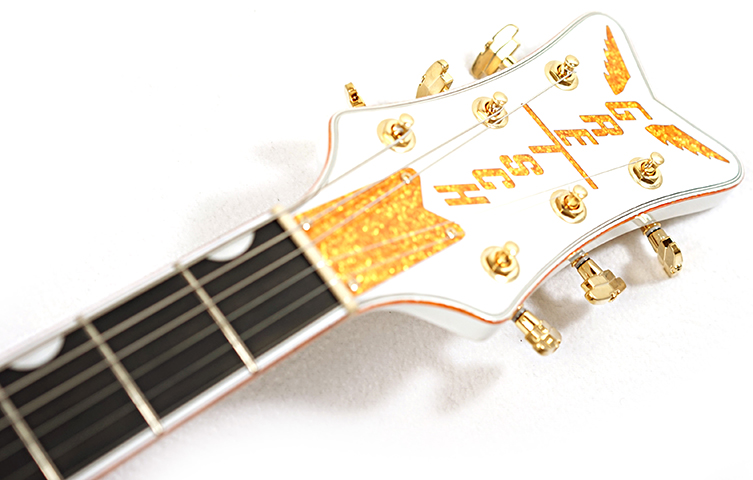 In the Beginning
The Gretsch Falcon, as we'll be calling it for the remainder of this blog, begins its story, as all truly great guitars do, in the mists of the romantic 1950s. To someone who was never anywhere near that rose-tinted decade, it seems as though every cultural thing from the fifties – music, cars, clothes, houses, movies – was ineffably cool in a way that no things are these days. Thunderbirds...Drive-ins...soda fountains...things from back then carry a huge amount of talismanic appeal. This is very much the case with guitars: the fifties gave us the best Fender designs, the best Gibson designs and the best Gretsch Guitar designs. No question.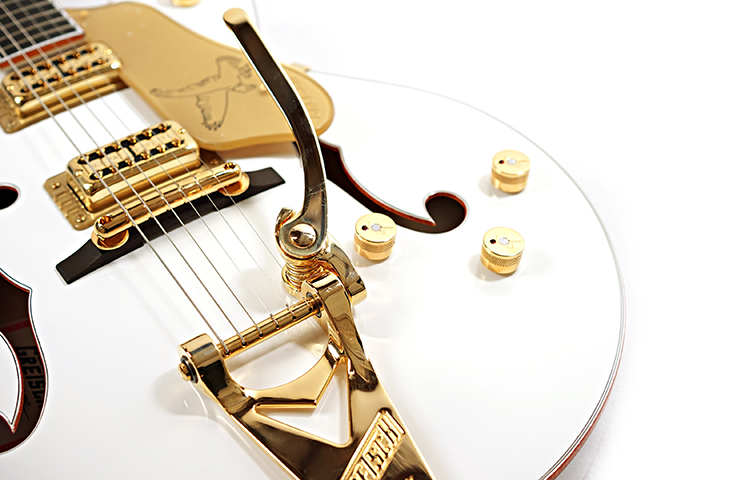 We are jumping into the driver's seat of the DeLorean and typing 1954 into the mad-looking dashboard, to travel back in time and arrive at the birth of the Falcon. Gretsch had already been on the go for decades by this point, beginning as they did back in 1883. The Falcon was dreamed up by Jimmie Webster, a luthier and sales rep for Gretsch. The plan was to out-do Gibson's enormous Super 400 hollow body jazzer, which at that point was not only one of the world's most massive production guitars, but a massive hit too. Gretsch wanted to grab that market, and set out to make an instrument that could out-perform and out-bling Gibson's best.
To get some creative juices flowing, Jimmy took a stroll through the Gretsch factory, where the guys were busy building the brand's wide range of instruments. Picking up vibes as he looked around, he began piecing together his 'Dream Guitar': sparkly binding from the plastic used by the Gretsch drum department, engraved inlays from the banjo production line, and so on. The puzzle was forming, and boy, was it special!
The White Falcon, with its massive 17" wide body, white finish, gold hardware, sparkly trimmings and ebony fingerboard, made its debut at 1954's Summer NAMM show. As you can probably imagine, it was an instant hit. The order went in, the guitars were quickly snapped up and the Gretsch 6136 White Falcon began its amazing history.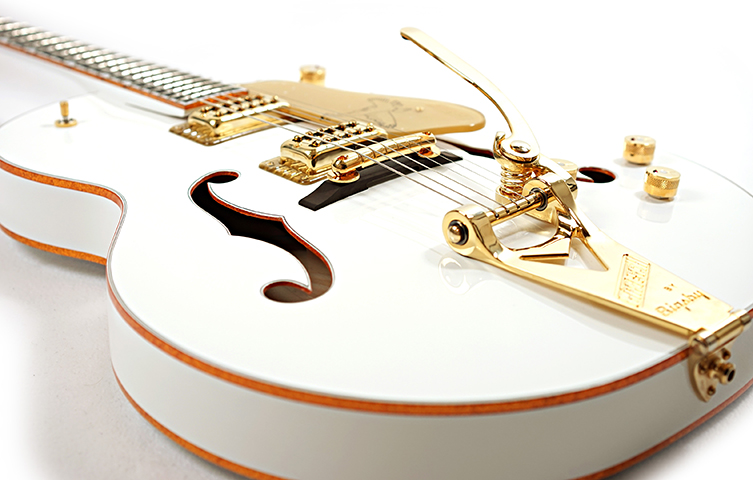 Baldwin Years
We jump back into our DeLorean time machine now and punch in a date twenty years ahead, to the mid-seventies. Old Fred Gretsch, the company's owner, has called it a day and retired from the biz. Before doing so, he sold the Gretsch company to Baldwin, a maker of pianos who weren't exactly known for their guitars. Gretsch had lost some of their popularity by this point, not least because the most recent breed of Rock legends (Hendrix, Beck, Page, Clapton...you know the ones) had preferred Stratocasters and Les Pauls over everything else!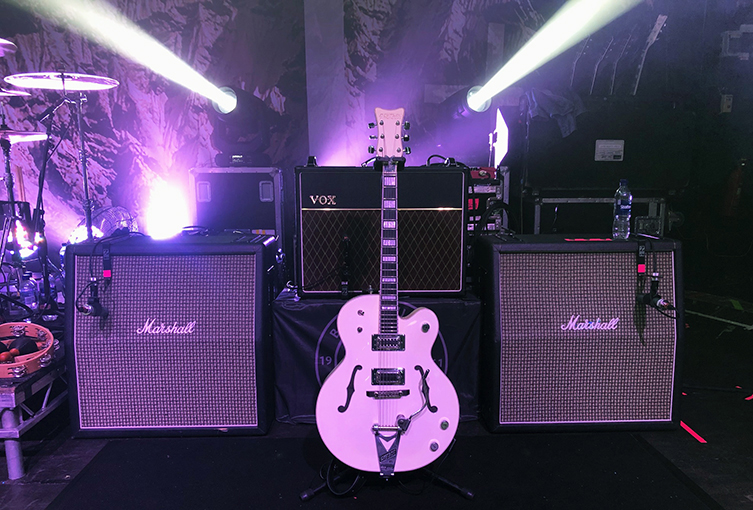 A couple of fires in Baldwin's Arkansas factory meant that less Falcons were available to buy anyway. Visibility wasn't great for the company. This is generally seen as an unfortunate time for Gretsch as a company, but a recent conversation with Gretsch Standard-Bearer Billy Duffy (more of whom in a second) revealed that not only does he prefer Falcons from the Baldwin era, he actively seeks them out, and also chose a Baldwin-era Falcon as the basis for his own signature model!
So, are the Baldwin Falcons different? A little, yes. Most significantly, the f-holes are noticeably smaller, which helps to exaggerate the scale of the instrument's body. Also, the pickups are generally thought to be less satisfying than those from before and after. It is not unusual to find mid-seventies Falcons with modded pickups.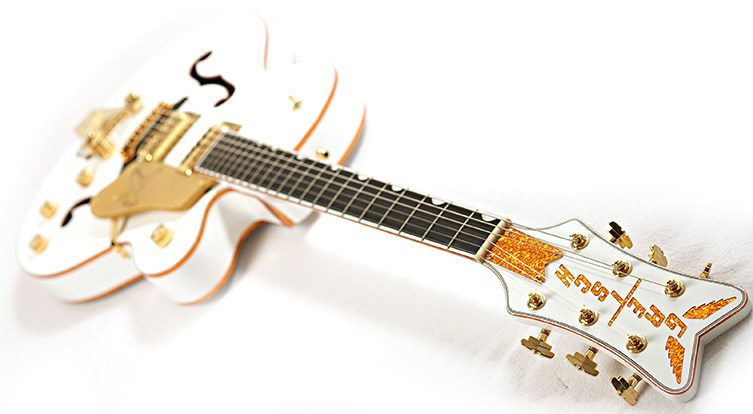 Sanctuary
In the 80s, The Cult's Billy Duffy probably did more than anyone else to get the Falcon back in the public's consciousness. Check out our Billy Duffy guitarguitar interview to learn more about his relationship with the guitar, but suffice to say, there was no more visible a Gretsch player than he. Even imagining playing She Sells Sanctuary on any other guitar feels unwholesome and wrong. By 1989, Fred Gretsch III had stepped up to the plate and begun the necessary work required to return the brand to greatness.
Since then, 60s generation rockers like Neil Young and Stephen Stills have brought their Falcons out in force, understanding the guitar's potent sonic and visual appeal. Alongside Billy Duffy, the White Falcon has been seen prominently on stage with Martin Gore (Depeche Mode), Adam and the Ants, Don Felder (The Eagles), Roy Orbison and even AC/DC's Malcolm Young on occasion. One modern iconic Falcon fan is ex-Chili Pepper John Frusciante, who used his vintage Falcon frequently throughout the band's earth-conquering Californication album.
Bono's signature Irish Falcon technically doesn't count since it is green. Black Falcons also exist, and are also unspeakably cool, but do not qualify for inclusion here for similar reasons.
The Gretsch White Falcon has been making history on its own terms for over 60 years now. Like the finest of fine wines, the Falcon has seasoned and settled into its sizeable, iconic frame. The White Falcon must be taken on its own terms: you must allow it to somewhat play you, rather than the other way around. Given this attitude, the Gretsch White Falcon gives up an experience like no other, proving itself to be one of the finest and most singular guitars in existence.
There are a few different iterations of the White Falcon. The classic 6136 model, based on the 1959 Falcon, has a single cutaway body and two Filter'Tron humbuckers. These pickups, though humbucking in nature, sound quite significantly 'twangy' when compared to, say, a Gibson PAF. They are not jangly either, instead occupying a middle ground that is unique to Gretsch.
Other varieties of Falcon include the '55 style, with a trapeze tailpiece instead of the customary Bigsby and bearing single coil pickups; and double cutaway models like the 6636 Falcon, which has a slimmer body depth and a centre block for better handling of feedback. Some of these are historic, as we've noted, whilst others are modern re-imaginings. Whilst all are bona fide Falcons, the hollow single-cut 6136 White Falcon remains king in the eyes of most aficionados.

Guitarists who have yet to sample the experience of playing a White Falcon should take immediate steps to rectify this oversight. Head to your nearest guitarguitar store, spread your wings and fly like a Falcon.
Thanks for reading, folks.
Until next time
Ray McClelland