Guides: The Ultimate Podcasting Gear Guide
Published on 04 February 2020
Whether you're into music, guitar, sports, UFOs or anything in between, podcasting has taken over as one of the most popular forms of media. Covering just about every topic under the sun nowadays, podcasting is a great way to grow your online following or become an authority on whatever your chosen speciality is. But what actually goes into filming or recording one? Well, the answer may be simpler than you think and since podcasts have become such a hot topic, we thought we'd break down some of the gear used.
Shure SM7B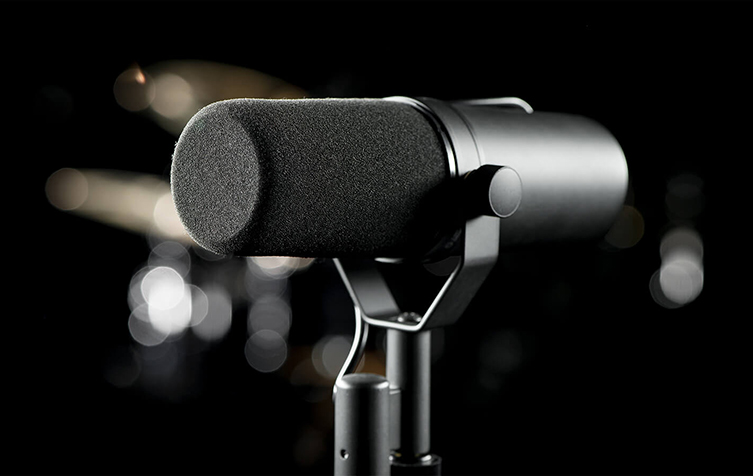 A robust and versatile tabletop mic is essential for any professional podcasting setup and Shure's SM7B is always a favourite. With a flat, wide-range frequency response and a mid boost, this versatile mic is perfect for speech, no matters who's talking. Its pop filter is extremely effective too but perhaps most importantly, the sound it offers is very consistent, an important factor for long-form conversation. No matter who your guest is, this mic will keep them sounding great and keep editing headaches at a minimum. Pair it up with a desktop stand such as the TOURTECH TTS-MI1112BK and you'll be well on your way to getting set up!
Tascam TM-80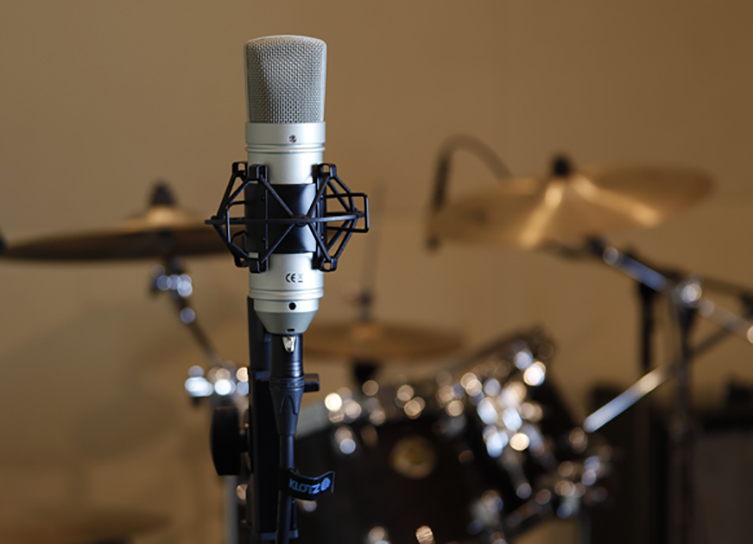 If you fancy something a little more affordable to start you off, the Tascam TM-80 is a great mic for the price. These condensers provide a rich, full sound and once again are great across a whole range of voices. Not only that they also include a desktop stand so that you'll be ready to go as soon as it comes out of the box! Built to last with die-cast zinc housing, these are fantastic little mics and would be a good choice if you're just dipping your toes in the water.
Yamaha MG Mixer

Now you've got your mics all good to go, you're going to need a way to set levels and control the mix. The mixer you choose will depend on what your setup is like, how many guests you plan to have and how simple you want to keep it. However, we'd recommend something from the Yamaha MG series to get you started. With a whole range of options suited to every budget and use, this series is great for learning the basics and getting you up and running. They offer loads of routing options, have USB connectivity and feature studio-quality preamps, giving you pretty much everything you need to get going. Plus, if you find that you need more channels to work with, there are loads of models in the range that you'll already be used to using.
Presonus Audiobox iTWO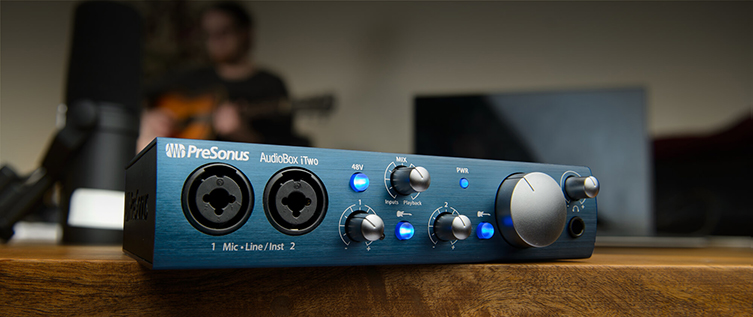 Okay, so your mics are set up and you can control levels in your new mixer but how do you then get that sound onto your computer so you can edit it and make your podcasting dreams a reality? Well, this is where your interface comes in to play! This will allow you to record straight to your DAW and work on the audio after your conversation has finished. The Presonus Audiobox iTWO is a great option which offers outstanding value for a great sound and user-friendly setup. Presonus gear is rugged, built to last and really easy to use so one of these no-nonsense interfaces would be a great shout for getting you going. It's compatible with Mac, Windows and ios so no matter what you're used to using, it'll fit right in.
On top of that, this interface gives you access to the awesome Studio One Artist DAW. This allows you to work on and edit the audio that you've recorded and it actually comes free with the interface. Although a bit of a newcomer to the DAW market, this platform is being used more and more with glowing reports. We've found it to again stand up to Presonus ethos of being incredibly powerful and well designed, while also being really user-friendly.
Rode Rodecaster Pro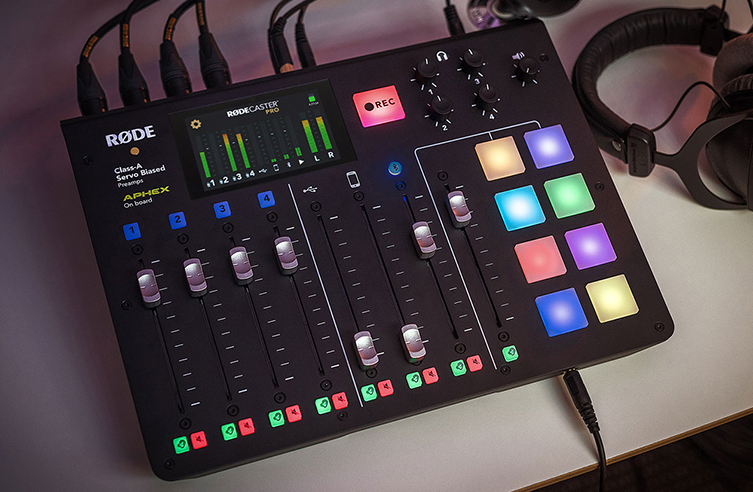 Now if setting up tech isn't your thing, there are more compact, all in one options. One of these which really impressed us is the Rode Rodecaster Pro, a unit literally designed for Podcasting. This is a lifesaver if you don't feel like buying a full setup and would rather rely on one piece of gear. It's also extremely portable and easy to manage, so if your podcast takes you on the road to meet guests, or is primarily managed by you alone, then the Rodecaster might be the perfect choice for you. Offering really high-quality recording, a mixing platform and the option to record straight to micro SD, Rode have pretty much thought of everything here. In fact, you can even connect it to your phone to allow guests to call in with great results. On top of that, it features 8 programmable pads that you can add your own sound effects and jingles too. If you like a one-stop shop to get your ideas down, this is the choice for you, no question.
Marantz AVS and Turret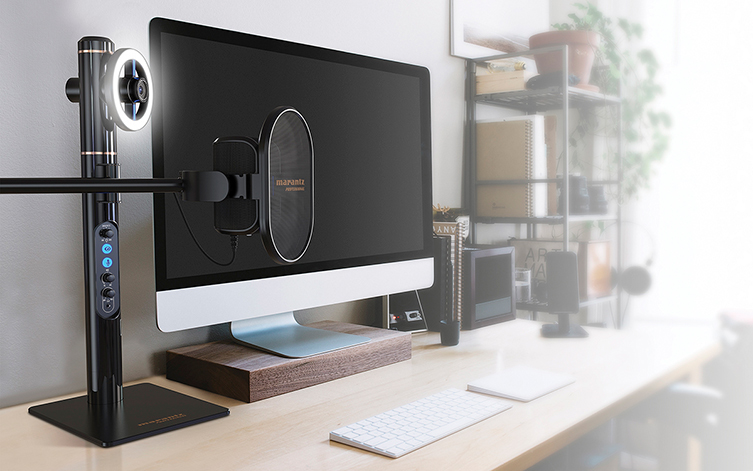 Last but most certainly not least, we have a newcomer that looks like an awesome solution for those recording solo. Marantz have recently announced two new products for recording audio and video and without getting carried away, we have to say... they look REALLY good. First up is the AVS Audio-Video Streamer, a combined mic and HD webcam that's designed for streaming. An LED light ring and built-in filters promise a great looking stream and a high-quality condenser mic in the base means your sound will be consistent and easy to manage. The AVS also has a high-speed USB-C computer output for low latency and an internal USB hub, making this a really portable and versatile all in one solution. It even has a headphone input for monitoring!
If you want to go a step further, Marantz have also brought a more advanced model to market, the Turret Video Streaming System. With all of the same capabilities as the AVS, this features a more professional quality camera with autofocus to ensure that you're streams are always looking sharp. With low-light correction and loads of visual cues to let you know what features you're using, this looks to be extremely user-friendly, putting all of the controls you need right at your fingertips. Once again, Marantz have thought about everything here and this seems like a fantastic option for everyone from podcasters on the move to people looking for a high quality and simple way to get started.
Final Thoughts
Now, Podcasting is only going to grow and develop and the beauty of it is that there is no right or wrong answer to how you set up. There are no rules and creativity is king, so go out and find the gear that suits you! The lesson to learn from this blog is that there are tons of ways to achieve the same results. If you're putting together a visual podcast where you invite on a few guests then you may want to involve a couple of DSLR cameras and go for a more technical setup but if you're in the early days, or are travelling while you record, a more compact setup is definitely the way to go. We have absolutely tons of kit in our stores to get your journey started so simply stop by for a visit if you're looking to take that first step. We'll be more than happy to have a chat and make sure you leave with the right gear!