A Closer Look: DV Mark Micro 50 II
Published on 03 February 2020
This is a world of portability.
We are busy: our lives are cluttered, and we need the equipment we use to fit into our lives, not to dictate them.
For guitarists, it has been a long time coming. We, as a species, are notoriously conservative, preferring to do things exactly as they've been done for the last 70 years, whilst the rest of the music world innovates around us. Hey, Strats and valve amps are awesome, so why change, right?
The last couple of years have seen a slow acceptance of technology and modernity though. Digital modelling is, we've all accepted, a viable option. Smaller amps with integrated FX are appearing on stages more than ever, and smaller 'lunchbox' amp heads are being produced by more and more companies. People are eager to make their gear as efficient and effective as possible.
DV Mark Micro 50 II
DV Mark, sister brand to the excellent Mark Bass amps, have a solution that conforms to this latter 'lunchbox' territory. The Micro 50 II is a two-channel amp with built in reverb, an FX loop and two sets of EQ controls. It's tiny, it sounds great, and best of all, it weighs a near-invisible (for guitar amp heads anyway) 1.9kg!
Tiny Size, Huge Sound
It's easy to say that this is small amp, but it doesn't always translate. Let's think about this another way: at 20cm wide, the DV Mark Micro 50 II is a full third smaller than one of the 'big' rulers you used to use at school! A THIRD smaller! This lil' box will easily fit into your gig bag or backpack.
It's packing a mean 50w of power at 8 ohms, and 60w at 4 ohms. That's most certainly enough to get you through your next gig! It'll drive any speaker cab with the correct ohmage, so the 'size' of the sound is ultimately up to you, but there's plenty of clean headroom here, as well as quality distorted channel. The tone, when maxed out, is nicely saturated in a classic way, with lots of mids and harmonics. It's perhaps not quite severe enough for modern Metal, but for everything else, from Texas Blues to Heavy Riff-Rock, it's perfect.
The gain channel actually operates like a distortion pedal on the clean channel, so you can still use the clean channel EQ's to affect the distorted tone: how cool is that? A footswitch input allows you real-time control over the channel switching.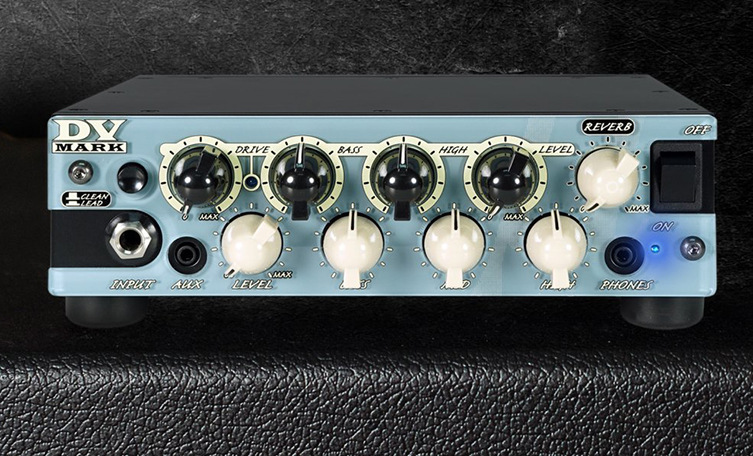 More Features
The DV Micro 50 II has a global reverb built in, as well as an FX loop around the back of the unit. Back on the front, there's a headphone input and an aux in for connecting playback devices. Also, there's a voltage selector on the back, so you can safely use this in countries with different mains voltages. There's a lot crammed into this tiny little guy!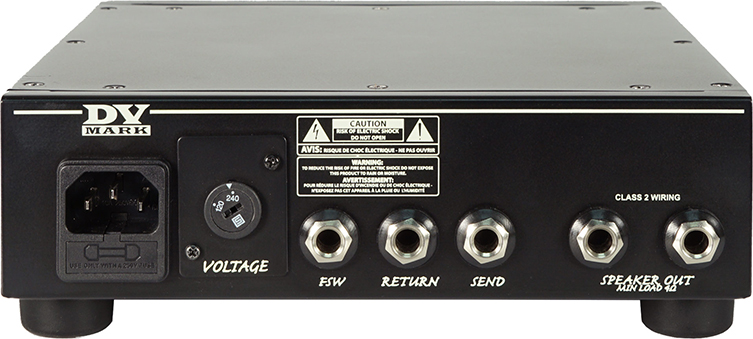 Every Guitarist Can Use One
Truly, the DV Mark Micro 50 II belongs in every touring guitarist's gig bag. Given the size, weight and, more to the point, performance, you can legitimately use this as the base for your rig, with perhaps a selection of choice pedals in front of it. Imagine that! A gig bag with this, a tuner, an overdrive, a wah and a delay! You're ready! Jumping in and out of public transport is so much easier when you don't have a 25kg amp to lug with you!
Even if you do favour valve amps, and have your own transport, a blown valve at a gig spells certain doom for your performance: you can hardly change valves in the middle of a set, not when the amp needs re-biasing and so on. Having one of these handy means that you'll be back up and running in seconds, allowing you to finish the gig like a hero!
There are loads of reasons to keep the DV Mark Micro 50 II in your bac pocket, and pretty much no reasons not to! It's affordable, it's easy, it's great sounding and it's devastatingly effective! Get your DV Mark Micro 50 II today!