A Closer Look: Sheeran by Lowden
Published on 20 October 2020
Who is the biggest acoustic artist on the planet right now?
Who else can sell out arenas and stadiums without even using a backing band?
Ed Sheeran is a unique force in the music world, for sure.
He's also the reason why smaller bodied acoustic guitars are amongst the most popular instruments in the world at the moment. One of his trademarks, of course, is a smaller-bodied travel guitar, played with deceptively simple sophistication. Fans in their millions took note, making travel-sized acoustics a huge seller across the board.
The first reports of Sheeran's top-secret collaborative project with Lowden guitars sent an excited shockwave through the whole guitar industry. Last year's winter NAMM show saw the grand unveiling and, upon release earlier this year, the series sold like hotcakes, somewhat understandably! Today, we'd like to reacquaint you with the range, along with the happy news that stock has finally become available again!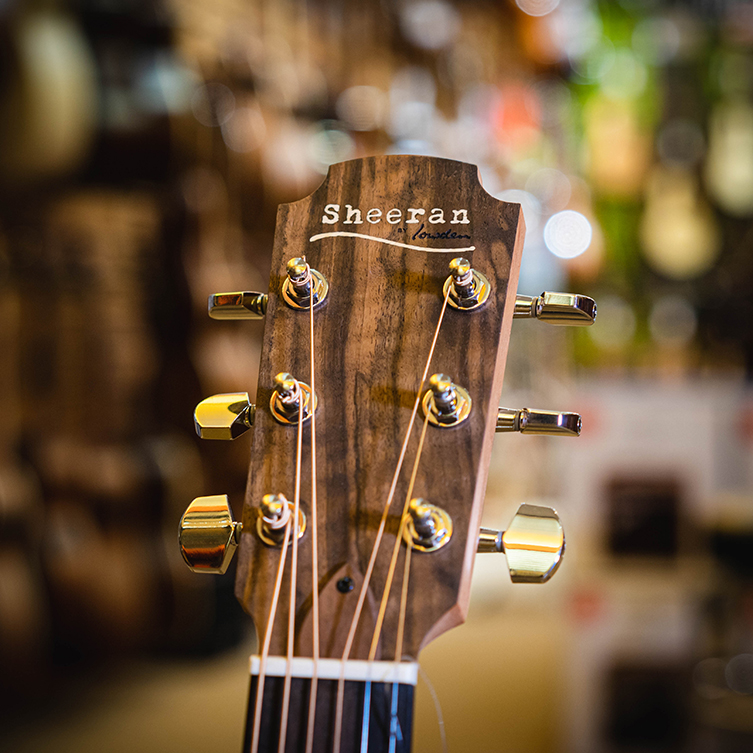 After being given a gift of a custom-made, smaller bodied Lowden, Sheeran and George Lowden became friends, and then began discussing the possibility of creating a range of guitars together. Sheeran was extremely impressed by the quality of the Lowden guitars, and wanted to make that available to a wider selection of players.
Sheeran by Lowden is the result of this partnership. 8 models, based on two overall body shapes, with prices ALL under £1000. This is for a legitimate, made in Ireland Lowden acoustic guitar! It's quite unprecedented stuff!
These were announced over a year ago at NAMM 2019 but have taken a little longer to show up in stores. This is down to George Lowden's famously exacting quality control standards: just because these are the most affordable Lowden guitars ever, doesn't mean that they can in any way be sub-par!
The delay, of course, was more than worth it. Earlier this year, we saw stock arrive in our stores, to resoundingly good responses from both customers and staff.
Sheeran by Lowden. This brand is a game-changer for smaller-bodied acoustic guitars. Nowhere else can you get this level of hands-on quality buy a world-famous luthier, co-created by a world-class artist. It's a sensation! So, let's pick one or two models to check out in slightly closer detail...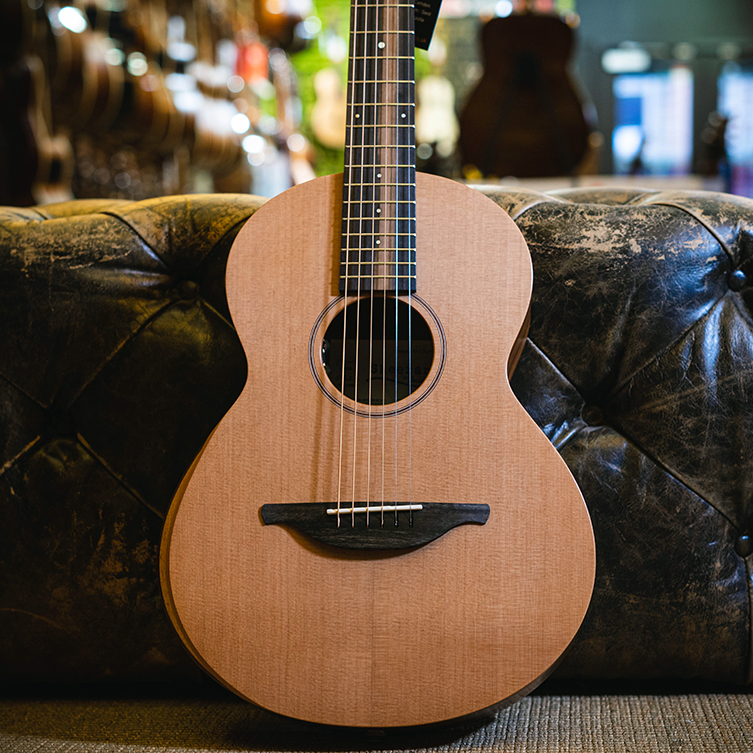 Sheeran by Lowden S-03
The Sheeran S-03 is from the upper end of the range. The 'S' of the name stands for 'Small' and, like the rest of the Sheeran guitars, has a body design very reminiscent of Lowden's trademark curvy style. The S models are available in four varieties: with and without a cutaway, in four different combinations of tone woods that include Cedar and Sitka Spruce for the tops and Walnut and Santos Rosewood for the back & sides.
Our example here matches a solid Cedar top with a layered Santos Rosewood back & sides. The body shape gives surprising volume and projection, especially given its smaller size! The Cedar top sounds sweet and warm, with a chewy, gluey quality to notes. The layered Rosewood back and sides bring strength and body with a slight mid scoop, which works in harmony with the naturally mid-rangey response of the Cedar. Warmth and balance are two words we'd use for the sound of this instrument. This model also has a bevel in the top, to provide a distinctive look and a under-arm comfort boost. This type of feature is becoming more popular on acoustic guitars, and it's great to see here.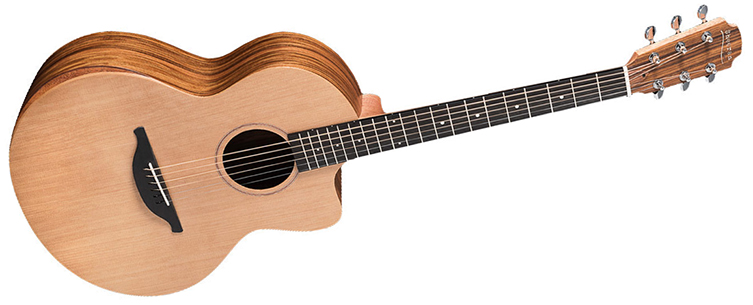 It's super-comfortable to play, and whilst it's body is smaller than 'normal', it isn't by much, and the 24 4/5" Ebony fingerboard is essentially standard size. Details, as on many Lowden-made guitars, are understated, but this Sheeran S-03 still boasts a wooden soundhole rosette inlay made with 7 pieces. A quality LR Baggs Element VTC pickup system ensures then, like Ed himself, you are ready to hop onstage and play straight away!
Sheeran by Lowden W-02
By comparison, the Sheeran W-02 model loses the cutaway on its 'W' ('Wee', taken from the Wee Lowden model) body and brings Sitka Spruce to the mix. We can see this model being the one that strummers will get a lot from: the extra brightness brought by the Spruce really ups the spring and air of this little guy. This is the type of guitar you'd picture Ed with: it's small and snappy, with a real immediacy about it.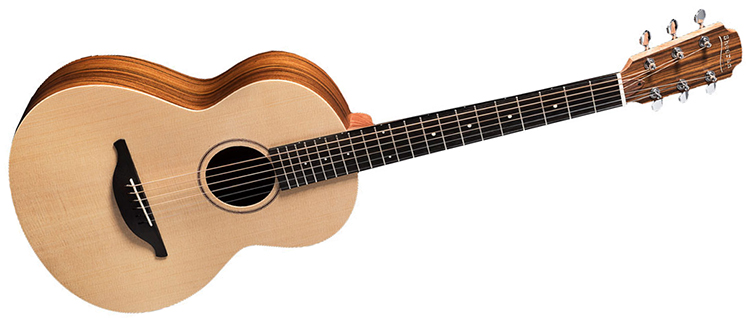 It is a good bit smaller that the 'S' models, and definitely fits the bill as a travel guitar. As such, the scale length is a little smaller than the S-03 we just looked at, but only by a little. This is 24", so your hands will find themselves no size problems! If anything, there's a slightly more intimate feel here. The other factors are the same as before: it's layered Santos Rosewood for the back & sides, and you get the Ebony fingerboard and Lr Baggs pickup. It's just a smaller package, with a different top, different feel and different sound. Try both!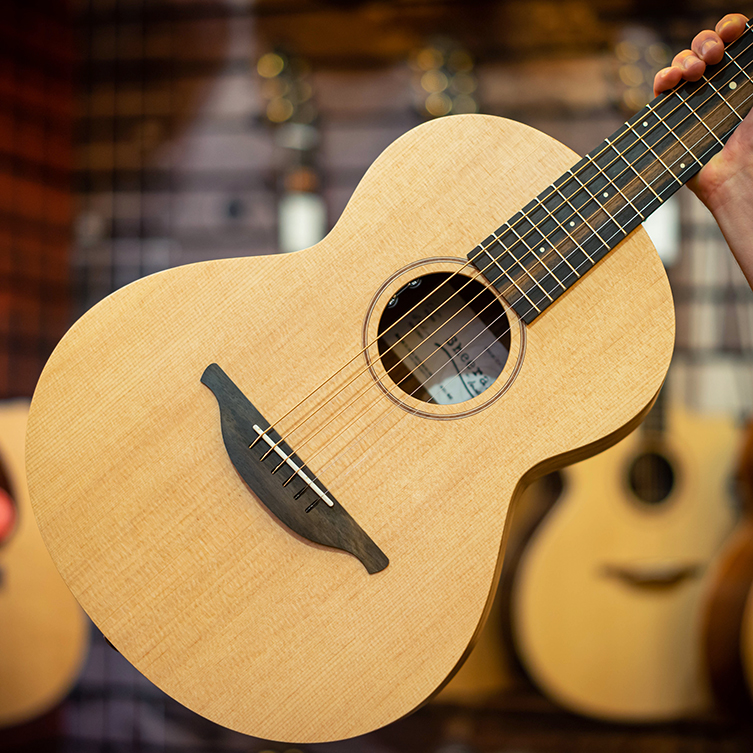 Conclusions
These two examples help to highlight the small but important differences between the 'bigger' (it's still small!) S models and the more travel-sized W guitars. There are more options within the Sheeran range: for example, the S-04 (currently the most expensive model) comprises of a cutaway body, a solid Spruce top and layered Figured Walnut for the back and sides. This will give another permutation again of tones, so there is definitely variety on the menu!
Whichever one you choose, you'll have a genuine Lowden guitar, made in Ireland, with the input from one of the world's biggest acoustic artists and one of the world's best acoustic guitar makers. Take a quality acoustic guitar with you anywhere you go, and enjoy a guitar fit for a worldwide star.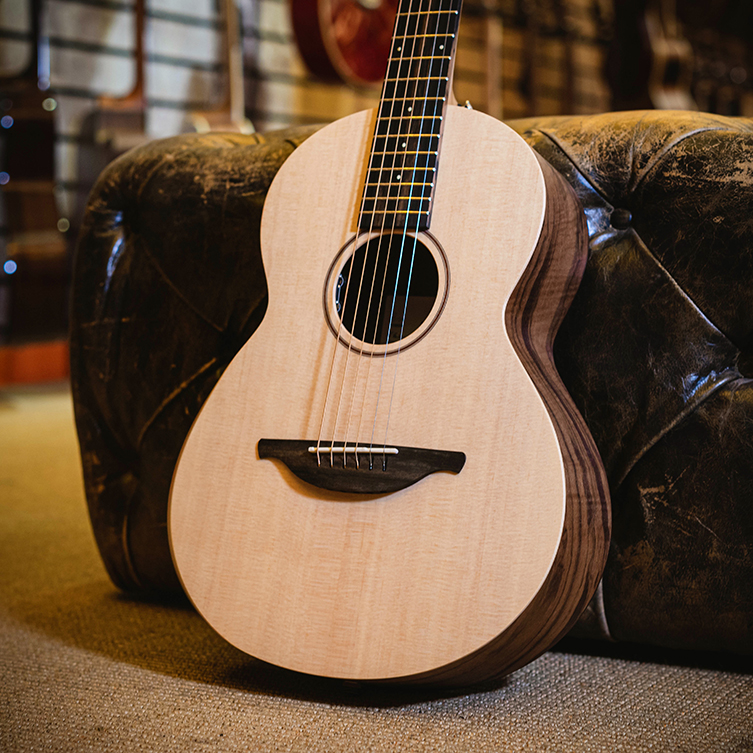 Browse our range of Sheeran by Lowden guitars on the site, or visit us to try one out for yourself! Stay safe out there and we'll see you soon.
Thanks for reading
Ray McClelland