A Closer Look: PRS 35th Anniversary Dragon
Published on 23 March 2020
Dragons, some would say, are mythical beings.
Figments of a fanciful imagination.
Us PRS fans know better though, don't we?
Dragons exist. They are majestic, beautiful creatures, but they are rare and few in number.
Where, then, to find such creatures? Inside vast mountains, hoarding piles of treasure? Perched atop Misty mountaintops in far-off lands with strange names?
Indeed, no. If you seek an incredible example of a Dragon, begin your quest at Stevensville, Maryland. Paul Reed Smith and his team of dedicated artisans occasionally (less than once a year certainly) decide to create and unleash a stunning PRS Dragon unto the world, in super-limited numbers.
Each time out, it's a different beast: we've seen PRS Dragons whose snarling face takes up the entire guitar body; we've seen double-neck instruments with battling dragons...it would be correct to say that each PRS Dragon guitar is a spectacle, and certainly something to look forward to!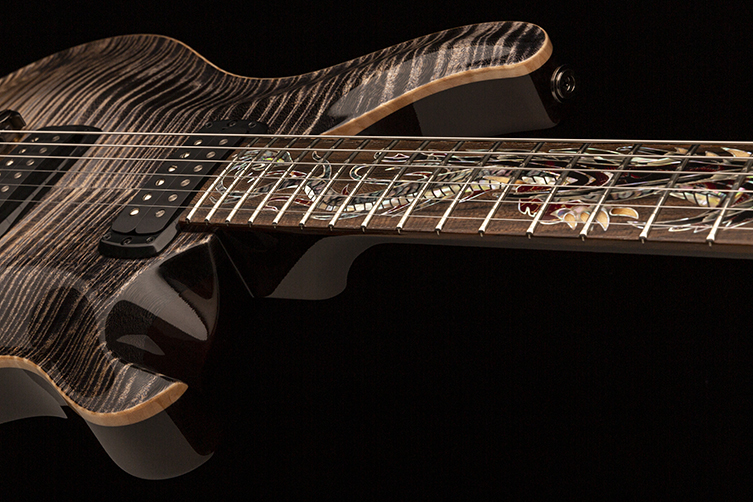 This year is PRS's 35th Anniversary, and so it seems that the inclusion of a Dragon guitar would be entirely appropriate! And so it is: the 35th Anniversary Dragon models have been hatched and one is currently beating its wings across the Atlantic to us at guitarguitar!
The Guitar
So, what have PRS cooked up for us this time? In some ways, it's a tasteful take on the Dragon theme, with the creature taking dominance over the fingerboard but not the body. We are almost tempted to say that this Anniversary model is 'subtle' when compared to other Dragon models, but then we check ourselves: this is a classy, stunning guitar, but it's anything but subtle! Less over-the-top, maybe, but no less showy for that. Refined, opulent and quite beautiful, we think this maybe one of the greatest Dragons yet, not least because PRS have allowed the guitar itself to shine through as much as the superlative inlay.

To understand what we mean, all you have to do is take a good look at that carved, Figured Maple top! For a company known and celebrated for their figured tops, this should come as no surprise, but that expectation does nothing to diminish the visual impact.
Wow factor on this guitar is extremely high.
Before we check out that inlay work, let's spend a second on the instrument itself, since, Dragon or no, this is a world-class guitar.
So, we've paid attention to that superb Private Stock grade Maple top, which is finished in 'Frostbite Dragon's Breath' (of course it is!), a smoky translucent grey/black that lightens towards the back of the body in order to echo the flaming breath seen on the inlay. This ethereal stain finish positively glows!

The body itself, made from choice African Ribbon Mahogany, is a touch thicker than standard PRS McCarty guitars, of which this is based. A simple layout of volume, tone and a 3-way selector keep this unfussy on the guitar's body, with a PRS stop tailpiece used here, again for minimal efficiency. The hardware is all 'smoky' black, which is entirely appropriate!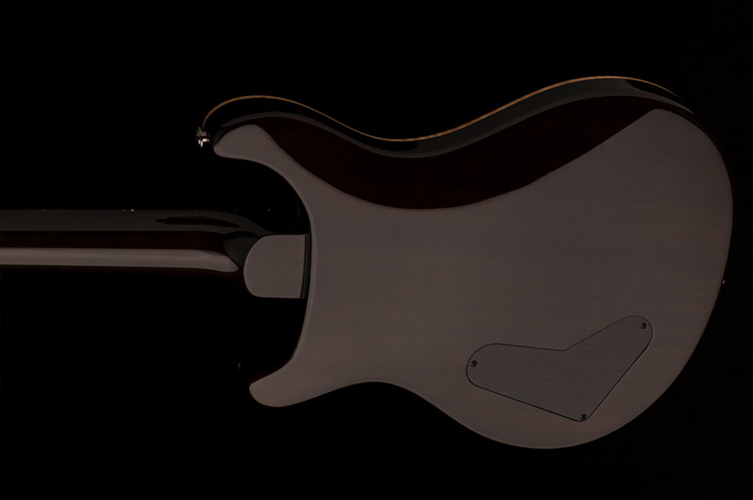 The pickups are a pair of PRS TCI humbuckers, the same models used on 'Paul's Guitar'. These pickups are no normal humbuckers, though. Paul Reed Smith developed these with the goal of returning clarity to humbuckers whilst having the still 'buck' the hum. In essence, these carefully tuned pickups sound more like low-noise P90s than full on humbuckers, so you get much more raunch, range and above all, clarity with these. They sound absolutely exquisite! If you'd always loved the sonics of a P90 but, like the rest of us, can't be doing with the terrible buzz that accompanies them with even a smidgen of gain, these pickups are what you've been dreaming of.
An added bonus to the design is that, when the coil split is engaged (located as a push/pull in the tone control), you also get a set of fantastic vintage single coil tones, too! The Dragon's Mahogany body helps bring all of the midrange body you could want, whilst the pickups supply all the clarity and sparkle whilst still delivering the output you need for Rock and so on. It's a formidable set up.
The neck is a Pattern carve, which consensus would say is the most widely preferred of the company's profiles. PRS have opted for 22 frets and their standard 25" scale length, on a fingerboard that is technically Ziricote (a lovely, grainy timber from Central America), but let's face it: most of that fingerboard is flat out DRAGON. The wood hardly gets a look in!
Here Be Dragons
Yes, to the inlay! What a stunning piece of art this is! PRS did the right thing here, by recruiting Dungeons & Dragons artist Jeff Easley to draw up their dragon design. Who better, than the 'Wizards of the Coast' masters themselves? Jeff's art was made physical by the team at Aulson Inlay, who are responsible for many previous Dragon inlays also.
This particular beastie is made up of various specially-selected pieces of the following: Green Ripple Abalone, Green Abalone Select, Black Mother of Pearl, Stabilized Sand-Shaded Holly, Red with Gold Vein Recon Stone, Raffir Stripes Black, Black and Red Raffir Aluminium Wave, Abaloid Acrylic, Nocturne Corian, as well as Blue Pacific, Citrine, and Flame Synthetic Opal. This Serpent has been hoarding treasure after all!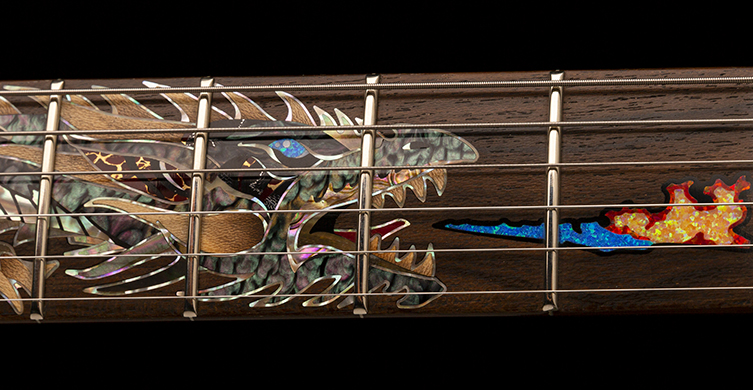 The Dragon travels right up the length of the neck and even bursts out past it, its fiery breath enveloping the truss rod cover in a dramatic flash of colour. Narrowly escaping the flames is the PRS 'Modern Eagle' headstock inlay, indicating the provenance of the instrument in the absence of the standard headstock logo.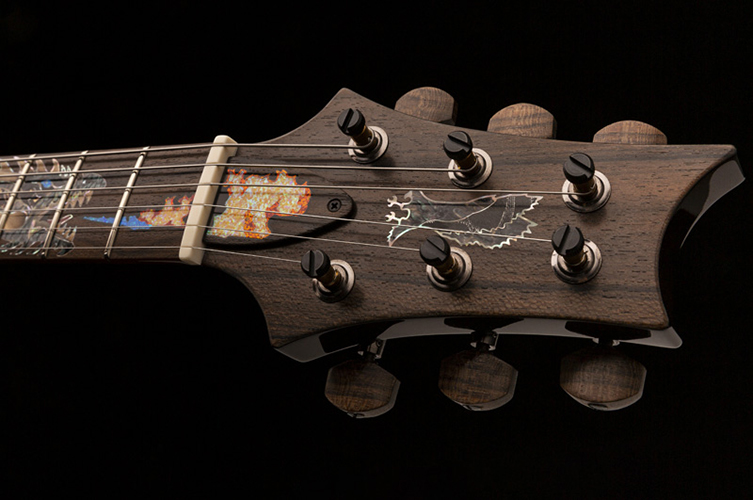 As if anyone isn't going to know what type of guitar this is!
Rare Animal
This wonderful guitar is, like the rest of the PRS Dragon guitars since their inception in 1992, a rare animal. There are only 135 of these being made for the entirety of the world. As we mentioned, we have one available.
One. One only!
It is a spectacular, museum-worthy work of art, and it is also an example of one of the very best feeling, best playing and best sounding guitars in existence. Capture it while you can! Keep it safe, and do not underestimate the power of the Dragon!