Reverend Guitars: 2020 Top Picks (Updated for December 2020)
Published on 10 December 2020
It's no secret that we love Reverend guitars.
We don't think any other relatively new brand (they've been on the go since the late 90s) has come onto the scene and made such an impact with both gigging players and top-flight professionals, especially with original design guitars and the host of innovations that Reverend also bring with them. They are fast becoming the mid-priced brand to own for iconoclastic players and trend-setters alike.
2020 has seen a number of exciting new models step up to the plate for a swing, and we thought it was worth picking out just a few of our favourites, to see what has been making this brand such a talking point for guitarists. Prior to that, though, we felt that it may be useful to highlight some of the features that are relevant to all Reverend models.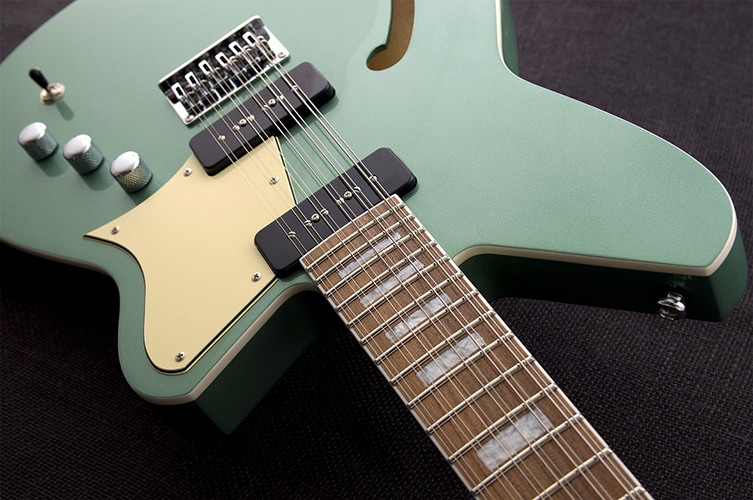 Features to Rival the Best
First up is the use of Korina (or White Limba, to give it it's Sunday name) for the guitar bodies. Guitar fans know this as a superior tone-wood, striking similar sonic notes to Mahogany, and having a lovely, subtle grain. It is also available in plentiful supply, so there is a degree of responsibility there, too. All Reverend guitars use Korina for their bodies.
Next, all Reverends are fitted with pin-lock tuners and 'Boneite' nuts. This is all about tuning stability. Boneite is synthetic bone, which carries all of the benefits of bone (strings don't get snagged as they move) but is longer lasting. The pin lock tuners lock the string in place to stop it slipping: one the string is stretched in (you do do that, don't you?), tuning issues should be minimal to non-existent.
Also, on all bolt-on guitars, like several of our selections today, Reverend use a special 6-bolt neck join for extra pressure and sustain. All of their bolt-on necks are also made from Roasted Maple! Lots of companies are beginning to wake up to the superior feel of a torrefied neck, but not many include it across the board. Torrefaction, the process of removing all moisture from the timber through high temperatures, results in a stronger, more resonant wood, too. Plus, it looks gorgeous!
The Bass Contour: Genius Simple
The most famous feature, however, of any Reverend guitar, is surely the bass contour control. This simple passive control (in other words, no need for a battery) is what synth players and producers would refer to as a high-pass filter. It gradually, as you turn the knob, cuts out your bass frequencies, but leaves the rest of your tone fully intact. The idea with this on a guitar is to be able to thin out your sound, so you can 'skinny up' a full-on humbucker, for example, and even take the heat out of a P90! It's such a straightforward, obvious thing to have on a guitar, and yet nobody did it until Reverend: now it's one of their calling cards!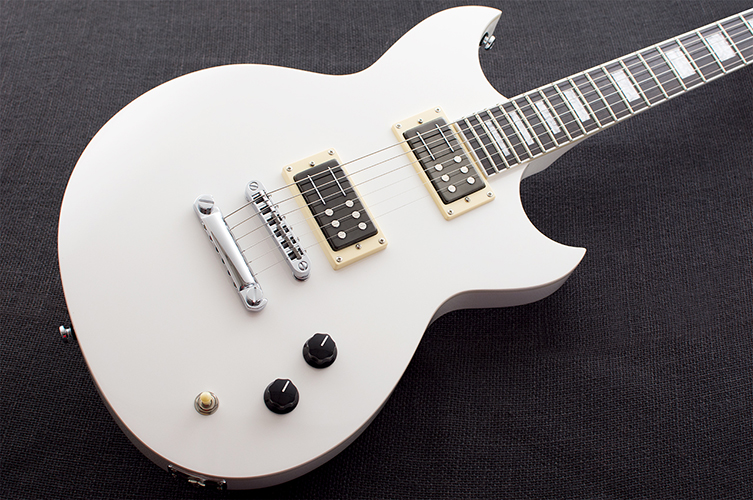 The bass contour works fantastically well, allowing you the privilege of sculpting your sound back from the guitar itself instead of always building on top of your tone with external devices. We love the bass contour!
Some of our Favourite Reverend guitars
So, there are even more features on each guitars that make Reverend a considered, discerning choice, but for now, let's show you some of our favourite models...
Double Agent OG in Metallic Alpine and Silver Freeze
First up, we've selected a model that, in many ways, sums up Reverend as a company. The Double Agent reminds us of some classic guitar styles (it's somewhere between a T-style and an offset in terms of outline) and contains many of Reverend's distinctive features. Let's go a little further.

First off, you'll notice that there are two Double Agents in this rundown. But they both look different! True! The bodies are different, as are the bridges. Indeed, the 'Double Agent' title seems to refer to the pickup combination, which consists of a bridge humbucker and a neck position P90. These actually balance very well, volume-wise, so you don't have to factor that into your performance.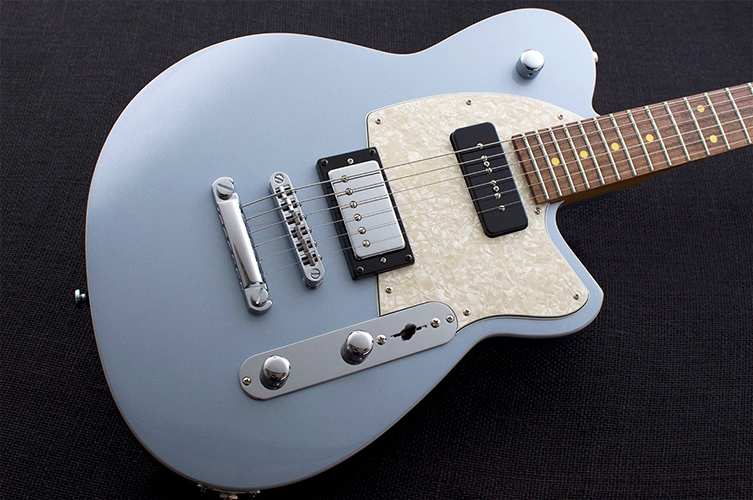 These pickups are Reverend's own design: the NA-5 humbucker and the 9A5 P90. You'll find these on the other Double Agent we check out here, too. This model has a TOM-style bridge for all those guys who like to dig in and play powerful, physical rhythm parts. The control knobs are lower profile than standard guitar knobs, so you won't accidentally slam your fist into them and change settings when you are in full-on 'power' mode!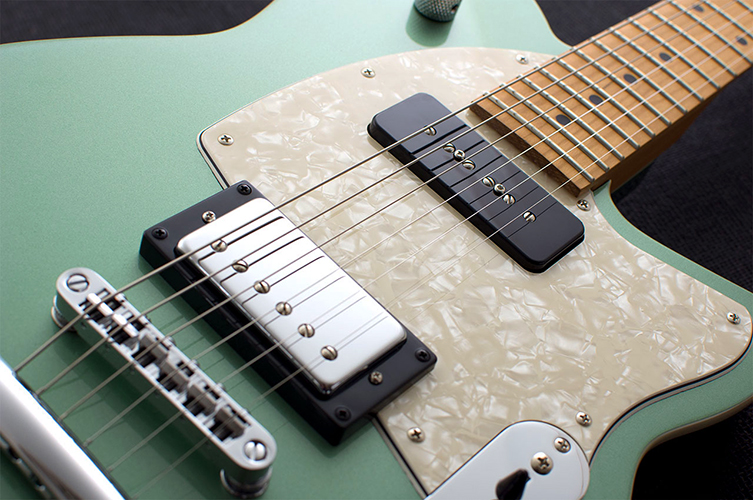 The bound-edge top, finished in a wide range of gorgeous colours (we opted for Metallic Alpine and Silver Freeze today!), looks beautiful alongside that roasted Maple neck! It blends utility with pizazz in a way that is very acceptable to guitarists.
Double Agent W in Chronic Blue

This other Double Agent model shares many features with its OG buddy, but veers down its own path in terms of body shape and bridge. The body of this model is one of Reverend's other most visible styles, with a defiantly non-symmetrical, offset body that once again looks familiar and unusual at the same time.
The roasted neck is attached to a body painted here in 'Chronic Blue', the wit of which we love! (hint: think of 50s-era 'cadillac' guitar finishes with very similar names...) This guitar feels longer and is excellently balanced when worn on a strap. That same pickup combination lets things get really quite clean, which is a lovely surprise! All flavours of Rock are served up well, but then you already knew that!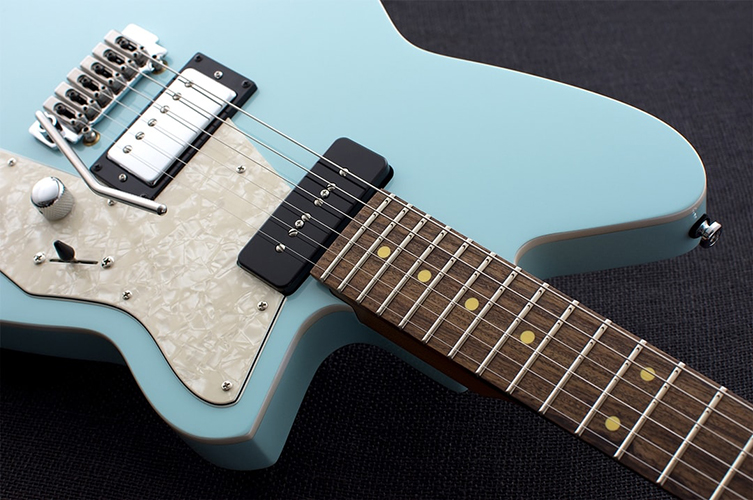 The TOM bridge makes way here for a Wilkinson tremolo, which, rather excellently, features locking saddles! The value for money here is pretty exceptional: this one guitar can handle almost any piece of guitar-related music thrown at it, all whilst staying in tune and looking pretty badass. We thoroughly approve!
Robin Finck Signature
We've looked at this exceptional guitar quite a bit recently, not least with the man himself, (read more by clicking through to our exclusive Nine Inch Nails interview) so it's definitely one of our favourite Reverends of 2020, if not of all time!

This was originally based on Reverend's Sensei model, and is a set neck, slightly more overtly aggressive axe. Again, the body curves are familiar (though they remind us of an entirely different classic guitar this time) but more offset. It's interesting to note that some of these 're-renderings' are making the originals look a little old fashioned in comparison...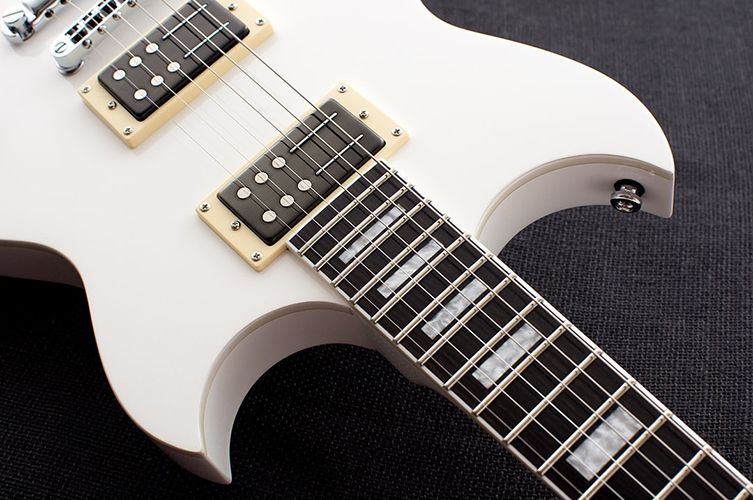 Robin's guitar does away with anything the man himself doesn't reach for in the midst of a Nine Inch Nails gig. As such, his signature axe has two high quality Railhammer chisel pickups, a volume control, a three-way switch and the bass contour. The control knobs are the kind you'd see on MXR pedals, which is a super-cool idea!
The other main distinguishing feature is the fingerboard, which is made from Ebony. This guitar is available in Black and White finishes, both of which are equally beautiful. If you like your riffs fast, hard and futuristic, you'll love the Reverend Robin Finck Signature.
Contender HB Purple

This next Reverend is another set-neck model. A charismatic take on the classic single cut, Reverend put their stamp on this by retaining their six-in-line headstock instead of the expected three-a-side like the one we saw on the Robin Finck model. The Contender HB has a flat top (with added forearm contour) and comes in a host of cool colours like this flamboyant Purple number here! Brighten the stage a little next time you're gigging: in a sea of Sunburst, this Purple Reverend Contender cuts a most glamourous image!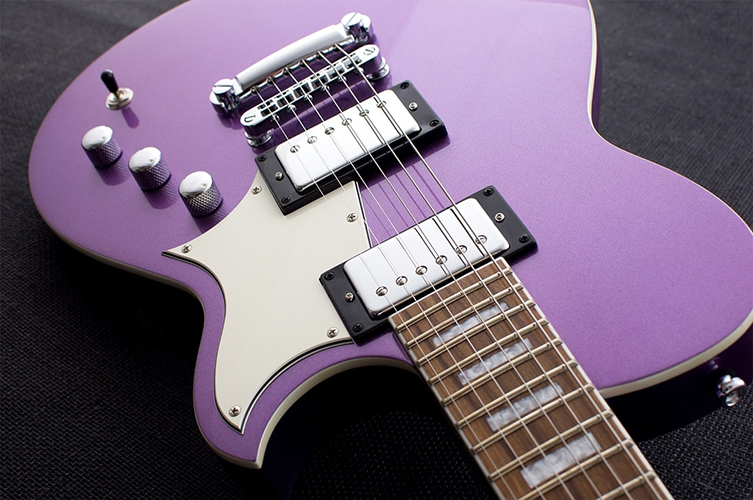 As with our other guitars here today, we have the Korina, the bass contour, the pin-lock tuners and the HA5 humbuckers. What is different here is the secret chambering in the body! Yes, there is a tone chamber under the pickguard, and this not only takes a little of the weight out of that chunky body, it also adds resonance to your tone.
Add in the bass contour, and you have a twin humbucker single cut guitar with more versatility than you could imagine. And in Purple, too!
Buck Shot Trans White

The Reverend Buck Shot is a little different again. Going back to the bolt-on recipe and using the same body shape as models like the Double Agent OG and the Charger, the Buck Shot gives us a pickup combination that we don't see everyday...
How about having a T-style bridge pickup for some muscular twang, and then a 'tron'-style pickup in the neck position for some slightly thicker, but still slinky, humbucker sounds? In truth, this unorthodox combo works a treat! This guitar sounds both full-bodied and lean, which is quite a trick to pull off! The bass contour edges the palette of sounds more specifically into jangle territory, bringing yet more mileage and versatility.
The Reverend Buck Shot is one of the most additive instruments we've sat down with for a very long time. It doesn't really offer up any clues as to what you should be playing on it: it simply responds to what you are doing in a clear and massively satisfying way. We found ourselves happily trotting through funk, Grunge, Blues and some Post Punk, all the while working the pickup selector, the volume knob and the bass contour to bring us what we needed. At no real point did we feel like we couldn't achieve what we wanted, though we admit that we didn't stray too far into overtly 'Djent' territory. Why would we? There are other guitars for that!
If 'flat-out fun' is a prominent factor in your choosing of guitars, the Reverend Buck Shot scores an easy home run.
Final Thoughts
How many other guitar brands right now are 'owning' their vibe like Reverend? These guitars aren't vintage reissues, nor are they based on any particular period or school of design, bar a cohesive house style that pulls on certain retro (even moving towards Art Deco) reference points. There are influences, sure, but overall, Reverend feel like a breath of fresh air. The instruments are superb: they play and sound like pro instruments, they look awesome and have their own style. They are also priced well within the budget of most serious players.
It is telling to note how many big acts are using these very guitars, and it's worth pointing out that the artists themselves use the very same instruments that you'll find on our hangers in store to play gigs and record albums across the world. There are no special custom one-offs created for them. Worldwide names like Smashing Pumpkins, Nine Inch Nails and the Cure know what they want, and they choose Reverend.
Kick out the jams with something a little different. The quality and attitude come built in.
Thanks for reading
Ray McClelland