Guides: Getting Started Gigging from Home with Shure
Published on 21 April 2020
There's nothing quite like live music to bring people together. Meeting fellow revellers at gigs has always been an awesome experience; a shared moment in time between people who may never meet again but will always remember that snapshot. The simple feeling of having someone appreciate your music and tell you how much they enjoyed what you played is a touching thing and as an up and coming musician, it's pretty essential to your confidence. Especially if you hear it from someone other than your parents... However, we're lucky enough to live in an age where you don't even need to leave the house to connect with people. The internet has created communities all over the globe and given us access to more music than ever. With so many artists recording and gigging from home, there's never been a better time to lay down some of your performances. Just think, everyone from the Weekend to, gulp, Justin Beiber, to Ed Sheeran were discovered online... You could be next!
But what do you need to record video at a decent quality? Well, we wanted to turn your attention to some really well-built gear from Shure that'll get you going, without breaking the bank. Renowned worldwide for their reasonably priced, yet extremely high quality gigging and recording gear, Shure's mics have become an industry standard for a reason - they sound fantastic and they just don't quit. Seriously, when there are no humans left on the face of the earth there'll still be an army of battered Shure mics from venues all over the world. Now, you may look at their vast selection and not know where to start... Don't worry though, we'll talk you through the essentials.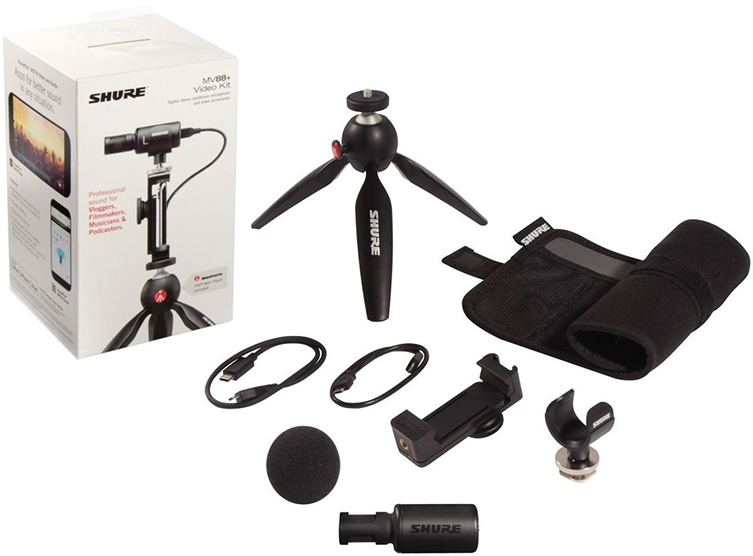 Let's start with the visuals. A gig ain't much of a gig if you can't see the person playing is it? So, let's take care of the video side of things.
A quick search online will probably have you convinced that you need cameras worthy of a Speilberg blockbuster but don't be disheartened, to be honest, most smartphones these days can capture video that looks more than sufficient and since you're just new to this, there doesn't seem much point spending money on anything too fancy when what's in your pocket will do a great job.
That said, a few little tools will take your video from a shot at home feel to a more professional looking finished piece. This is where the Shure Motiv MV88+ Video Kit comes into play. Essentially giving you the basics of a pro filming setup, this little toolkit accompanies your iPhone to give you a more finished product.
Perhaps it's most exciting feature is an MV88 Digital Stereo Condenser Microphone. Extremely compact without lacking on quality, this little beast packs a serious punch for its size. Capable of picking up detailed sound, this is the perfect companion to just give your videos a boost in quality. The difference between your phone's mic and one of these is night and day, so it's perfect for shooting off the cuff demos, acoustic performances or quick vocal takes. With 5 different capture modes, alongside a dedicated app where you can tailor your audio, it's a very powerful gadget to have on hand when you just want your session to sound a little more refined. The pack comes complete with a high-quality Manfrotto tripod, phone clamp & shoe-mount. Manfrotto tripods are used in film production worldwide and this is essential when recording using your smartphone. Say goodbye to the shaky takes you're used to and get locked in with the MV88 Video kit.
The kit also features a roll-up bag, making it pretty travel friendly if you want to set up in a new location, or out in the garden, if weather allows! All things considered, this bundle covers a lot of ground and can do a lot for the quality of your videos, bag yours now and thank us later!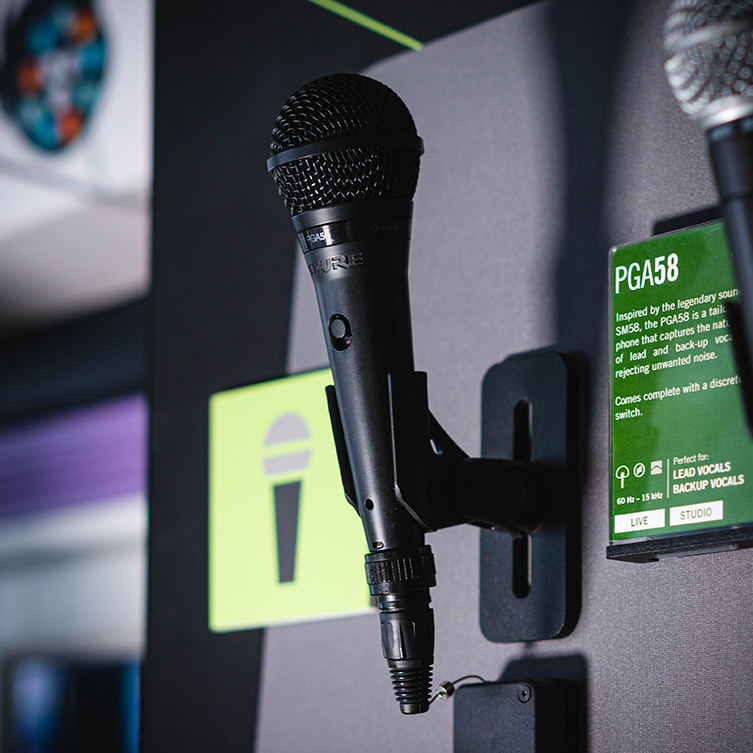 Now, if you're planning on playing mostly electric, or fancy stepping up your audio even further, it may be time to get mic'd up. Again, you probably won't want to spend a fortune on your first steps into recording and gigging at home but lucky for you Shure have got you covered (again!).
Known worldwide as the undisputed champions of vocal mics, their more affordable offerings also offer fantastic clarity and are every bit as bombproof. Say hello to your new best friend, the PGA58-XLR-E. Based on the brand's now-legendary SM58, this affordable alternative offers a crisp, natural sound and is perfect for getting you started with gigging at home and creating video content. Simply run this into your interface or mixer and you'll quickly notice the punchy, powerful sound of this mic which has a cartridge tailored specifically for voice. Great at picking up you without any background or unwanted noise, this is the mic you need to become a rockstar from your bedroom!
Alternatively, if you already have a mic in the house and are looking for an upgrade, the Beta 58A is also utterly fantastic for the money. Making use of a brightened midrange and bass rolloff, this is a slightly more advanced model which sounds seriously clean. Take a look at both and see what you think will work for you.
Micing Up Your guitar - PGA57-XLR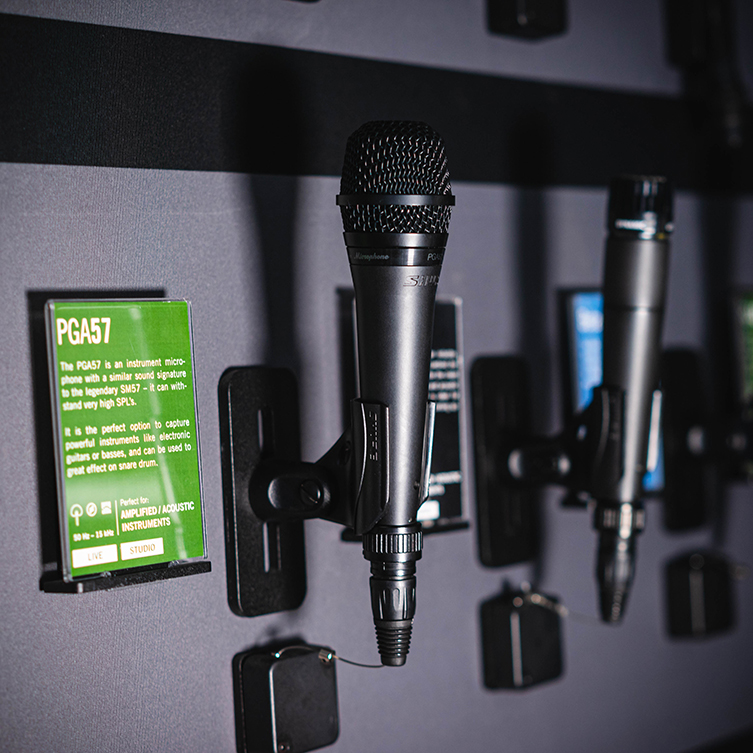 Now, when you're sat at home, it can be easy to plug directly into your interface and dress up your sound using software effects. This is in many cases the simplest and most effective solution. However, that stunning amp that's become your trusty partner in tone at every gig you've ever played is just sitting in the corner, staring forlornly at you... Are you really gonna leave it out!? Well, we're true tone hunters and we say no way, let's get it cranked up and into the mix! Once again, Shure have an affordable mic which will dish out those dreamy tones and then some, so why not go all out?
The PGA57-XLR makes use of another of Shure's most iconic designs, simplifying it into a no-frills, but extremely affordable option for micing up your amp, or acoustic. This model has been specifically tailored to pick up your guitar sound so all you need to do is set it up close to your speaker cone and adjust it until you find that sweet spot that just sings. This may take a little bit of fiddling about but once you know, you know! The same goes for your acoustic, simply set up where you plan to film and find that position where you can hear all of those lovely harmonics and overtones ring out. Thanks to the design and responsiveness of the PGA57, this is pretty straightforward and will add so much quality to your stream. Provided you have an interface, mixer and some basic software at home, you can achieve some extremely high-quality results without spending a huge amount.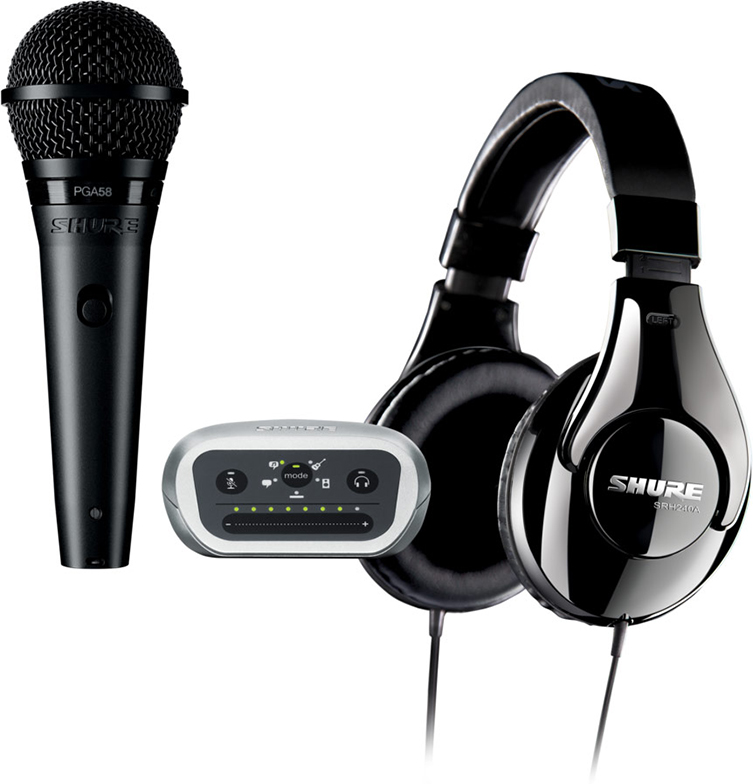 Looking for an all in one bundle to get you started? Don't worry, Shure have a really well-priced kit featuring the PGA58, a set of SRH240A headphones and their awesome little MVi interface. The MVi is an impressive tool that can either be used with a computer or mobile device and is totally portable! They've packed a lot into this little pocket-sized unit which has an XLR and 1/4 jack input which are perfect for laying down guitar and vocals. With presets for different instruments and EQ settings, the MVi covers a lot of ground and is a great option if you're just getting started recording or streaming on your phone. It even comes with an app allowing you to easily share files with other users and adjust settings on the fly!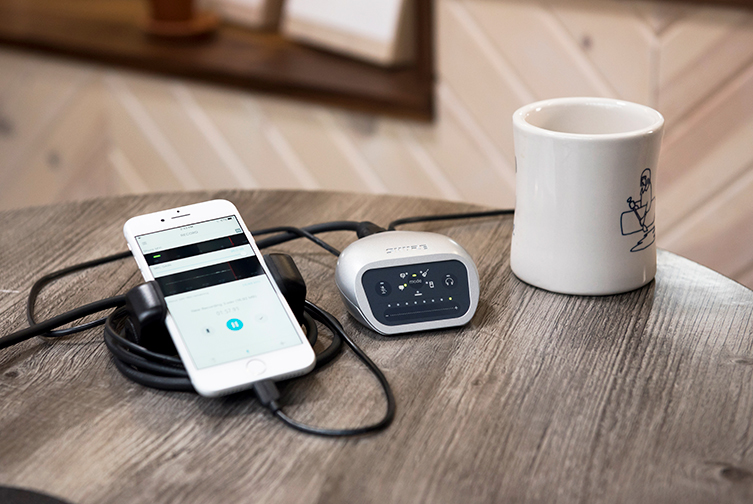 The full kit is an excellent starter pack for those who simply need the tools to start recording and will do wonders for the quality of your stream. Don't put it off any longer, get started now!
Final thoughts
Believe it or not, setting up a top-quality video recording of your performances is actually relatively straightforward if you have the right gear and Shure really do have you sorted no matter what your expertise or skill level is. We've picked a few products that we reckon are great for beginners but you can delve into this as deep as you want, they really do have something for everyone. It is an amazing age we live in that most of the tools are so accessible and we'd thoroughly recommend taking advantage of what's out there.
You never know who might see your video and fall in love with your music so take the time to make it look like a professional finished package, superstardom could be right around the corner...