A Closer Look: Martin X Series
Published on 07 April 2020
If you are a fan of guitars at all, you'll no doubt know and love Martin acoustics. This American pioneer is responsible for many of the things we take for granted in the acoustic world: dreadnoughts, x-bracing... the very notion of what constitutes the term 'acoustic guitar' filters primarily through the designs and inventions of Martin & Co.
To own a Martin guitar is to join an exalted lineage of players that spans over a century, and includes such luminaries as Eric Clapton and Neil Young. There is a pride and distinction in aligning yourself with Martin guitars, and it speaks to players of all style, and all walks of life.
Martin make most of their range up in Nazareth, Pennsylvania, but that's not the whole story. They also have a premises in Mexico dedicated to producing more affordable instruments for enthusiasts and gigging pros alike. Since USA-produced Martins are high-cost investments of a lifetime, not everybody can reach such a price straight away. Knowing this, Martin have, for many years now, produced an 'X' series of guitars, built in this Mexican facility, to a more economical design.
Martin's X Series have been massively popular with guitarists looking for a great value acoustic from a major, recognisable brand, that they can take to gigs, sessions, open mics and more. These X Series Martins have still been made with dedication by skilled artisans, but have been constructed using certain techniques and materials that bring the cost right down.
The X Series has been recently renewed and given a full refresh to offer more to the player. This new X Series brings together a large range of models in several beloved body styles such as the Dreadnought, 00, 000 and GP, with cutaway models included as options on many styles, too.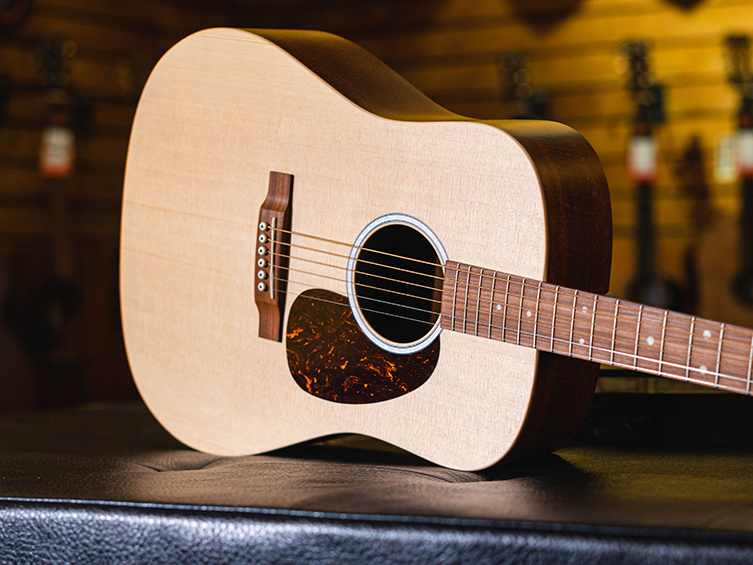 Upgrades
The new X Series brings lots of improvements to what was already a popular and effective range of instruments. For example, all models feature scalloped bracing now, which increases the resonant response of the instrument, thereby improving the tone. The necks are now fashioned from either solid Hardwood or layered pieces of Birch (depending on the model) which adds to the instrument's stability.
Significantly, every Martin X Series guitar now comes fitted with an upgraded Fishman MX pickup and preamp system. This unit has been developed specifically for this range of guitars, and features a discreet control panel mounted inside the soundhole, as well as having the battery compartment located by the jack output on the side of the body.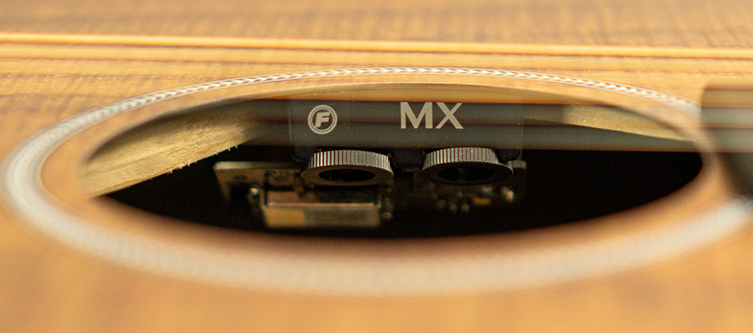 What this means is that players have a very effective, and very low-key, way of amplifying their guitar for jams, gigs and sessions. Fishman, as you no doubt already know, are one of the best in the business of piezo amplification, so this is a real coup!
Materials
So, within the X-Series, you'll find X-1 and X-2 models. X-1 models are made entirely from HPL (High Pressure Laminate) and X-2 models have HPL backs & sides and solid timber tops.
But what is HPL?
Okay, so, HPL is basically sheets of resin (comprised of cellulose, which is an organic compound, and some other synthetic polymers) which are pressed together by heat and pressure. This is then shaped as required. In this case, HPL is used to form the back and sides of X-Series guitars, as well as the top of X-1 guitars. HPL is strong, durable and very sustainable.
A similar situation occurs with the fingerboards, which are made from Richlite. Richlite is a FCS certified material made from paper and resin. You'll find Richlite fingerboards on some very high-end electric guitars from major American manufacturers, so there is something of an established tradition here already. It's a great surface to play on, looks uniform in colour, and, significantly, is very easy to re-fret and make repairs on, which is something a lot of people don't bother mentioning! Add to that its status as an environmentally reliable source and you have a cost-effective, non-compromising material to build fingerboards with.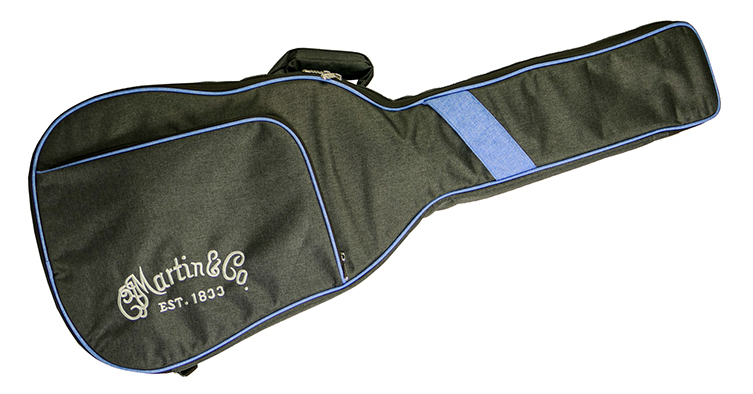 Other upgrades to the range include a TUSQ compensated saddle for longevity and a high-quality soft gig bag for making these guitars show-ready straight away!
The range, as we mentioned, is extensive. Let's have a quick look at a few...
000X2E01
Martin's 'triple-oh' is one of their most popular styles. Slightly smaller and shallower than a dreadnought, the 000 has a brighter, 'tighter' sound with more emphasis on the top end sparkle with less in the mids. This makes it a great choice for fingerpickers. A solid Sitka Spruce top on here ensures a crisp, robust sound.

DX2E12
If you are looking for an affordable and effective 12 string, this X-2 Dreadnought may just hit the target dead on! Like the rest of the X-Series, decoration is minimal, but that scalloped X-bracing inside really helps to resonate and project that shimmering 12 string sound in a most pleasing way. 12 string guitars are perfect for songwriters, and add an extra sonic dimension when strummed live. Add this to your arsenal for a very reasonable price.

GPCX2E-02
Martin's Grand Performance body style is one of their most contemporary designs. Similar to a cross between a dreadnought and a Grand Auditorium (the name brand name for the 000), the GP style suits players who need a big sound with articulation and plenty of upper fret access. A High-Performance taper neck is used here, making this a great choice for the more adventurous acoustic guitarist.
Final Thoughts
Nobody in their right mind would compare an X Series guitar to something like a HD-28V, so neither will we. Taking these guitars on their own terms- in other words, as relatively low cost (by Martin standards) instruments to gig with and so on - we can immediately understand and appreciate their worth. Everyone wants to own a little bit of that Martin magic, but until they are able to afford the Pennsylvania-made dream machine of their heart's desire, these X Series instruments are more than capable of filling the void.
For gigging guitarists who want a trusty, reliable instrument that can gather dings and scratches without due fear, and whilst still retaining good playability as well as that all-important name on the headstock, Martin's X-Series proves to be a measurable hit.
Thanks for reading
Ray McClelland