A Closer Look: Epiphone Limited Editions
Published on 05 May 2020
Epiphone guitars are some of the coolest out there.
Affordable, classic, and with a history that beats any other brand (and we're not ever talking about the Gibson association...), Epiphone have a cool, everyman-with-style vibe that any guitar brand would want.
There are so many excellent Epiphone guitar models to choose from, too: whether you love the Beatles-used hollow body Casino or the Rock mainstay SG, there's a ton of musical history to be had at your fingertips, and at some very affordable prices, too!
Sometimes, Epiphone release limited runs of guitars in special finishes. These are small, exclusive editions that sell out and are usually never repeated.
Recently, we took a shipment of some fantastic, super-limited examples of such instruments. There are some real beauties here, so if you don't mind indulging us, we'd like to show you just one or two...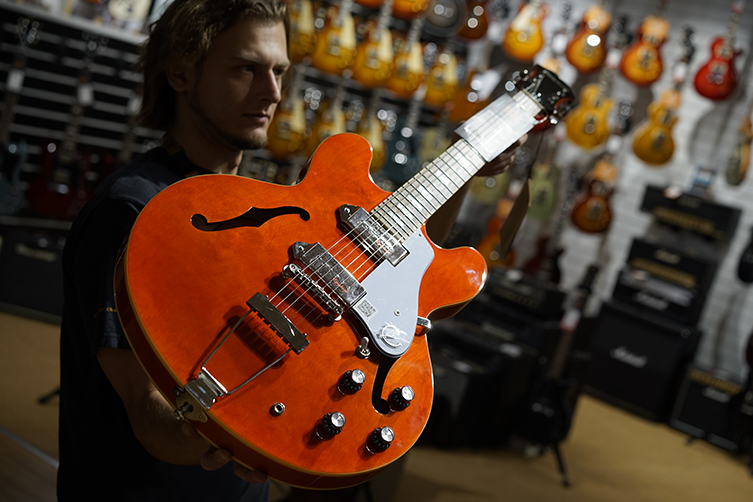 Casino in Sunrise Orange
We mentioned the Casino earlier and yes, the Beatles connection is a pretty massive draw! John Lennon loved the Casino, but so have many other players, from Paul Weller to Thom Yorke and The Edge. It's a song-player's guitar, rather than a soloist's, with a gorgeous, percussive voice that rings well and has lovely resonance.
This edition preserves all of the correct vintage details like twin P90s pickups, small-block inlays and the fully hollow body (not semi, like the 335) for an authentic experience. The only difference, of course, is the lush Orange finish! We think this is a great fit for the Casino: it doesn't undo any of that retro magic, but it does make the whole guitar 'pop' more, for a tasteful yet bold look that will enhance the stage presence of any performer.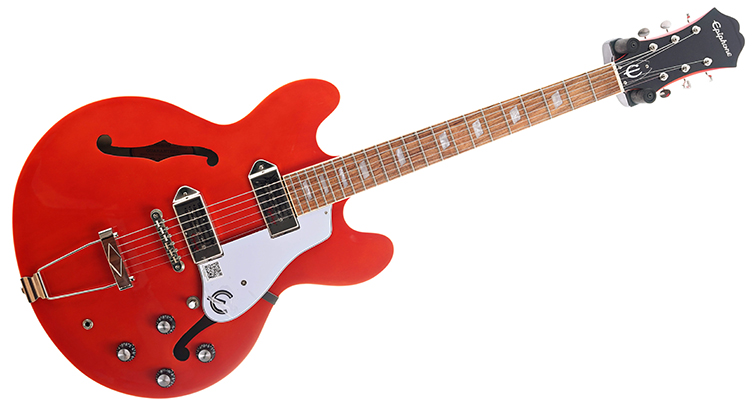 The Casino offers an entirely fresh playing experience for those who are used to solid body instruments. Even the neck joint (the Casino's neck is noticeably further into the body than similar guitars) provides a feel and influence on your playing that's unique. If you've never tried an Epiphone Casino, you're missing out!
Les Paul Custom Lite in Alpine White
Possibly one of the most handsome guitars available anywhere, the Les Paul Custom is a stylish and very capable powerhouse of tone. Epiphone outdo themselves here by including a proper Ebony fingerboard, too! The rich, dark fingerboard contrasts brilliantly with the White body and gold hardware to paint a picture of true Rock n Roll opulence.
This Lite model adds chambering to the body to remove that age-old problem of the Les Paul's notorious weight. You can still enjoy a full, sustaining sound with all of those powerful midrange frequencies, but without slumping over mid-set with a broken shoulder! Truly, these guitars are only around 3.5kg in weight!
Other highlights for the Les Paul Custom Lite include a slim, D-profile neck carve and a set of gold-covered Epiphone Alnico Classic humbuckers. There is no need to consider an instant pickup upgrade here: these are some seriously good sounding PAF-clones! We recommend!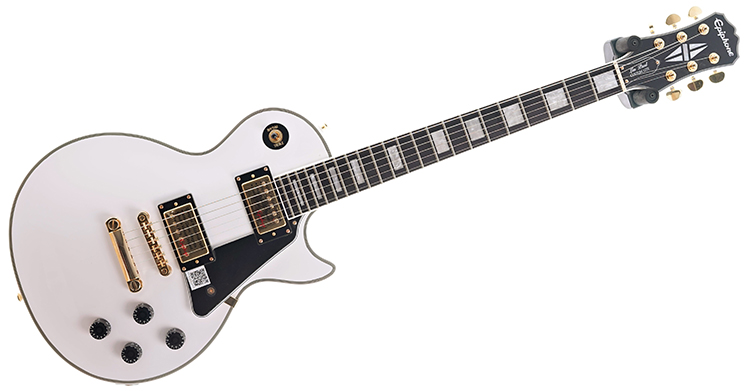 G-400 Pro
Epiphone bring a little pizzazz to the hard-rockin' SG in the guise of this lovely G-400 Pro model. What you get here is basically a fantastic, solid Mahogany, set-necked SG with the added bonuses of a AAA Flame Maple veneer top and some nicely upgraded pickups.

It's one great looking guitar, and it's available in not only Cherry Red but also Blue and Honeyburst! Each finish makes the most of the slice of Maple, adding a touch of class to this iconic design. Those pickups are Alnico Classic Pro humbuckers, with push/pull coil taps for a thinner, 'spankier' sound should you require it! That is a whole lotta guitar for the money! Nice work.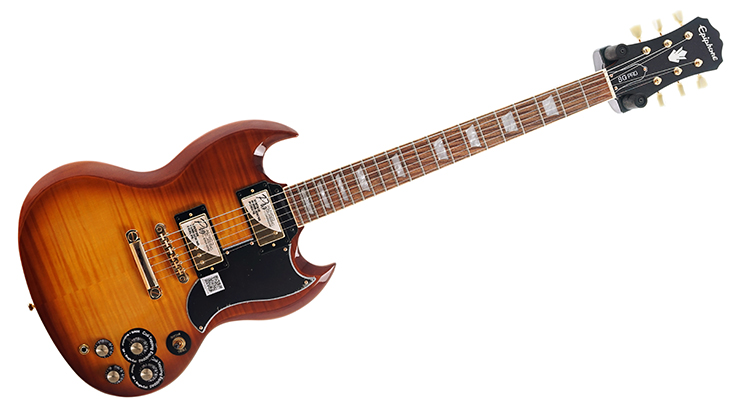 335 Pro in Vintage Sunburst
We move back to the classic lines and shapes of the Epiphone 335, a glorious and affordable take on one of Gibson's prime guitar designs.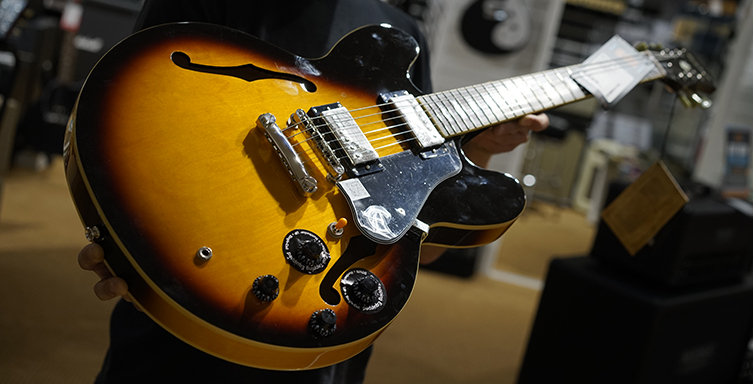 Alnico Pro humbuckers and coil taps are included here, too, making this a fantastically versatile guitar. This 335 has a much thicker and warmer sound than the similar-looking Casino, and is assigned and designed for entirely different purposes. The Epiphone 335 Pro is a fanstastic lead player's guitar, no matter whether that is Jazz, Blues, Rock, Indie or Goth. This guitar can flat-out do it!
We have the Epiphone 335 Pro available here in Vintage Sunburst, a classic finish for f-holed semi acoustic guitars. If you've yet to add one of these to your collection, there's never been a better time!

Les Paul Traditional Pro III Plus
Lastly, we'd like to draw your attention to another model from the Les Paul stable. This Traditional Pro III Plus is something of a luxury guitar, truth be told. From appearances alone, this is a gorgeous, Cherry Sunburst Les Paul Standard, the likes of which legends are made! A veneer of AAA flame maple gives this model it's all-important 'Tiger Top' look, and the construction is all solid mahogany with a set neck, just as it should be.

There's more, though! Those lovely open coil 'zebra' humbuckers are in fact, USA-made Gibson humbuckers! Yes indeed, this model goes even further into that mythical Blues-Rock PAF greatness with a '57 in the neck and a Super '57 at the bridge! And wait, there's more! Each of the four control knobs has a double duty. As well as the expected volume and tone for each pickup, there is also a coil tap available for each pickup in order to thin out that mighty Les Paul roar. There is also a push-pull phase control, to achieve those famous British Invasion out-of-phase tones. Plus, there is a fantastic 15dB active boost circuit, activated by the fourth push-pull switch! Now, that is a great idea! Extra firepower for solos, right at your fingertips! This circuit takes a 9v battery, accessible from the back of the guitar.
Final Thoughts
These guitars here today are a mere smattering of the fantastic Epiphones available from our site right now. Classic lines, great playability, bundles of features and, let's not forget, exclusive finishes, are here for the choosing! Brighten your musical life with a cost-effective, magnificent new Epiphone.