Fender Acoustasonic: the Performer's Dream
Published on 12 October 2020
It was a big gamble for Fender.
Would people really want a compact, stage-friendly acoustic guitar in the shape of the company's iconic electrics? One that gave both acoustic and electric sounds from the one instrument?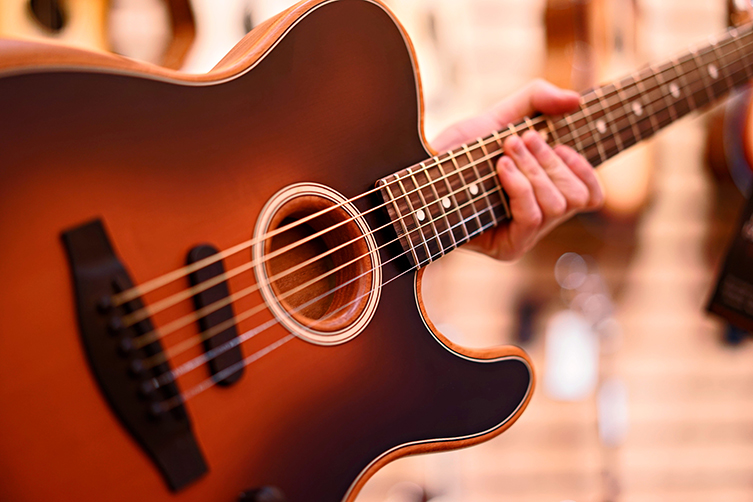 It wasn't by any means the most obvious thing for them to make. Sure, performing musicians have been looking for effective hybrid guitars for years: something easy to work with, that would provide a palette of sounds from bright, lively acoustic tones to proper Fender electric tones, and all from one instrument. It's the dream, really. But so many have tried and failed in the past...
It's a tough call, and one that even Fender have attempted in the past, to debatable success. The problem was always getting the level of compromise correct: getting one voice to sound correct often meant the others suffered. The design brief of a slim, almost electric-guitar-like body meant that the functionality of a 'true' acoustic was less than perfect. It seemed too difficult to get each voice to sound correct, to satisfy discerning guitarists.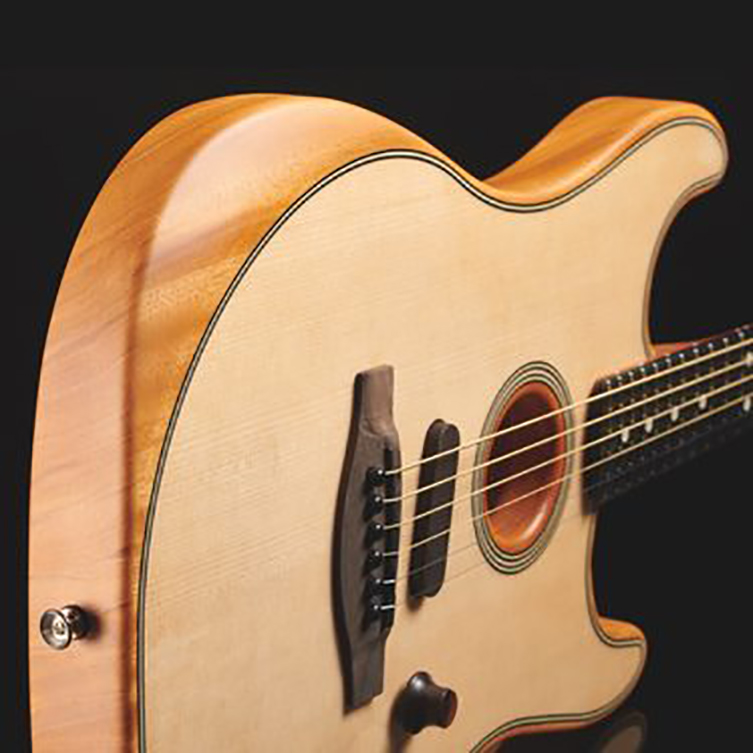 Nobody really expected Fender to get it right, to be honest.
Well, they proved us all wrong!
The Fender Acoustasonic was pretty much an instant success, right out of the bag. Using a special design hollow body, a mixture of three different pickup styles and an Acoustic Engine developed by Fender in collaboration with Fishman, the Acoustasonic blew people away by delivering on all fronts. You can play it unplugged and it sounds good and loud; you can plug it in and get a range of authentic acoustic body/tonewood styles from the Acoustic Engine; and you could get actual Fender electric guitar tone from the 4th Generation Noiseless magnetic pickup in the bridge position. Every subject was delivered with immense success!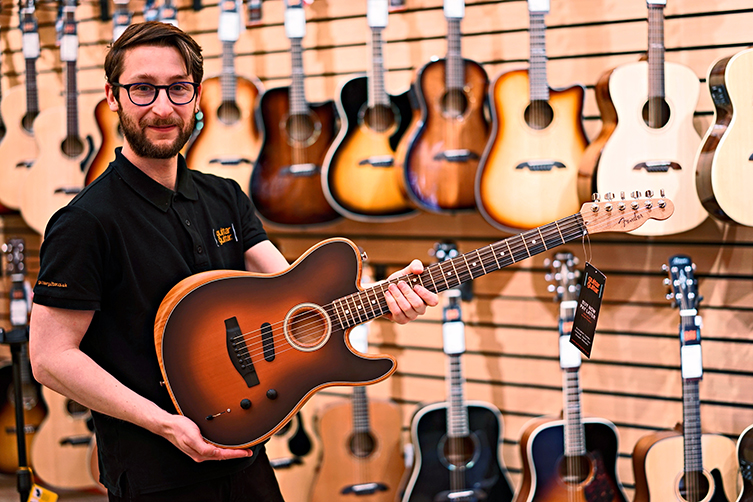 Innovations
So, how does this guitar manage to sound good unplugged? It's down to new technology developed specifically for the Acoustasonic, called the Stringed Instrument Resonance System (SIRS). Here's the deal from Fender's Vice President, Billy Martinez:
"The Acoustasonic's patent-pending tuned Stringed Instrument Resonance System (SIRS) uses a "waterfall" design to control the flow of air into the body, creating a naturally loud voice and lively harmonics. It was purposefully designed and tuned for the guitar."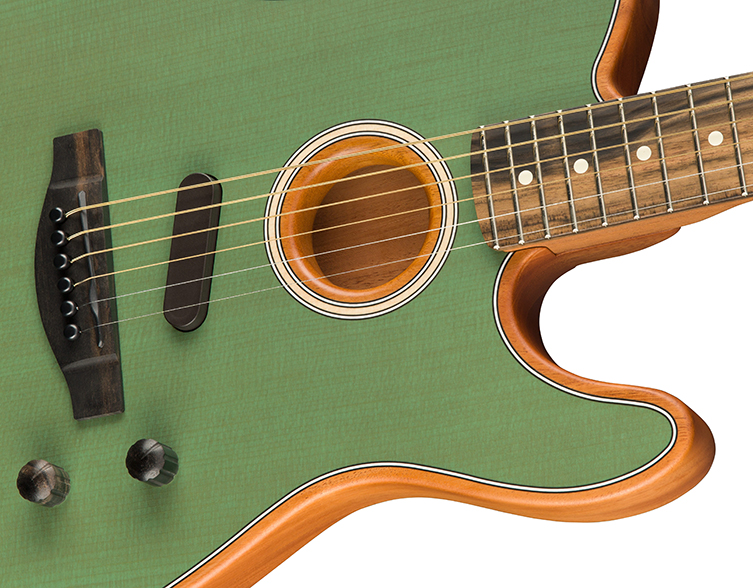 It means that Fender have finally cracked the issue of the thin-bodied acoustic. The body is made of Mahogany, with a solid Sitka Spruce top, just like a standard acoustic guitar. The acoustasonic has a pleasing and highly useable unplugged tone that will satisfy you when you need to just grab a guitar and have a strum at home.
This innovative design, of course, benefits the plugged sound too, since the Fishman internal body sensor will pick up on the extra air and resonance from the SIRS. Everything is well thought out and considered, making the Acoustasonic something of a luxurious pleasure to handle.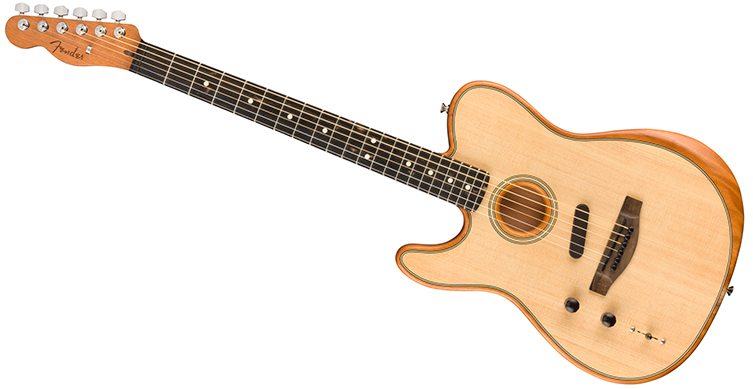 A Performer's Dream
A five-way selector and 'blend' knob is all you need to coax a multitude of acoustic, electric and in between guitar sounds. This is great from the point of view of a performing professional. No longer do you have to make do with one acoustic sound for your entire gig, nor do you have to stop and change guitars for an electric tone! An entire collection of top-class acoustic tones are available to you, literally at your fingertips...
The acoustic tones come from a mixture of an undersaddle piezo, an internal body sensor, and the Acoustic Engine. How does it work? It's simple. You have your 5-way selector and the blend knob. The 5-way selector has two sounds available (A and B) at each selection, making ten in total. The blend knob allows to go move between sound 'A' and sound 'B', plus every blended point in between. Thus, from those ten sounds, you actually have a need endless supply of possible sonic permutations. It's so simple, but so useful!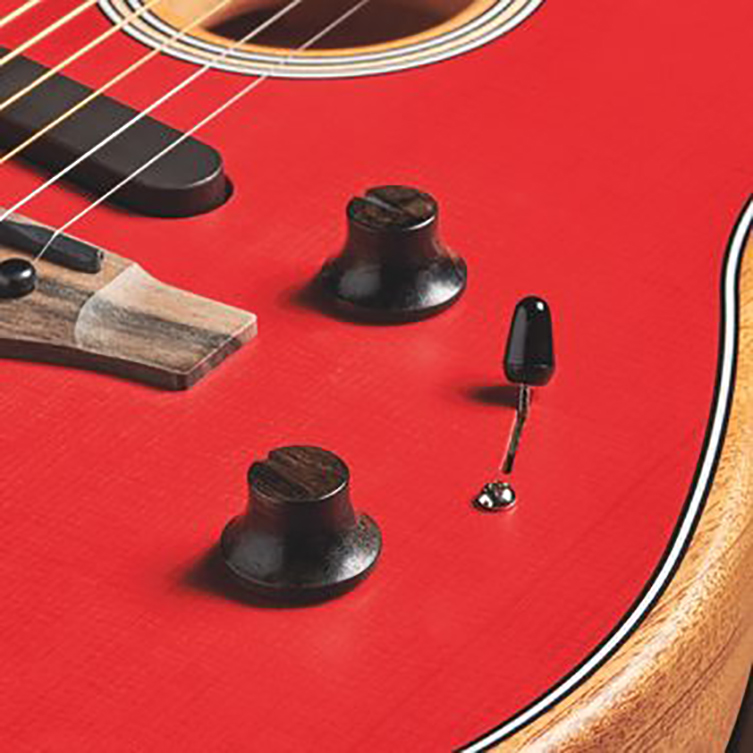 What kind of sounds do you get? Well, for example, position 5 on the selector (towards the neck, as it were) gives you two Spruce and Rosewood acoustic guitar tones: one Dreadnought and one with an Auditorium body. Position 3 gives you an 'A' sound of a Spruce and Brazilian Rosewood Dreadnought, with a 'B' sound that's the same but adds the body sensor in there for a much more percussive and harmonic sound. Position 2 offers blends of acoustic and electric sounds and so on. There's a lot to have fun with here, and it's beyond simple in operation.

It also means you can often get through a very varied gig using the one instrument! If you tour a lot, or use public transport in cities, this is pretty great news! It's worth noting that the Deep C neck is more 'Telecaster' than 'acoustic', so playability is most defintiely on the easy side! There's a 12" radius Ebony fingerboard there, too, which is basically the fretboard equivalent of drinking champagne. It's an amazing surface to play on! Busy performers are going to really love and depend on this guitar.
Strats and Teles
The initial Acoustasonic was available in the shape of a Telecaster. It was an instant hit, with players immediately understanding the concept and appreciating the benefits of such a breakthrough in design. A year after the release of the Acoustasonic Telecaster, Fender brought out an Acoustasonic Stratocaster model, with the exact same technology and a few gorgeous new colour options. This has been equally well received, and the truth is we've had a hard time buying up enough stock to satisfy demand!

We're happy to report that, for once, we have most, if not every, permutation of Acoustasonic in stock, at tome of writing. This includes the left-handed Tele model too! These are perennially popular guitars, though so our stocks won't remain so plentiful for long!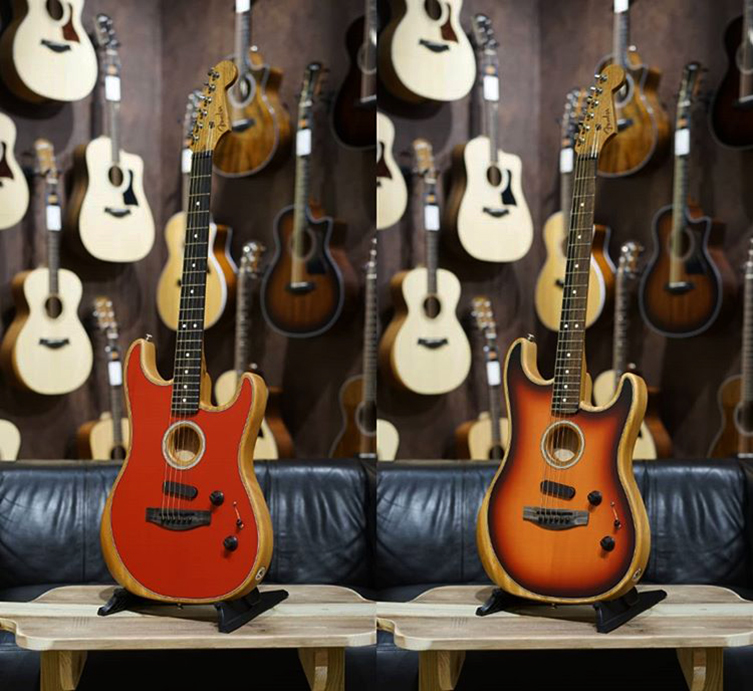 Final Thoughts
As Summer beckons, and the world (very) slowly returns to normal, wouldn't it be great to have a professional quality guitar that you can take everywhere with you? It's an electric guitar, it's an acoustic guitar and it's the perfect volume for paying at home, on the beach or at a campsite. It has cutting edge technology than sounds better than almost any other plugged-in acoustic guitar, with the added benefits of Fender electric tones and no boomy feedback problems! Is this the Fender you've always dreamt of? Maybe so! Try one as soon as you can, and you'll know. Please click below to view out entire range.
Thanks for reading.