A Closer Look: D'Angelico Ludlow
Published on 29 June 2020
Are you looking for something different?
Do you want to stand out gloriously when you take to the stage?
Are you a style conscious, unique individual who likes to express themselves?
Do you also like quality and performance in your guitars?
If you've answered 'yes' to some of these questions, we think you'll love the D'Angelico Ludlow...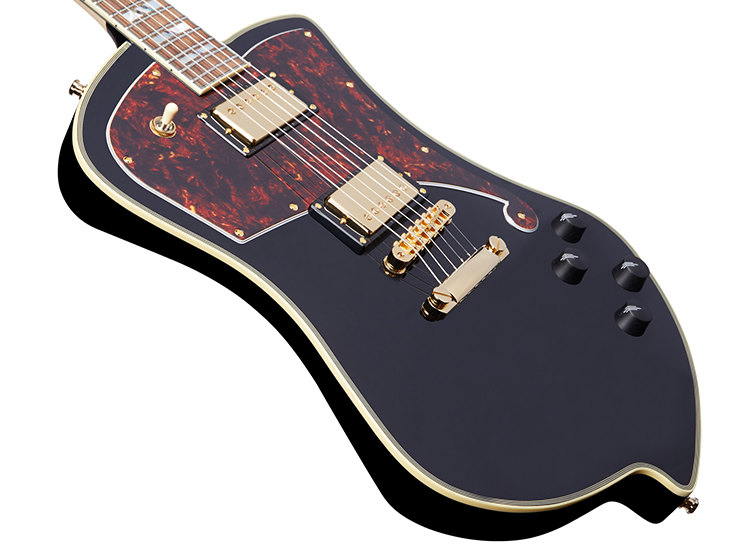 Heritage Brand
D'Angelico are a brand with a long and rich history. They first began 115 years ago in Little Italy, on Manhattan's Lower East Side. They were known as makers of fine hollow-bodied Jazz guitars, a tradition that continues to this day. Though no longer made in New York City, D'Angelico guitars retain much of that NYC Jazz-Age charm, from their decorative headstocks right through to their hardware and styling.
The D'Angelico brand offer a wide range of quite original looking guitars, all of which are pretty gorgeous! We think these guitars offer a stylish and legitimate alternative to the usual choices, with enough of their own style and swagger to be a viable choice for style (and history)-conscious players. There are lots of hollow and semi-hollow D'Angelico models, but today we want to show you the wonderfully unique solid body Ludlow.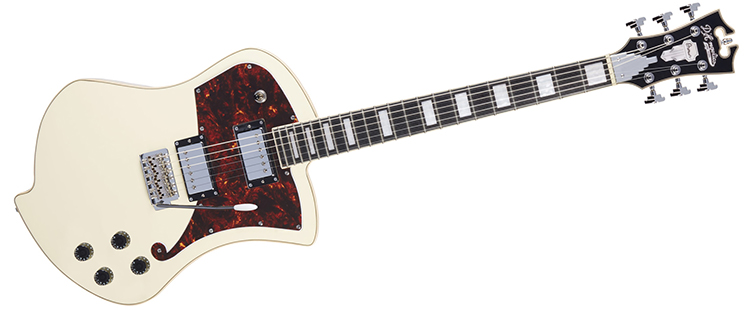 Original Shape
The first thing you'll notice is the most fantastic offset body shape. It reminds us of various things, from Gretsch Jupiter Thunderbirds to script mandolins, but D'Angelico have managed to move past any influence and present something fresh and original to us. How often does that happen with guitar design?

The body is slightly oversized, at least when compared to classic guitars with a similar set-neck & two humbuckers configuration. The extra size is, according to D'Angelico, for additional resonance, but even superficially, it just looks cool! Upper fret access was also a priority here: you'll be granted excellent availability to the upper frets with this design!
Now, before we go further, it's worth pointing out that the Ludlow is available from us in two distinct ranges. The Premier range is the more affordable range, and the Deluxe is the more expensive. As you'll see, both represent very good value for money. So, let's take each in turn, beginning with the Premier model.

Ludlow Premiere
For the Premiere model, D'Angelico have gathered together some great hardware and a trio of lovely finishes. Take a look at the Vintage White, Army Green and Black models we have on the site: how good looking are they?
Each model has Duncan-Designed humbuckers, complete with individual coil tops in the tone controls. Slightly hotter than PAF humbucker tones and impressively decent single coil split-tones are available from the Ludlow Premier, with the pickups making the most of the large Basswood body and set neck.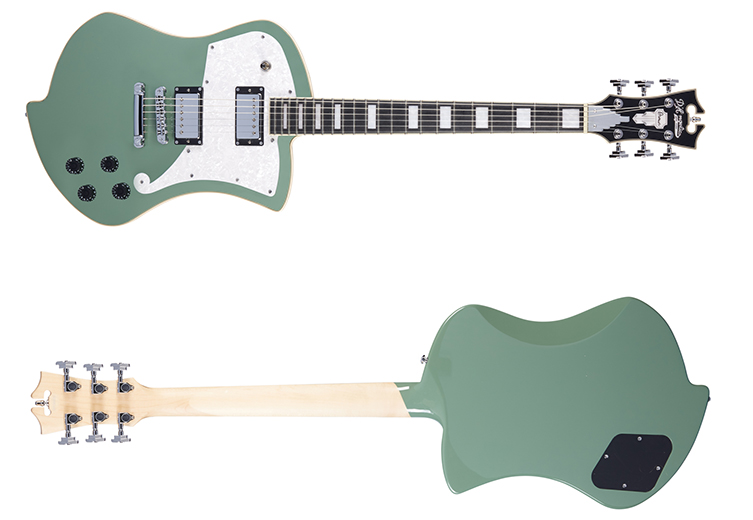 Speaking of the neck, this one is super playable, in addition to being lovely looking. Indeed, one you draw your eyes away from that opulent headstock (we love its ostentation!), you'll see lovely block inlays on the 14" radius Ovangkol fingerboard. The neck's profile is an easy C-shape, and D'Angelico have used an appropriate 24.75" scale length, making string bends feel easy under the fingers.
Interestingly, the Antique White model sports a vintage-style 6-point tremolo, whilst the other two colours are equipped with a more-expected TOM-style bridge and hard tail. Choose the one that suits you best! The D'Angelico Ludlow Premiere comes with a quality gig bag, too. We applaud this because it's happening less and less in the guitar world. Nicely done!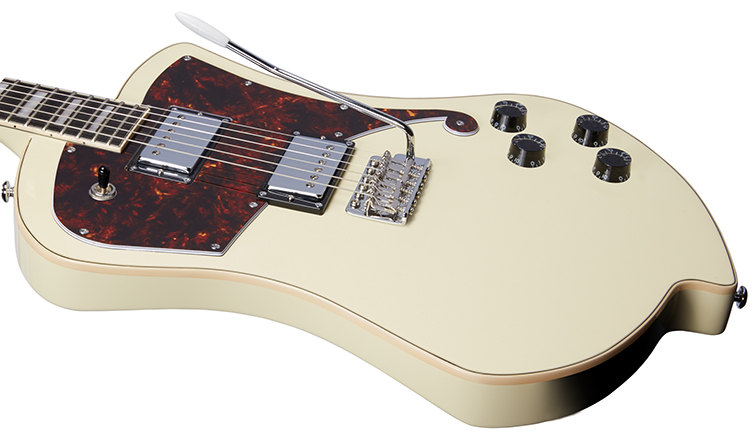 Ludlow Deluxe
The D'Angelico Ludlow Deluxe may look pretty similar to the Premiere, but there are a few lovely surprises here to justify the extra expense. Chief amongst these is the inclusion of USA-made Seymour Duncan pickups. Now, these are not only Seymour Duncans: they are custom-made Seymour Duncan DA-59 humbuckers, only available on these guitars! They are medium output, warm sounding units with a little PAT-style bite in there to help chew things up beautifully! Coil taps reside here too, so you have a full contingent of tones available.

The D'Angelico Ludlow Deluxe has the same basswood body and set neck as the Premiere - though the Deluxe has a strengthening strip of Walnut in the middle of its neck – apart form one model...the Natural one. This particular model has been rather excellently made with a body of Swamp Ash! Resonance for months! This is a significant factor, so if you are in the position to try these out in one of our stores, try to A/B the Natural Ludlow Deluxe with whichever other model(s) you're interested in, and see if you can hear the difference!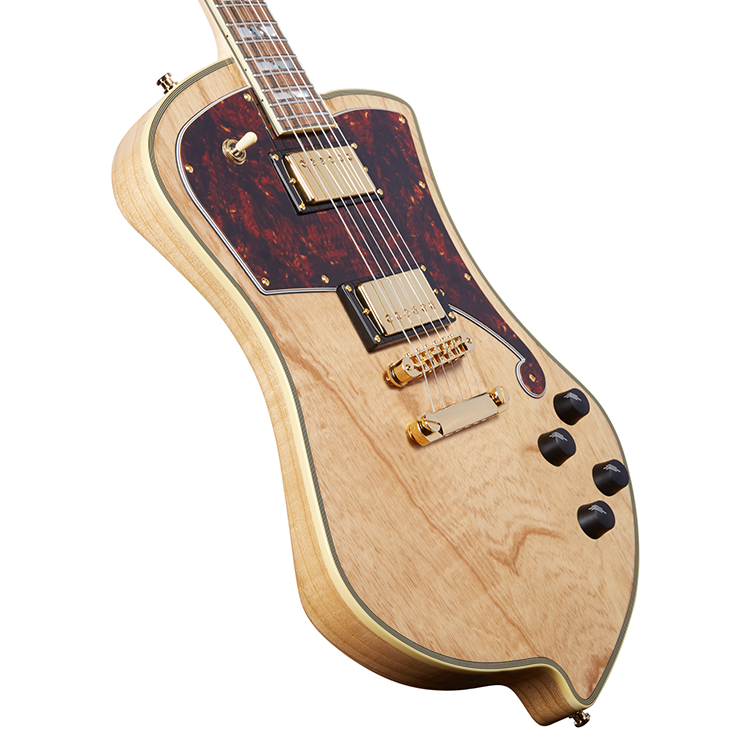 The Deluxe models also sport more decorative appointments, like gold hardware and split block pearl and abalone inlays. We thought the Premier models were pretty 'decked out' already, with their Empire State Building truss rod covers and art deco Rotomatic tuners, but the Deluxes take this vibe even further! Did someone say Ebony control knobs?
All of the Ludlows have awesome custom-cut pickguards that serve to accentuate the iconoclastic shape of the guitar. In all, these things look great and are available, as Deluxe models, in the following finishes: Natural, Black, Hunter Green and Vintage White. As with the Premier Ludlow, the white model has a vintage tremolo, and the others have hard tails. Why? Don't know, but we definitely like having the choice!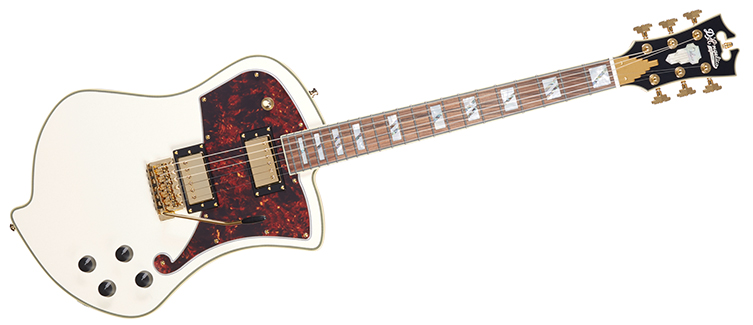 Finally, the Deluxe Ludlow guitars all come with quality hard cases.
Final Thoughts
If you like to play live and want something that turns a few appreciative heads, we recommend investigating the D'Angelico Ludlow guitars. Whether the Premier or Deluxe models suit you better depends on many factors personal to you, but with either range the quality is excellent, the guitars feel great and sound rich and expressive. We imagine Blues players will love these, as will Desert Rockers and Stoner Rifflords!