A Closer Look: Fender Player Jazzmaster Shell Pink guitarguitar Exclusive
Published on 15 July 2020
It's win-win.
With this limited-edition Fender Player Jazzmaster, you can have the trendiest guitar currently out there, AND stand out from the crowd.
Yes, the Jazzmaster is enjoying a level of approval unlike ever before, and there are no signs that things will change any time soon! Fender fans looking for something slightly warmer sounding than a Strat and slightly more ergonomic than a Tele have made the Jazzmaster the Fender guitar du jour for a number of years, now.
Fender's super-popular Player series contains a Jazzmaster model, but that particular guitar offers something slightly different, with twin humbucking pickups in place of the usual P90-ish Jazzmaster single coils.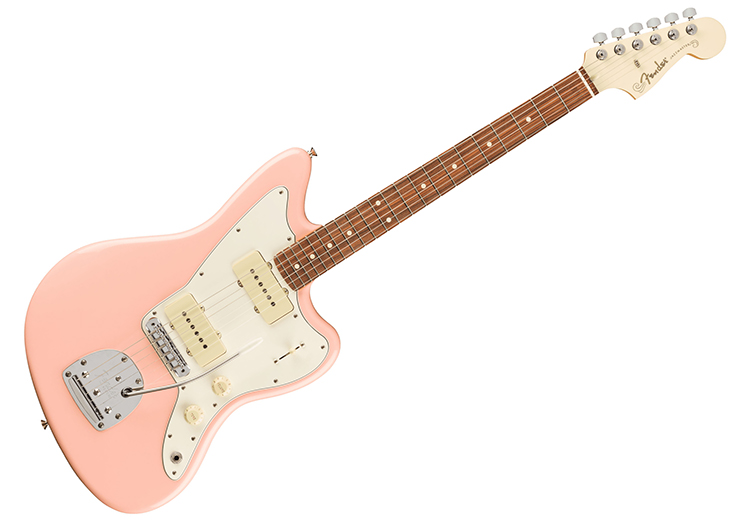 This wonderful, super limited-edition instrument paints from a somewhat more traditional palette and brings some cool vintage features back to the Jazzmaster, along with a custom colour to die for!
Pure Vintage 65 Pickups
A big part of the Jazzmaster tone is down to the large single coil pickups. These have larger, longer windings than Strat or Jaguar pickups, and the resulting tone has more body and warmth than those other examples. This blend of Fender twang and extra substance is the main key as to why the Jazzmaster has gained such later-day success.
This limited edition Player Jazzmaster brings back not only this style of pickup, but Fender Pure Vintage 65 iterations, with vintage style bobbins, cloth wiring and wax potting all in place to paint the correct vintage tonal picture. These pickups are a real step up from many stock units, and bring extra life and dimension to this most giggable of guitars.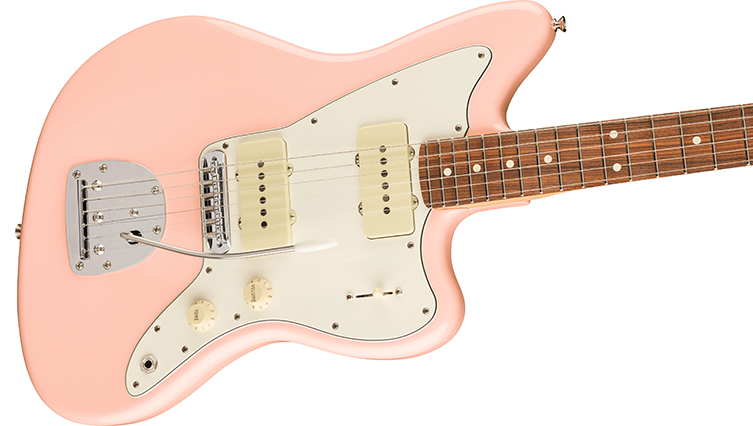 Shell Pink for the Win
The most obvious change from the standard Player Series Jazzmaster is of course the colour! Shell Pink is one of Fender's famous 'DuPont' colours from the early halcyon surf days, when Fender chose their guitar colours to coincide with flashy Cadillacs and Chevies! It's a beautiful colour and very vintage-correct, especially with the cream pickguard and pickup covers.
The headstock, for an extra thrill, has been painted Olympic White! This shade is a gorgeous, creamy off-white and perfectly complements the Shell Pink. It's a head-turner for sure, with plenty of authentic Fender vibe. This is a European exclusive for us, so you won't be seeing these anywhere else!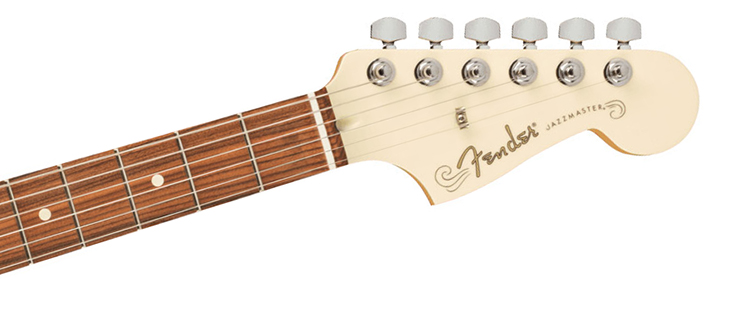 Special Features
The Fender Player Jazzmaster was pretty great to begin with, and of course many of those features apply to this model too. You'll get a C shaped neck which uses Fender's standard 9.5" 'in-between' fingerboard radius and 22 Medium Jumbo frets for a feel that's contemporary without trying to be inappropriately cutting edge. The bridge, always a bugbear/labour of love for Jazzmaster owners, has been upgraded to an improved six-saddle model, along with the famous Jazzmaster tremolo tailpiece! Twaaaaang!
On top of all of that - and of course the new pickups and special finish - Fender give us more! This model has a 4-way blade pickup selector, which allows series and parallel switching options, something unique to this model! You'll be able to quickly and easily dial up extra tones, putting this guitar into a very 'useful' place for a wide range of players! It's also worth noting that the body, underneath the pickguard, has been routed out for the traditional rhythm/lead circuitry of vintage Jazzmasters (the circuits are not there, to be clear, just the spaces for them). You may never bother with it, but for future options, or chronic 'modders', this is great news!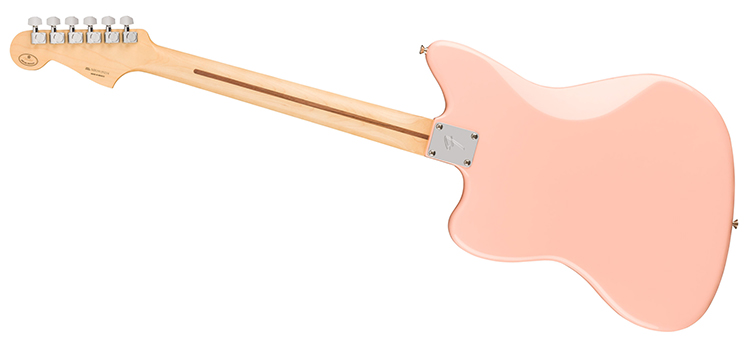 Super Limited
Let's cut to it: there are only 25 of these guitars in all of Europe. We have them all. They won't last because they are really good and effortlessly cool. It's pretty much that simple. If you've been hovering around the notion of a Jazzmaster for the last while, why not bag something that not everybody can get their hands on? It's a classic Fender guitar with cool, useful additions and a proper Fender colour that you cannot get in this range anywhere else. If you've never tried the Jazzmaster, now is the time to see why so many players are finding their tonal nirvana with theirs.