Beginners: Yamaha Classical Guitars
Published on 07 August 2020
Classical guitar is a whole different breed of guitar playing.
It's not just the sound, either. It's the touch of the strings, the different tension, the broad necks and the softly percussive quality to each note. Classical guitar instantly puts you in a different headspace, full of peaceful, exotic beauty.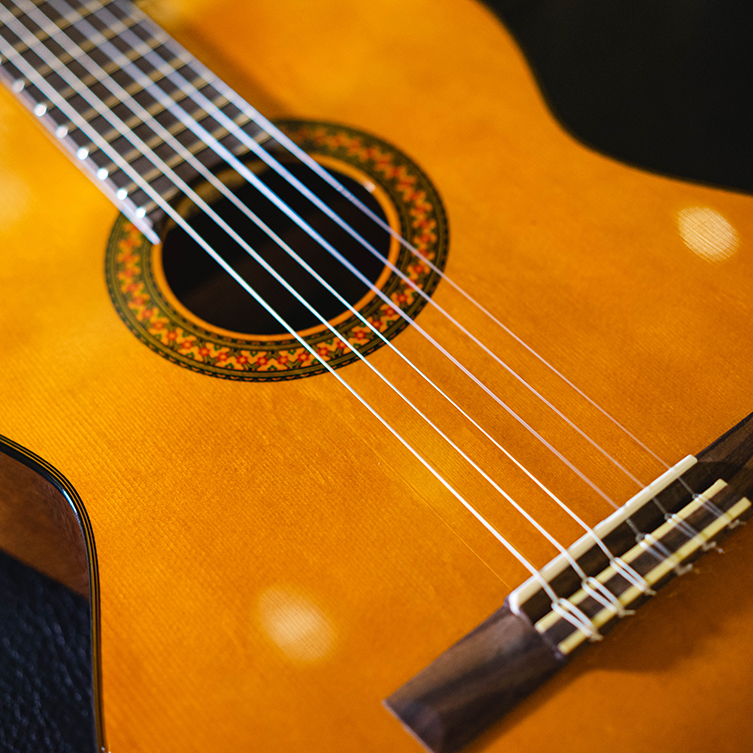 When we recently spoke to ex-Genesis legend Steve Hackett, who is himself a spectacular classical player and who has written entire suites for classical guitar and symphony orchestra, he remarked that it was something of a 'lost art'. You can read all about that in our exclusive Steve Hackett interview. We think he has a point. Outside of educational contexts, it seems that many players are perhaps unfamiliar, or even intimidated, by the weight of classical guitar's legacy and repertoire.
Did you pick up an old, knackered, three-strings-left classical guitar at school, have a horrible time with it and then never look back after you got your Strat/Tele/Les Paul? Many guitarists have done just that, and it's a great shame, given what a classical guitar can do for your playing, songwriting and sheer pleasure levels! It's enormously relaxing to sit down with a nylon string guitar and pluck out some vaguely Spanish or Moroccan guitar parts, unencumbered by the usual automatic chord shapes and riffs your hand reaches for. You don't have to be learning Bach fugues or struggling with Flamenco techniques: you can use what you already know and enjoy the difference in context!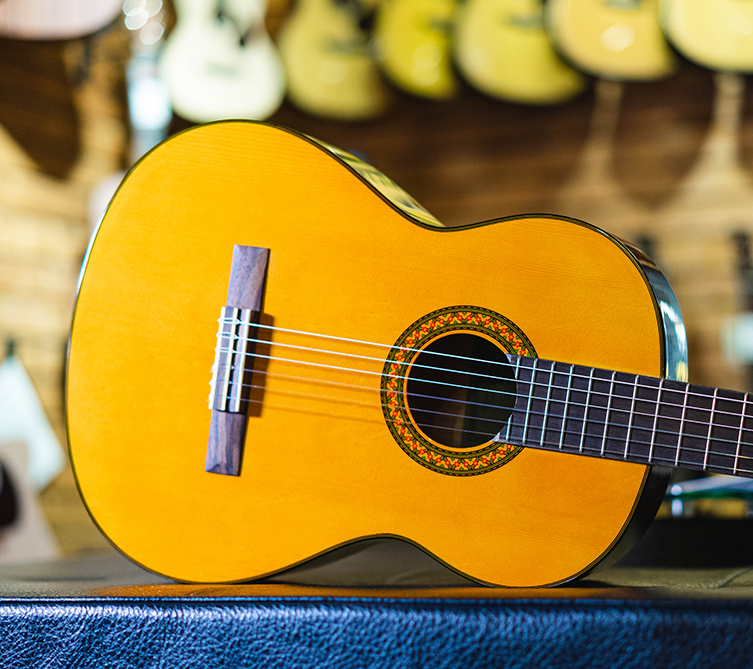 Yamaha
Yamaha, as you'd perhaps expect, are a reliable maker of affordable nylon string guitars. They've been market leaders for years, actually, with instruments available at every price point, all with Yamaha's famous standards of quality and consistency.
You may be interested in the idea of trying out classical guitar for yourself. You may be at school and are looking to take up an instrument. Classical guitar is pretty ideal, since, as you'll find out in this article, you don't have to spend huge chunks of money to get in on the fun. Plus, everything you do learn will hold you in good stead for other guitar styles and similar instruments.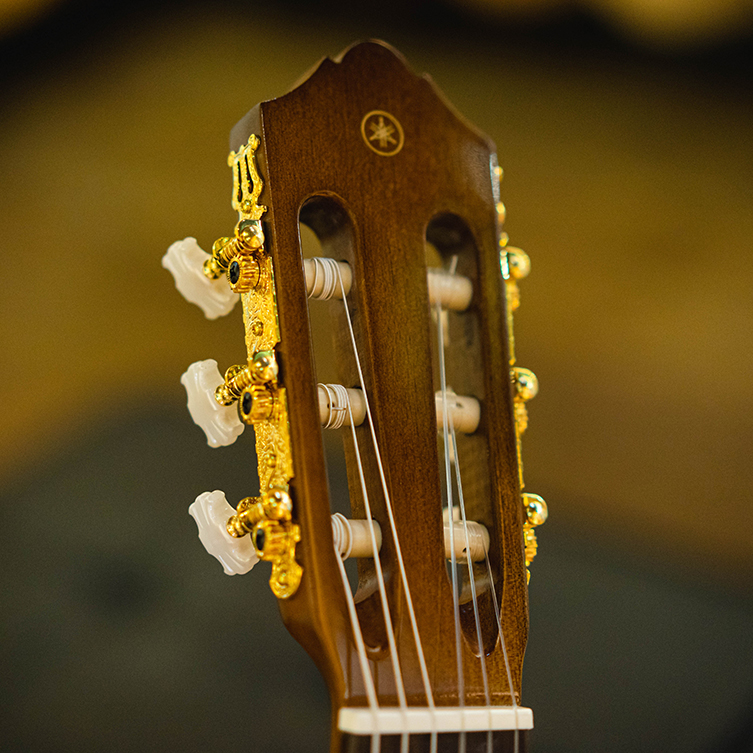 Today we are looking at the most affordable end of Yamaha's classical guitar catalogue. We've picked out a perfect beginner's model, which is available on its own or as a pack, and we've accompanied it with two other models that appear slightly higher up in the range but still very affordable. There are far more instruments available in various permutations, but this brief introduction should hopefully illustrate what can be had for a very reasonable outlay.
Yamaha C70
We don't know what's more surprising about the Yamaha C70: its sound or its price! It feels like there's been a mistake made somewhere, and that this guitar really sells for double it's price! We are seriously impressed by the sweetness of tone available here, and the comfortability of the neck and body shape.
The fingerboard is the proper 25 9/16" size for classical and flamenco styles, and the 52mm nut is the 'correct' width. This means that, if you begin your classical journey on this guitar, your hands will get used to the proper dimensions: you'll not need to relearn any techniques or approaches as you increase your skillset. The only way is up!
Yamaha use the same CG body shape as on their more expensive instruments, so you can be assured of a balanced tone with good projection. It's so easy to sit around and just play away on the C70, it's so addictive! For such an affordable guitar, it's amazing how much mileage even experienced classical players can get from this guitar! It may not obviously match some top-end handmade Spanish models, but it'll put a smile on their faces as they play, pleasantly surprised at how good it really is!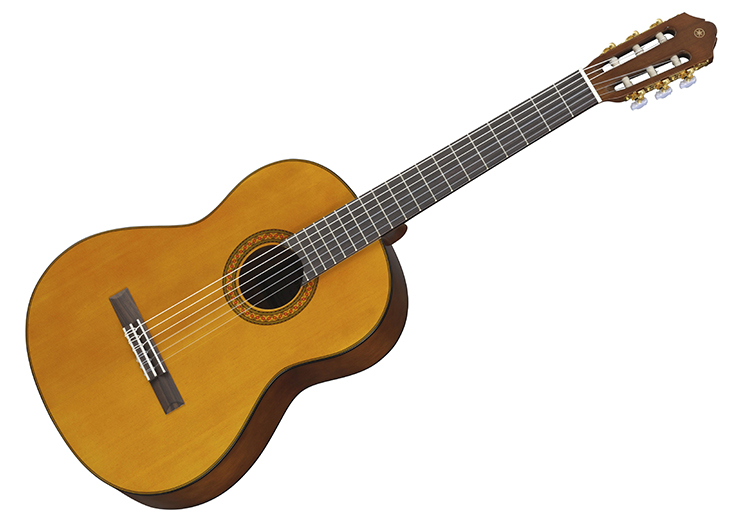 As we mentioned earlier, the Yamaha C70 can be bought on its own or as part of a pack. This pack is exclusive to us and contains everything we think is necessary and useful to the budding classical player. Inside the C70 pack, you'll find a soft gig bag for carrying the guitar around outside, a proper stand to sit it on when you're not using it, a footrest to achieve the correct playing angle, plus a spare set of strings for when the time comes to freshen things up! Nylon strings last a long while, but it's still nice to have a spare set.
The Yamaha C70 pack is a fantastic deal and we think anybody curious about nylon guitar playing will get a lot here for not much money at all.
Yamaha CG122MC
Add a little bit more to the pot, and it's amazing what you can get. We believe that the Yamaha C70 pack is the best value, bang-for-buck classical from Yamaha or anybody else, but those with an ear for detail may want to know about this model.
The Yamaha CG122MC looks similar to the C70 (let's face it, they all do) but the main difference here is the use of a solid top. What does this mean? Put simply, the 'face' of the guitar, which plays the most important role in tone creation, is made using a piece of solid timber rather than thin layers or plies of wood. At beginner price levels, it's more than acceptable to have an instrument made without solid timbers: it's the most economical way to build a guitar, and the sound can still hold up very well, as the C70 can attest. However, a solid top will vibrate more effective and lend the sound more 'life' and zest. Moreover, a solid top 'seasons' over time, especially if the instrument gets played a lot. The more you play a solid topped guitar, the better and better it sounds. Good deal, eh?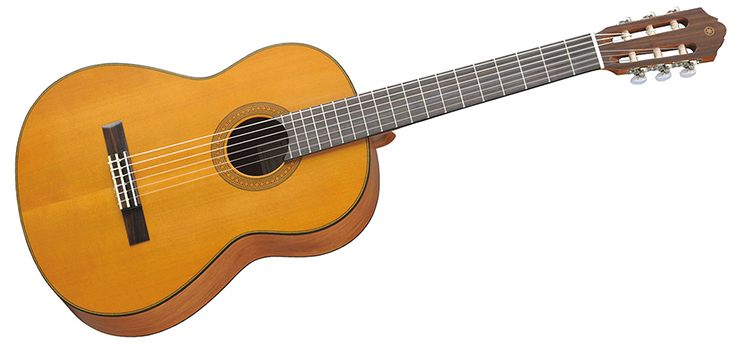 The Yamaha CG122 is actually available with two different types of wood for the top: Spruce and Cedar. We opted for the Cedar variant, more to illustrate the range than as a preference. Cedar is warm and round sounding, compared with the brightness of Spruce. Both are great choices: it's very much a matter of preference. We also rather like the deeper hue of Cedar, and don't mind admitting that looks play a part in our choosing! The satin finish helps create a rustic look that we love.
The Yamaha CG122MC is a little more expensive than the C70, but is still a real steal considering the quality of tone, materials and build quality.
Yamaha NCX1FM
Our most upmarket choice today is quite a different proposition altogether! It's still a very affordable instrument, but this is included today to illustrate to more experienced players just how far their money will go if they want to try taking a nylon string guitar on stage!
Now, the Yamaha NCX1FM isn't by any stretch a beginner's instrument, but that doesn't stop beginners from choosing this to begin their voyage! It just means you'll not need to upgrade a few years down the line.
So, the Yamaha NCX1FM is an electro model. It has a pickup system built into the guitar, allowing it to be plugged into an amp or PA system. The pickup itself hides underneath the bridge so you'll never really see it, but a control panel built into the side of the body allows you to control volume, treble, bass and other parameters. Crucially, none of this interferes with the guitar's primary function, so you can happily ignore the electronics when you aren't plugging in anywhere. This functions entirely as an acoustic classical guitar.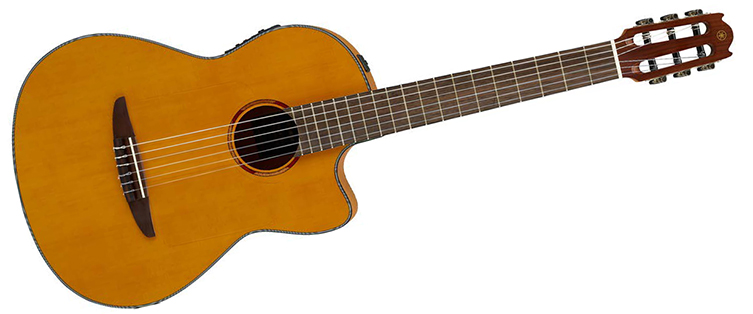 It's a lovely one, too, with layered flame maple used for the back and sides of the body and a solid Sitka Spruce top. Sitka is a town in Alaska, where this type of Spruce originally came from. It's used extensively in guitar building due to its resonant brightness and relative stiffness as a building material: in other words, it has every quality needed to make a great sounding guitar top!
The Yamaha NCX1FM is an excellent choice for the player who wants a great blend of quality, features, performance and value without going for either the cheapest model nor the most expensive.
Final Thoughts
These three Yamaha classical guitars are a good cross-reference of the more affordable end of the market. As you've seen, being affordable doesn't mean that these guitars are slacking in the performance department at all. We're happy to recommend each of these for the reasons stated. If you have a hankering to rediscover the 'lost art', then there is really nothing holding you back, especially not price!
Thanks for reading
Ray McClelland