A Closer Look: Ibanez AZ224F and AZ242F
Published on 20 August 2020
What's your go-to guitar?
The one that sits close by, always within grabbing distance, for whenever you feel the need to have a little jam or shred. We all need one of those, whether it's your main gigging guitar or a precious axe that never leaves your home.
Can that one guitar give you all of the tones you might possibly need, right in one instrument?
If it doesn't, we have a feeling one of these two Ibanez models may well rectify that situation for you...
Ibanez are one of the three or four most successful guitar brands in the world, and what's interesting is, we've found Ibanez means different things to different people. They are a chameleonic company with a strong brand identity, something that's almost unheard of in the industry.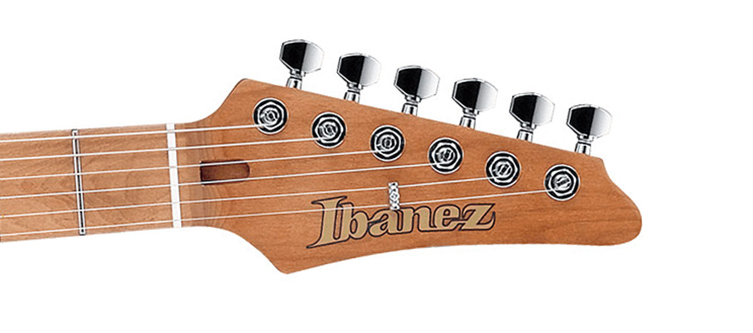 To shred fans, Ibanez are the pre-eminent brand that makes iconic instruments for Steve Vai, Joe Satriani and all the rest. For Jazz aficionados, Ibanez's artist models for George Benson, John Scofield and Pat Metheny represent a huge indication of quality and credibility. It's almost like an entirely separate brand, though it very much isn't. On top of that, there is also the Iceman, beloved of both Kiss and White Zombie, to bring some stadium-sized riffing to the process, and Punk-Pop signature models for Noodles from the Offspring.
No matter what style they try, and whichever price point they pitch it to, Ibanez are masters of creating successful, enduring instruments. There is no 'House Style' apart from high quality and good value.
Today, we want to give some space and praise to two models from their AZ series. With the AZ series, Ibanez takes on the style of what we'd call the 'boutique performance S-type', for want of a catchier description! You'll have seen this style of guitar coming from many major boutique builders in recent years. It's a high-functioning, less shred-centric Superstrat, basically, with top level hardware and features to entice cutting-edge players.
As ever, Ibanez have synthesized what's out there and built a version that's unique, high-quality and packed with value. Today, we'd like to focus on two of these guitars. Broadly similar, but with a different pickup configuration (and resulting pickguard or lack thereof), these guitars are designed to be extremely versatile, for players fo a new generation who want Ibanez quality and performance, but in a slightly less 'pointy' package. Join us as we highlight the features that elevate the Ibanez AZ224F and AZ242F models to great heights...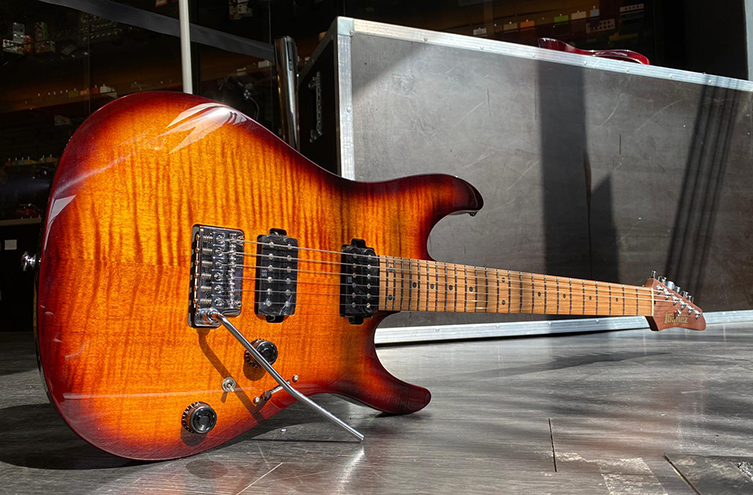 Ibanez Premium Quality
Ibanez have several tiers of price points for their production instruments: Ibanez, Ibanez Premium and Ibanez Prestige. All Ibanez guitars are excellent quality, from the cheapest upwards. We sincerely think that's the case, from years of personal experience. The Premium range, from which our two examples here emerge, are made in Indonesia to a higher spec than the standard Ibanez instruments. In particular, this translates to extra labour hours (the fit and finish is very high) and attention paid to the fret ends and dressing. Basically, time is money, and the greater time spent in these guitars improves the instrument greatly and so costs a little more.
On top of the extra manpower, Ibanez Premium instruments have higher quality woods (such as 5-piece laminated necks and decorative tops) and upgraded electronics. As we'll see, these guitars are somewhat greater than the sum of their considerable parts, and this 'Premium' treatment is a very considerable marker of quality.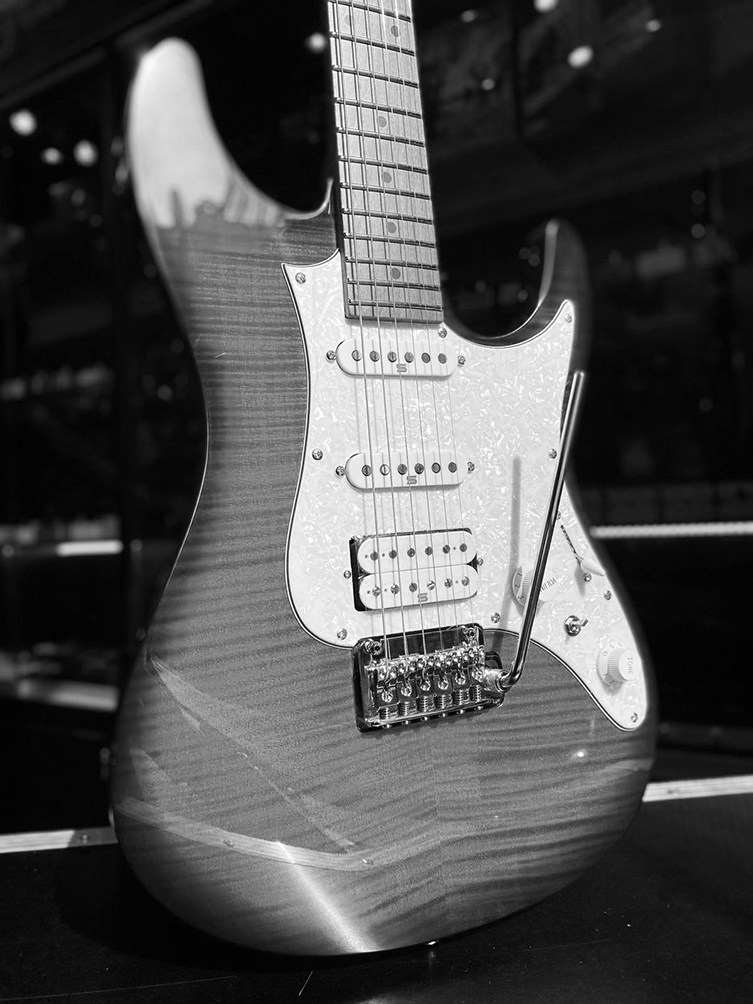 Custom-designed Seymour Duncan Pickups
Pickups are always a major talking point in terms of guitar hardware. In this mid-pro price bracket, branded pickups are a real selling point, and exclusive branded pickups even more so! Seymour Duncan are industry titans. In fact, they are probably the most famous and recognised pickup brand in the world. This is due to over 40 years of hand-made US quality, and big-name collaborations with artists like Slash and Billy Gibbons. If Seymour Duncans are good enough for these world-class guitarists, they have to be good enough for us, too, right?!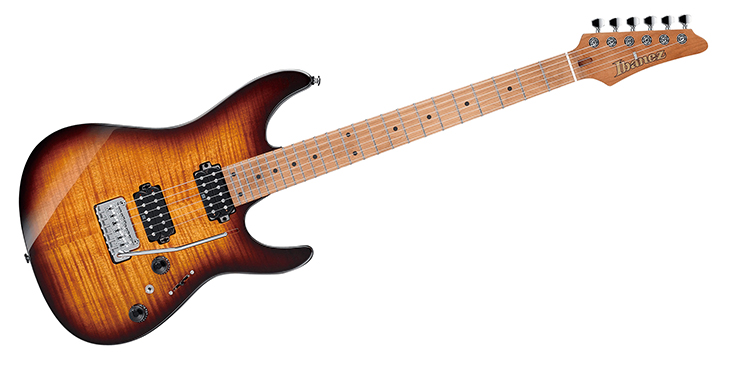 So, the pickups used in these Ibanez AZ guitars are not just Seymour Duncans. The are custom made Seymour Duncan Hyperion pickups! These are exclusive to the Ibanez AZ range, and are not available to buy separately. This is fantastic for Ibanez, obviously, plus it's a little bit of a talking point for whomever chooses these fantastic guitars: none of their guitar buddies will have these pickups!
The Hyperions are passive units made with alnico magnets, designed for versatility and a hotter, more expressive voice. This is exactly what you get! Rock leads predictably rip out with sizzle and sustain, but there's more to it. An excellent vintage Crunch is easily obtainable too, especially when you experiment with the Dyna-MIX controls, which we'll look at next. The humbuckers clean up extremely well, and both those and the single coil selections are very rich and articulate sounding. No genre of guitar music is too much for these two guitars, no matter how pristine or gritty.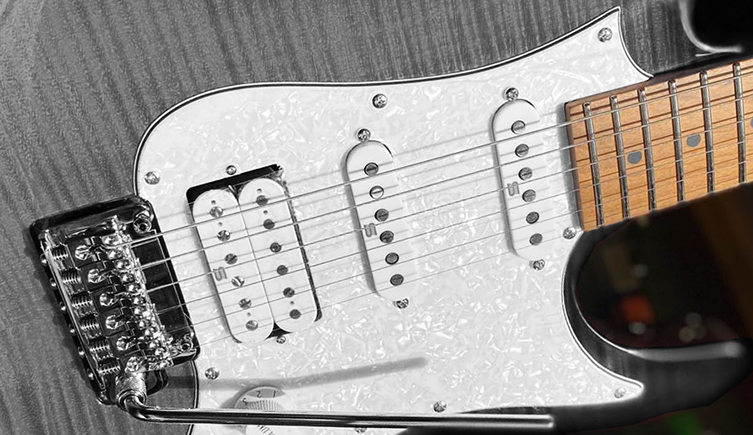 Dyna-MIX
There's more to it than just great, USA-made pickups, though! Ibanez have developed a special circuit, known as the Dyna-MIX. Using a 5-way blade selector and a two-way 'Alter' switch, the AZ242F can have ten different pickup settings, including both humbuckers on at once, inner coils together, outer coils together and so on. The H-S-S configured AZ224F gets nine tonal options, which is still loads!
So, what's the Dyna-MIX doing? Simple: the Alter switch acts like a coil tap, except, instead of disabling one of the coils of a humbucker completely, it 'taps' that coil, resulting in a single coil tone that doesn't immediately drop in volume. As you may or may not know, a single coil pickup is not usually half as powerful as a humbucker, it's normally a little more than that. Halving a humbucker's output tends not to give true single coil sounds, plus that volume drop still persists. The Dyna-MIX circuit is an ingenious method of truly getting the most out of these fantastic, high-end pickups. Using the Dyna-MIX circuit in either guitar is super-intuitive, so you won't be fumbling around trying to get the sound you want. You'll get proper single coil tones and extra switching options, with no extra hassle.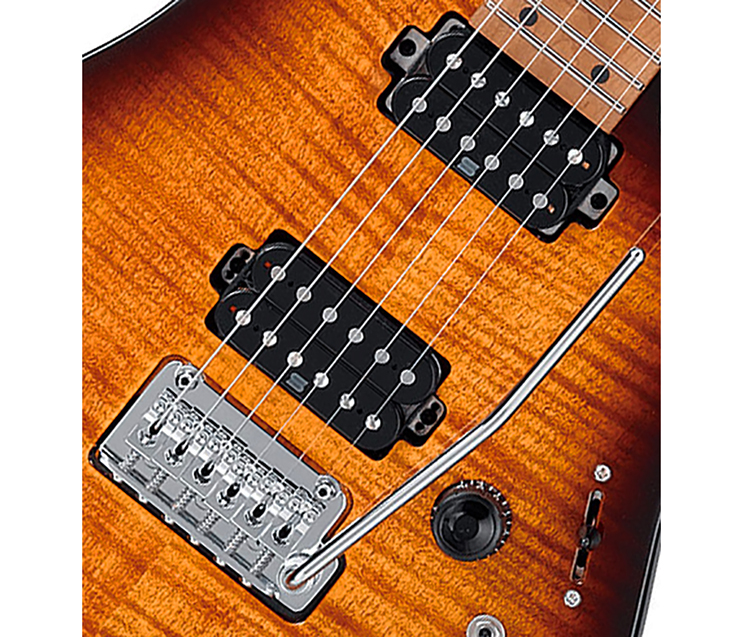 High Spec Across the Board
On top of all of this, these Ibanez AZ range still have more to offer! Roasted Maple necks – surely the de rigueur feature on modern guitar building at the moment – are featured here, with oval C profile necks and, importantly, stainless steel frets! These are expensive additions, and benefit guitar players by being ultra-hard-wearing, strong and light. Graphtech nuts are fitted as standard as well, which is something no guitarist should overlook.
The bridge is a top quality, machined mechanism by Gotoh, known by all custom builders to offer some of the best, most solid and reliable bridges in the business. As John Hammond once said: "We've spared no expense!"
What else? Locking Gotoh tuners adorn the retro headstock and glow in the dark Luminlay side dots travel up the neck, so you can rely on both your tuning to hold true and your hands to find the right notes on a dark stage. Superficially (though still importantly), these guitars have beautiful finishes, from the Dragon Eye Burst of the AZ242F, to the Black Ice-finished flame top of the AZ224F. Whichever model of AZ you go for, you're getting a handsome axe!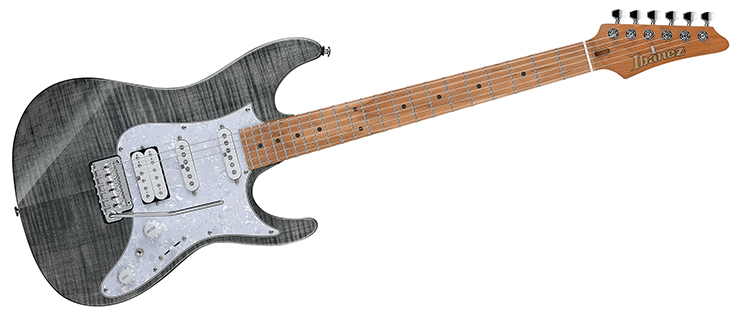 As you can tell, these changes are all things that instantly benefit the player. These guitars look gorgeous, but that's taken for granted: these are carefully designed, highly engineered instruments that are designed to improve your playing, your performance and your music. What style do you play? It doesn't matter! These great Premium Ibanez's will casually handle everything you can throw at them. Check them out today!