Lakland Skyline basses: New Models and Colours!
Published on 14 January 2021
Lakland basses are the real deal.
Played by high-profile pros like Black Sabbath's Geezer Butler and the Rolling Stones' Darryl Jones, Lakland is an inspired choice for the experienced bassist.

Lakland basses each have their own unique take on the classic bolt-on look. Their instruments are known throughout the industry for their expert workmanship and fine attention to detail. Like most US custom builders, their American made instruments are masterpieces, and so are priced accordingly.
However, in today's ultra-competitive climate, it makes sense for all guitar builders to take that knowledge and expertise, and put it all into a more affordable range of Far Eastern-built instruments. So it is with Lakland, who were well ahead of the game when they debuted their imported Skyline range back in 2001. The Skyline name itself is a mark of quality recognised by all well-informed bassists, especially those who favour a blend of both classic and contemporary influences in their pro-grade instruments. Skyland basses put that inimitable style, feel and sound within the reach of all serious bassists, which is great news!

The Skyline range of basses allows Lakland to enter the market with a range of excellently spec'd basses, with a predictable level of build and delivery, in order to complement their US custom shop one-offs. Skyline basses are professional quality, with several premium features that set them apart from the competition.
Whenever we have deliveries of Skyline basses, they cause excitement. They don't last long either, which is why we'd like to talk to you about them before they fly out of our doors! We are the only dealers in the UK who have access to these wonderful basses, and we are very proud to be able to bring you them. Let us look into some of the wonderful features you'll find on certain Skyland basses, before introducing you to one or two or our favourites from our latest shipment...

Famous Preamp and Handwound Pickups
Most bassists today understand the importance of a quality preamp. Unlike electric guitars, we bassists need to have power and authority in a very specific way. Our audience needs to feel what we are playing as much as hear it! Active preamps can really help us in our quest to deliver our music by providing up-front power and punch, as well as allowing us significant levels of tone-sculpting, directly from the instrument. We think of it as 'fine-tuning' our sound to each environment we find ourselves in, so we're never relying on outboard equipment: it's never 'set-and-forget' when you have this power under your fingertips!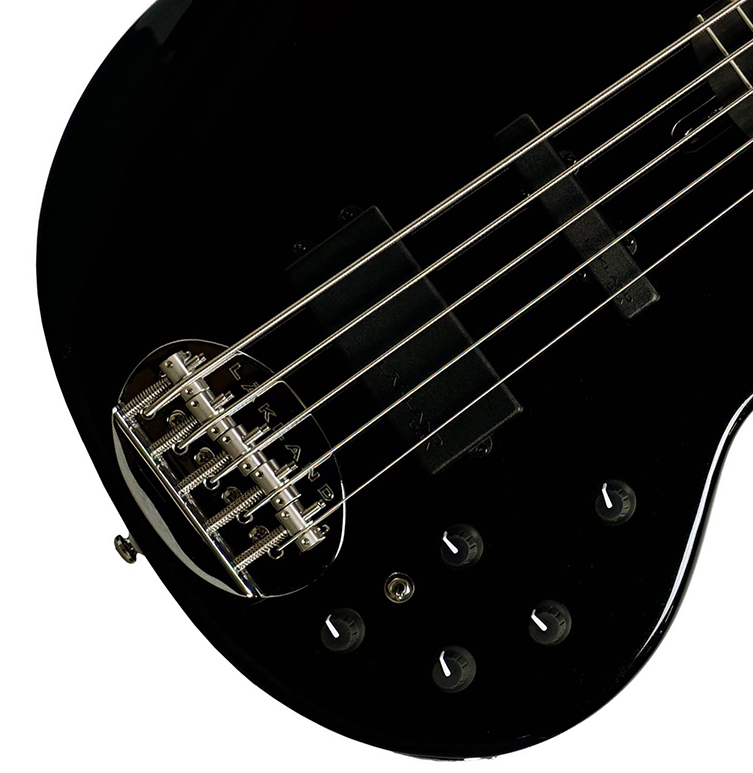 Lakland's LH-3 preamp is famous for its powerful and malleable tone. In particular, the switchable midrange feature allows you to determine exactly how and where your sound fits on the band's overall spectrum. It's enormously powerful, and of course can be adjusted for different styles and sets by using the small internal DIP switches.
As for the pickups, most Skyline models (not all, as we'll see...) have custom wound units containing Alnico magnets. Together with the preamp, the overall Skyline sound is crisp and contemporary, with detail, punch and clarity. Who wouldn't want that? Whether you choose a model with vintage 'J' single coils or opt for a bass with an 'MM' humbucker (you can have both, actually), you'll be able to play with the tone as you prefer.
The 'active' sound is specifically differne to the 'passive' one, and we believe it benefits bassists to have acces to both. In some situations, a passive sound is more appropriate, but for most other situations, active basses give you a threshold of control and power that cannot be had otherwise.
Dual Access Bridge
This clever invention is used on the vast majority of Skyline basses and is so wonderfully simple we wonder why nobody thought of it before!
Some players like the feel and tension of strings that travel through the body and over the bridge, whilst other players prefer the easier tension of strings that sit entirely on top of the body. Lakland allow bassists to have their cake and eat it, by offering up a design that lets you try both ways! Do you want more sustain or more tension? It's up to you!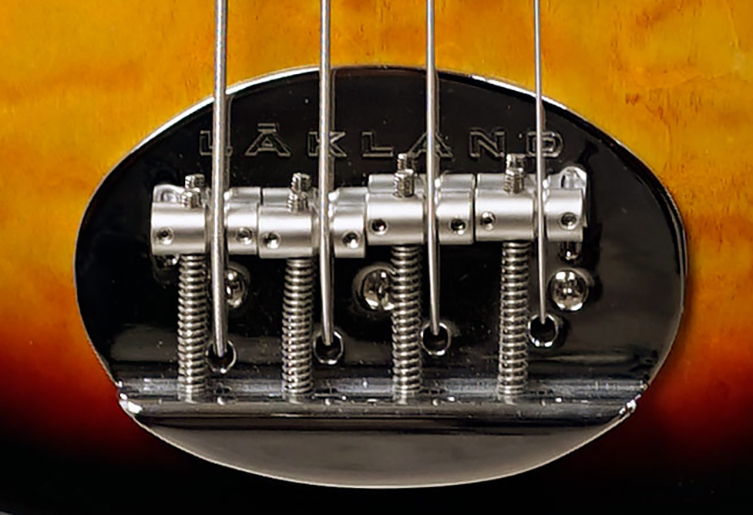 It's also worth mentioning that every Lakland Skyline bass receives a proper fret dress and level from the famous Plek machine! This is a real mark of quality and shows the company's dedication to bringing you the best bass they can, at every single price point.
Highlights from the New Delivery
To round things off, we thought you'd like ot be introduced to a few of our favourite Skyline basses that are currently in stock (as of writing!). Some of these basses incorporate features we've just looked at, and others veer off onto their own creative paths. All of them are inspiring, top-quality instruments that deserve your attention!
Lakland Skyline 55-02 Deluxe Trans Purple
We loved this bass as soon as we laid eyes on it! The 55-02 is a mainstay of the Lakland Skyline range, and is well known for it's power and versatility. This is partly due to the mini DIP switches hidden within the battery compartment. These switches control the frequency of the mid boost/cut, which is really where all of your power as a bassist lies! Low end is a given, but tone is largely shaped by the mids, so this level of control puts you, the player, in pole position. This Skyline 55-02 Deluxe has a 35" scale and a feel to die for. This has the LH-3 preamp we mentioned, the dual access bridge and both a single coil and humbucker pickup. Between all that and the low B, there really isn't much that this bass can't attack and dominate.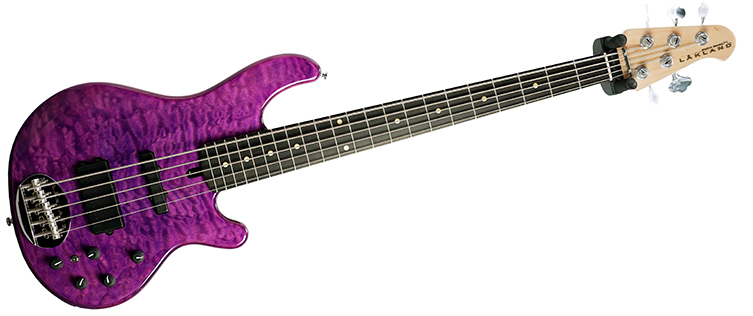 This particular model is a limited edition 5 string, finished in a sumptiously transparent Purple. The body is Ash and, as you can see, there is a rather stunning quilted maple veneer on top: it's a looker! The neck on this model is famous for it's excellent string spacing (sometimes a problem on 5-string basses) and this model has a beautiful Ebony fingerboard, too. Stunning? We'd say so: to look at, and to play!

Lakland Skyline 44OS Trans Black
This is a new model from Lakland, which an appealingly offset take on the classic Lakland body shape. This adds some aggression to the design and also makes it very 'now', given the popularity of offset bodies in today's climate. The Lakland Skyline 44OS veers from tradition with the inclusion of Bartolini electronics, instead of Lakland's own designs. A set of Bartolini MK-1 pickups look like soapbars but are in fact split-coil units! These work with the 3-band EQ system for some powerful tone shaping. Boost and cut your trebles, mids and bass easily and utilise the mid switch to enjoy even greater tonal variety!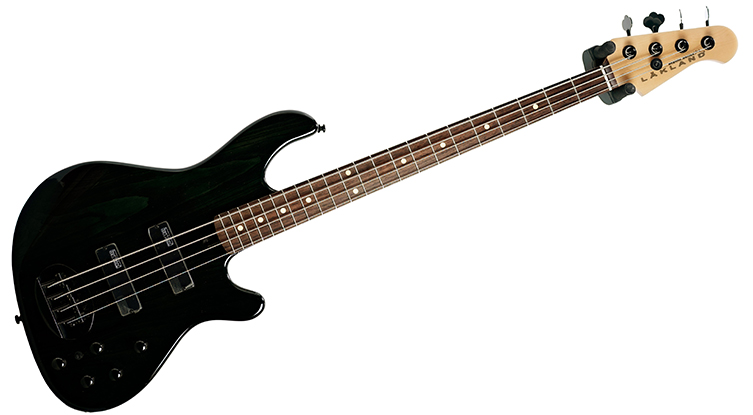 This beautiful bass is made with an Ash body, and is finished, in this instance, in Trans Black.
Lakland Skyline 44-64 Custom White
Another new model, you say? Why not? The Lakland Skyline 44-64 Custom blends vintage appeal with a modern feel, to great effect. Contemporary Lakland specs like a 10" radius on a 34" scale remian, but cool retro details like the block fingerboard inlays and bound neck give this bass tons of personality. A 'PJ' pickup configuratin allows for the creation of many of the world's most-used bass tones. The result is a single insturment that bridges the gap between past and future.

Lakland Skyline Decade White
This particular model warrants mentions here since it goes in a totally different direction to almost everything we've discussed so far! This is a passive bass, for one thing, and so the sound (and purpose) is completely different. Lakland developed the Skyline Decade as a marker of their tenth anniversary in business. The Mahogany body is smaller than most Skyline basses, moaking for a tight, compact feel. It's still a full 34" scale length, so it's very much a full-sized bass, it's just somewhat slinkier! The pickups are a fantastic set of 'Chi-Sonic' single coils, designed by Lakland to give more punch and presence than typical single coil pickups. It looks fabulous in it's new White colour and we think it has a lot of charisma.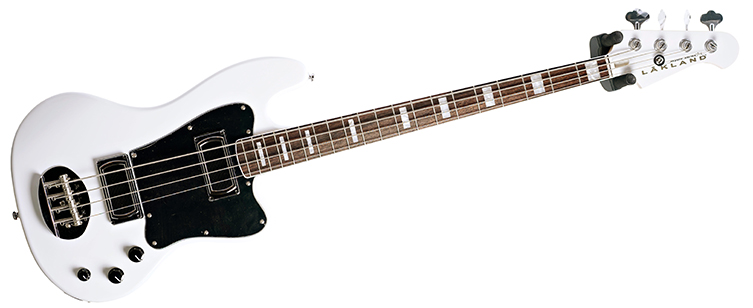 Modern Classics: A Fresh Alternative
There's always a bit of a buzz when we take delivery of a new batch of Lakland Skyline basses. They are always so cool looking and so lovely to play! They are perennially popular, too, so please do make sure you check them out while we have some available! Whichever you decide on, you'll be playing a bass with the best blend of vintage feel and modern performance. They look stylish, they fit in to every musical situation whilst being simultaneously individual, and they will provide decades of rock-solid performance, with a strong, versatile tone. Remember, guitarguitar is the only place in the UK to buy these wonderful basses!
We think you'll love them as much as we do.
Click to view our latest Lakland basses