A Closer Look: Mayones New Delivery
Published on 23 September 2020
More than Metal.
That's the message these new Mayones guitars tell us.
Fresh from Gdansk in Poland, we have received a shipment of some quite stunning – and rather unique- Mayones guitars!
We've been fans of these wonderful instruments for a good few years now, and we're happy to say that they are proving to be spectacularly popular with you guys, too!
After all, why not? They are beautiful to look at, they have their own distinct vibe, they are superhumanly well-built and have a sound & character that really befits the modern-day guitar hero. These are extremely high-performance instruments, but with a focus on contemporary creativity that lets Mayones appeal to a wide range of players.
This diversity of popularity is something we thought could be expanded even further, actually. You see, Mayones guitars are, quality wise, on a par with pretty much all of our top end US boutique, custom made guitar brands. In terms of production, Mayones use extremely high-grade materials, and almost all of the work is completed by hand. The fit and finish of each instrument is breathtaking. They rival any other Custom Shop in the world, and are able to build with a wide range of hardware, timber and finishing choices.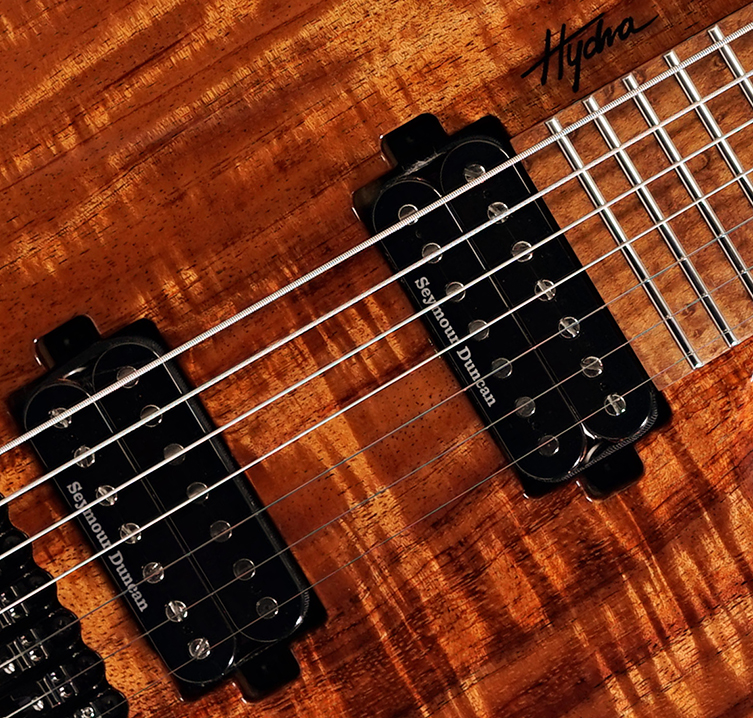 Every Guitar is a Custom Order
You may or may not know this, but none of our Mayones guitars are 'factory models'. Not a single one. We take the time out to individually spec up each and every Mayones guitar that we order. That means every wood combo, pickup choice, bridge choice, finish selection and a host of other decisions are all made by our team, based on our own experience and customer feedback. We love these guitars and want to bring you the very best that Mayones can offer.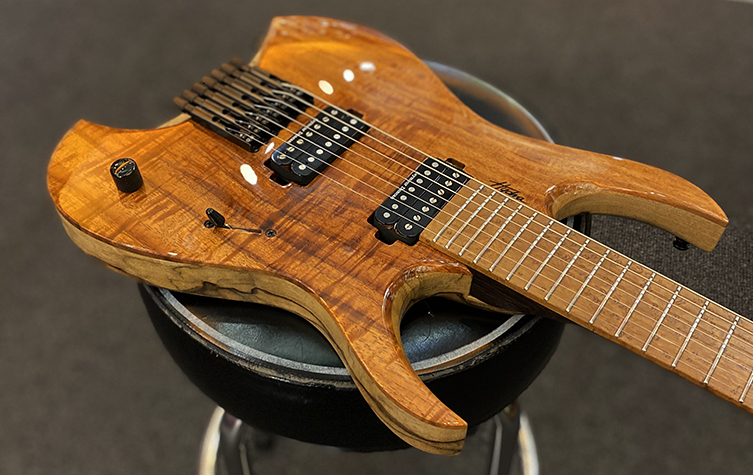 So, with that in mind, we thought it apt to check out just a few of the more unusual and exciting instruments that have arrived recently.
Block Colour Regius 6 & 7
Now, this is a fresh look for a set of Mayones guitars! Didn't we tell you there would be some new stuff to check out?
We ordered a run of six Regius models, all with HSS pickup configurations and finished in lovely fifties-style flat block colours like Sonic Blue and Sea Foam Green!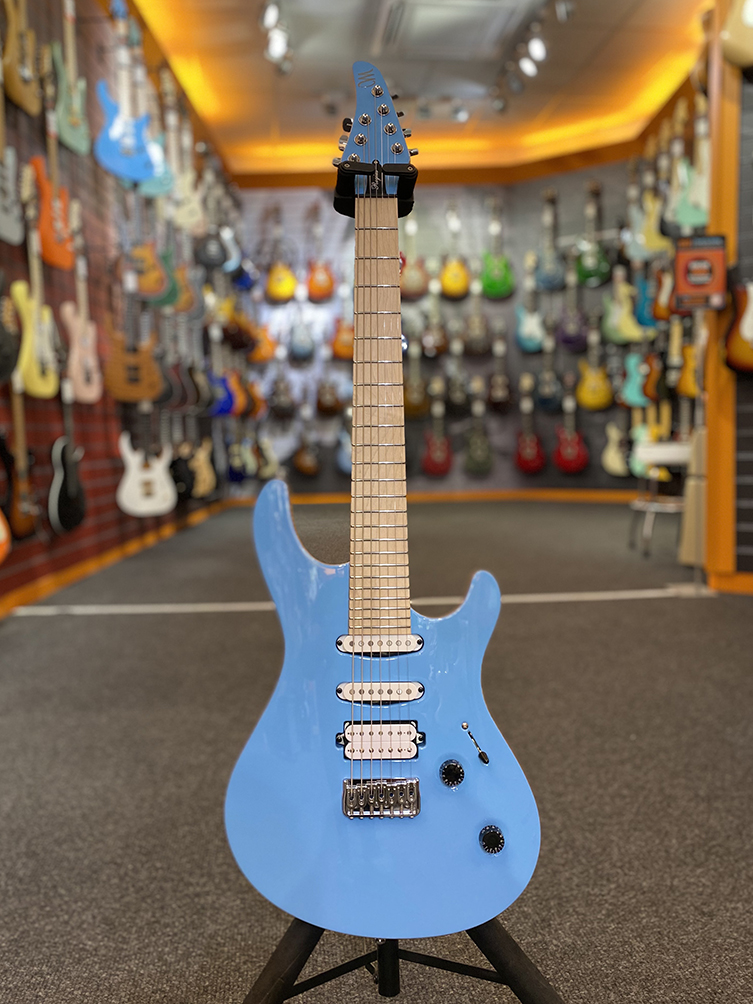 We have both 6 and 7 string Regiuses (Regii?), and in an accidental win, have unwittingly created Mayones' first ever HSS-configured 7 string guitar! Own a piece of modern guitar history!
These lovely guitars were created to provide every last ounce of signature Mayones greatness in a package that would appeal to guitar fans who may not want something so overtly 'Metal'-looking. No matter how stunning every Mayones guitar is, we fully understand that there are players out there in function bands, wedding bands and other similar situations, who can't fit that edgy look into their job. These are for you! Now you can truly experience that feel and touch of a Mayones, with an instrument that is classy looking and yet unassuming. Players of all stripes can incorporate these gorgeous Regius models into their main gig without turning unwanted heads.

In order to make sure these instruments could fully cover the diverse set of bases needed by such players (and all players, really), we took special care when selecting the pickups. The 6 string models are armed with Seymour Duncans – a JB in the bridge and SL1's for the single coils – and the 7 strings are fitted out with Bare Knuckle pickups: a Rebel Yell humbucker and two Irish Tour single coils! How's that for versatility and quality?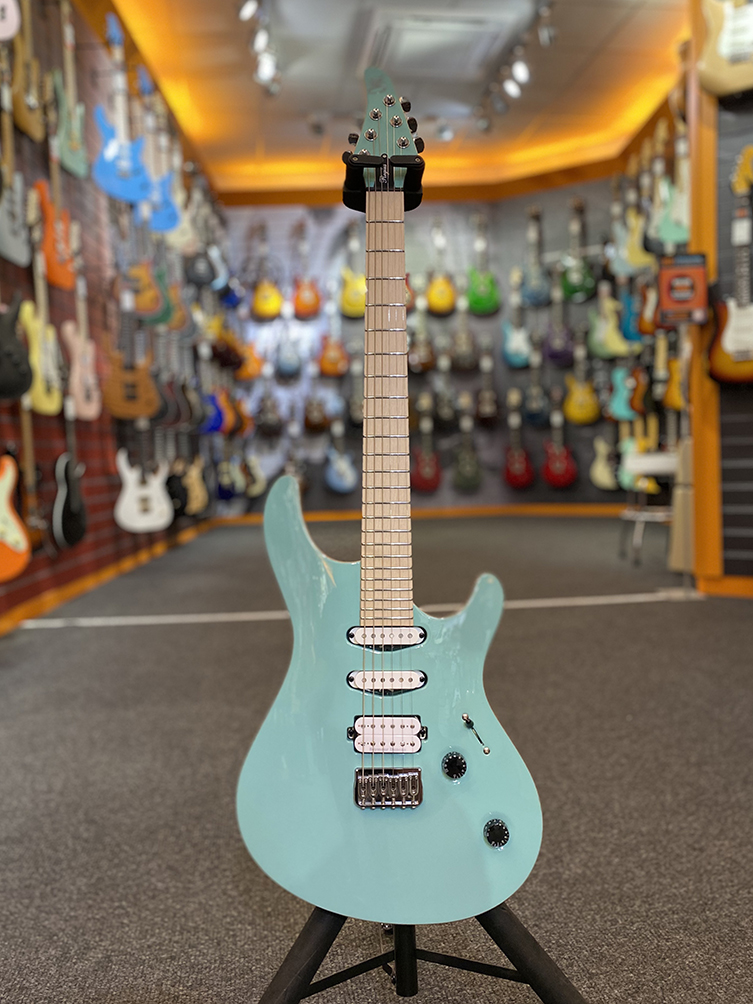 Now, we don't expect players to take a 7-string to a wedding gig, but just look how well these turned out! In our opinion, the guitar market could do with more diversity in terms of 7 strings, so we're happy to offer these as a valid alternative!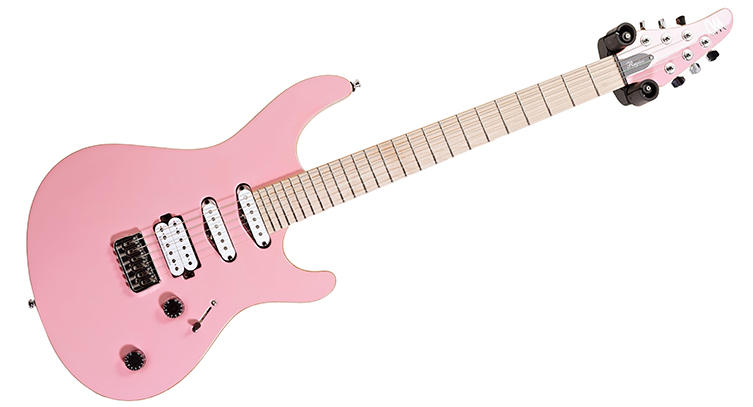 Duvell with Redwood Top
The Mayones Duvell has always been a stunner to begin with, due to its long contoured horns and slinky, ever-so-slightly offset body shape. The 5-ply wenge and purpleheart neck bolt-on neck remains one of our all-time favourite neck carves. We'd definitely recommend the Duvell style for those players who really like to get intricate and detailed with their playing. Shredding? Yes, but that's only the start of it: from Jazz to Post-Rock to Hardcore, any player who needs to have laser-like precision in their playing would enjoy the Duvell.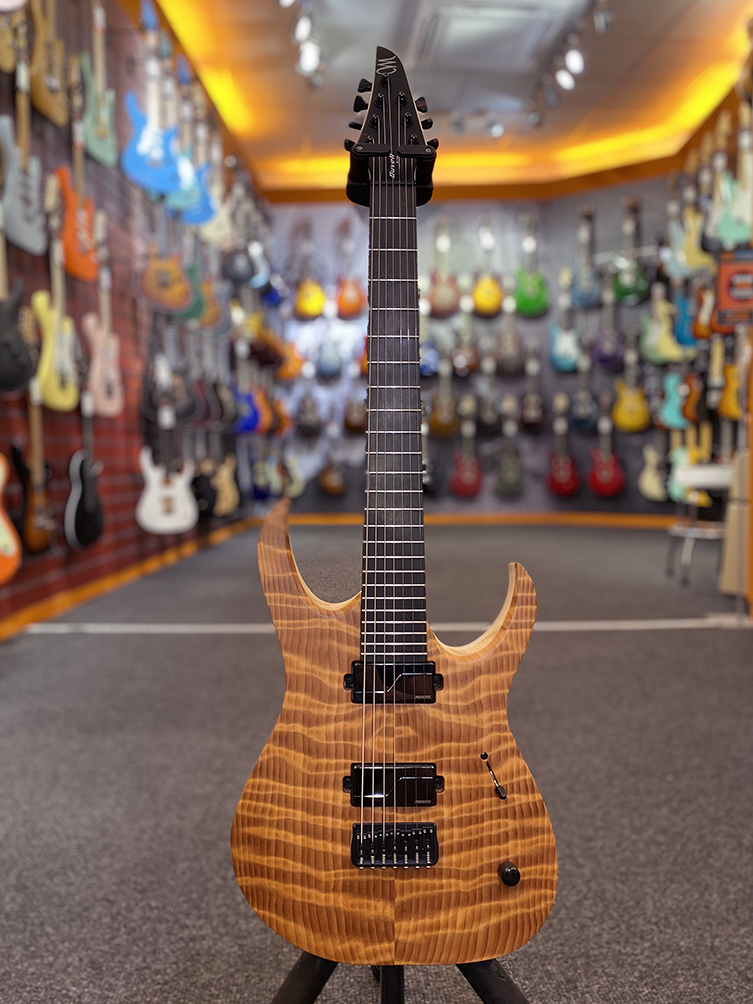 Especially this Duvell! Check out the top! That's AAAAA Redwood, we'll have you know! We've paired this up with a choice Ash body to really seal the deal, tone-wise. A set of Fishman Fluence Modern pickups is, we believe, the correct final ingredient in what is a decidedly tasty recipe! Fluences are hugely impressive, and the notion of switching between two pickups 'styles' is, to us, very welcome indeed, especially when both sounds are killer. There are no features here that are purely for show: everything on a Mayones guitar is there for a reason! These are decidedly useful guitars!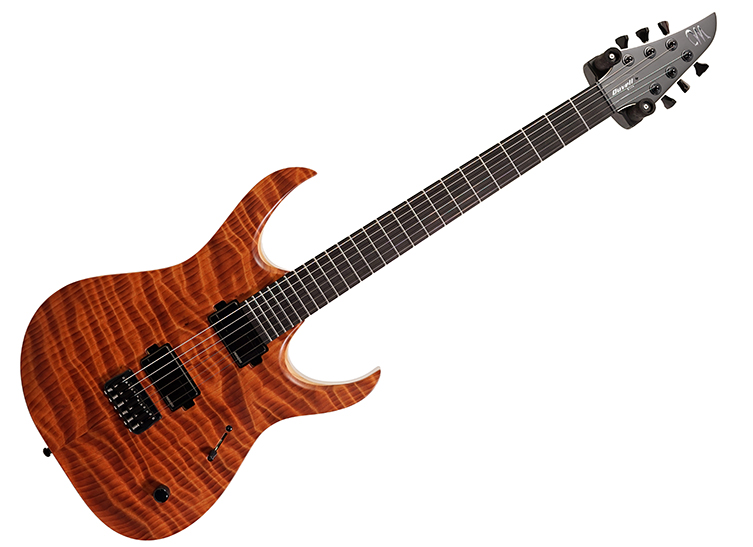 Hydra and Duvell with Koa tops
We do see Koa quite a lot these days, but that's fine really, given that it's one of the most beautiful looking timbers in the world! And anyway, this isn't just any old Koa (not that Koa ever is), this is master grade Koa, available only in extremely limited quantities. Have a look at the pictures and you'll be able to see why!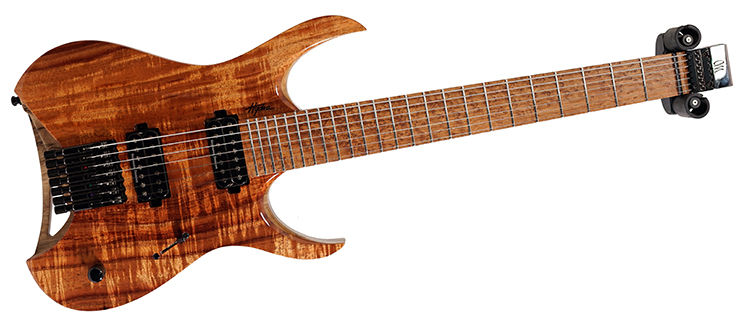 We ordered up a 7 string Duvell, a 6 string and a 7 string Hydra with this stunning wood. We kept the spec the same for all three in terms of timbers and hardware. So, the bodies for all three are made with Black Limba, a West African wood with a similar tone to Brazilian Mahogany. This means that these guitars sound absolutely massive! They all feature wonderful Birdseye Maple fingerboards with a 16' radius and glow-in-the-dark luminlay side dots for seeing where your hands are going on dark stages!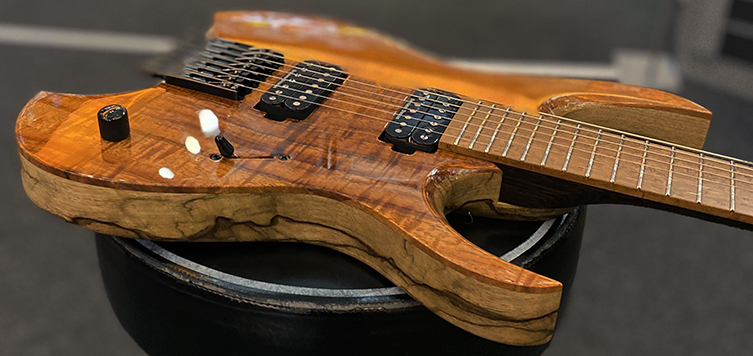 For pickups, we again opted for Seymour Duncan. The unbeatable combo of a bridge position JB and a neck position Jazz is offered here, with 7 strings versions on appropriate models. Coil taps are fitted too, as they are on the other models, in order to provide even greater tonal diversity.

Final Thoughts
For over 35 years, some of the world's best contemporary tone machines have been coming out of Poland. Museum-piece looks, world-class sounds and a feel to die for add up to a brand of guitars that all serious players need to get familiar with!
Currently, there is a lead time of about 12 months for new Mayones custom orders. That's a great sign in and of itself, since it displays how much their instruments are loved across the globe. Plus, we get our orders in nice and early, so we have stock for you!
Somewhat more seriously, we feel we have been able to really delve into the brand and spec up some truly special guitars here for you, whether you play Dgent, Prog, Fusion, Jazz-Funk or Musical Theatre! You deserve to have a custom-made guitar, and you deserve to have something that isn't run-of-the-mill. You owe it yourself to check out these Mayones guitars.