The guitarguitar Interview: Rick Ahir
Published on 09 October 2020
Ever wondered what it takes to become a session player?
It sounds like a dream job in so many ways: travelling the world, playing music, getting paid, visiting a new town or city every other day...
On the surface of things, it sounds pretty ideal. But what's it like from the inside? Can things really be as good as they seem? Well, if you speak to top session guitar ace Rick Ahir, like we did, you'll find that the reality pretty much does match up with the fantasy!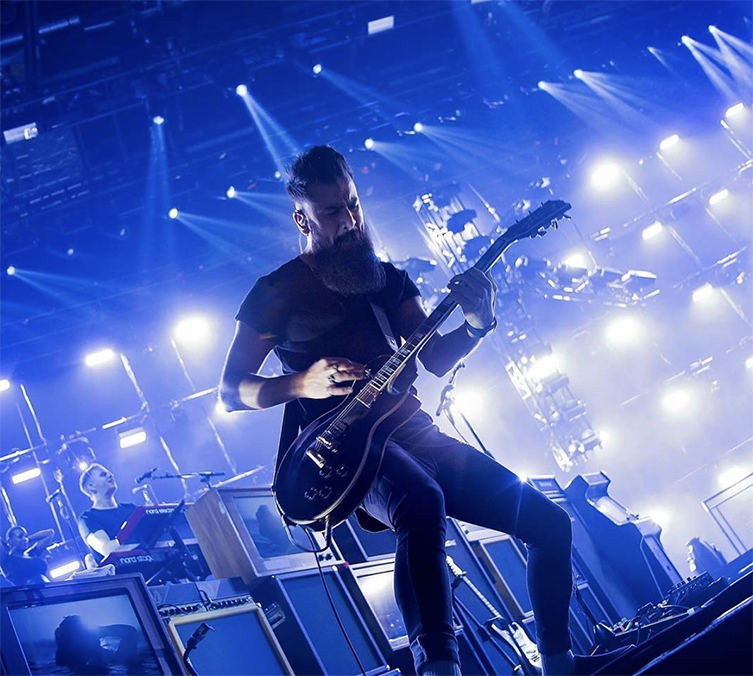 A veteran of the London scene and an in-demand player, Ahir has toured the world with the likes of James Arthur, David Guetta and Julian Perretta. For over a decade, the Midlands-born guitarist has been on a non-stop rollercoaster of high-profile gigs and sessions, with a number of stadiums and TV gigs under his belt in the process. He's a true pro, and happily for us, he recently agreed to answer a few questions about the ins and out of becoming – and staying- a session guitarist in today's musical landscape!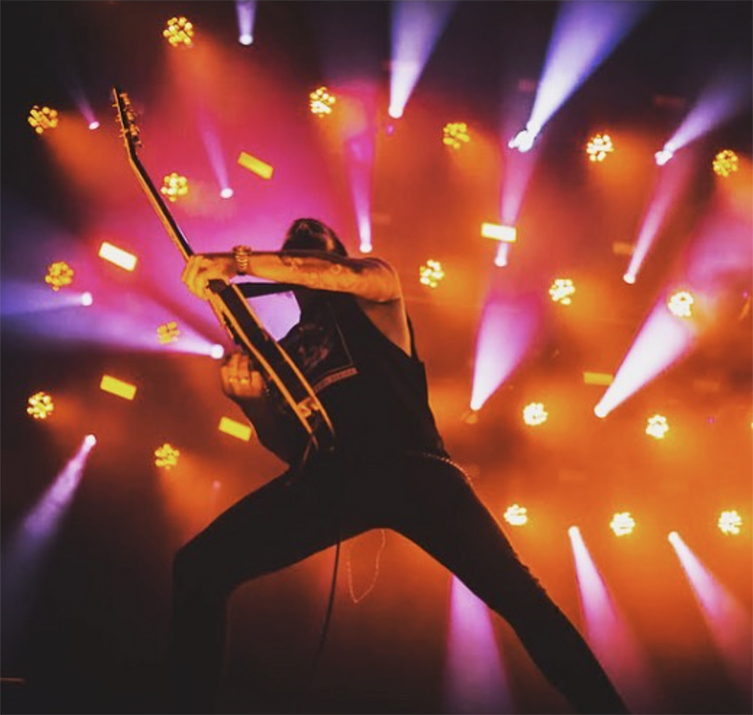 Guitarguitar: So, Rick, the obvious place to begin is: what made you pick up a guitar, and who were your initial influences?
Rick Ahir: I remember seeing a news article on TV showing people queuing up for the 3rd Oasis album, Be Here Now, and thought to myself how crazy that was as I had no interest in guitar music... I told a friend at school the next day: he made me a cassette copy and told me to listen to it as he loved it. As soon as I listened to that, I loved it too! Two months later, I got my first guitar for Christmas and within a few months I'd started a band (it was a simpler time back in 1998...)
"I've always loved vintage-inspired instruments, and with a Strat and a Les Paul, I feel I've got all the bases covered."
Around 6 months later, a friend of mine introduced me to classic rock bands such as Thin Lizzy and Deep Purple etc, but the first player that made me get really serious was when I heard Gary Moore. I rented his album Blues Alive from the library (hilarious that we used to do this...) and was blown away immediately by how huge his guitar sounded! In 2008, I was lucky enough to be his support band for three shows around Spain with a band I played for.
Unfortunately, I was too shy to speak to him! From Gary I was introduced to blues players such as SRV, Jeff Healey, Robert Cray and rock players such as Richie Kotzen, Andy Timmons etc. Nowadays there are so many amazing players around that inspire me. Many are my friends or people on Instagram etc. People like Doyle Bramhall, Eric Gales, Doug Rapport I think are incredible, but there's some really amazing guys who are just doing vids from home and doing their thing!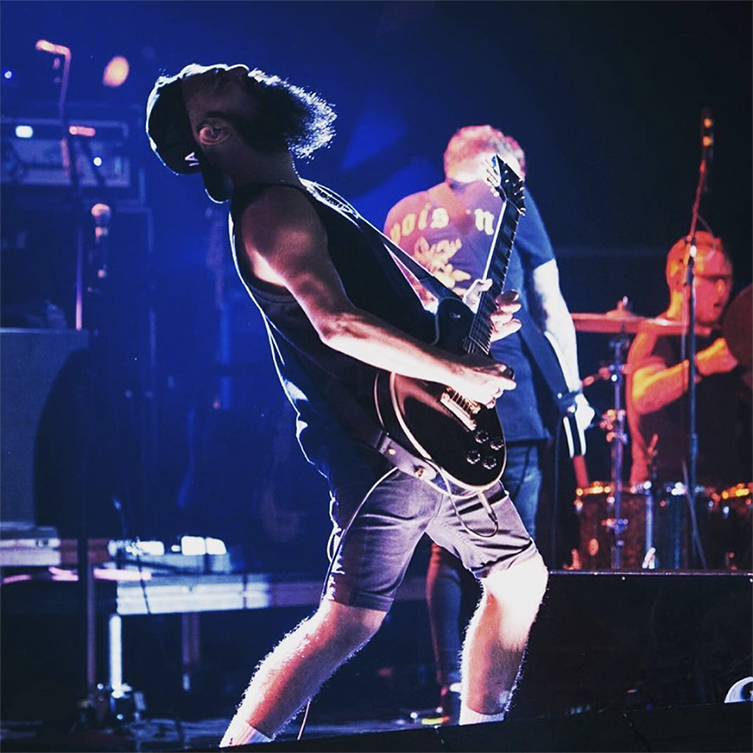 GG: How did you get started in the session business?
RA: I went to University to do "Pop Music", knowing that I would love some sort of career in music but not really knowing how to get about it. My first taste was when I was asked to do some TV appearances with a friend of mine who had come 2nd on the TV show Pop Idol. We got to do Top of the Pops and many other British TV shows, but after that I just went back to Uni and didn't really capitalise on the experience as I didn't know how to, and I lived in a small town called Darlaston in the West Midlands! After Uni, I became a lecturer. It wasn't till years later that I met a friend on a cruise ship who was living in London and said I should come to London and try it. I literally had no idea it was possible to do music as a full-time job. So, in 2010 at Christmas, I left my job as a teacher and moved to London unemployed. It was scary but very exciting!
"There are so many great players out there that it really comes down to other elements: attention to detail, how efficiently you work and what you can bring to the show."
GG: Was it difficult to get your name out there? How did you build up your profile and contacts?
RA: It really was a few chance encounters. I was doing a performance at Uni and a professional drummer was there doing a clinic/performance. While he was there, he asked me if I could do a few gigs for his band and from there I met another musician who put me forward for an audition with a 'famous' pop singer for a tour. I didn't get the gig but from that audition I learned a lot of what to and not to do! The guitarist who got the gig stayed in touch and offered me a few dates with another artist in London, and from playing with those musicians I would meet - and more slowly and organically - build up contacts. It was really before Instagram, and Facebook was in its infancy so it was really mostly word of mouth!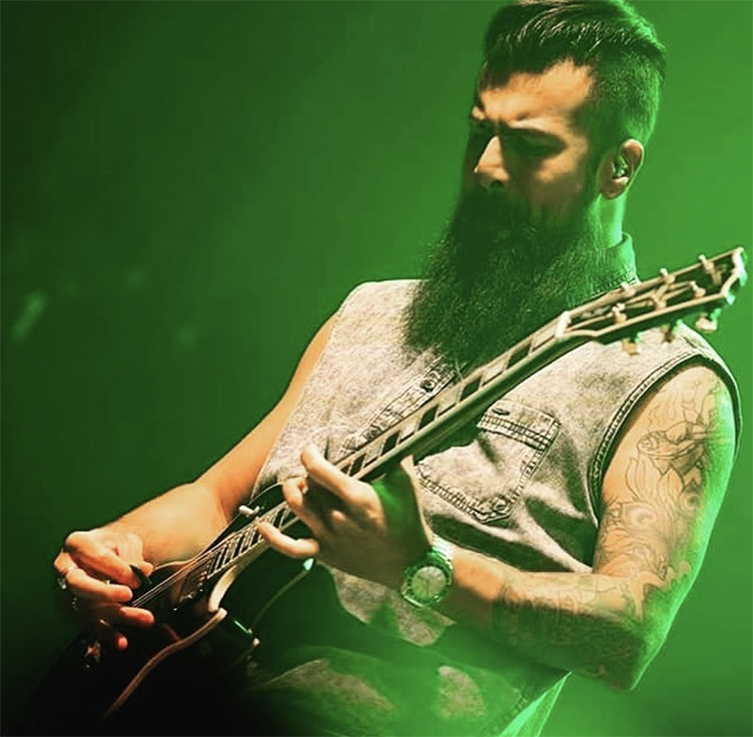 GG: So, you moved to London in 2010...
RA: Yes, in 2010 I quit my full-time job as a lecturer and moved to London at the suggestion of my now very good friend Daniel Bingham. I moved in with him and some other musicians, not really knowing what I would do but I was lucky to get offered a tour soon after which was 2 months around Europe with Julian Perretta. Since then, music has been my only job!
GG: What was/is the competition like in terms of other players, and how do you keep your edge?
RA: There really are amazing players in the UK, now more than ever. I really feel that the younger players with access to social media and YouTube etc and so amazing and inspiring. I think it's important to know what it is that defines your playing and not be afraid to embrace it. Also, you must be open to all forms of music, and think about the role of your instrument in each genre.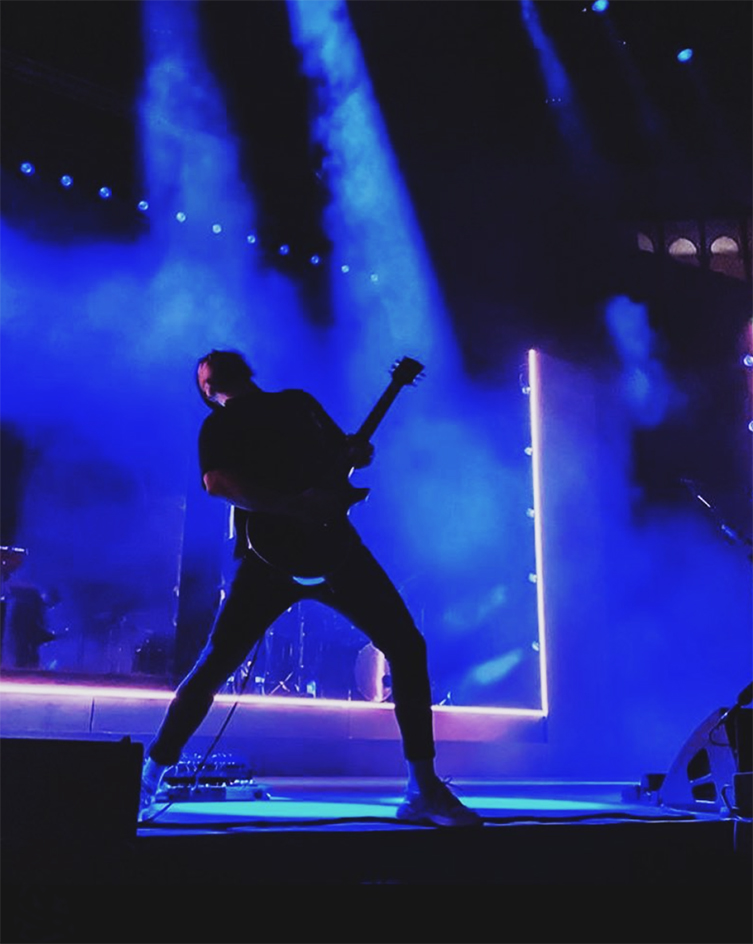 GG: In a given performance, how much licence do you have to come up with your own guitar parts?
RA: That will vary from artist to artist and also song to song. Some songs have a very distinct guitar part that you need to replicate. I did some gigs with David Guetta and had to pay Titanium. It has such an iconic guitar hook, so I had to play that as is, but on other songs there may not be guitar, so you'll often be free to come up with your own parts. I'm very lucky to play for an artist currently where guitar is quite prominent and I'm able to "play out" in a lot of it.
"I've had my Strat for 15 years and it's been everywhere with me, including being lost by an airline for 6 weeks and being left by me in a hotel in Portugal!"
GG: Obviously, you need to be a high-quality player for this job, but are other skills actually more important? I'm thinking about people skills, organisation, business skills, energy/fitness etc. Guitar playing is only a small part of being a full-time musician, right?
RA: Yes, I would say all of those are massively important. If you're on a gig and you antagonise people and ruin the vibe, you probably won't be back again! You're your own boss, secretary and PA, so you need to be on top of your organisational skills. Keep your diary up to date! When touring, it's easy to get into bad habits: too much junk food, alcohol etc. I go to the gym often and always maintain that when I'm on the road with hotel gyms, local gyms etc. It really helps when you're doing 90 min+ shows most nights of the week and also, you'll get injured less!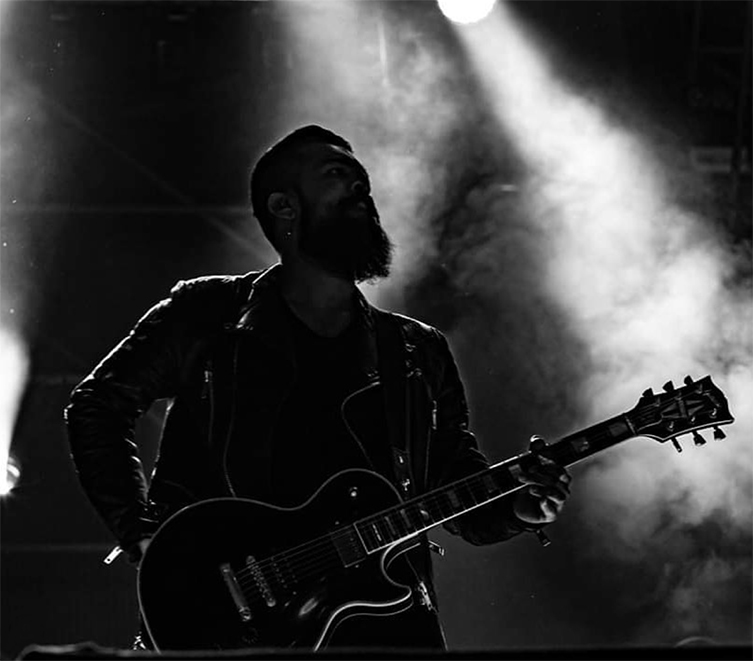 GG: Now, Rick, I've seen you with a lovely Les Paul Custom! Is that one of your main guitars? What other guitars do you mainly use, and why?
RA: Yes, I bought that Les Paul around 2004. It's a 1988 Les Paul Custom that I paid £850 for! It was a crazy bargain even then. I use that for my 'Rock' tones mainly, and I've just had new Monty's PAF's installed and a coil tap.
The guitar I use the most is my Custom Shop 62 reissue Strat with Suhr ML pickups. I find the Strat is just so versatile. I also use a telecaster often and have just added a Harmony Silhouette to my line up which I already love and will be used a lot! I've always loved vintage inspired instruments, but with a Strat and Les Paul, I feel I've got all the bases covered.
GG: Is there one particular guitar you can rely on above and beyond any other?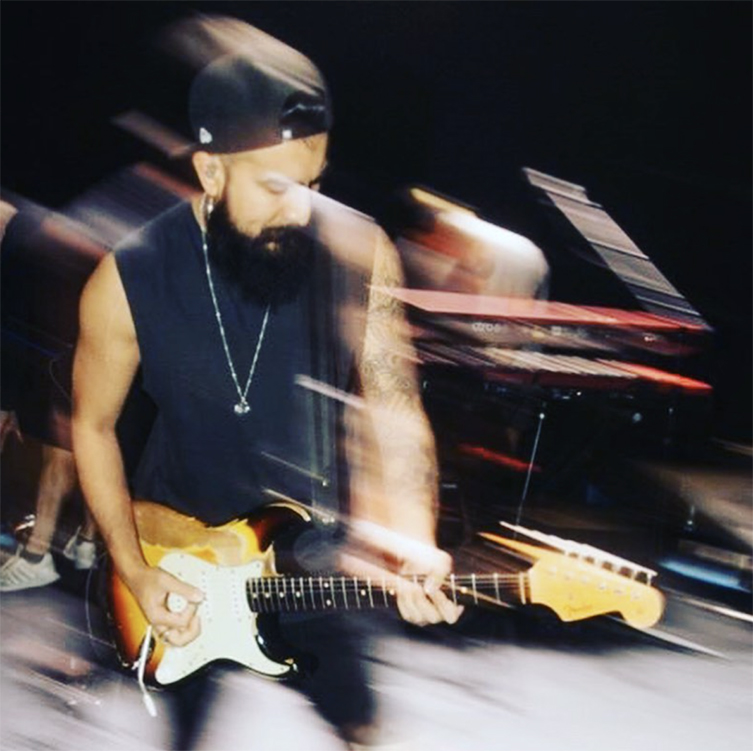 RA: Yes, I would say my Custom Shop Strat. I've had it for around 15 years, and it's been everywhere with me including being lost by an airline for 6 weeks and me leaving it in a hotel in Portugal… It's super versatile and has got many mods other than the Suhr ML pickups, plus it has been re-fretted with 6105 frets.
GG: Presumably you are mainly staying in standard tuning, right? What type of strings do you prefer? And what about picks?
"The first player that made me get really serious was when I heard Gary Moore: I was blown away immediately by how huge his guitar sounded!"
RA: Yes, pretty much always standard. A couple of songs on my last tour were tuned down a whole step but this year I've stopped doing that and have been using the Digitech Drop pedal which has been a life saver! I can easily tune down 1/2 or a full step at the touch of a pedal.
Strings-wise, I use 10s or 11s, depending on the guitar. I've always used D'Addario, but when on tour I will often have whatever the tech uses and be fine. I would love to try more brands such as Curt Mangan as I've heard great things. I've used the Dunlop Tortex blue picks for so long but recently I've been experimenting with more of the stubby Jazz-III types.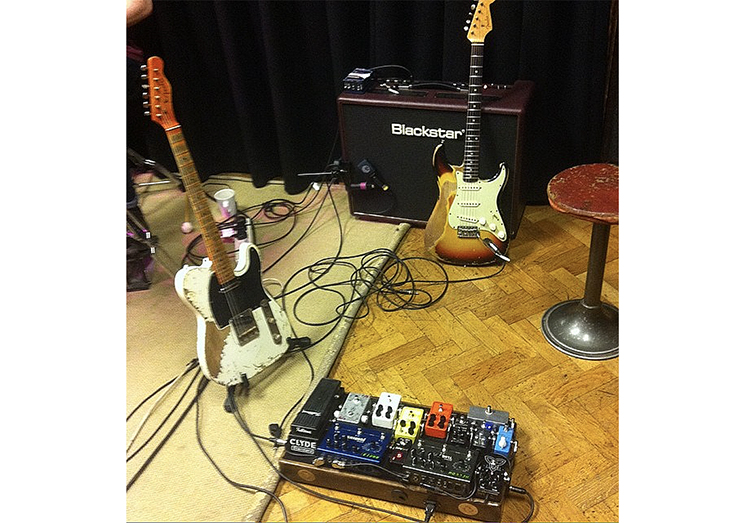 GG: I imagine you need to have an amp and pedal setup that covers lots of bases. What is your preferred rig?
RA: For the last two years, I've been using the Victory V40 Duchess Deluxe combo and sometimes the Sheriff 22 or a Blackstar Artisan 15. I really prefer a single channel amp with less features and get all my sounds from my board. I have a big and small board: my large board has a GigRig switcher and many pedals ranging from Strymon, Exotic, Friedman, Love pedal etc. I get all my drive sounds from my pedals. I'll usually have 3 or 4 types of drive on my board for different styles. Sometimes one will be set as my lead sound but usually it's a drive pedal plus the Exotic RC Booster and maybe a post boost from the GigRig for my solos, with lots of delay of course! On some gigs one drive may be enough, but sometimes I'll need a fuzz, distortion, and light overdrive, so it's good to have the choice, plus its way more fun!
GG: Do you release and gig your own music too?
RA: No, I don't currently. My first band was an original band and we did pretty well but the only writing I currently do is with my partner. She's a singer and we make music for corporate and advertising uses. We've just bought a home in London and have a pretty cool studio room now, so maybe there'll be even more writing in the future.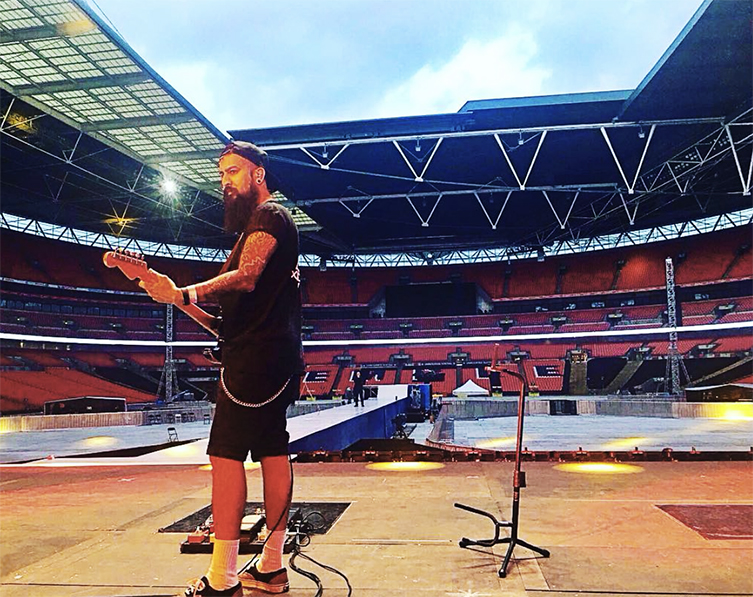 GG: You've played some pretty special places in your career: what was it like playing at the O2 arena in London?
RA: It was a real experience! I've been lucky to play the O2 and Wembley a few times now and it really is special. But the most special is probably when we get to play in Birmingham as its nearest my home and my family got to see me play properly for the first time!
"You must be open to all forms of music, and think about the role of your instrument in each genre."
GG: And what about playing on Top of the Pops? That seems a pretty magical moment for any musician! What's it like in reality?
RA: It was one of my first things I did, way back in the day when it was still on TV weekly, so it was pretty cool! Nowadays, it only happens at Christmas and is probably more about getting to see friends etc at the filming.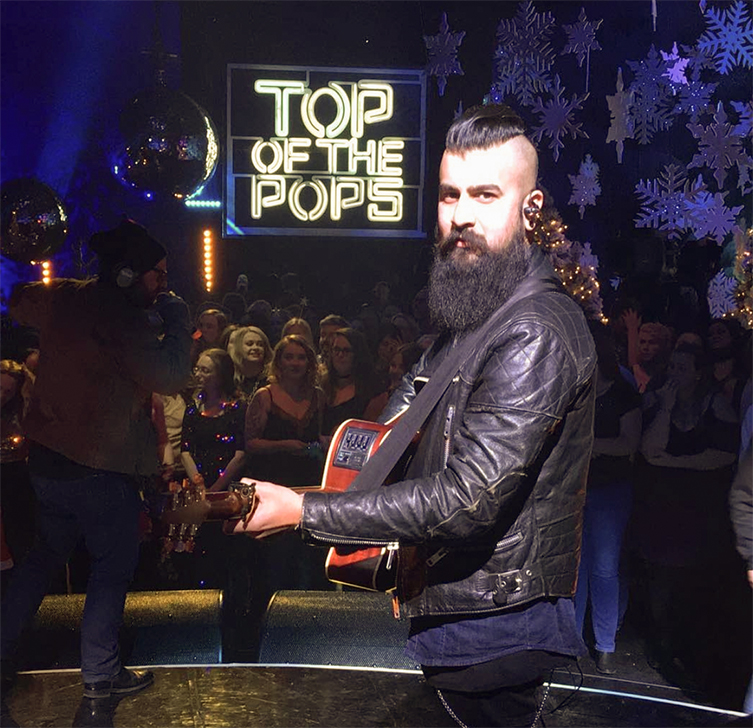 GG: What's the best part about your job?
RA: I feel very lucky that I get to do this as a living, and also to working 99% of the time with people I class as my closest friends. Also, I've been able to travel so much due to this job and I'm still not bored of hotels!
"I didn't get the gig but from that audition I learned a lot of what to do and not to do!"
GG: What's the worst part about your job?
RA: If had to pick something, it would probably be the early starts sometimes after a late finish - i.e. being at the airport at 5am when you got home from the show at 2am - but it's a minor thing really: I'm still very grateful! For some people, I think the worst thing may be being freelance in general and the uncertainty of work, but I try to not worry about this!
GG: Finally, in your experience, what makes for a good session player?
RA: Being professional, i.e. being on time, being prepared and being easy to get on with helps! There're so many great players out there that it really comes down to the other elements: your attention to detail, how quickly and efficiently you work and what you can bring to the show in terms of your sound and stage presence. They are all things to think about. Most of all - be nice!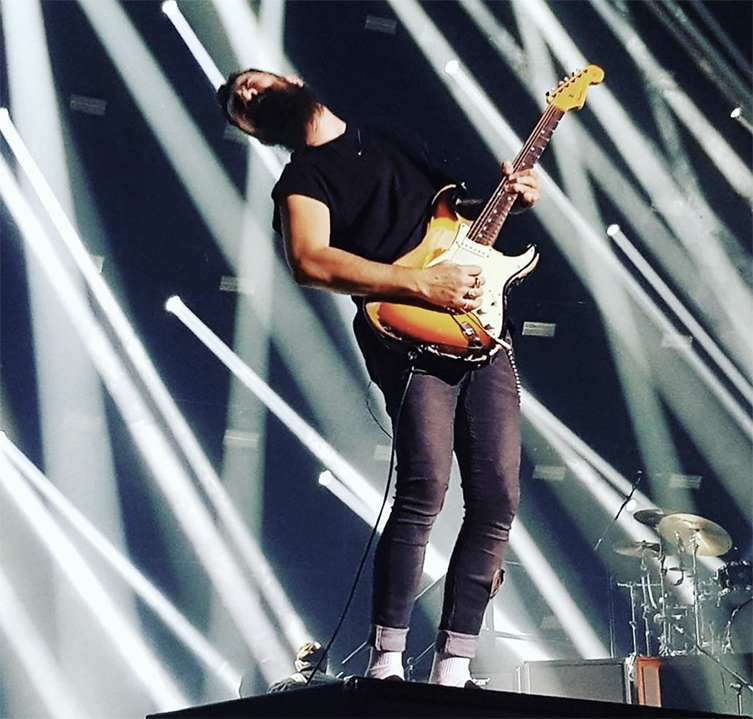 Be nice! It seems to be the most important thing, even more so than being a great player, which Rick obviously is. This advice comes straight from a gigging pro, and it's well worth taking heed of for anybody who dreams of ditching the day job and running off with the circus. Rick is proof that, if you are a professional, a pleasant person and care about your many functions within a touring band – you can do it! Live that dream!
We'd like to thank Rick for his wonderful, insightful answers and also for access to his photographs. Keep up with him via the official Rick Ahir Instagram page. All pictures used by permission of Rick Ahir.
Thanks for reading, we'll see you next time.
Ray McClelland