A Closer Look: PRS 35th Anniversary Custom 24
Published on 15 October 2020
35 years already?
Indeed, yes. Hard as it may be to believe, the modern classic that is the PRS Custom 24 celebrates its 35th Anniversary this year. To celebrate, PRS have released a limited-edition Custom 24 35th Anniversary edition guitar, and it's as wonderful and exotic as you'd expect.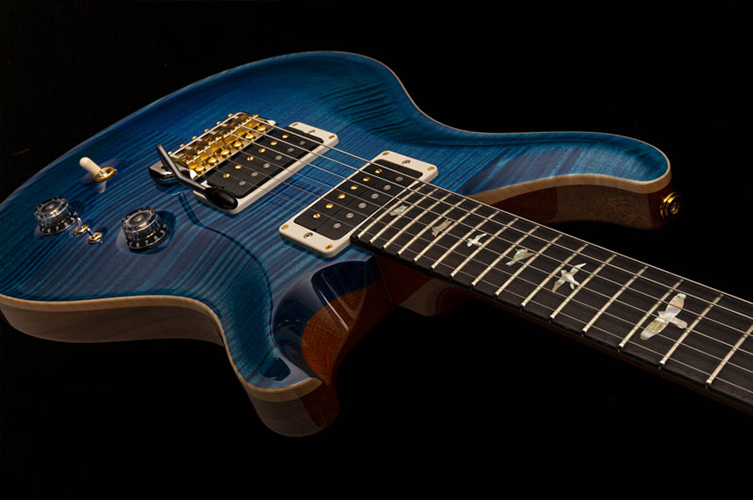 Shall we take a look?
From Maryland With Love
As PRS fans will no doubt know, all of their American-made products are built in Stevensville, Maryland. An American PRS is a thing to behold for sure: in these 35 subsequent years, many custom builders have tried to cop some of PRS's inimitable style, but Paul Reed Smith's creation still reigns supreme. The particular shape, the carve of the top, the neck dimensions and the distinctive headstock all combine to produce an instrument that is truly one of the only successful post-golden age designs.

American-built guitars are still the most revered in the world, and PRS guitars are particularly so. They were the first boutique builder to really steal some thunder from the big boys, and show everyone who it's really done. This continues in the company's Core line (of which these Anniversary models are a part), their top shelf Private Stock instruments and their more affordable, utilitarian S2 range. All PRS models share that 'successful hybrid' sensibility, but none so much as the Custom 24.
A Perfect Blend
This is maybe the key to the Custom 24's continued popularity. It offers a legitimate, American-made guitar that successfully balances that tricky tightrope between Fender and Gibson. Most people, if they are being honest with themselves, do want a little of one brand in the other, though in practice it's a very difficult blend to get right. Paul Reed Smith, it seems to us, hit the target dead on back in the mid 80s.

'Kalamazoo' fans will appreciate the mahogany and maple set-neck build, the dual humbuckers and the carved top. 'Californian' guitar fans will like the double cutaway shape, tremolo and single coil options. There are elements present from both schools of design, all synthesized into a new concept.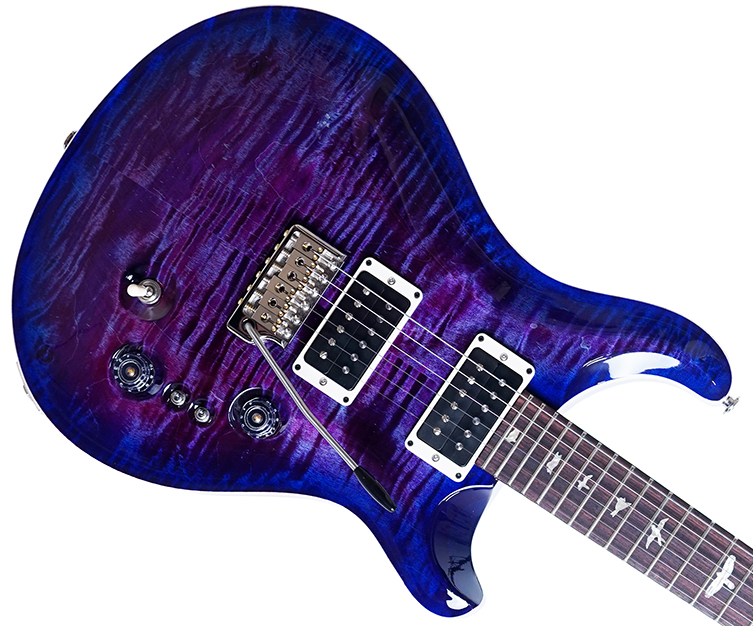 That being said, a PRS Custom 24 is very recognisably its own thing, with a whole aesthetic built upon spectacular tops, bird inlays and a vibe that brings both performance and luxury together. The PRS Custom 24 made 24 fret necks easy to handle via adopting a 25" scale. It gave the world a non-locking whammy bar that held it's tuning better than any other before it. For many, it's the apotheosis of the electric guitar, with a style that slots right into that instrument's linage and history.

35th Anniversary Models
So, to today. The photos you'll see on this blog are all 35th Anniversary Custom 24 guitars. To say they are beautiful is to state the obvious, so we'll just let you drink in the images of those stunning, three-dimensional figured tops and artful inlays. We expect this level of wow from USA-made Custom 24's, and these definitely fulfil those expectations! Though none of these tops are technically '10 Tops' (PRS's own rating system for their most visually impressive timbers), they are amongst the finest we've seen. Whether you prefer Orange Tiger, Faded Whale Blue or Violet Blue Burst, you're pretty much guaranteed a stunning looking guitar. We have a wide range of finishes available, including Emerald and Charcoal Cherry Burst, and we photograph every USA-made Core PRS guitar individually, so the one you pick from our site is the one you'll get!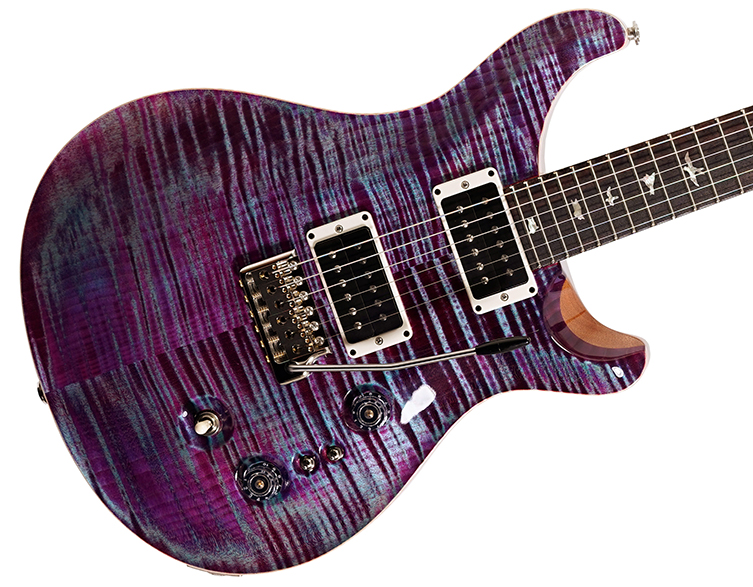 So, it's a carved, figured maple top on a mahogany body. There are two neck profiles available – Pattern Regular and Pattern Thin – and each headstock has a special 'diving eagle' inlay and a 35th Anniversary inlay on the truss rod cover. The locking tuners have faux bone buttons for an extra little touch.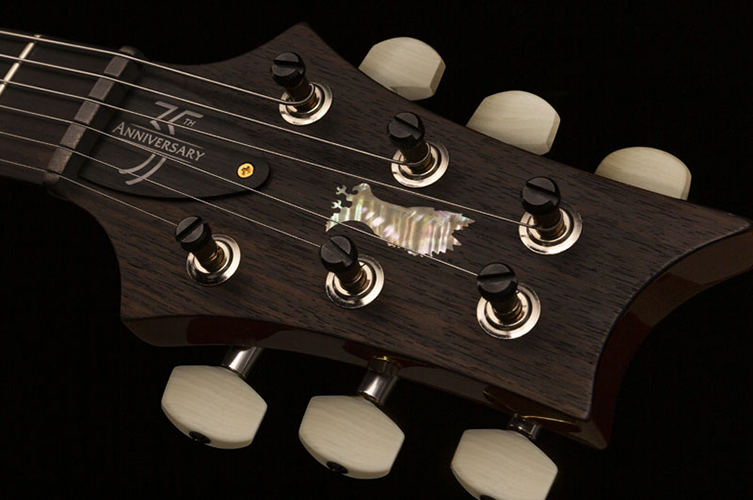 These Anniversary Custom 24's feature PRS 85/15 pickups, a favourite style used often in recent years. They relatively hot sounding pickups are something of a nod to the burning tones of the mid 80s, when the Custom 24 first appeared on the market. All manner of rock raunch is easily coaxed, with that famous PRS tonal clarity remaining fully intact.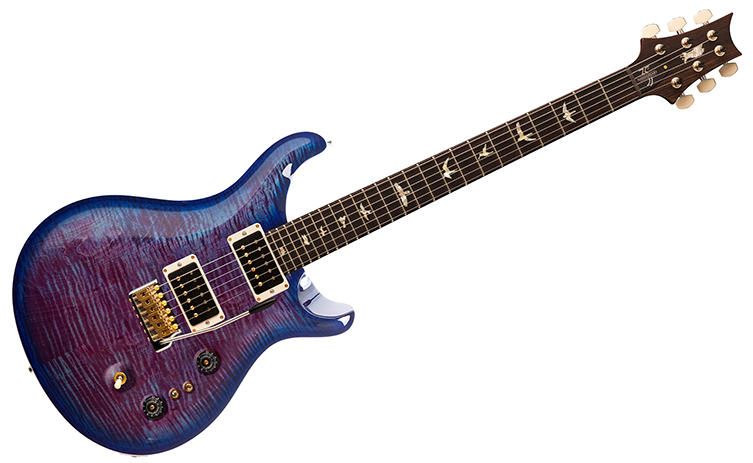 A cool feature borrowed from the 'Paul's Guitar' models is the inclusion of two mini toggle switches down by the control knobs. These are independent coil tap switches, so you can play around with combinations of full-humbuckers and single coils, as well as 'middle' positions of both, afforded by the 3-way pickup selector.

Limited Edition
If you were looking for a beautiful PRS guitar to buy, now could be the best time ever! These Anniversary guitars have many features onboard that normally mean a hefty increase in price, not to mention the exclusivity of them being limited edition models!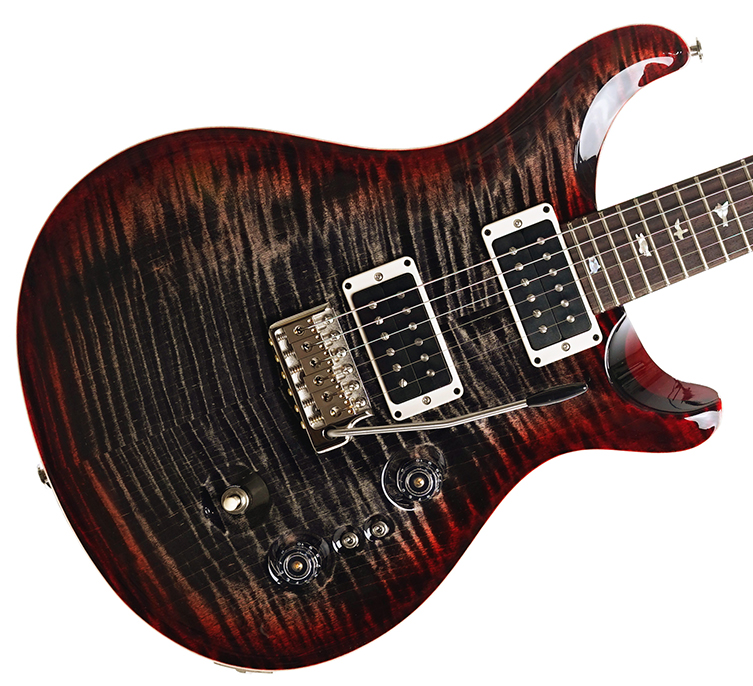 In every way, these are definitive, American-made PRS Custom 24 guitars, making them in effect some of the greatest guitars ever put on the planet. Due to their Anniversary nature, these won't be available forever, so if you want to enjoy the extra benefits and beauty on offer here, now's the time to act!
If you have not yet experienced the wonders of a Maryland-built Custom 24, let us invite you do to so at your earliest convenience. Prepare to have your mind blown as you realise that yes, you really can have it all in one instrument.