A Closer Look: Yamaha SG
Published on 09 November 2020
Yamaha are titans in all sorts of ways.
The Japanese giants have been making exceptional products for over 130 years now, and guitars for over 70! During this time, they have ruled the worlds of both classical guitars and beginner's electrics, but there's much more to the company than that.
One of our favourite Yamaha designs – and a legitimate contender for an alternative classic – is the Yamaha SG. Yamaha's take on the 'Solid Guitar' is respected everywhere but perhaps underappreciated to a certain degree. Given that they are currently producing the best versions of the SG that we've ever seen, we thought that now would be a good moment to celebrate the model a little. So, we'll see these new SG's soon, but first, just a tiny little bit of historical context...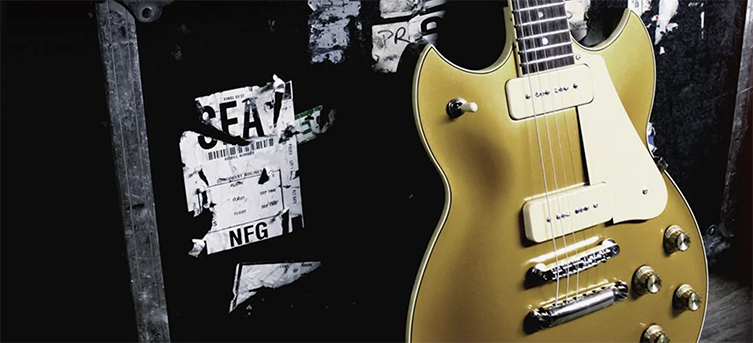 In the Beginning
Well, it's not really the beginning, since we're jumping back to the 60s, and not the 40s when Yamaha began making guitars, but it's the start of the SG's story at least. So, the mid-60s was all about Beatlemania, hippy culture and the British Invasion. In other words, guitars ruled the earth! Into this heady climate came Yamaha's first offerings of electric guitars. These were known as SGs, but not in the guise we are familiar with. The SG7 (one of the originals) and its stablemates were decidedly more 'George Jetson' than the thick-bodied, luxury tone machines we now think of as Yamaha SGs. The asymmetrical body and headstock were definitely products of their time, even though today they have a real kitsch appeal.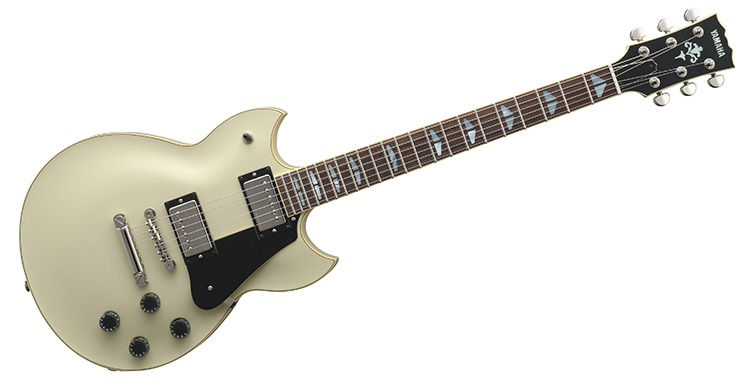 The Yamaha SG we know and love first came around in 1975. Yamaha directly approached Carlos Santana, looking to increase the profile of their electric guitars with some big-name associations, and gave him a specially built SG-175 guitar with a Buddha inlay on the top. This model is the one that announced the inimitable double cutaway Mahogany and Maple body that is now recognised across the world. Santana obviously liked it, but he was no easy date! Impressed but not entirely satisfied, he wanted Yamaha to make the guitar heavier, thicken the frets and bring more sustain. The result, two years later, was the rather spectacular SG2000. This is possibly the touchstone for most guitar fans' association with the guitar, and is indeed the blueprint for the SG models of today.
The Yamaha SG
So, just what is the Yamaha SG then? Well, despite its name, it's actually relatively different to Gibson's own similarly-named classic. Both guitars use the 'SG' term to stand for 'Solid Guitar' but Yamaha's design is much thicker in depth, with a double cutaway which is significantly different to Gibson's slightly offset version. In practice, it's actually much more like Gibson's other famous solid-body guitar, really.
Certain aspects of the Yamaha SG have changed over the years to reflect differences in what players want, but the broad brushstrokes remain the same today. First, the body is made of thick, solid Mahogany with a carved Maple top. The neck uses either a glued-in construction (as today's example are) or a neck-through, as seen on Carlos's favourite SG2000. Yamaha definitely wanted to steal a little of the Les Paul's thunder with this guitar, as the control layout is the same and the 24.75" scale length and three-a-side headstock follows a most familiar thought process! Still, the lines, curves and shape of the SG are its own and this helps it stand tall on its own merits.
Mahogany plus set neck equals sustain and that is what the Yamaha SG is most famous for. There's a reason for the body to be a luxuriously chunky as it is! The sustain from each of these guitars is quite unreal, and very musical, too. It's quite a thrill, hitting a note and coaxing out those extra-long, harmonically rich tones!
Typically, the SG is fitted with two humbuckers, but as you'll see today, that isn't always the case! We have three varieties of SG to show you today, and though similar, each style has its own special features. Why don't we have a peek?
Today's SG
The Yamaha SG's we want to show you today are all from the 1800 series: we have the 1802, the 1820 and the 1820A. Much of Yamaha's current SG design, as we've noted, harks back to the much-loved Seventies examples. This applies across all of the following models, so we'll discuss the shared features first, before moving on to scrutinise the differences.
Firstly, the body retains that famous outline and generous depth, and is made from Mahogany with a sumptuously carved Maple top. This, in fact, has been more deeply carved than previous iterations, in order to make the guitar more comfortable and indeed more beautiful. Yamaha have done away with the 'belly cut' found on the back of previous models, bringing the overall look back into a more vintage vibe and increasing the midrange response to boot.
The necks for all models are, as you'd hope, made from Mahogany and are joined to the body via set-neck construction. All of the models feature a 24.75" scale length, premium rosewood fingerboards and 22 medium jumbo frets. The fingerboards all have a flatter-than-Gibson radius of 13 ¾", so lead players will be encouraged to go wild!

Interestingly, the headstock on each SG has been reduced in size slightly, due to player feedback. The result is subtle and helps to create a better balance when the guitar is on a strap. Incidentally, the decorative 'flowerpot' inlay on the headstock is a little smaller too, which seems sensible to us!
Other shared features include hi-spec hardware like locking Grover tuners, a Graphtech nut, Tonepros bridges and a Switchcraft toggle, making these instruments very 'custom spec'd' indeed!
Yamaha SG1802
First up is the 1802 model, which you'll have already noticed is armed with a pair of P90 single coil pickups. Tone hounds will already understand the benefits of a P90/Mahogany pair-up, and these units are in fact premium Seymour Duncan SP90-3 pickups! If you like a little bit of bite and sting with your tone, these will provide cut to add to the girth.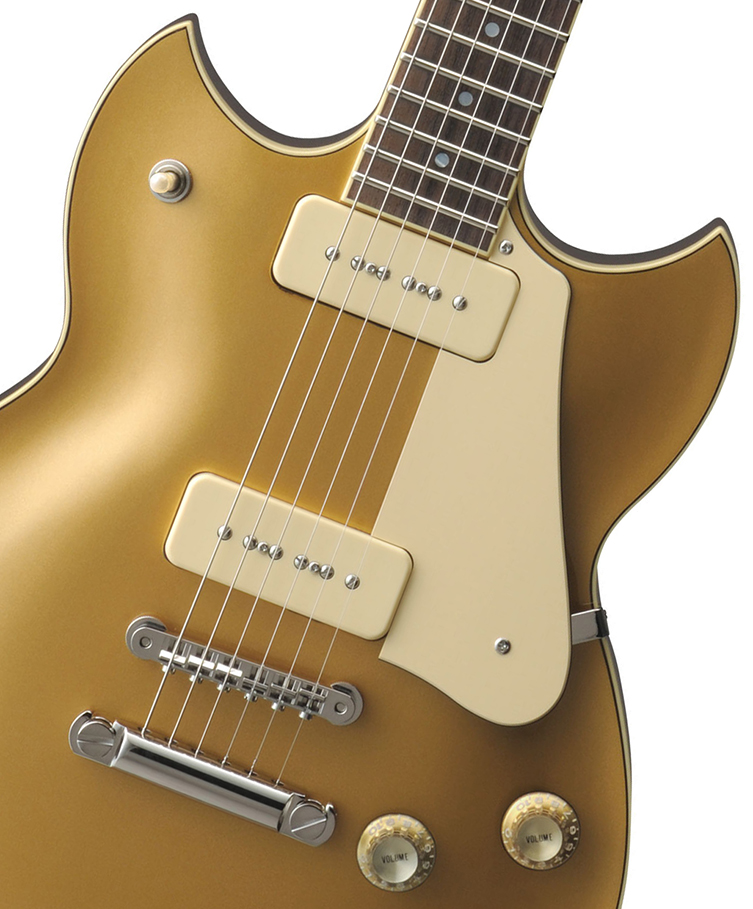 The SG1802 is available in two finishes - Black and Silverburst - with cream binding (the Gold model has an extra layer of black binding between the cream and the gold, which is subtle and very, very nice!) and retro barrel control knobs. Dot inlays on the fingerboard help to downplay the classic good looks, making the 1802 a beautiful 'no nonsense' SG with a fantastic range of versatile and charismatic tones available. We could play this one all day without stopping.

Yamaha SG1820
The main difference with the SG1820 is of course the pickups. Sticking with Seymour Duncan, Yamaha have opted for a set of richly vintage sounding '59 humbuckers, for a PAF-like tone (with perhaps just a little extra heat thrown in there!) at both positions. This choice of pickups allows the SG1820 to draw out beautifully creamy notes and chords, with lots of sustain and a very pleasing amount of dimension. These humbuckers sound excellent when used clean or heavily overdriven, and sound perhaps at their best with low levels of gain from a nice tube amp. Tonal nirvana.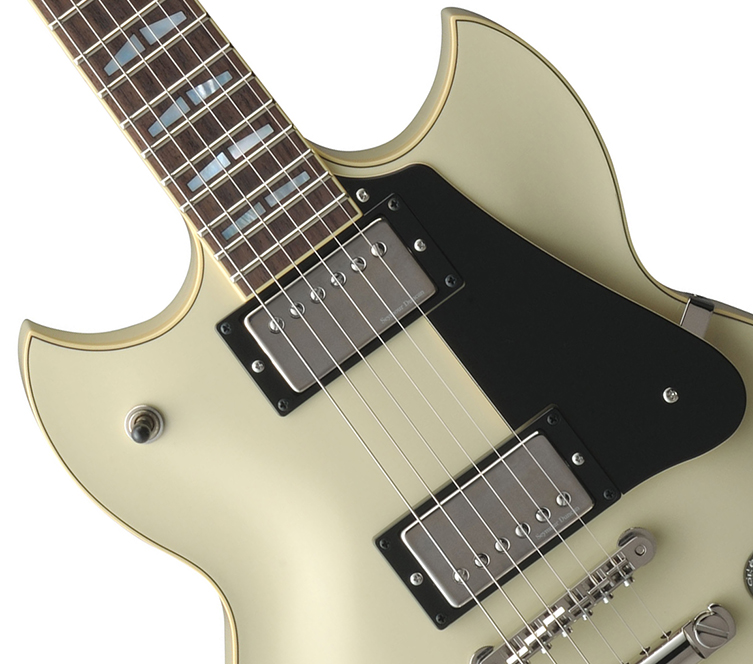 The SG1820 is available in Black and Vintage White, and has distinctively gorgeous 'Arrow' fret marker inlays. The Japanese hand-made neck is absolutely wonderful to play on, no matter how fast or slow you prefer to go! This is a serious piece of guitar, and any Santana fans reading this will want to maybe try this model first!

Yamaha SG1820A
The SG1820A gets its 'A' suffix due to the use of active pickups. Yamaha, understanding that set-neck Mahogany guitars are dearly beloved by hard rock and metal players, have wisely opted to offer a model complete with a set of EMG pickups. Good move! The models selected here are a safe bet to please the moshers: it's the classic 81 and 85 pair, used by Zakk Wylde and an endless list of metal pros who crush it with great tone. There still isn't really anything that can defeat this EMG set when it comes to mammoth gain brutality and fast, responsive note playing. Whether it's chunk-rhythms or precise leads, these EMG's will have your back like they always did.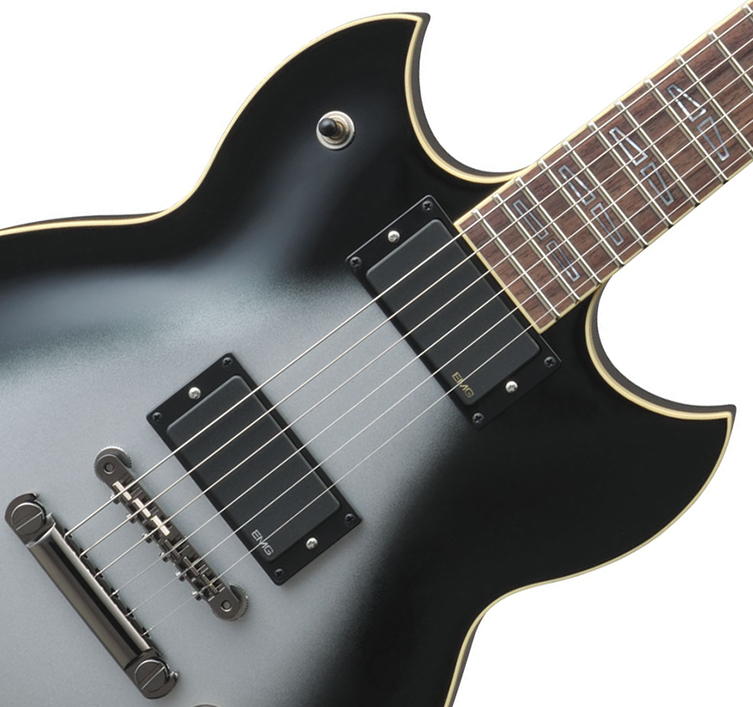 Aside from the active pickups, the SG1820A brings slightly different 'outlined' Arrow fingerboard inlays and two specific finishes: Black (naturally) and Silverburst, which is fast becoming the 'new black' for heavy guitarists. It certainly adds a little bit of Mastodon/Tool magic to this instrument. Another small detail is that the 'flowerpot' inlay is sharper and more modern on this model's headstock than on the others. Details!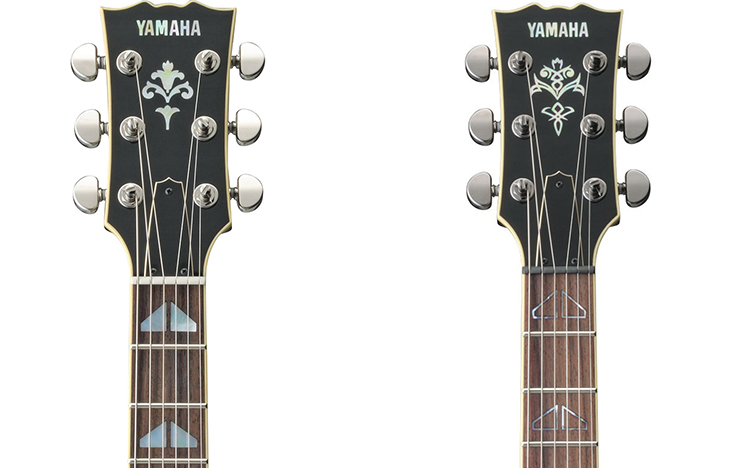 The Yamaha SG1820A is a monumentally heavy sounding guitar, and it's not one to overlook if you are desiring blasts of tuneful noise to wake the dead.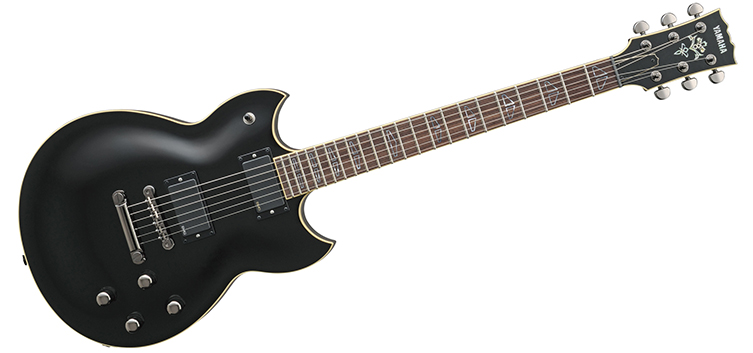 Final Thoughts
Taking these three instruments together, it's quite surprising to note how much diversity can come around just by changing pickups. All of them sound superb: full of tone, sustain and dimension: it's like each is just tuned specifically for different levels of intensity. Pick according to your taste or choose all three for your differing moods!
All three Yamaha SGs are effortless dreams to play, and all certainly encourage you to have a good time knocking out a myriad of choppy rhythms and endless leads. They are so playable! They are also quite beautiful and have a certain uniqueness that doesn't stand too far apart from the accumulated masses. They are just different enough to appeal to a great range of players, and we think they deserve your undivided attention!