Fender Custom Shop: Master Builder Designed
Published on 27 November 2020
We don't need to tell you how good Fender Custom Shop guitars are.
You know this already! We all do. They've been making incredible, hand-made guitars for over 30 years now, and each one is a unique masterpiece.
Fender Custom Shop is the best of the best, and they have the most famous, iconic and beloved instrument designs in history at their disposal. They can make your Stratocaster, Telecaster and all other Fender-shaped dreams come to life, literally and officially!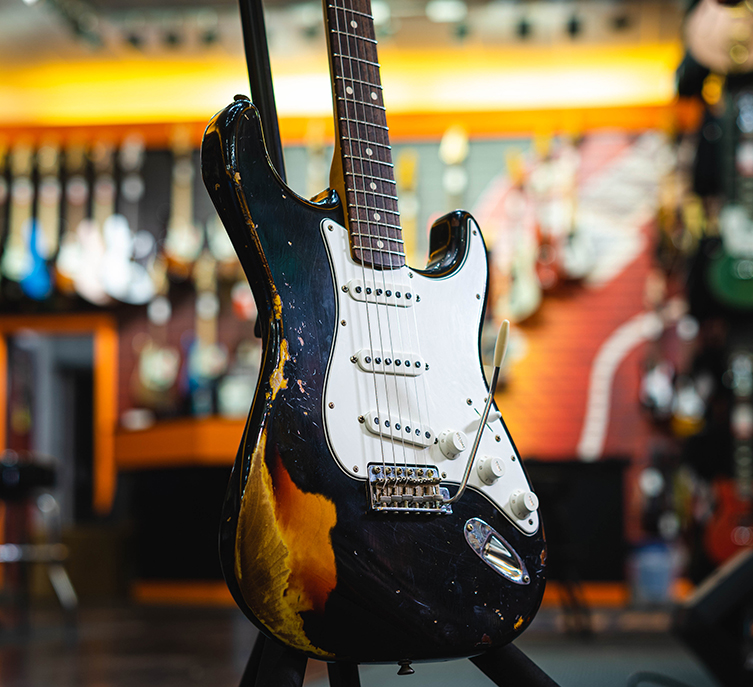 We've been Fender Custom Shop dealers since guitarguitar began over 15 years ago. We've cultivated and developed a relationship with not only the brand itself, but the individuals who work there and build these wonderful creations. Thus, from time to time, we're able to go there, have in-depth discussions with the Master Builders and collaboratively put together orders for instruments that you just can't get anywhere else.
Fender Custom Shop Master Builders
So, what or who is a Master Builder, anyway? Well, these are a small group of individuals who have been Custom Shop Team Builders for years and have become respected across the world as the greatest at what they do. Their singular talent is recognised by Fender and they become elevated to Master Builders. The 'Team' refers to the 50 or so people who build Fender Custom Shop guitars, and the Master Builders are artisans who have their own order books (filled in advance with several years' worth of custom orders) and who individually hand-build instruments for people like Eric Clapton and Keith Richards.
Master Built guitars are considered the absolute top of the mountain in terms of Fender instruments, and these guitars can be identified by locating the Master Builder's signature logo decal on the back of the headstock on the guitars they've crafted. You'll also see their names on our product titles on the guitarguitar website, so they are easy to identify. Every Master Builder has their own style, set of preferences and methods, so that's part of the experience, too. Fender aficionados can really get into the whole subject of how a Master Builder does their thing. It's an extra layer of depth and understanding that serious players really love!
Master Builder Designed: A New Concept in Collaboration
Naturally, there is going to be something of a difference in cost between Team-Built (that is, all non-Master Built) Custom Shop guitars and those that are Master Built creations. This is why we came up with the notion of Master Builder Designed.
So, what's the deal?
It's pretty simple. With Master Builder Designed guitars, we've sat and had a proper face to face chat with a Master Builder. We're talking about detailed conversations with guys like Paul Waller or Dennis Galuszka, here! We've asked them to design not what we want, but what they love the most in guitars. What are their dream specs? What do they prefer in terms of neck profiles, timbers, pickups, hardware and finishing? We chat, figure out a plan for a design, and then that design is used to build a very small number of Team-Built guitars.
Now, the Master Builder will often make a one-off piece from this spec, too, but the point is to use their decades of taste, know-how and expertise (not to mention the illustrious appeal of their prestige and association) to bring you fully hand-made, Team Built Custom Shop instruments that bear the ideas and preferences of a Master Builder. The Master Builder comes up with the design, but then hands it to the Custom Shop Team to realise. This keeps the price lower and allows the instrument to be built faster, all of which are wins for you, the customer!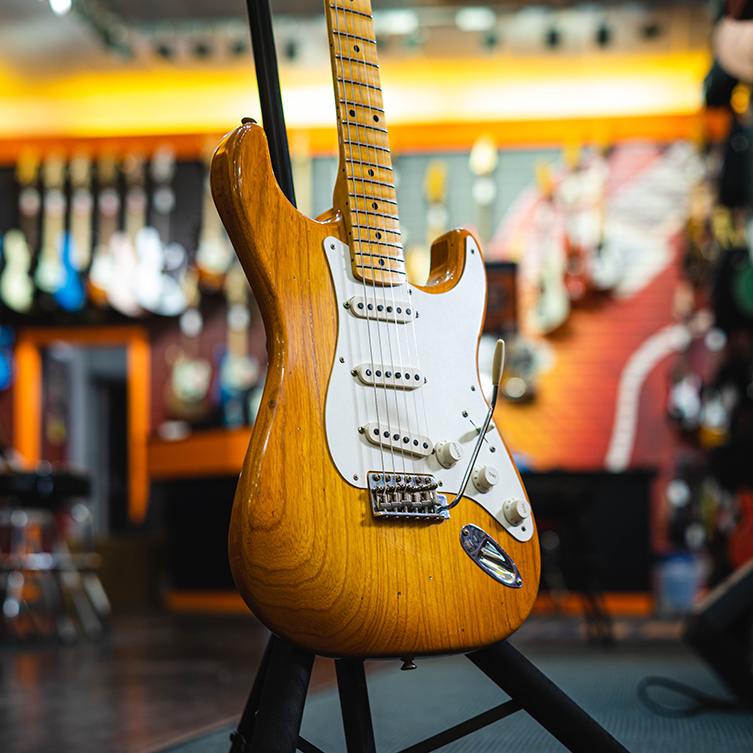 All Master Builders have their own preferences, and the idea is to explore that and hopefully bring out something really special, since we are playing to their passions. Depending on the situation (this is Fender Custom Shop, so everything is still individual and unique, let's not forget!), we may ask for one or two finish variations, such as NOS and Journeyman Relic, to be applied to the same overall design spec. We'll see more of this presently, and explain the terms as we go along.
"These guitars reflect what each Master Builder
loves the most about Fender guitars"
All of the guitars on this blog are the results of these conversations. They reflect what each Master Builder loves about Fender guitars. Designing a guitar with a Master Builder is a real collaboration: it's a partnership, and one that we are delighted to take part in, considering the results. The guitars we'll show you today have all been conceptualised this way. We'll show some of the one-off Master Built guitars alongside the (literally two or three at the most) Team Built versions of the same design. We hope to illustrate just how special this whole process is, for everyone who loves great Fender guitars.
1953 Telecaster, Master Builder Designed by Paul Waller
If there's one thing we've learned over our years of correspondence with the Fender Custom Shop, it's that Paul Waller is most definitely a Telecaster man! He loves them, and all Teles bearing his name are destined to be humdingers!
This is certainly the case with this round of 1953 Teles. After good long discussions with Paul, we settled on a spec that brings in lots of his favourite features like Twisted Tele pickups (which have a hotter, brighter neck pickup) and a Roasted Ash neck with clay dot markers.
Occasionally, you get a little bit of insight with these Master Builder conversations: a little extra piece of the magic to add to the recipe. In this case, our talk with Paul revealed that he has an actual, physical, favourite Telecaster neck. He keeps it squirreled away in a drawer and brings it out for reference when the opportunity arises. Learning this, we quickly requested that this neck be the one to base our Teles on! If a Master Builder has an all-time favourite neck, we'd be mad not to ask for it! The neck was duly handed across to the Custom Shop team, the callipers came out, and those magical measurements were used for the necks of each of these wonderful Telecasters.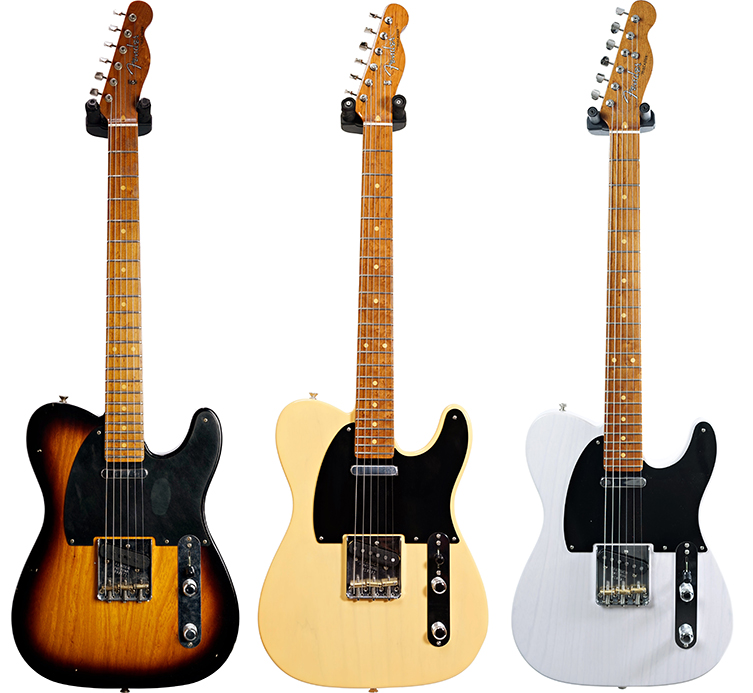 We have a small number of these 1953 Telecasters available in White Blonde, Butterscotch Blonde and 2 Tone Sunburst. Each guitar is finished with the 'Journeyman Relic' option. This level of relic simulates moderate wear, from an instrument that has been passed down through the years and played in the house but hardly ever taken on a stage. There is a tasteful, subtle level of distressing, and only a few of the dings and nicks bite through to the unfinished wood. In many ways, the Journeyman Relic is the most realistic, if not dramatic, of the relic choices. We love these guitars, they are a total triumph.
1956 Stratocaster, Master Designed by Todd Krause
If you ask Master Builder Todd Krause what his favourite guitar to build is, he'll tell you it's a '56 Strat. If you ask him about his personal choice of specs, he'll share that he loves the Honey Burst colour, a select Ash body and Fat 50 pickups. Sounds good to us!

Todd himself crafted two Master Built '56 Strats for us bearing these personal favourite specs, but we also have a tiny number of Team Built examples available, too. Both Todd's and the Team's are available as Journeyman Relics and also as NOS models. NOS, for the record, stands for New Old Stock. It's like an old instrument that hasn't ever been used, so it hasn't aged at all. Imagine Doc Brown climbing into his DeLorean, typing in '1956' and heading back in time to bring back this Strat!
That delicious Ash body can be seen through the translucent Honey Burst finish on each Strat, and those wonderful AA Flame necks on the Team Built Strats have been shaped to Todd's favourite 10/56 V profile. A 9.5" fingerboard radius is a small concession to modernity, as Todd feels this makes for a better playing surface. We agree! Todd's Master Built Strat goes for plain grain maple and introduces some masterfully applied wear to the fingerboard.

1969 Stratocaster, Master Builder Designed by Greg Fessler
Master Builder Greg Fessler is a big fan of late sixties Strats, so when he designed a Strat for us, it was the 1969 'large headstock' model he started with. Keeping things relatively straightforward, Greg wanted to spec out a great Stratocaster that kept the spirit of the 60s intact but brought things slightly more up to date in certain areas.
His choice of a '69 U-shaped neck gives these particular Team Built Strats a real sense of character. We love the feel, especially when that profile has been matched to a 9.5" radius fingerboard with Jumbo frets! This is one heck of a lead player's axe!
Handwound '69 pickups impart a tone that's strong for a Strat, but a little less so than those from, say, 1965. If you like a tiny bit more heat from your sound, and are used to dialling it with your guitar's volume control, you may find these to be some of the nicest pickups you've ever worked with.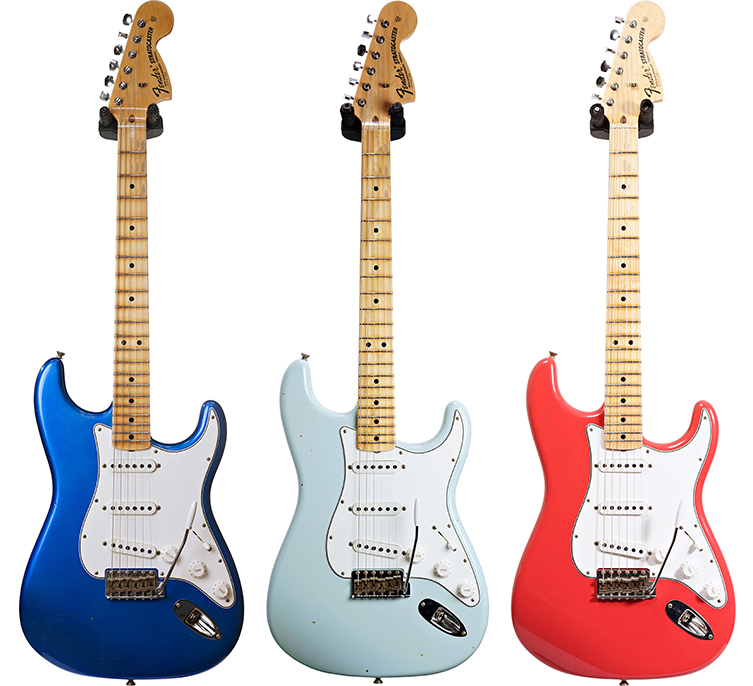 Three Greg Fessler-designed guitars are available in Team Built form, all featuring Journeyman Relicing and each coming in a different colour! While they are available, you can choose from Faded Cobalt Blue, Faded Sonic Blue and Fiesta Red. There's only one of each, so make sure you don't miss out on the Strat of your dreams here!
"You get a completely hand-built, Fender Custom Shop guitar,
made to the design and preferences of a Master Builder"
1965 Strat, Based on an Original Example
Well, maybe none of those were quite the Strat of your dreams? Maybe you prefer the '65 Strat, with it's association to a certain Mr Vaughan? Known for having hotter sounding pickups (they just wound 'em that way in 1965), Strats from that particular year are hugely popular with players who lust after that authentic Texas Blues tone.
Now, the story behind our 1965 Strats here is a little different to the other guitars in this blog, and quite unique in general. In a turn of good fortune, we happened to actually have in one of our stores a quite fantastic, ORIGINAL 1965 Strat! Everyone who played it remarked on its exceptional neck and wonderful sound, and so we sought to recreate these elements as much as we could with a small series of Custom Shop Team-built guitars.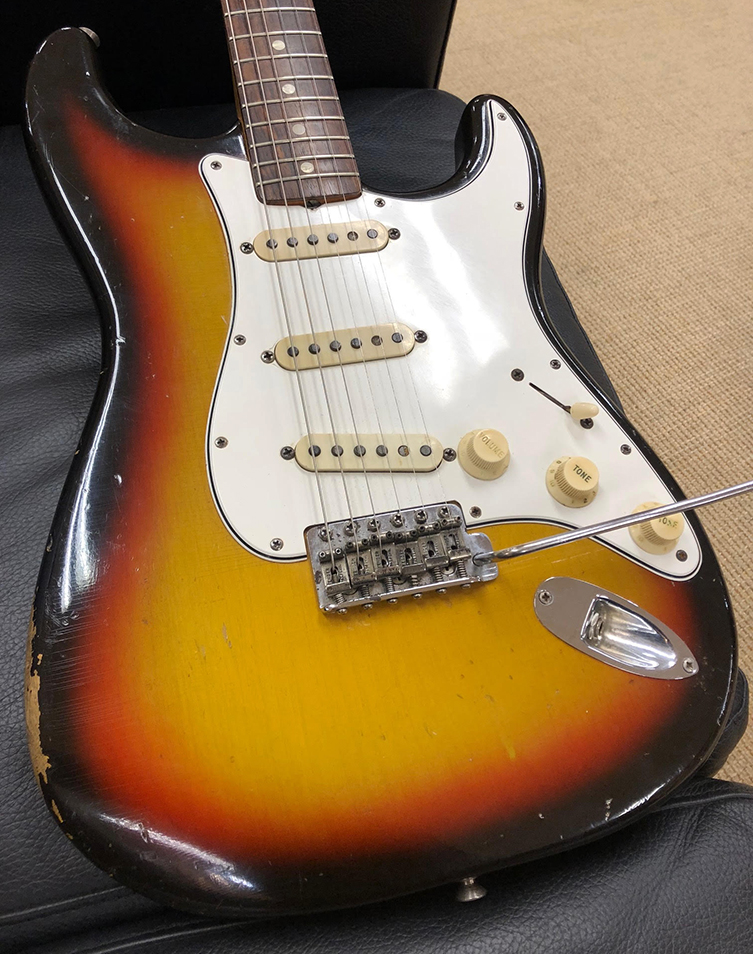 The results are excellent. We were in the position to be able to A-B the Custom Shop 1965 Relic Strats to our original vintage '65 Strat, and we can report that the Custom Shop Team nailed it! These are quite exceptional Stratocasters. The neck profile is extremely close to the vintage example, and the hand-wound pickups have that same 1965 heat and tone too. You'll be able to see from our pictures, that the precise colours of the Sunburst finish have been brilliantly recreated, too, which is nothing like as simple as it sounds!

In addition to these Team Built instruments, we asked three of the Master Builders to create a Relic 65 Strat, with largely the same specs, but to their own individual vision in terms of the relic work. These masterpieces were created by Dennis Galuszka, Greg Fessler and Kyle McMilin, and all bear the artistry of equally different but equally great Master Builders.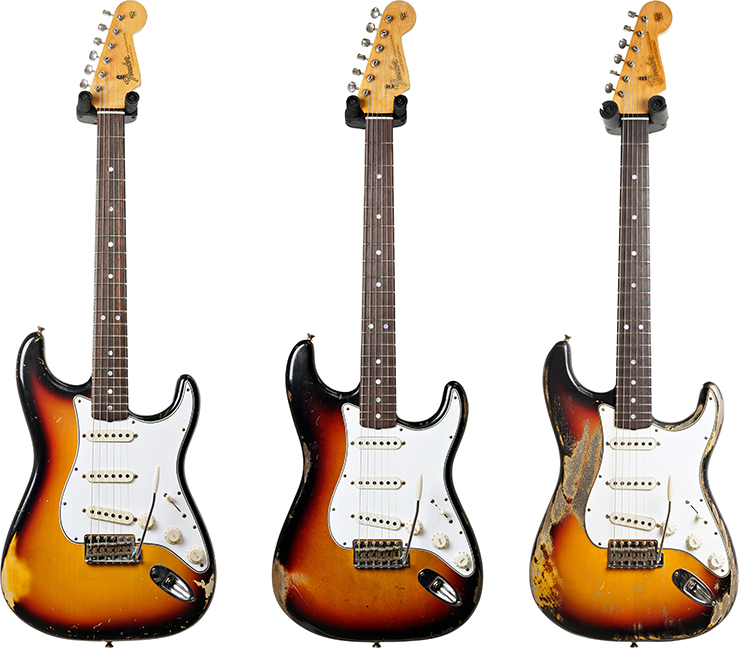 1967 Telecaster Master Built by Dennis Galuszka
Finally, we asked Dennis Galuszka about his preferences on Teles. He designed a very cool Heavy Relic 1967 'Fat Tele', with a humbucker at the neck. We love this style of Tele, as does Dennis evidently, since his Master Built creation is a doozy!
Dennis wanted a versatile guitar, so in addition to the Seymour Duncan 59 humbucker, he's gone for a comfortable C-shape neck and a useful Greasebucket Tone circuit. This circuit lets you turn back the tone knob without adding excessive, muddy wooliness to your sound. It doesn't sound like too much until you put it into practice and realise that you can dial in some really convincing quasi-PAF tones if you work things just right! It heats up your tone without heating up your tone, if you get us!

The other cool features here include an AA flame Maple neck with a compound radius fingerboard. This is just the icing on the cake of a massively playable, super-cool looking Tele with a killer Heavy Relic Chocolate 3 Tone Sunburst. We love this!

The Team Built Option
That was the Master Built guitar, so what about the Team Built ones? Well, you don't lose much at all in the way of specs: only the compound radius and greasebucket control are missing, really. You still get the Heavy Relic finish, the Duncan 59 Humbucker and the Flame maple neck. Whilst you do not get an instrument that's hand-made by Master Builder Dennis Galuszka, you do get a completely hand-built, Fender Custom Shop guitar, made to the design and preferences of Master Builder Dennis Galuszka! There's a distinction there, but we think the trade-off is pretty great, really.

As with all Custom Shop guitars, even though these are made to a design, they are all hand-made one-offs: look at the three we currently have and you'll notice differences in the relic work, the wood and other factors. These are living, breathing instruments of the highest quality.
They're All Excellent
We're a spoiled bunch, really. Each of these guitars is magnificent. It's really a case of choosing one with the style that works best with your playing vibe, and then going with either the Master Built guitar or the Master Builder Designed guitar. All of them have the know-how, passion, skill and experience of Fender Custom Shop's best artisans. Some of them are entirely built by Master Builders, but all are masterfully built.
"These are guitars for life, made to the highest standards
by the best craftspeople in the world"
These are guitars for life, made to the highest standards by the best craftspeople in the world. The extra special sauce added by each Master Builder adds value, intrigue and extra detail. We invite you to view these guitars while we still have some in stock!
Click to View Our Latest Fender Custom Shop Guitars