Epiphone Originals: Coronet, Wilshire and Crestwood
Published on 04 December 2020
It's not all Les Pauls and Es-335's over at the Epiphone camp, folks!
Far from it! Epiphone have a rich heritage of their own, one that's quite outside of their more familiar reputation as Gibson's more affordable, imported line of instruments.
Recently, we looked at their iconic, original-design semis, the Casino and the Riviera. We have a dedicated blog about those, so if you're after some news about them, click through to our Epiphone Semi Acoustic blog, and we'll meet you back here.
All good? Ok, let's see some more resurrected originals from Epiphone's glorious heritage!
Double Cuts, Full of Character
We have a trio of Double cut solid-body models for you today, all with their own unique character. These are all models from the late 50s, and are made up of the Coronet, the Wilshire and the Crestwood. Some of their collective features are shared, so before we get onto introducing you to them, let's run through some of the similarities.
First off, that distinct double cutaway shape and set-neck construction is relative to all of the guitars. It's similar – but quite separate – to the double cut Les Paul Junior, with a similarly practical vibe. We'd say this this shape is maybe more symmetrical (it has a slightly longer lower horn, in fact...) and pronounced, but they play ball in the same park.

Each guitar is made of Mahogany, and the neck profile (medium C), radius (12") and fret size (medium jumbo) are shared throughout the gang. That neck carve is agreeably substantial, and keeps with the retro spirit of the series. The other choices play more into the preferences of today's players, which is what we hoped Epiphone would do with such instruments. Playability is everything, really, and these guitars are all about that!
The trio all share a slightly downsized 'Kalamazoo' headstock, bringing them in line with other new Epiphone releases. They are an attractive group indeed, and possess some real authenticity in today's market, given that they are both affordable (as this style of instrument was always intended to be) and taken directly from history.
So far, so good! Let's have a brief introduction to each, then...
Epiphone Coronet
First up is the single pickup model, the Coronet. This guitar originally debuted in 1959, a year after the Crestwood, which we'll see soon. Looking equally psychedelic and punky, this no-nonsense guitar goes full utilitarian with a single 'dogear' P90 pickup and a 'lightning bar' wraparound bridge. The pickup is a tone-beast for sure, which we expected since it is part of Epiphone's impressive Pro collection. We haven't heard such good stock pickups in guitars of this price point...ever, really! You'll get some good cut, snarl and bite with this bridge pickup. One day we'll stop going on about how good P90's sound in mahogany bodies, but we guess that day is not today...
The bridge is compensated in order to achieve a better level of intonation than vintage examples, so worries about sacrificing pitch for style can be allayed. It's a great player and is available in 2 colours: Cherry and Ebony. Something different? Definitely, and it's eminently affordable.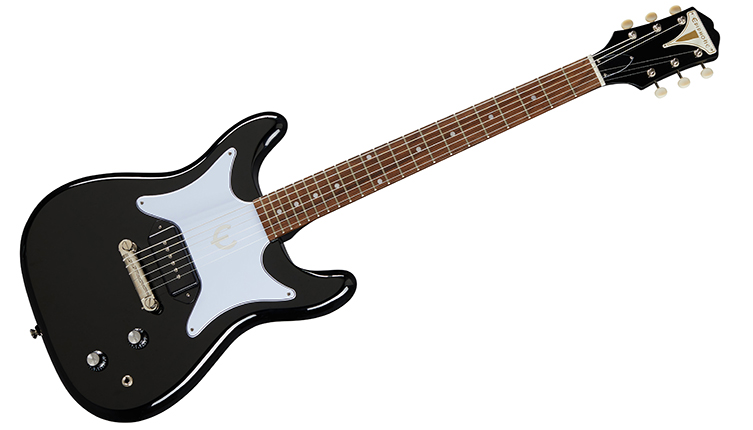 Epiphone Wilshire
If the Coronet is comparable to a Les Paul Junior, then the Epiphone Wilshire would be the Special equivalent. Same body, same sensibility, same everything really, except there's another pickup. If the idea of only having one pickup bothers you (what are you afraid of?), then the Wilshire will see you right! In truth, the extra tonality available via a neck pickup can really open up your playing, so we definitely recommend trying both versions to see what works better for your style.
On top of the extra pickup, there's a change-up of the bridge to a Tune-o-matic style with a stop tailpiece. Guitarists have preferences in these areas, so we applaud Epiphone for thinking wider and including both this and the Coronet for players to choose between. The Wilshire has the same great feel, the same great tones and the same great finishes – Cherry and Ebony – though the cool Butterfly pickguard is switched from white to tortoiseshell.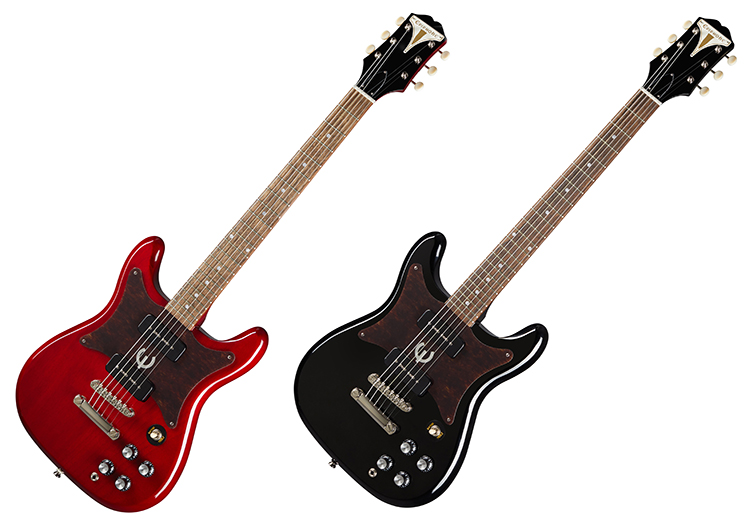 Epiphone Crestwood
Finally, our last guitar for today. The Epiphone Crestwood keeps the body shape we are now familiar with and treats the rest to some fancy upgrades! This style actually came first, in 1958, with the Coronet and Wilshire following a year later.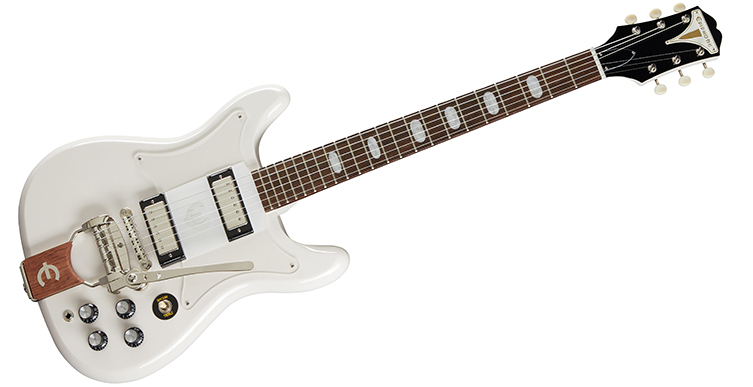 You'll notice nice decorative oval inlays on the fingerboard, and a fantastic 'Tremtone' whammy bar on this model, not to mention a set of mini humbuckers in place of the P90s. All of this transforms the Crestwood into something really quite different from the previous two Epiphones. It sounds different and operates differently, with the tremolo giving a different playing feel, on top of its pitch-wobbling capabilities.
Those mini humbuckers sound great, and retain a fair amount of bite, certainly when compared to normal-sized humbuckers. There's more body to the tone than the P90s and this may better suit lead players, but there's lots here for everyone to enjoy, tone-wise.
Also, under the hood there are top-quality CTS pots, making sure that nothing is lost sound-wise due to inferior parts. We like this charismatic guitar quite a bit! It's available in Cherry and Polaris White.

Summing Up: Cool style, Indie Swagger
We think Indie players will really gravitate towards these new Epiphones. They are the 'right' brand, they perform well and have an individual look that's rooted in Rock 'n' Roll history. Punks, Blues players and Classic Rock fans will all find loads to enjoy here too, and each model offers excellent value for money. We recommend taking a test-drive soon!
Click to View our Newest Epiphone Solid Body Guitars