The World's Greatest Shredders
Published on 15 December 2020
"More is more", said crazy Swedish maestro Yngwie Malmsteen. He should know, and if you don't, you need to get this article thoroughly read!
Tasteful playing is the pinnacle of the art for most of us, but we all – secretly or openly – love hearing somebody absolutely destroying it on the guitar with pyrotechnic displays of outstanding speed and technique.
Shred is a pleasure and, given the right context, it can be musically magical.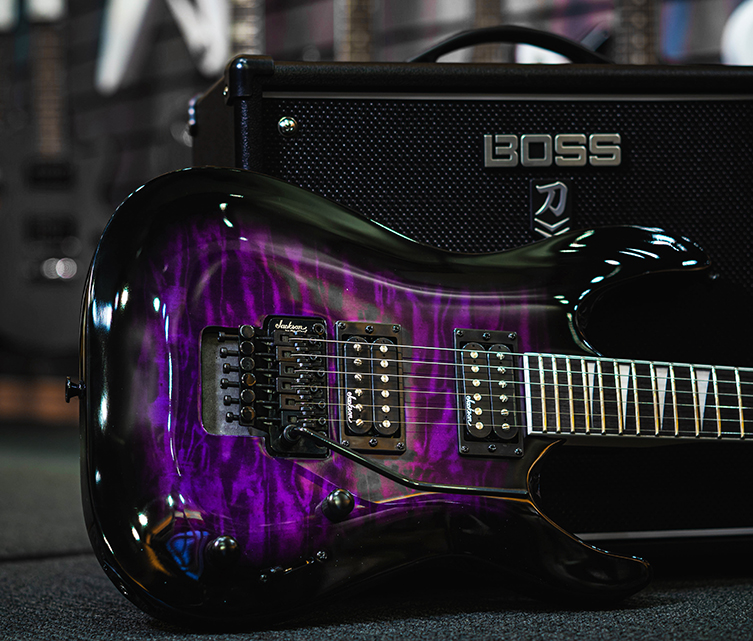 It's not just about showing off, either: shredding is about communicating ideas and sounds at the absolute limits of ability. Great displays of shred can inspire us to improve our own playing, or we can just sit back and revel in another player's mastery of the instrument. Even appreciating the depths of discipline and work it takes to reach the required levels of technique is part of the whole experience.
Today, we've drawn up a list of who we feel are the world's top shredders on our chosen instrument. There's no order to this, just a collection of some of the finest virtuosic playing the world has ever seen. Come with us as we embark on a warp-speed journey through the fireworks and thrills that is shred guitar!
Eddie Van Halen
Ed is the obvious first choice here, since the genre wouldn't exist without him! He invented or at least popularised so much of what is now the standard bag o' tricks for the shred player. His inclusion was always going to be a given.
Eddie Van Halen, as a guitarist, was a lot of things: a class rhythm player with great timing, inventive riff writer, insane tone-connoisseur, but only top of those things, the man defined a vocabulary on the instrument that changed the game for everyone else. He also pulled off the difficult trick of appealing to music fans who didn't otherwise care about guitar playing at all, which is not something that many shredders manage! Hats off to the greatest.
Joe Satriani
If Eddie Van Halen brought shred guitar to the radio, Satch brought it to the radio with no vocals! Yeah, in the 80s – if you were good enough – you could be an instrumental guitarist and have legitimate radio hits. Can you even imagine that today? Well, back then it was thanks to Joe really, whose melodic and accessible style combined hummable anthems with outrageous, squealing shred in a package that proved to be hugely influential. He's easily one of the best payers on the planet, but it's his writing that puts him at the top of the tree.
We enjoyed a fantastic exclusive chat with Joe earlier in the year (click through to our Joe Satriani interview) but in the meantime, here's one of his most loved songs. And remember: Joe taught Metallica's Kirk Hammet as well as one very high-profile member of this here list, so there's some extra context right there. He's the maestro's maestro.
Yngwie Malmsteen
Larger than life, fond of uttering hilariously quotable exclamations and always seen dripping in gold chains whilst leaning against a Ferrari, Swedish shredder Yngwie Malmsteen is either the best guy ever or completely horrible, depending on your taste.
We opt for best guy ever, frankly. The inventor of 'neoclassical guitar' (an absolutely accurate term, up to a point), Malmsteen's exceptionally technical music is entirely unable to be separated from his persona. It's bombastic, ferocious, dominant and extremely impressive. We love how he thinks that using humbuckers is a loser's compromise, and we adore his commitment to leather trousers and vintage Stratocasters.
If 'Rock' is all about following your own path and 'to hell with everyone else', then Yngwie is the greatest rock star who ever lived. Get onboard and cherish this mad genius.
Tosin Abasi
Talking shred into new areas, the Animals as Leaders guitarist somehow simultaneously plays traditional shred and is almost without comparison. It's partly the context of the music itself, which blends avant-garde electronic work, contemporary Metal and freeform Jazz, but it's also his note choices, timing and ear for the unusual in general.
Abasi is developing a new language using his own-design, extended range guitars. We can't wait to see where he goes with it all!
Steve Vai
Is Steve Vai the most technically gifted guitarist ever? We'd say there's a good chance of that, even if he wouldn't agree himself (see how humble Steve can be in our epic 2-part Steve Vai interview). Steve's ability, matched with his advanced sense of melody and harmony, have provided the one-time Zappa band member and student of Satriani with a signature sound that is as recognisable as that of Hendrix. He's the shredder that other shredders want to be; the player of impossible runs.
Vai's music is particularly other-worldly, just as his choice of instrument – the iconic Ibanez JEM – is gleefully eccentric. Vai is just one of those excellently 'other' people, and we love him all the more for it.
Al Di Meola
It's not all about rock/metal-style shredding, you know. Great technique and dexterity are required for many of the world's most colourful musical styles. Talking of colourful, Al Di Meola's playing is full of it, made available to him by his strict discipline, sense of fun and great natural ability. Al can bring it on so many fronts – acoustic, clean, distorted, jazzy, poppy, fusion-ey – that it's a bit of a head-scratcher as to why he's not always mentioned in the top one percent of guitar players in the world. His jazz-fusion playing is tremendous, as is his ability to compose music for other players and play in an ensemble (shredders are not strictly known for sharing some of the spotlight...). Take a look at Friday Night in San Francisco and you'll be treated to a live masterclass of guitar talent: Al Di Meola, John McLaughlin and another player we'll be seeing in a second. Bear in mind, it's all live and it's all on acoustic guitars! Exactly.
Paco De Lucia
Of all the genres out there for guitarists to learn, flamenco is perhaps the most technically demanding. Truly, the dexterity and precision required, as well as the ability to convey emotion, makes flamenco a serious undertaking no matter how good you think you are.
The late, great Paco de Lucia was, to many, the greatest exponent of flamenco guitar that world has ever seen. Whether in a fusion ensemble like we just saw above, or accompanying the great vocalist Camerón de la Isla, Paco shone like a rare light. His solo pieces are just draw-dropping, and even more so once you understand what is required from your hands to perform them properly!
Considering that he could not hide behind distortion or pedals, we'd say that Paco De Lucia was one of the world's greatest shredders without a shadow of a doubt. A word of warning: some of the playing in the video below may terrify you into never playing again. Fight these feelings!
Marty Friedman
Keeping some exotic sounds in focus, Marty Friedman is one of those players who is instantly unforgettable. Using Eastern and Arabic scales within multiple contexts has lent Friedman's playing a melodic maturity that is as confident as it is adventurous. His career has been long and numerous, though most guitarists would agree that his epic solos on Megadeth's Rust in Peace record took the shine off every other shredder of the era. Marty has more taste, more daring and more drama in 8 bars of a given solo that many players achieve in a lifelong career.
John Petrucci
Bridging the worlds of prog and metal, Dream Theater are one of those bands who inspire rapturous obsession in their fanbase. For fans of musicianship, it's not hard to see why: each member of the band is off the charts in terms of skill, and none more so than axe-slinger John Petrucci.
A man of precision and discipline, Petrucci is rightly regarded for his immense ability, both on record and live. His speed levels are preposterous, and he often performs such dizzying runs on wide-necked 7 string guitars, which gives him extra shred points without doubt! Our choice for solo? Probably 'As I Am', from the Train of Thought album, though instead of showing you that, here's a video of our exclusive interview with the man himself!
Paul Gilbert
Paul Gilbert is a classic shredder from the heady days of Racer X in the 80s. Known as much for his 'power drill' trick as he is for his devastating playing, Gilbert has sustained a long and enviable career as an influential and successful instrumental guitarist and clinician, with plenty of technique videos out there dissecting his formidable style.
Allan Holdsworth
If a guitar player makes no less a talent than Eddie Van Halen sit up and take notice, you know there's something going on! Holdsworth was always a quiet, subtle personality, but his guitar playing was the exact opposite: unorthodox, unpredictable and angular. His revolutionary style required unearthly levels of ability to execute, and that's exactly what he had!
Holdsworth seemed to be beaming in from a different place entirely, with shards of futuristic music that was paradoxically rock, jazz and neither of those things. People have likened him to saxophone players like John Coltrane and Charlie Parker, which covers some of it, but he was very much a one-off: partly because of his unique vision for music, and partly because nobody else could play it!
Guthrie Govan
Our final choice today has been cited for genius by giants like Steve Vai, has recorded with Steven Wilson and his enjoyed day jobs like playing guitar on Oscar-winning Hollywood composer Hans Zimmer's tours. Versatile!
Govan is one of those true players who is just superhumanly connected to his instrument. You get the feeling that his thoughts and ideas transfer directly to the guitar, with nothing being lost in translation. We enjoyed a quick email session with him in the recent-ish past (click for our Guthrie Govan interview), but watch the video below to keep some primary evidence of his ability and expression. It's a great tune, but if you just want the gobsmasking solo, jump to around 05m 09 secs in. Wow!
Honourable Mentions
Now, we definitely missed out some of your shred heroes, didn't we? Are you raging because we stuck in a flamenco guy instead of Jeff Loomis? Sorry folks! We can't please everybody! For the sake of a little respect, these top-gun players deserved to be on our list too, if we had the space:
Zakk Wylde
Jeff Loomis
Nita Strauss
John McLaughlin
Dave Murray, Janick Gers & Adrian Smith
Dimebag Darrell
Jason Becker
Django Reinhardt
Jennifer Batten
Fredrik Akesson
Shawn Lane
Ron 'Bumblefoot' Thal
Alex Skolnick
Kirk Hammett
Nuno Bettencourt
Who else did we miss? Let us know! The world of shred guitar is wide, and many incredible players deserve a wider audience so please do give your own heroes a shout out! We dodged the bluesier guys like Joe Bonamassa and Slash since we'd argue that what they play is not strictly shred, but if you disagree, sound off! Let's hear from you, you shred fanatics!
Thanks once again for reading.
Ray McClelland