Top Ten Grunge Guitarists
Published on 21 December 2020
Grunge: one of the most potent and exciting music forms of the late 80s and early 90s.
Who can resist that powerful combination of down-tuned, fuzzed-out riffs and melodic yet existential vocal delivery?
Grunge brought to the world The Seattle Sound, even though the term grew to include bands who hailed far from the Pacific North West. It seems like a simpler time, back in the early 90s, when guitars were in the charts, Starbucks was just starting out and the internet wasn't even a thing. Music could save the day and change your life, and frequently did. Grunge flickered into flame after the shred/hair metal scene imploded, bringing with it new sounds and sensibilities for the new decade. It seems so romantic to think of the flannel shirts and Doc Martens, the Drop-D riffs and the fuzz pedals, but Grunge was a living, breathing scene that exploded out into what became Alternative Rock, before Nu-Metal swept it temporarily aside.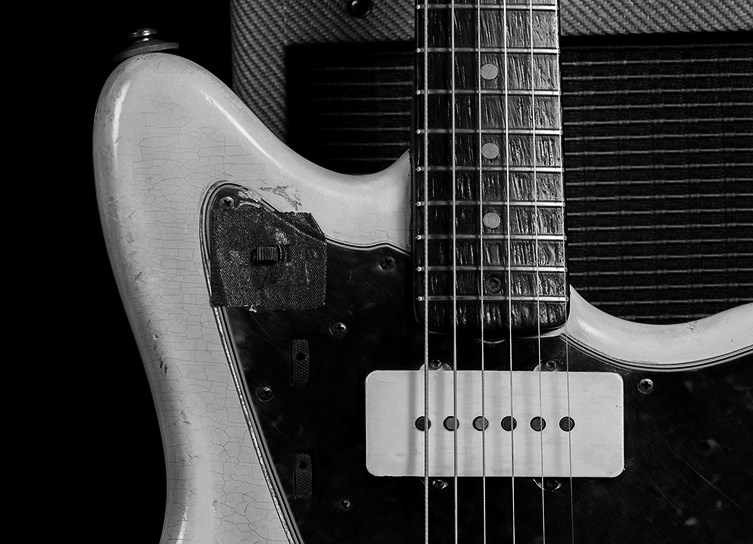 A short while ago, we gathered together our favourite Grunge songs (click through to read our Top 5 Grunge Anthems blog) and today, we've picked ten of our favourite Grunge guitar players for you. Unlike our other blog, we decided to calm down on the strict 'Seattle area only' rule, since Grunge really branched out to become Alternative Rock and included bands from all over the US.
'Grunge' is just an easier association, really, though no Seattle band from then would ever refer to themselves as 'Grunge', since that was an MTV/sell-out term!
Grunge is one of those genres that's particularly guitar-heavy, and as a result, there are loads of great players to be found. This top ten rounds up some of the best, in our opinion. Did we include your Grunge guitar hero? Let's find out!
Jerry Cantrell – Alice in Chains
Let's start off with a titan of a player. Blending the riff-ability of Iommi with the melodicism of a heavy Gilmour, Jerry Cantrell's sound and writing portray the dark side of Seattle life like no one else. His off-kilter, evil sludge riffs underpin some of the most beautiful and haunted vocal harmonies in all of rock. No strangers to tragedy (two members have succumbed to overdoses), Alice in Chains are survivors who still throw down like heavyweights to this day. Nobody else sounds like them, and Cantrell – principle songwriter, lyricist, lead guitarist and co-lead vocalist – is the main creative element. Instead of showing a classic from the 90s, have a listen to how vital and, frankly, hard-rocking they are these days...
Mike McCready & Stone Gossard – Pearl Jam
Who to put here: lead guitarist McCready or riffmeister Stone Gossard? It's a tough one, and in all fairness, they deserve equal billing, so let's just be diplomatic here and allow both!
For many people, Pearl Jam represent the 'real' sound of Grunge, whatever that really means. Maybe it's a reference to members like Gossard and bassist Jeff Ament previously being in seminal Seattle band Mother Love Bone (whose dearly departed singer Andrew Wood shared a flat with another member of this list...), or maybe it's the fact that, drummers aside, they've stayed together and kept going ever since?
Pearl Jam really make the most of their two guitar attack. Stone Gossard (best name in rock music, surely?) is well known as the layer of the groove, with his thick Les Paul tone underpinning McCready's flamethrower Stratocaster solos, which show more than a hint of Hendrix and SRV in there. Both players are tasteful and allow space for the other, with a co-style that has morphed into ever-more-unique blends over the years.
Blending old-school hard rock tradition with an appealingly skewed modernity, Pearl Jam's guitar manglers (vocalist Eddie Vedder frequently joins in too, to make three guitarists in total) have a sound that's arty enough for the music fans and straightforward enough for the rock radio audiences. Less heavy than Alice in Chains, less 'screamy' than Nirvana, Pearl Jam nevertheless prove that songwriting is King, and that you can't argue with greatness.
Chris Cornell - Soundgarden
Talking about greatness, the Soundgarden frontman more than deserves his place here on this list. Obviously, he was one of the greatest male vocalists of all time, regardless of style or genre, but this list is about guitar players and in our books, he was one of the best.
Now, we fully acknowledge Kim Thayil's wonderful lead playing, but we recently heard on good authority than almost all of the rhythm parts on Soundgarden's unbelievable Superunknown album were performed by Cornell alone, which blew our minds!
The Grunge world has suffered more than its fair share of untimely deaths, but there was something particularly sore about Cornell's passing in 2017. A troubled soul for much of his life, Chris was able to channel those demons, for the most part, into an extraordinary voice and an ability to express himself in a way that was brave, unusual, innovative and uncommonly good. This applied to his inventive, characterful guitar playing too, in all of its elliptical, bizarrely-tuned (E-E-B-B-B-B, anyone?) magnificence.
Really, when stacked up against all other hard rock bands: how epically amazing were Soundgarden?
Buzz Osborne – Melvins
You want riffs? This guy's got 'em. Buzz Osborne of the Melvins is someone who was there making music before 'Grunge' was a word that anybody ever threw in the direction of the Pacific North West. Kurt Cobain looked up to him as an example of somebody local who was 'making it' on their own terms. His down-tuned, loud, slow, fuzzy riffs were influential on everyone who heard them, as was his defiantly DIY attitude to the business.
Buzz is something of a cult legend these days, which we imagine he's relatively unimpressed about, but his body of work with both inside the Melvins camp and outside it (he's a huge collaborator) speaks to his abilities and his personality. Read more about him in our exclusive Buzz Osborne interview.
Kurt Cobain - Nirvana
His worldwide influence is inarguable, but Kurt Cobain still winds up some purist guitar players out there. They complain about his 'sloppy' style and his overuse of simple power chords. They maybe haven't heard his deadly riffing throughout Nirvana's debut Bleach, or considered that his style was entirely deliberate and specific. Could Kurt play generic solos? We expect it wouldn't have been much of a problem for him, but instead of boring us with all that, he gave us those horrific screaming guitar sounds in In Bloom, and the ferocious frenzy of Breed instead. Kurt knew what he wanted, and his playing brought him there with style, attitude and no short amount of expression.
The most influential players in the world are often the most accessible, and Kurt is a perfect example of that. Taking his cue from the Pixies, his exaggeration of verse/chorus dynamics rewrote every subsequent rock song for the entire decade that followed.
His chordal approach to riffs wasn't new, but what it did do was open the eyes of every beginner and struggling player as to what could be achieved with relatively simple skills. He largely declined solos, yes, but significantly, this decision raised the very point of why solos were always expected in the first place. He'd drop them in only at critical points, for maximum impact. In the years following Hair Metal, this was nothing short of a revolutionary move.
Dean De Leo - Stone Temple Pilots
Now, somebody who had a very different attitude to solos was Stone Temple Pilots' Dean De Leo. An unashamed old-school guitar hero, De Leo infused his muscular Grunge riffs with solos that brought in elements of Jazz and Fusion to the mix. In the mid 90s, this all sounded impossibly exotic, and helped make Stone Temple Pilots stand out from the Grunge masses. Indeed, De Leo made a point of wearing Alan Holdsworth t-shirts to photo shoots! His playing was inventive, accessible and full of sparks. We think he and his sadly departed vocalist, Scott Weiland, are massively underrated musicians who deserve more light shone on them.
Were STP 'Grunge'? Well, that was certainly a common complaint at the time, given that STP were from the altogether sunnier climes of San Diego, but as we stated earlier, it's something we'll set aside for this particular article, especially considering how our next pick is from Chicago!
Billy Corgan - The Smashing Pumpkins
The Smashing Pumpkins' main man is rightly revered as one of the virtuosos of the Grunge era. Whilst you'll struggle to hear any sign of a guitar on their latest output, the Pumpkins of the 90s had a guitar sound to die for, and in Corgan, a lead guitarist who wasn't afraid to step up and make a statement.
The Smashing Pumpkins have a multi-faceted sound that takes in orchestras, synths and much more, but their classic stuff is awash with buzzing, manicured guitar parts, sometimes layered in the dozens. Corgan popularised the two-fingered 'octave' shape that allowed for melodic chordal riffing, such as can be heard in Cherub Rock below. Whilst most fans have their own favourite era of the Pumpkins, it's fair to say that everyone can agree on Siamese Dream being a fundamental Grunge classic. Battered Strat? Check! Big Muff fuzz? Check! Brutal riffing mixed with angelic melancholia? Hell yes! For more on the Pumpkins, check out our exclusive interview with Billy Corgan!
Chad Taylor – Live
Huge in America and Europe, merely 'big' in the UK. This happens to a lot of bands, and Live are one such group from the Grunge era. With a name that would never work in these internet times (try Googling just the word 'live' and you'll see what we mean), Live had a series of huge hits but are never mentioned alongside Pearl Jam or Nirvana.
Hailing from York, Pennsylvania, Live brought a sense of rural mysticism to their anthemic brand of arena-friendly grunge. You could hear bits of Nirvana and bits of REM in there, but Live had their own thing going too, and it caught on: seminal album Throwing Copper has sold 8 million copies alone since its release in 1994.
Live guitarist Chad Taylor is one of the more distinctive players of the era. Eschewing standard riff/solo moves, he often used his guitar as a textural device, underpinning Ed Kowalczyk's powerful vocals with shards of atmospheric feedback and counterpoint.
After a break in the early 00s, Live are back doing what they do best. We caught up with Chad last year to see what was going down in the Live camp, and you can read about it here in our exclusive Chad Taylor interview.
Melissa Auf Der Maur
Melissa Auf Der Maur is a force of nature. Known as the bassist in Hole, she also played bass in the Smashing Pumpkins up until their split in 2000. Aud Der Maur, then, has travelled the world playing music with some of the most famously 'mercurial' personalities in 90s rock. After that, she carved her own path with a solo career (where she plays guitar, bass and lead vocals) that has included collaborations with Josh Homme and Mark Lanegan. As a band member, she's Grunge royalty; as a bandleader, she's inspirational.
Melissa has been relatively quiet in recent years, but we expect it'll only be a matter of time before she sharpens those songwriting hooks and delivers more epic grunge for us.
Why Didn't We Include (insert name here)?
Yes, we must have missed out some great players who, for one reason or another, didn't quite qualify as a 'Grunge' guitarist. For example, J Mascis was making music with Dinosaur Jr waaay before grunge was a thing, plus he was in Minneapolis (we'd have overlooked that if the career timing was a little later) and bands like Tool and Rage Against the Machine were definitely not 'Grunge' in our books. No way. Same time, yes, but same style? We say no.
Do you disagree? Let's hear it! Should Sonic Youth have been in here? We obviously think not, much as we love them, but maybe you have other thoughts? It's time to stand up and be counted!
Either way, we hope you enjoyed our Grunge guitarists roundup. There is a very deep well of awesome playing there, just waiting for you. Dive in, swim around and feel the power of the 'Seattle Sound'.
Thanks for reading, as always.
Ray McClelland