Folk Instruments Round Up
Published on 16 March 2021
What other instruments do you play?
As well as guitar and bass, have you extended your fretboard odyssey into other areas?
One of the great things about being able to play the guitar is taking those skills and applying them to other instruments. Without too much trouble, a competent guitarist will be able to understand and play instruments like the banjo, mandolin and ukulele.
Player's who've already ventured this way and transferred their skills will have found a whole new world of folk instruments just waiting to be used! It's exciting, and it broadens you as a player. Something that sounds pretty standard on a guitar could sound unbelievable when transferred to a mandolin, for example, so if you like 'rootsier', more Folk and Americana-inspired sounds, it's a worthy journey.
Folk Instruments at guitarguitar
For many years now, we have kept healthy stocks of top folk instruments from a wide variety of manufacturers. Every guitarguitar acoustic department contains resonator guitars, mandolins, banjos and many, many ukuleles! There are some other slightly more left-of-centre choices, too, such as the odd bouzouki and Appalachian dulcimer! If you are looking to play an instrument that gives you a new sound without needing entirely new skills, any of these could be just what you need.
With that in mind, we thought we'd round up a few choice instruments from this loose gang and show them to you today. From beginner level to fully professional, we'll hopefully have something for you...
Resonators
First up, the one that's closest to what you know! Many resonators can be played just like a guitar, and even tuned to standard tuning if you prefer. Resonators are all about bottleneck slide playing, and the resonator cones that make up the sound are generally made of aluminium. This lends a most specific sound, and it's one that'll instantly transport you to the mountains of the Ozarks or the bayous of Louisiana!

Resonators can be made with full metal bodies (often brass) or a mixture of wooden body with aluminium resonator. Each has its own sound and feel. Talking about feel, the main thing to look out for here is the neck style. We're talking round neck and square neck, here. Round neck resonators have, by and large, the same type of neck you'd see on any acoustic guitar. With a round neck resonator, you can play it just as you would an acoustic, albeit with heavy strings and a very high action.
Square neck resonators cannot be playing like guitars at all. Their necks profiles are huge and square, since the idea here is to lay it across your lap and play it as you would a lap steel. From the front, they do look the same: its only when you turn it around that you get it! It's fair to say that you can still play a round neck like this, you'd just have to perhaps compensate by placing something under the neck to stabilise it, since there's less wood there.
Recording King Swamp Dog RM-997
Now this is one great looking guitar! The Recording King Swamp Dog RM-997 looks like's it's been resurrected from a watery bayou! What a cool look! That distressed green brass body has a really authentic old-time heirloom vibe, which many fans of resonators are after.
In addition to the brass, this model has a Mahogany C-shaped neck and a hand made 9.5" cone. Tune up to your preferred open tuning, grab yourself a bottleneck (careful, now!) and get sliding!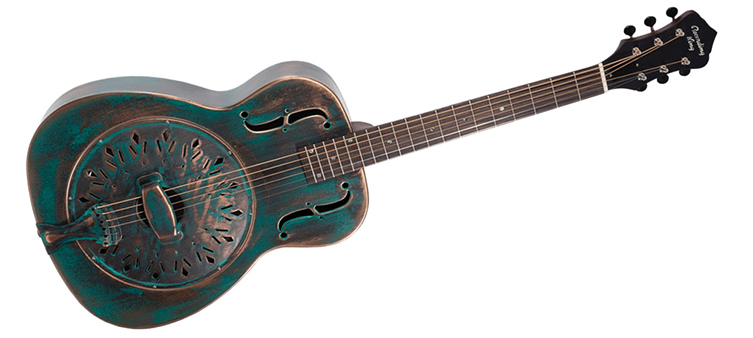 Recording King Phil Leadbetter RR-75PL
It says plenty about the Recording King brand when Phil Leadbetter is not only happy to use them, he also has his own signature model! Phil Leadbetter is a famed slide player, and a several times winner of the IBMA (International Bluegrass Music Association) Dobro Player of the Year award. Dobro is actually a brand name (kind of how we say Hoover when we mean any brand of vacuum cleaner) synonymous with this style of instrument.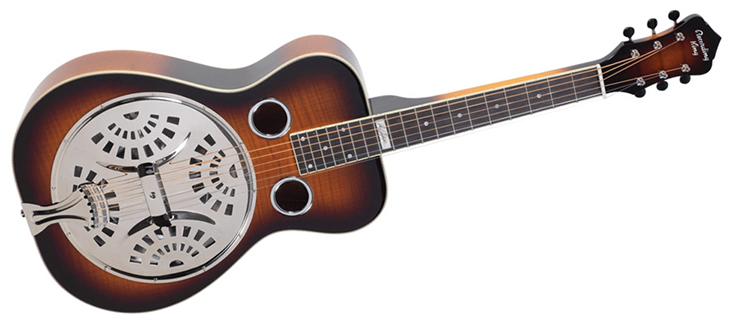 Phil's resonator represents the other style, the square neck resonator. This means it has to be played laid down flat on your lap, since the huge square neck is not one that's designed for hands to grasp! The Recording King RR-75PL has a wooden body (Flame Maple here, no less!) with a hand spun aluminium cone for the sound, which is very much in keeping with tradition. A dovetail neck join, spider bridge and 12th fret inlay complete this attractive package.
Click to View all of our Resonators
Banjos
Banjos are perhaps the quintessential 'Americana' instrument along with Mandolins (which we'll turn to next) and acoustic guitars. Adapted from African designs and played by pioneers and settlers across the Appalachian Mountains, the banjo has an immediately identifiable sound, thanks to the use of a drumhead for a soundboard!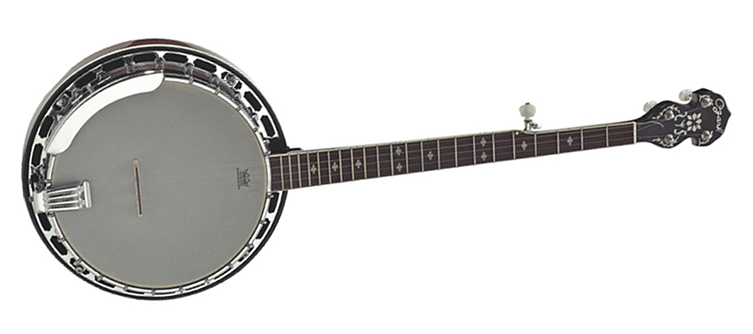 4 and 5 string banjos exist, with the 5th string appearing somewhat incongruously from the middle of the fingerboard's length! 5 string banjos are perhaps the more popular, but as ever, you play the one you want to play! Banjos can be fingerpicked or played with a combination of thumb/fingerpicks and flesh, and there are a variety of different techniques to employ. Acoustic guitarists will learn lots that they can apply to their guitar playing so it's a fantastic crossover instrument.
Deering Goodtime 5 string Banjo
We keep a wide variety of banjos in stock at guitarguitar, but we'd like to highlight this one today. Deering are one of the most celebrated and historical Banjo brands around, and all of their instruments are hand-made in Spring Valley, California. Yes, that include this Goodtime Open back 5-string model! We're impressed by the value, especially as no corners have been cut in the build or materials. We have here an 11" Maple rim for the body that's 'violin grade' in its quality. It's a 3-ply design that's excellent at vibrating freely, which is essential for great tone and projection.

This lovely Deering banjo continues the Maple vibe on the neck, with some eye-catching inlays on the fingerboard. It's a looker, it sounds great and it's light too, thanks to that open back design. It's always a fun day when we get Deering stock arriving in from the US, and that stock never lasts very long in our stores, so take heed if you're tempted!
Click to View our Banjo Selection
Mandolins
Mandolins are wonderful instruments. Small, beautiful and distinctive sounding, they add sparkle and rhythm to any music they appear on. Just ask R.E.M's Peter Buck!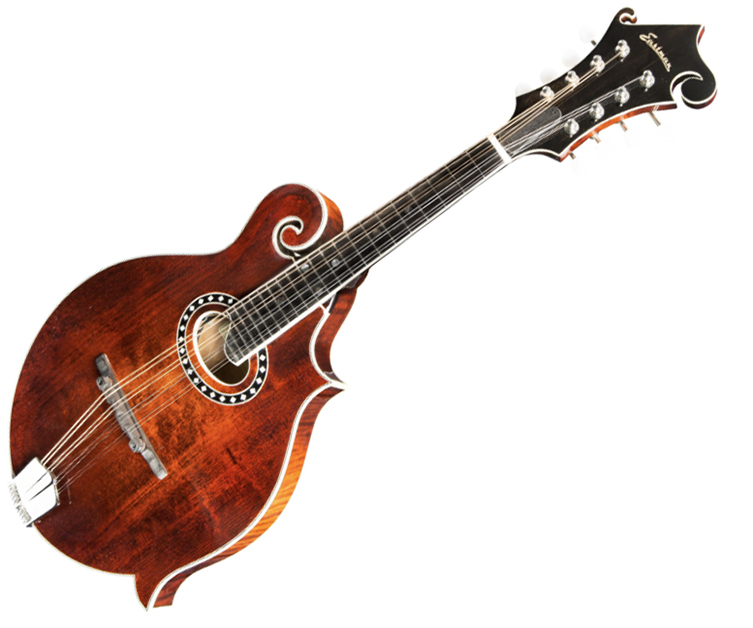 Mandolins have 8 strings, played in four courses, so two at a time. The general tuning is in 5ths, or 'backwards bass' (G, D, A, E) as we often say. Despite being relatively different to a guitar, it's not too hard at all to pick up a handful of chords and one or two scales. Arpeggios sound wonderful and melodies on other instruments can be highlighted by doubling them up on the Mandolin. Their portability lends to their popularity as folk sessions and open mic instruments, and their pleasant tone ensures that everyone is happy to hear a mandolin!
The Loar LM-700
The Loar FM-700 is a beautiful mandolin in what we call the 'F' style. F style mandolins are elegantly decorated with script -style body carving and resemble slightly transformed violins in many ways! The Loar are a company who focus on instruments from the 20s and 30s, steeping each design in that wonderful 'Pre-War' mythology. They make archtop electric guitars and acoustics but are perhaps most famous for mandolins like this one.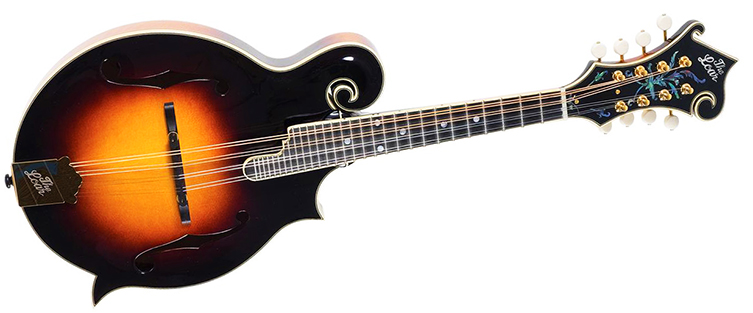 The Loar LM-700 is made with AAA Flame Maple for the top, back and sides, and has a hand rubbed finish. There's abalone in that headstock inlay and the fingerboard is made from Ebony. All in all, this is one luxurious mandolin!
The Loar LM-110
If your tastes don't run to quite those levels of old-world opulence, you can opt for a more subtle looking mandolin with The Loar LM-110. This model is what is known as an 'A' style Mandolin with its teardrop body and more straightforward headstock design.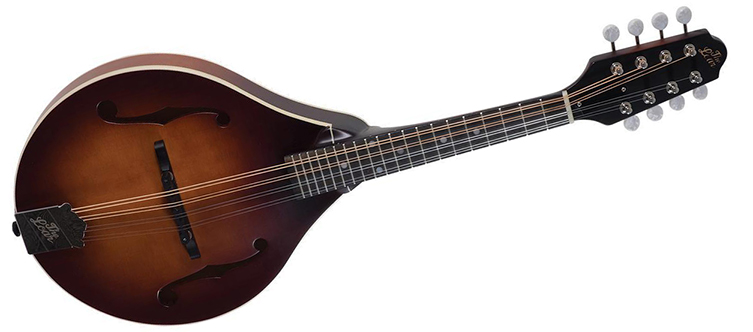 Players looking at this mandolin will love the vintage V-shaped neck profile and hard-carved Spruce top. This also has an Ebony bridge, and a sound that's beautifully clear and responsive.
Click to View our Selection of Mandolins
Ukuleles
Finally, our last choice for Folk instruments brings us away from the mountainous Ozarks and onto the tropical beaches of Hawaii! The Ukulele has enjoyed a massive resurgence in recent years with more people playing them than ever before. Why? Well, it could be a number of factors, but their size, comparative ease of learning and playing as well as their relatively low cost must all be part of the reason!

Ukuleles come in three sizes – tenor, concert & soprano – and feature four nylon strings. Chords are often a matter of holding down only one or two fingers, and as ukuleles are primarily accompaniment instruments, there isn't much need for 'lead' playing. This all makes the ukulele great from a commitment point of view, since you will not have to put in a thousand hours of graft in order to get results! By a cheap one to begin with (like the Mahalo MR1), and if you like what you're doing, then you can move on to one of these...
Alvarez Masterworks Ukuleles
Alvarez as a brand impresses us because they manage to pack a lot of value into instruments that are generally attractive and very playable. These MU55 ukuleles are great examples of this: that eye-catching body wood is actually bamboo, which is pretty innovative! Bamboo is strong, light in weight and gives a bright tone, not to mention being an attractive choice. Whilst it is not a traditional choice for instrument building, perhaps it should be?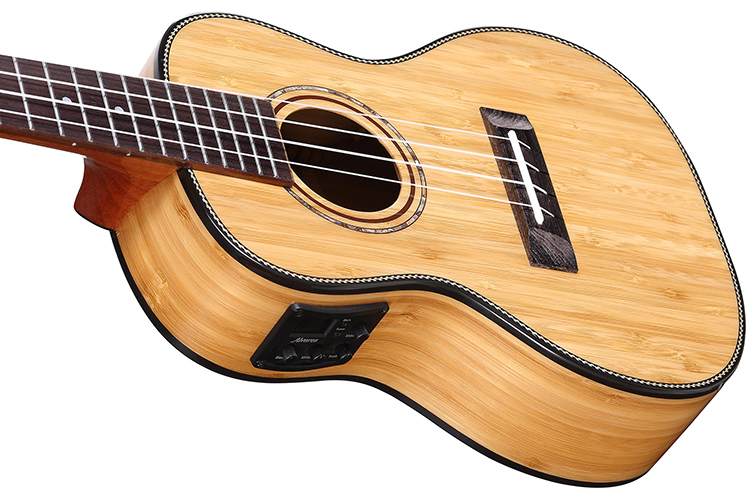 These Alvarez ukes have lovely herringbone-style purfling next to black binding, providing a perfect complement to the natural beauty of the Bamboo. An abalone rosette finishes the look. Concert and Tenor models are available, both with and without pickups for live use. Whatever your preference and needs, you'll be able to choose something from this gorgeous lineup!

New Instruments, New Horizons
There's nothing like switching up instruments to open your ears and mind to new ideas! Choosing a stringed instrument like any of the above means you can take a diversion away from the guitar, using skills you already have, and apply them to new sounds and chords. Then, when you come back to the guitar, you'll have fresh insights to use there too!
If you record music, having more 'real' instruments around instead of plugins is a great way to make your recordings more convincing. If you already play some of these instruments, why not browse our stock of available instruments and plan out your next move?
Click to Find Your Nearest guitarguitar Store