Affordable Martins: Our Picks
Published on 18 March 2021
Have you always wanted to own a genuine Martin acoustic guitar?
Well, now may be the best time to make that dream a reality, because many prices for Martin guitars have been lowered! Martin's most affordable guitar ranges are now more affordable than ever! Yes, a large number of models from the X Series, 15 Series, Road Series and more have been lowered in price, making them even better value than ever before!
These changes will all be available for you to see on our site as you browse our massive collection of Martin guitars, but we thought we'd highlight a few here today, in order to help illustrate just what's out there to be had. Come with us, as we explore the types of Martin acoustics that accompany performers across the world every day, making history in their own way.
Martin 000-13E
To begin with, we've selected the Martin 000-13E from the popular Road Series. For many Martin aficionados, the 000 body style (also known as the OM when adopting a different scale length) is the definitive Martin shape. Not the dreadnought, the 000! Size-wise, it's bigger than parlour instruments and just a little smaller all-round than a dreadnought, whilst also being a little slimmer. This makes the 000 a more 'snig' fit when sitting down to play, and the slightly less boomy sound works well for fingerpicking and crisper strumming sessions.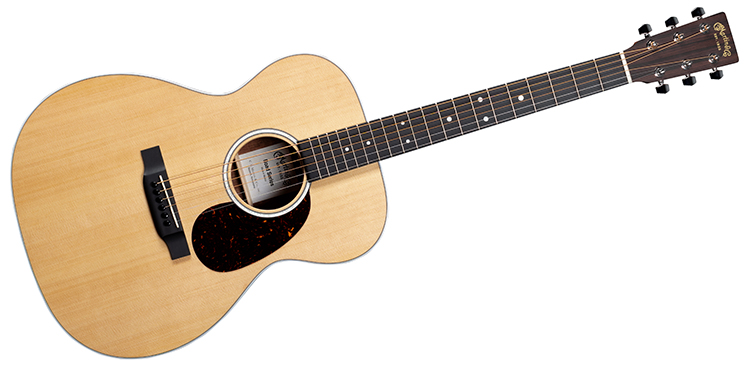 This particular model is made with all-solid timbers, making it a great buy. A Spruce top is perhaps what you'd expect, given that it's the most often-used wood for acoustic guitar tops! Accompanying this is a wood called 'Siris', which is a relative of Rosewood and has sonic properties that sit somewhere between Rosewood and Mahogany. Taken with the quality Spruce top, the resulting tones have lots of bright clarity and focused mids.
The Martin 000-13E is ready for the stage, since it comes fitted with a Fishman MX-T pickup and preamp system. Your controls hide on the underside of the soundhole, so there is no unsightly 'box' forced into the side of the guitar's body. This MX-T pickup even includes a tuner which mutes the output signal when it's engaged in use. Add to this a slim Performing Artist neck shape, and you're ready to jump on stage and give a performance in some style!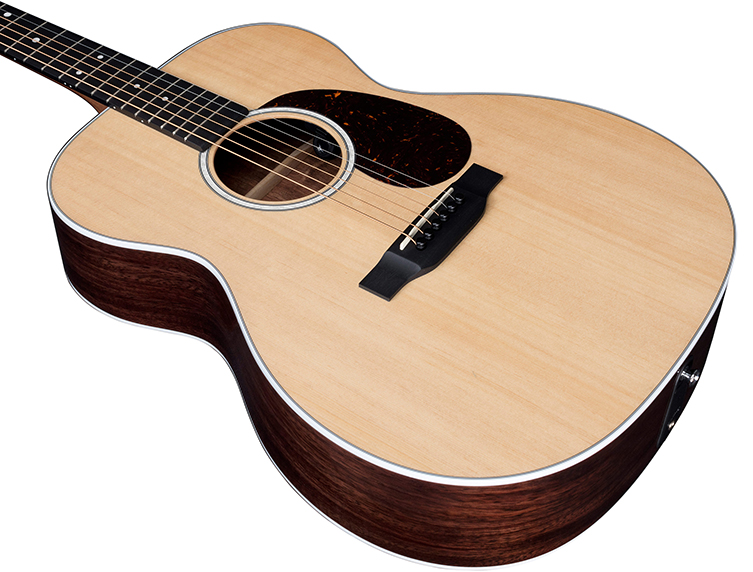 Martin 000-12E Koa
Given that the 000 is so popular a style, it makes sense to include another model. This one, the Martin 00012E Koa, is similar in many ways to the guitar we've just seen. However, the back and sides are made from African Mahogany and then covered with a veneer of Koa. Koa is a very attractive wood from Hawaii and is currently all over the guitar world! It's great looking and is used here for this reason rather than for its tonal properties. You'll see the lovely Koa grain on the back and sides in the photo just below this one.

In addition to the Koa, this Martin sports some lovely 5-ply binding, with a thicker centre of black to bring some definition and contrast to the guitar's look. It's subtle, but then, it's a Martin! Subtle is built in! Having said that, the body has a fully gloss finish and there are Mother of Pearl inlays both in the fret markers and the rosette. It a modern, clean look for a design that's a stone cold classic.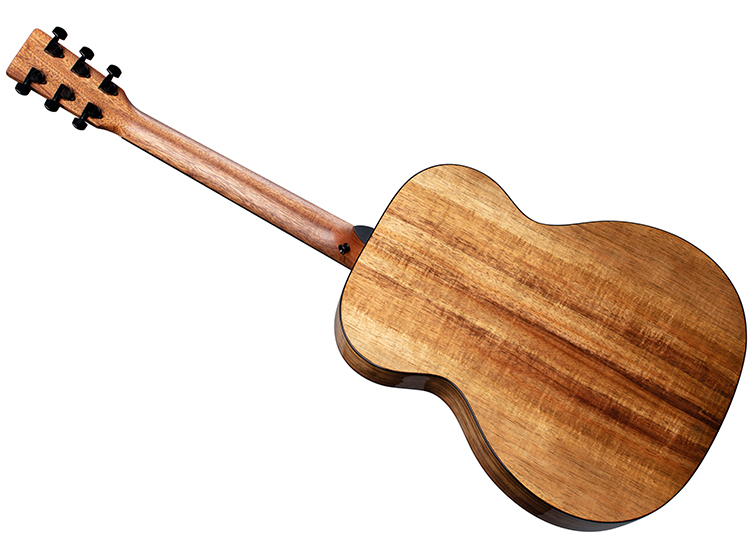 Martin DCX2E-03
This dreadnought is all about value and performance. The Martin DCX2E-03 is from Martin's X range, which aims to provide a genuine Martin guitar for players of all levels of ability. Student players will love this, as will guitarists who go out playing live three times a week.
As we noted, this is a dreadnought, and it has a venetian cutaway in the lower bout to facilitate upper fret access for your left hand. The neck joins the body at the 14th fret, which is traditionally the way with Martin dreadnoughts. Furthering tradition, this model has inherited the famous scalloped X bracing pattern inside the body for the best possible tone. Bracing shapes and focuses the sound made by the strings and helps push the energy out of the guitar's soundhole as sound. X-bracing was invented by Martin, and 'scalloping' (shaping the bracing a certain way) allows more volume and projection to happen.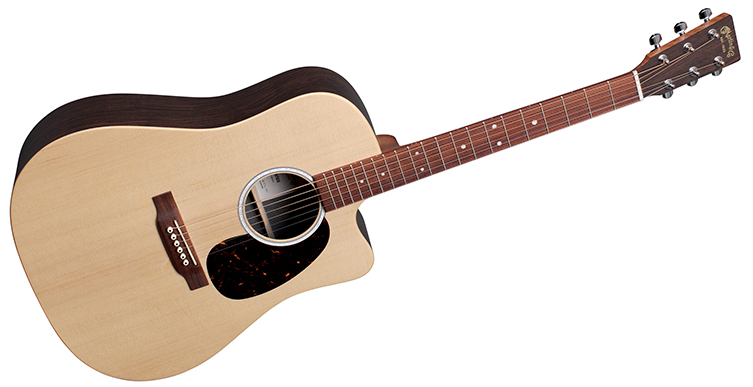 Again, this is a stage-friendly instrument, and comes fitted with a Fishman MX pickup system.
Little Martin LX1E
Let us not forget the recent trend for smaller guitars! Be it portability or accessibility, something is making smaller scale, smaller body guitars a huge success. The Little Martin LX1E was one of the first on the block and is still one of the most popular. This is the type of guitar you can just pick up and play, grab the gig bag and take it along with you wherever you're going. The immediacy of it is a strong plus-point, and its naturally quieter sound suits lots of players in flats/apartments. It still packs a mature tone and it's hardly quiet, but the trade off in size certainly calms the sonic storm somewhat.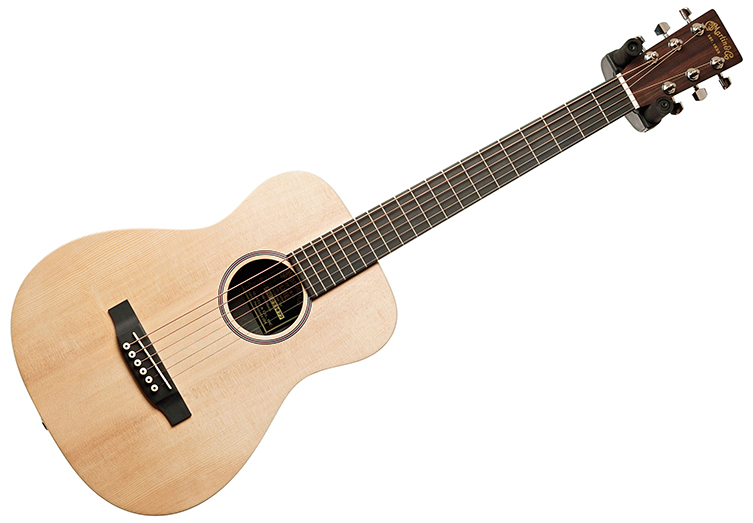 We're still talking a solid Spruce top here, and there's a Fishman pickup here too, so you may just find the Martin LX1E becoming your constant companion!
Martin SC13E
And now for something a little different...
It's not like Martin to offer a guitar so overtly 'untraditional', so we applaud them highly for innovating. The SC13E is a modern acoustic design with an offset body shape. Martin have introduced the 'Sure Align' neck system to this model, ensure completely unfettered access to all 20 frets. There's a special neck join and significant heel contouring to allow this, and the neck itself has Martin's celebrated High-Performance Taper profile, so there is a real 'player's' experience to be had here!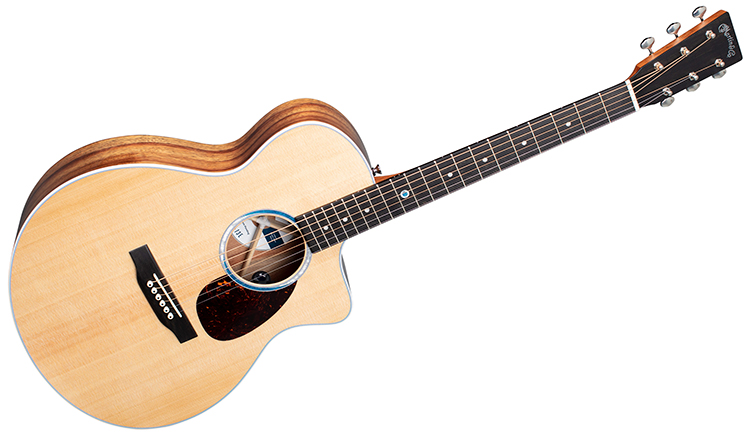 Visually, the Martin SC13E is already eye-catching due to its unique body shape, and Martin have made a feature of this by using lovely 'Celestial Blue' for the binding and rosette, not to mention the inlay work. The guitar has an Ebony fingerboard and comes complete with the Fishman MX-T pickups system we've already seen on other Road Series guitars. It's a step into the future for Martin, and, commendably, they've made the price within reach of many guitarists.

So Much Choice, So Much Value
Martin guitars have a huge catalogue of models available. Recently, we've looked at a number of their top-end models such as the HD 28 and the D-45, but that's only part of the story. As you've seen today, Martin offers entire ranges of affordable, quality guitars too. The choices we've shared today only scratch the surface of what's out there for you! As authorised Martin dealers, we keep as large a stock of these guitars as we can. We are hugely passionate about Martin, from the LX1 right up to the D-45, so we will be able to meet your Martin needs with knowledge and enthusiasm.
With so many of these guitars now selling for a slightly lower price, there has never been a better time to buy a Martin guitar. Whether this will be your first, third or tenth Martin, we are here for you. Peruse our stock and get in touch with us if we can help you. Enjoy!
Click to View All of our Martin Guitars