Gibson Custom Shop 1960 Les Paul Standard 60th Anniversary
Published on 16 April 2021
On our guitar player's bucket list, one of the top entries is nearly always going to be to own a gorgeous 'tiger top' Gibson Les Paul Standard. As part of the 'Big 3'- that is, the Fender Strat, Tele and Gibson Les Paul - it's one of the most highly desired guitars in the world. Going further, most players dream of that timeless classic in the guise of a 1959-60 Sunburst standard. The tip of the icing is when such an instrument has a spectacularly figured top. Nothing beats some dramatic flames on a Les Paul, right? It's the one we all dream about, the true rock god Les Paul...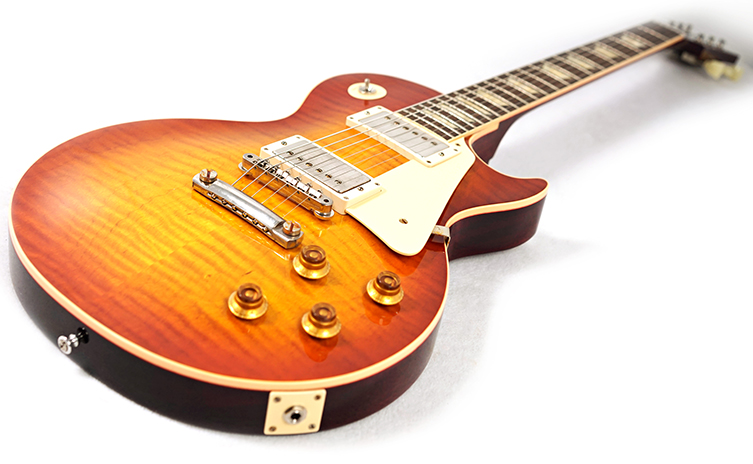 Jimmy Page, Jeff Beck, Clapton, Kossoff, Knopfler...
The Sunburst Les Paul Standard was the weapon of choice for all of these iconic players, at pivotal and historic points in musical history. We're going over old news here, since you all already know and love this guitar! 'Iconic' is a term used on lesser guitars. Ok, let's get to the point. We were recently given a chance to pick from a group of 75 Custom Shop 60th Anniversary Les Paul Standards, and choose the ones we liked best. Our favourites became our order with Gibson Custom Shop. After that, it was simple a matter of waiting until these beauties showd up on our doorstep!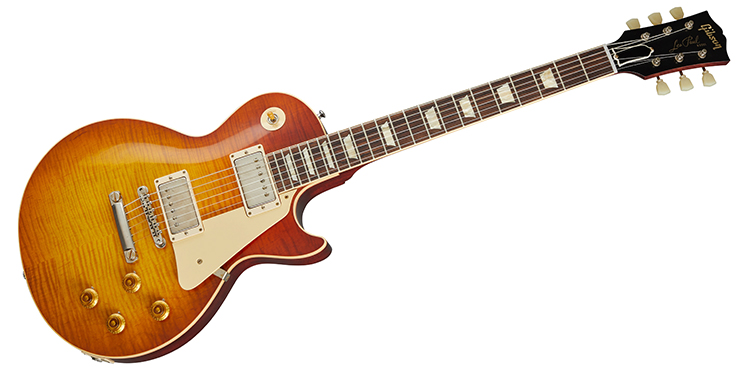 A Good Day at the Office
Yes indeed, some days are better than others, and this was a good one! We think it's always worth hand-picking Les Paul tops - if we are given the opportunity - since we always serialise and photograph each specific guitar like this on the site. If the serial number appears in the product title, that is the exact guitar you are looking at. That's the one you'll get when you click through, not a different one of the same run. This stuff makes a difference to you, and it's a big deal for us.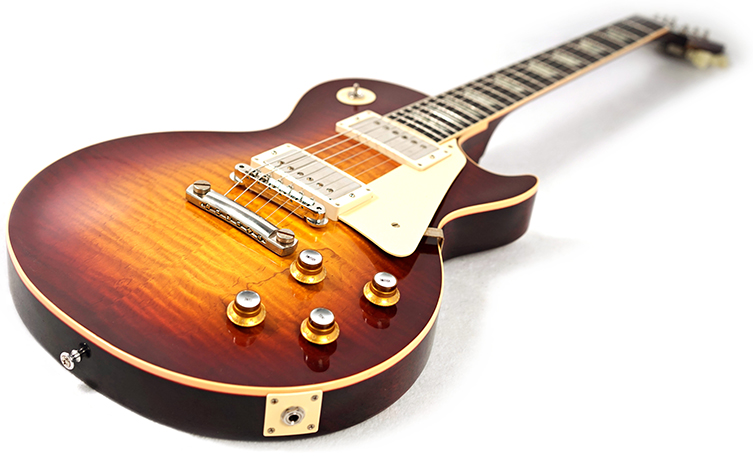 Anyway, we always want to bring you the very best electric guitars that we can get our hands on, so we were justifiably fussy in our choices here. From the 75 guitars available, we inspected them all on the simple grounds of beauty, and picked 25 Les Pauls. These are what we have for sale now, and they are, as you can see, jaw dropping. They've just recently arrived, clad in their various permutations on Sunburst, and we'd like to showcase a few for you!
60th Anniversary
These are all, as we've said, 60th Anniversary models, so they correlate to 1960 (they were chosen late last year and have just arrived from Nashville). This does not, however, mean the guitars are identical in spec. Though they share the same levels of hand-crafted brilliance, and they all have the same hand-wound Alnico III PAF-style pickups, there are, in addition to the individual tops and finishes, three distinct neck profiles to choose from.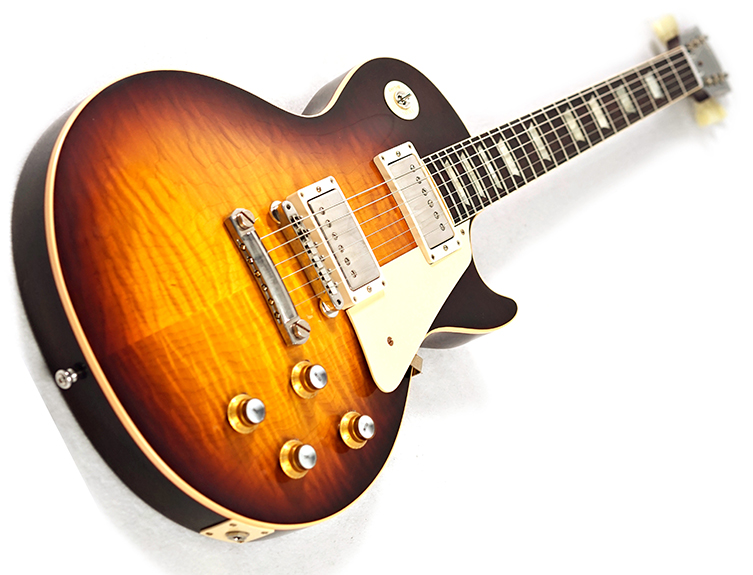 Convention has established that certain Les Pauls from certain years have intrinsic properties, such as a neck profile. For example, we tend to say that a '59 Les Paul has a larger neck than a 1960 Les Paul, and so on. This is generally the case, and collectors find this area to be one for intense scrutiny, particularly when it comes to Les Pauls!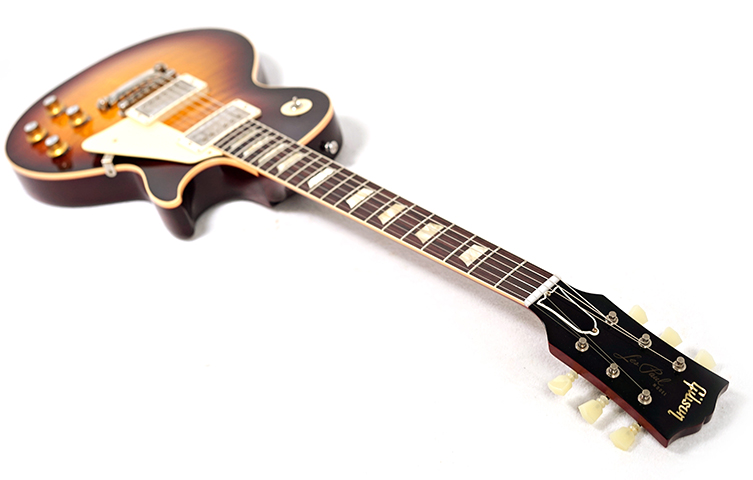 These 60th Anniversary Les Pauls, then, follow a relatively straightforward 'V' system that includes V1, V2 and V3 profiles. None of these are V-shaped, by the way! They are all based on historic Les Paul necks, with V1 being the closest to the chunky C-shaped '59 profile. Conversely, the V3 neck is the slimmest, close to a 1960 slim taper neck with a relatively flat back. In between these is the V2, which offers a slightly less rounded take on the '59, sitting somewhere in between the two other profiles. All of them feel 'authentic' but that very much depends of your taste, note to mention experience. At a glance, you'll be able to tell a V1 from a V3 from the guitar's control knobs: the V1's have amber top hat knobs, whilst the V3 Les Pauls have silver inserts on the top.

Beautiful Bursts
The 25 examples we (currently) have are the best of the best from all 75 60th Anniversary Les Pauls. Each has its own character and attitude, from Washed Bourbon Bursts with tight flames to Wide Tomato Bursts with wide ribbons of figuring across the body. Every Anniversary Les Paul has been treated to Gibson's VOS process in order to add the patina of age, without these becoming 'distressed' models in any way. It's just an extra layer of beauty, really.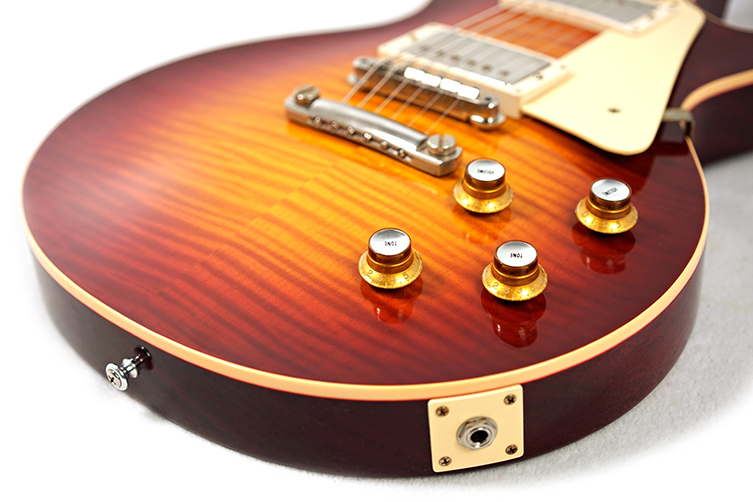 Each guitar is an individual- a true one-off - and comes from one of the world's greatest custom guitar workshops: the Gibson Custom Shop. These are the greatest looking guitars from that illustrious stable, chosen one by one by our team. A Custom Shop Les Paul Standard is something we all want: now is a great time to choose one if you want timeless, stunning beauty.
Click to View our Gibson Custom Shop 60th Anniversary Les Pauls