BRAND NEW: Epiphone SLASH guitars!
Published on 20 July 2021
The wait is over: they are HERE!
Yes, Slash fans, the brand new and rather beautiful Slash signature Epiphone Les Pauls are available to try out and buy now at guitarguitar!
Long rumoured, even longer anticipated, this collection of beautiful axes bring the vibe, tone and attitude of Slash within the reach of more players than ever!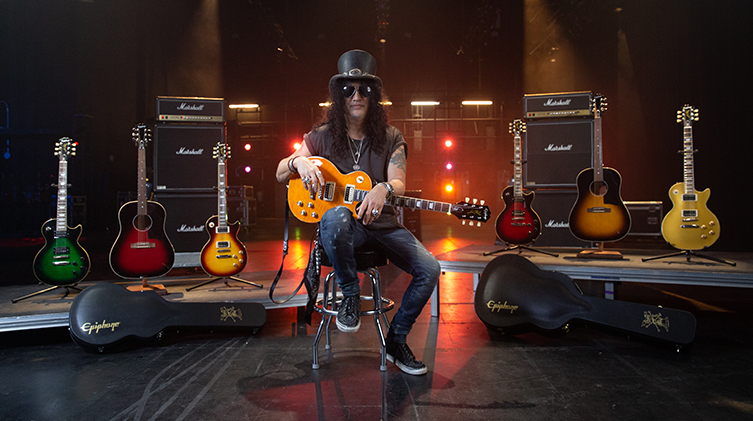 Unmistakable Heritage
Slash and a Les Paul. As indelible a rock image as Pete Townsend smashing a Ricky or Hendrix setting fire to his Strat. Did you love the Gibson Slash Les Pauls when they were released a year or two ago? Who didn't?! Even for those who aren't ardent Slash fanatics, his signature Les Paul Standards just hit the nail squarely on the head as far as classic tones, looks and feel go. Overseen by Slash himself, they were a legitimate and authentic way to access what he plays personally. Plus, they were 'signature' enough to be distinct within Gibson's roster but anonymous enough to be a potential for all players seeking a great Les Paul.
American-made guitars have always commanded premium prices, and so not every player or G'n'R fan could stretch to it. These players have instead held out hope for the release of an Epiphone model in the future.
Well, as you've surmised, that day is here and these guitars are very impressive indeed.
At first glance, these look extremely similar to the American models, right down to the same choices for finish. Yes, all five finishes are available, so that means the original Appetite, November Burst, Anaconda and Vermillion Bursts are all available in these Epiphone guises, as well as the beautiful 'Victoria' gold top model! How cool?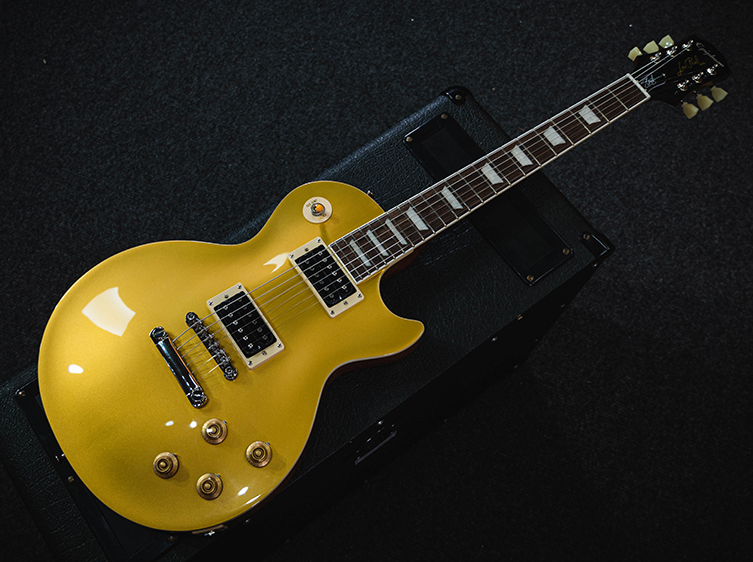 So, what sets these Slash Epiphones apart from other Epi Les Paul models? And do they share any features with their Gibson brethren? Well, let's take a dive in and find out, shall we?
Excellent Specs
Since this is ostensibly a classic Les Paul guitar, it stands to reason that you should expect a mahogany body, a set neck and a maple top. And you'd be quite correct! As we know, Les Pauls acquire their famously thick, resonant tone largely from this combination (along with the right pickups, which we'll get to...), so we're already off to a good start. These guitars have a really good weight to them: they feel substantial, like all great Les Pauls do! It's not something you can see in a photo, but we were instantly impressed when we got our hands on them.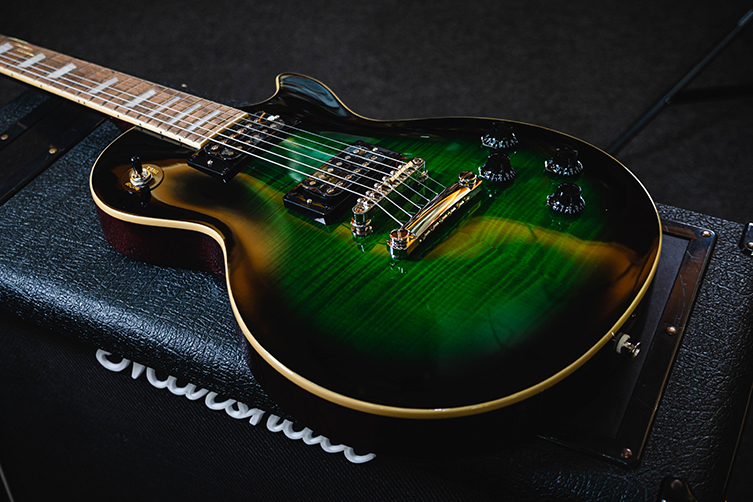 The neck is specially shaped to Slash's own preference. It's a C-shape, and is definitely on the chunkier side of things, which really suits such an instrument. Vintage Les Paul neck profiles are some of the most renowned in the history of the electric guitar, and Slash certainly has enough vintage examples in his own private collection to know what he's talking about! We'd say that these Slash ones aren't quite as full-on 'vintage' as the likes of the Jared James Nichols Epiphones (which we adore), but they definitely have some heft! 22 medium jumbo frets make those wide bends a little easier on the fingers, too.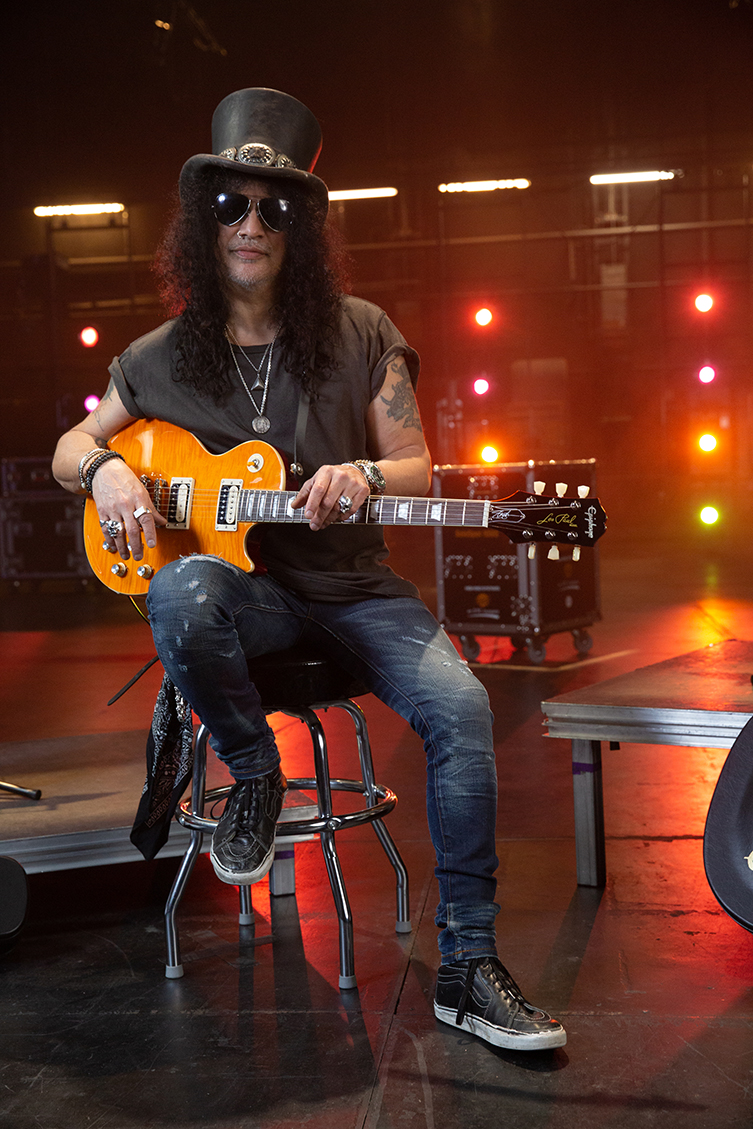 Pickups and Electronics
Trying the Epiphone Slash Les Paul through a number of amps, it is clear that the voice available is akin to a slightly wilder PAF sound. There's a nice bite and plenty of long sustain, but there is also some of the 'bloom' we look for in this type of guitar, when harmonic overtones get involved. The custom ProBucker pickups are an important part of this, of course, as is the wood, and the two elements work in concert to provide a classic-to-raw rock and blues voice that is perfect for expressive leads and satisfying riff work. These are not super-powered humbuckers, so you'll be able to clean them up well and let your amp do some of the work, as it should!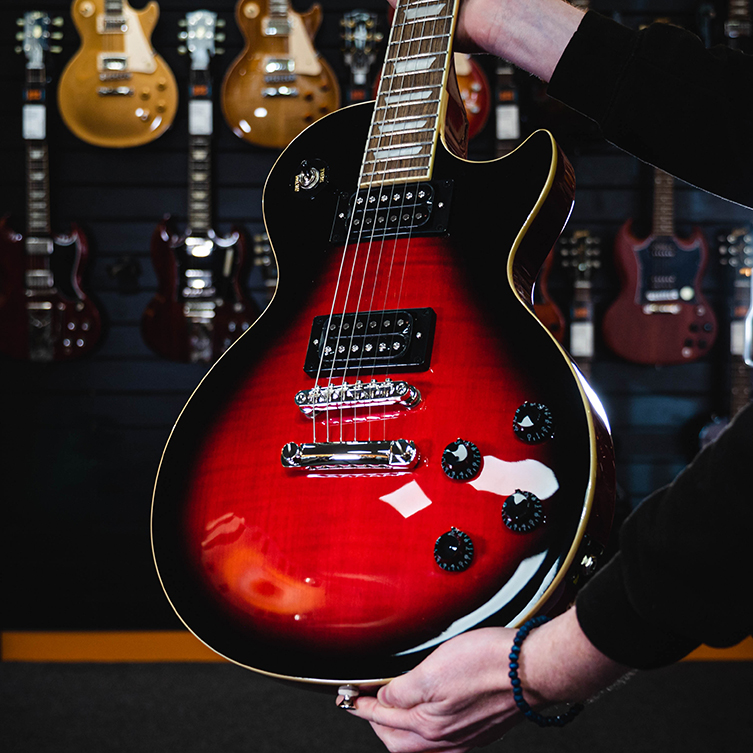 We're impressed, at this price, that Epiphone have managed to bring out a lot of what makes the Gibson Slash models sound great. They are by no means the same of course, but then, these are 1/3 of the cost! Hats off (pun intended) to Epiphone for their research and diligence here: it makes all the difference.
Under the hood, Slash has prescribed quality components in the way of CTS potentiometers and Orange Drop capacitors. This is the level of quality we'd expect to see on a top-end boutique instrument, not so much on an affordable Epiphone, so this is great! Electronics and wiring are usually where guitar manufacturers cheap out, so we are encouraged to find that it is resolutely not the case here.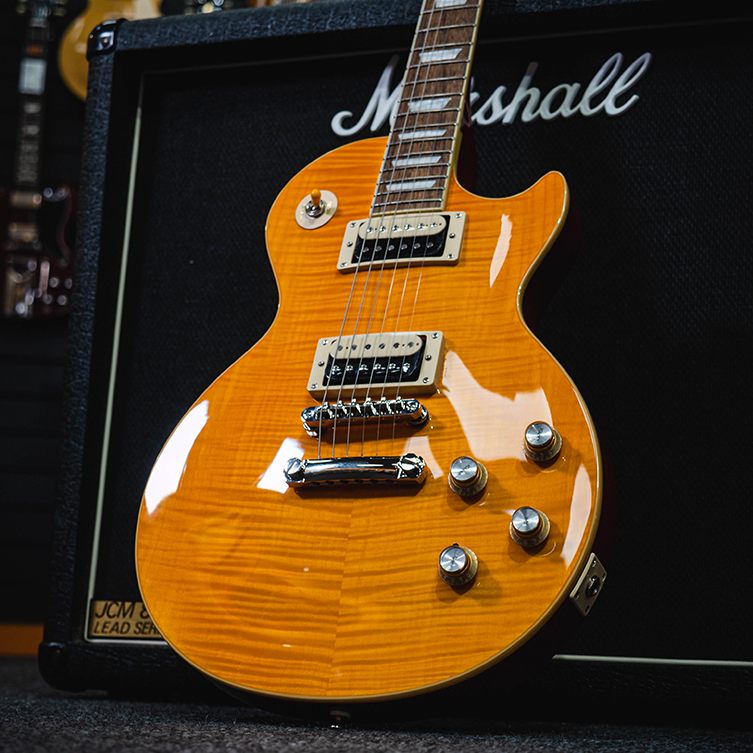 Cool Slash-centric Extras
It wouldn't be a signature Slash guitar without the great man's identifier somewhere on the instrument. As with the Gibson models, these Epiphones feature Slash's printed signature on the truss rod cover, along with his inimitable 'Skully' character on the back of the headstock. The finishes of course, are all exclusive to the Slash models (with the exception of the Goldtop, naturally), but these little touches make it all more special.
Talking of special, the Epiphone Slash Signature Les Paul comes complete with strap locks and a wonderful hardshell case, featuring 'Skully' once again!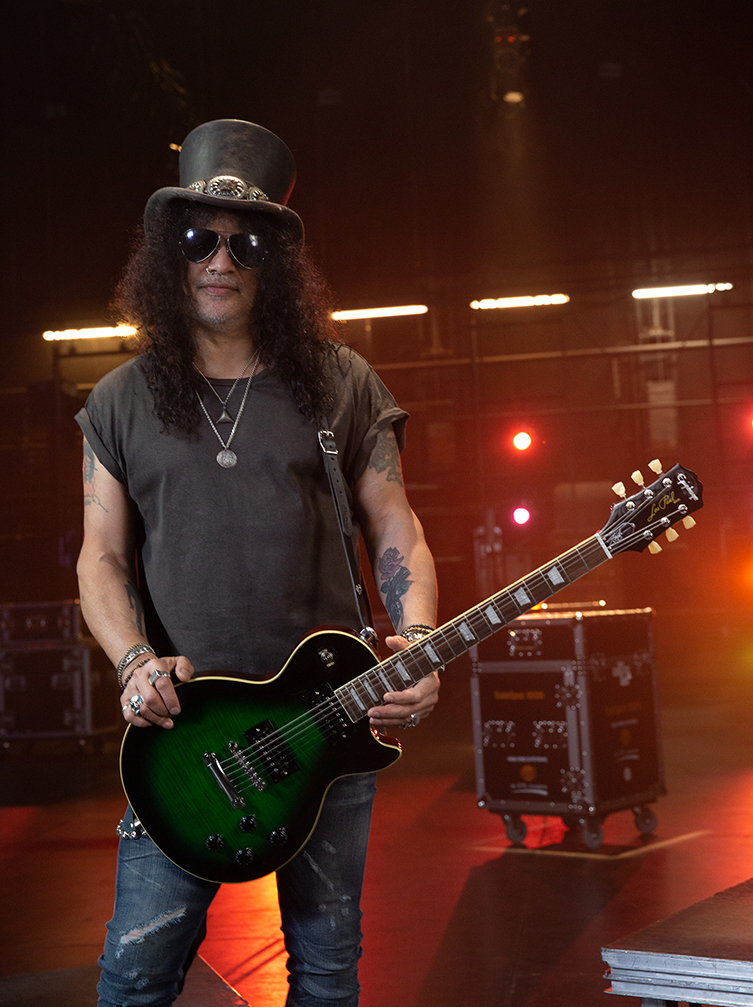 Slash Signature Epiphone J-45
It isn't just the lovely Les Pauls that are worth shouting about: Epiphone are releasing their own Slash-honouring J-45 acoustic model too! Yes, as with Gibson, Slash's favourite acoustic design will be available, and it's made with ALL-SOLID timbers!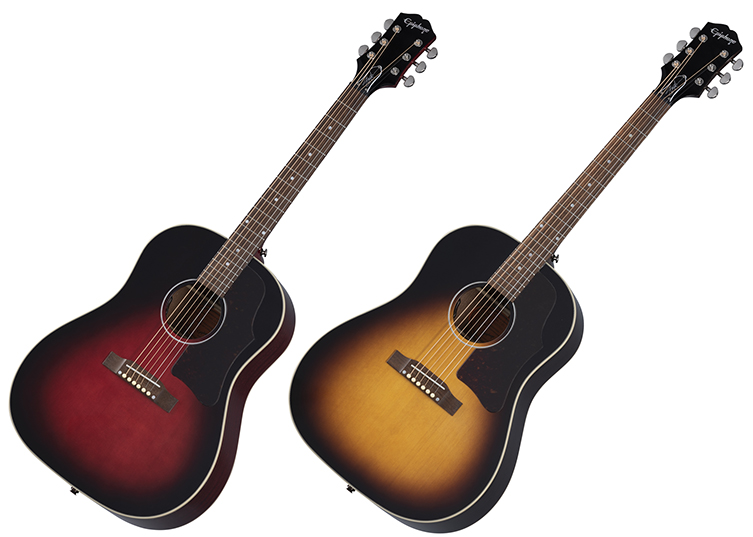 Choose between Vermillion Burst or November Burst and enjoy the tones wrought by solid Spruce and solid Mahogany! How wonderful is that? Extra features include a pro-level LR Baggs VTX pickup system to match the quality of the timbers. This is followed by Grover tuners, a Tusq nut and a hard case! Now that is some package, whether you're a die-hard Slash acolyte or simply an appreciator of quality acoustic guitars.
Available NOW
Guys, the Les Pauls are currently (at time of writing) available IN STORE to try out for yourself and buy! If you already know you want one (and why wouldn't you, for goodness sake?), you can order your Epiphone Slash Les Paul right here on the site. The J-45's will be with us soon, but we have the Les Pauls ready to rock right now.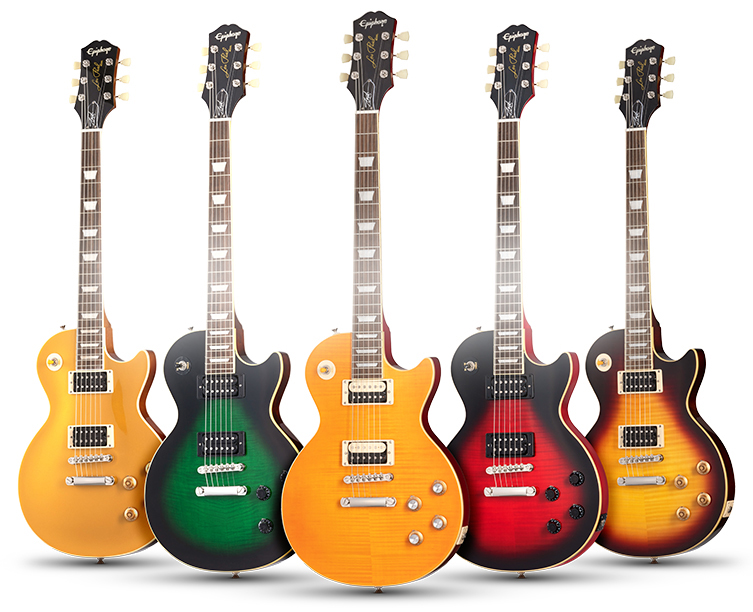 Slash fans will go nuts for them, but as we said at the beginning in reference to the Gibsons, the artist association is tastefully subtle, so anyone can get into these without feeling like they are necessarily playing an artist guitar.
We have to say, if somebody asked us to recommend a Les Paul, from any brand, at under a grand, we'd be VERY hard pushed to find any guitar out there that will beat these Epiphone Slash Les Pauls. They are simply excellent instruments. Find out for yourself, and we'll see you in Paradise City!
Click to View our Epiphone Slash guitars