Silent Practice: Our Top Headphone Amps
Published on 16 September 2021
Do you sometimes avoid playing because you know you're making a noise?
Is your guitar playing lifestyle under threat from the tyranny of volume?
Would you like to be able to grab your electric guitar, at any time of day or night, and play with a great 'plugged in' tone, whilst never bugging your family or neighbours?
Well, fret no more (pun intended): we have three excellent solutions to your volume-related woes! Today, we have selected three different headphone amps for you to consider. Each has its own features and each is available at a different price point, so hopefully there will be something here for everybody. Without further avail, let us don our finest 'cans' and get playing, unfettered by concerns about an ASBO!
Vox AC30 Amplug
Our first headphone amp today is also our most affordable. The Vox Amplug range was one of the first on the block to offer a headphone experience that delivered convincing results when compared to 'actual' amps. Today, we're recommending the AC30 model, based on the legendary combo used by everyone from The Beatles to U2. Other Amplug models take in tones specific to Classic Rock and Metal, as well as others. The AC30 is Vox's most iconic model, with a distinctive tone that sits somewhere in between the glassy clean of a Fender amp and the crunch of a Marshall. Thus, it's a fair bet that most guitarists will be able to get agreeable tones with the minimum of fuss. Indeed, there's not much to cause confusion here: the Amplug does away with the notion of guitar cables, plugging directly into your guitar's input. After you do that, simply connect your preferred set of wired headphones and get rockin'!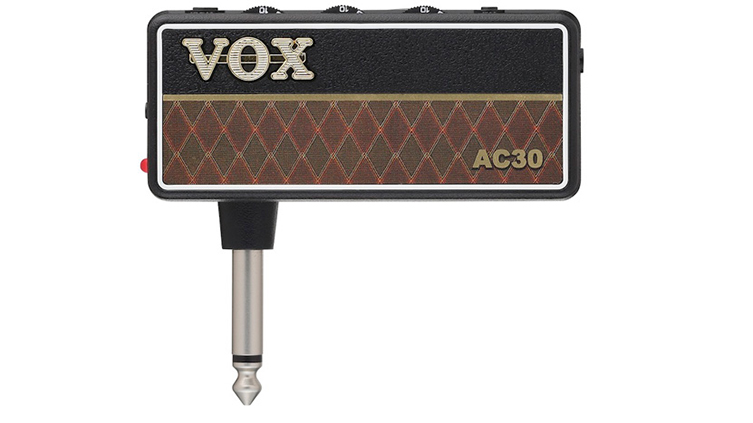 The Amplug runs on two AA batteries and, interestingly, it'll run for longer if you don't take advantage of the unit's built in ambient (chorus, delay, reverb) effects. You still get well over 10 hours' playing time though, so we reckon you should dial in whichever FX make you happy! The AC30 sound is based on the Top Boost model, so there's a gain control as well as tone and volume dials. It's simplicity itself, and sounds great.
Fender Mustang Micro
Superficially similar in looks to the Vox, Fender's Mustang Micro actually manages to cram in a ton more sounds as well as the benefit of USB charging, so you don't need to constantly buy batteries!
There are 12 amp models on offer here, including specific Fender classic like the Twin and the Deluxe alongside more generic 'British' and 'American' models, which will make sense to most users. In addition, there are 12 FX presets, including combinations (for example, one preset was both tremolo and reverb, whilst another has chorus, delay and reverb), all of which can be edited via a + and - 'Modify' control.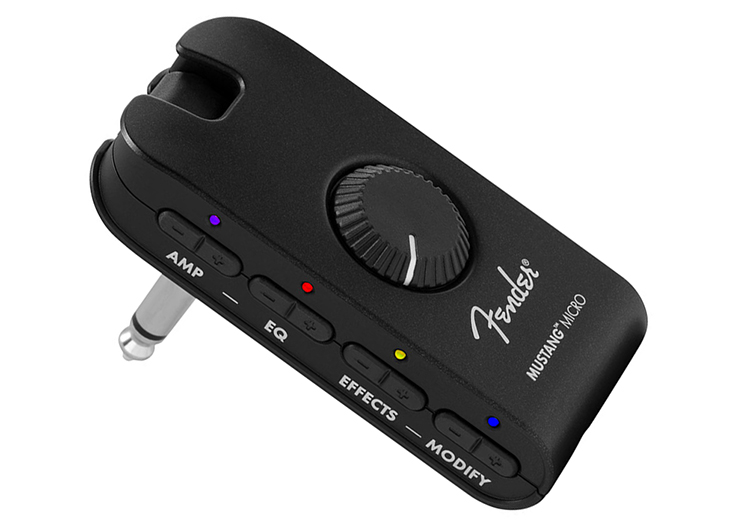 Indeed, the entire 'front panel', as it were, is a simple affair. Four sets of plusses and minuses help you select Amp, EQ, Effects and Modify settings, and each has a multicoloured LED to help you keep track of your choices. It's very streamlined, and we certainly felt like we were somewhat spoiled for sounds! The clean tones in particular are spectacular: the '65 Twin + Comp model kept us occupied for a very long time!
There is Bluetooth connection too, for those moments when you may want to jam along with tracks from your phone. The Mustang Micro plugs into your guitar's input, just like the Amplug, and takes a minijack from any set of wired headphones, again, just like the Amplug. Despite there being more onboard, it's an easy process to get the sound you want, making this an excellent 'upgrade' to the Amplug.
BOSS Waza Air Headphones
Our most expensive choice today is also by far the most sophisticated of the bunch. BOSS have opted to go for a Bluetooth headset and transmitter design for their Waza Air Personal Amplification System, doing away with all notion of wires, and building in an intriguing 'gyro' feature to boot. The wireless transmitter goes into the input of your guitar, the headphones go on your head, and you're away!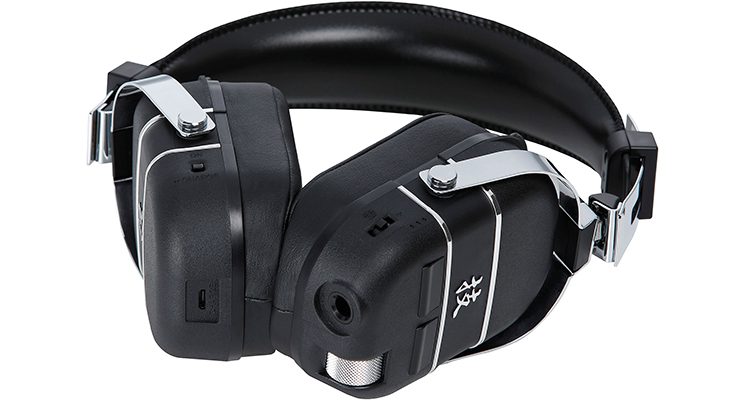 Just as the Fender mustang Micro uses sounds from their Mustang amp range, so the Waza Air Headphones take their sounds from BOSS Waza amps. There are 6 presets onboard, and these can be edited and managed via the Waza Air app from your phone. Discreet buttons on the headphones themselves control functions like volume control, preset selecting and Bluetooth functions for streaming tracks. It's a very slick set up, and that's not all...
The Gyro feature places the virtual amp you are playing through in a virtual 3-D room, so that when you get up and move around, you'll hear your sound moving accordingly, in relation to where the 'amp' is compared with you. It's clever stuff (you can also switch it off if you're not enjoying it) and adds that extra level of belief to the experience.
Both the headphones and the transmitter charge via USB, so again, there is no need to hunt in the drawer for spare batteries when the charge runs down. The Waza Air headphones are typical BOSS products: well-designed, innovative and solidly built, with great sounds and more features available than at first meets the eye.
Which Should I Buy?
Ah, the big question: which to choose? It's tough, since they are all relatively different products, even though they all fulfil the remit of being 'headphone amps'. Approaching it fiscally, the Vox Amplug offers excellent value for money and, whilst simple, does its thing very well. At the other end of the scale, the BOSS Waza Air headphones are several times more expensive, but they are in every way more advanced, employing cutting edge technology and completely cable-free operation to deliver a host of high end features far beyond the scope and intention of the Amplug.
Somewhere in the middle sits the Fender Mustang Micro. It's ostensibly similar to the Vox, but has more tech on board, more control and significantly more sounds. The addition of USB and Bluetooth functionality opens this up to more diverse usage, and thus more than justifies the price.
Sound-wise, it's a matter of taste. It goes without saying that if you want a variety of completely different sounds at your disposal, you need to spend more on either the Fender or the BOSS. If you simply want to jam around quietly with a nice sound, all three are fit for the job and then some.
The best news, of course, is that you can now play your electric guitar at any time of day or night, with any type of tone, and with perfect privacy. 12 hour practise sessions? No problem! Looking after a young family and trying to be as quiet as you can? Sorted! In a small bedroom or flat with thin walls? Job covered! Nothing can hold you back now, with one of these headphone amps! Check them out in all of our stores or click the bold text in this blog. Enjoy!