Fender guitarguitar Exclusive models! (Updated for June 2022)
Published on 13 June 2022
Are you a Fender fan?
It's a fairly safe bet to presume at least a moderate 'yes' in response, given how significant and, well, cool, the brand is. We all love Fender, it's just a matter of degrees, right?
Well, how about some special limited edition models with features and finishes you can't get anywhere else this side of the Atlantic?
Interested?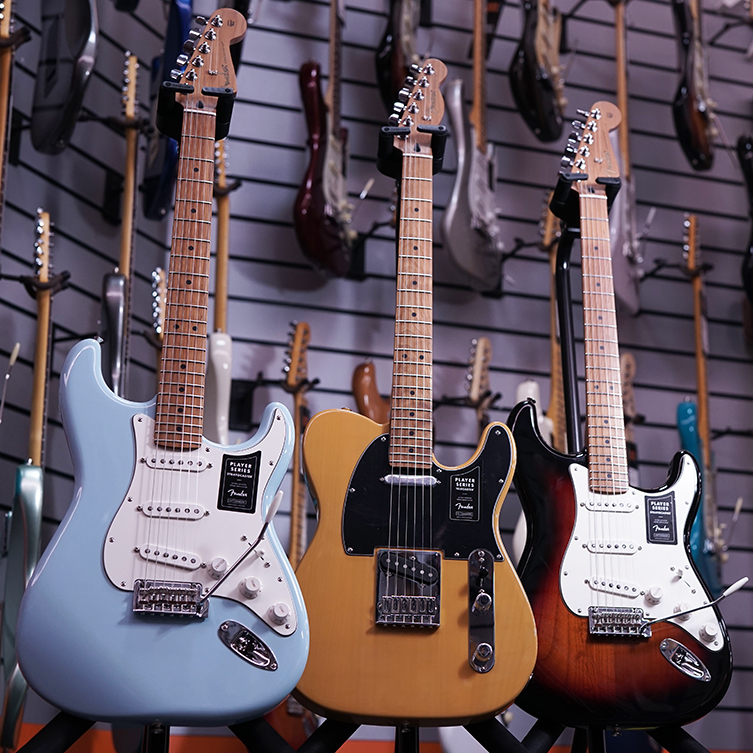 Good! Then let's embark on our tour of these lovely new guitars! Each is available in limited quantities, and each has exclusive features, from finishes to pickups to necks. Most are from the phenomenal Player range but we have a great Ultra model in here too!
Roasted Player Stratocasters
First up, we have a pair of Stratocasters from Fender's hit Player line. The Player range replaces what was once known as the Mexican Standard range, though the fact is, even the standard Player models are a significant upgrade in feel and tone. They've proven to be a runaway success, which is entirely justified: pound for pound, the Fender Player Stratocaster guitars are some of the very best out there. They have the correct name on the headstock, the correct body shape, and everything a guitarist could reasonably ask for at the price point.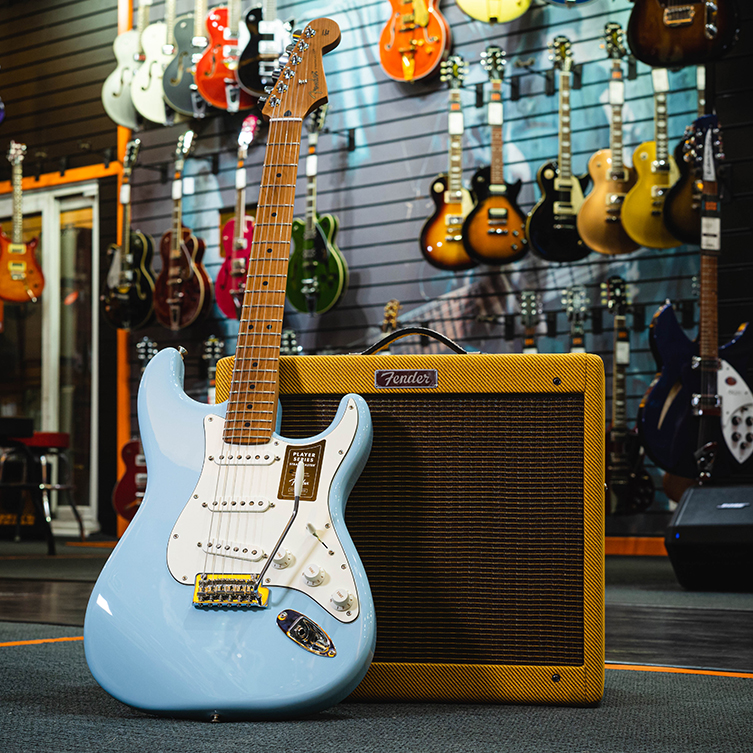 So what's so different about these ones?
Well, the two main differences are the neck and the pickups. These two Roasted Player Strats earn the extra word in the name from having necks made from roasted maple. You're probably familiar with this term but now since it has become exceptionally popular, but for those who aren't, the roasting process is as follows. The timbers are subjected to intensely high temperatures in an oxygen-free environment until all of the wood's moisture has left it. These dehydrated pieces of wood make for extra string, extra lightweight necks, which are more tolerant of environmental and temperature changes. Perfect gigging necks, then, and the 'caramelising' colour change that occurs during the process doesn't hurt things either!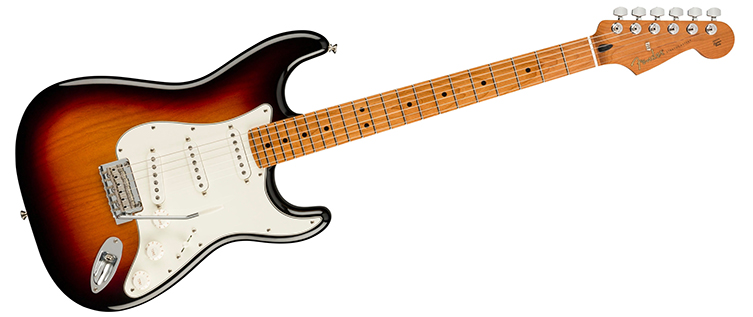 The other upgrade on these guitars is the pickups...
Handmade Pickups: The Difference
Speaking plainly, the Fender Player range already has nice sounding pickups. That was one of the main upgrades Fender applied when the Mexican Standard range was replaced, and it's one of the main selling points for Fender Player guitars: they genuinely sound really good! So, if a pickup upgrade is being considered, they'd have to bring in something special...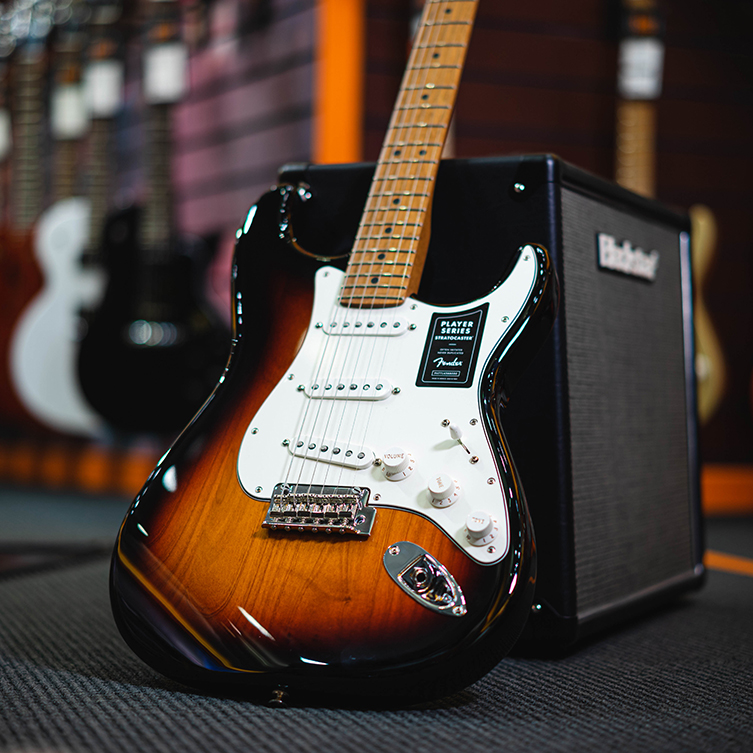 How about handmade Fender Custom Shop pickups? Yes indeed, these Roasted Player Strats have a set of specially calibrated, handwound Custom Shop Fat 50s pickups loaded in. These are lovely, moderate output units (the DC resistance ranges from 6.26k in the neck to 6.4k at the bridge) with a definitively 'vintage' voice. Carve out authentic golden-era clean tones with these staggered alnico 5 pickups, and not only hear but feel the difference that a world-class set of pickups can do for your tone. These are a wonderful upgrade for pretty much any Strat, so to have them pre-installed from the get-go in such an affordable guitar is such a great forward start! As we say, the Player range already sounds ace, but play these and you'll understand where the extra outlay is going.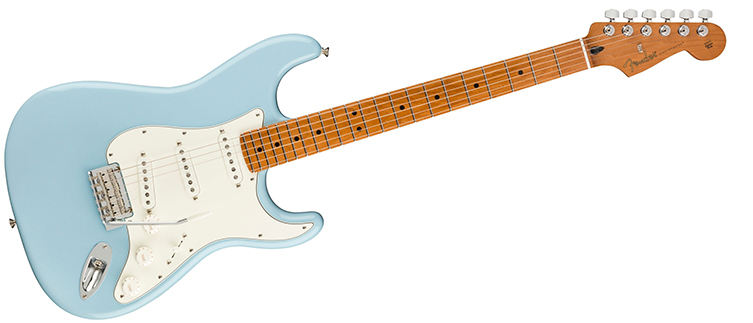 The Roasted Player Strat is available in both 3 Tone Sunburst and Sonic Blue, which is actually not available as a colour option for standard Player Strats!
Player Telecaster with Nocaster Pickups
It's a staple of Fender's history, and it's timelessly cool. We don't think there's been a time since 1950 when a Butterscotch Blonde Telecaster (okay, Broadcaster, Nocaster and Esquire included) hasn't been ineffably cool. Rockers love them, country players love them, indie fans love them... there's a place in every guitar collection for a trusty blonde Tele...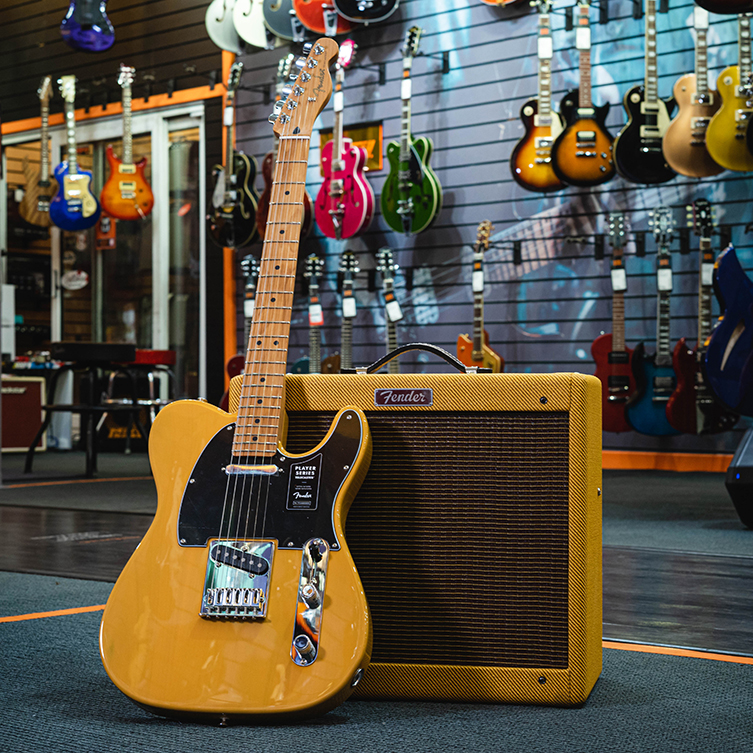 ...Especially if they are as well spec'd and affordable as this one! Another hit from the Player range, we've asked Fender up upgrade this Roasted Player Tele model in a similar way to the Strats we've just seen. Taking the excellent, highly effective Player Tele as a base, we've had Fender add a roasted maple neck to this model, and a set of Custom Shop Nocaster pickups.
We've learned about the roasted necks already, so let's jump straight to the pickups. These beauties have been carefully created to provide that 'skinny but strong' tone which is key to the appeal of the Tele. Again, these are moderate in output but rich in detail, with an excellent cut and zing that helps distinguish the classic Telecaster sound from that of a Strat. Alnico 3 magnets are used this time.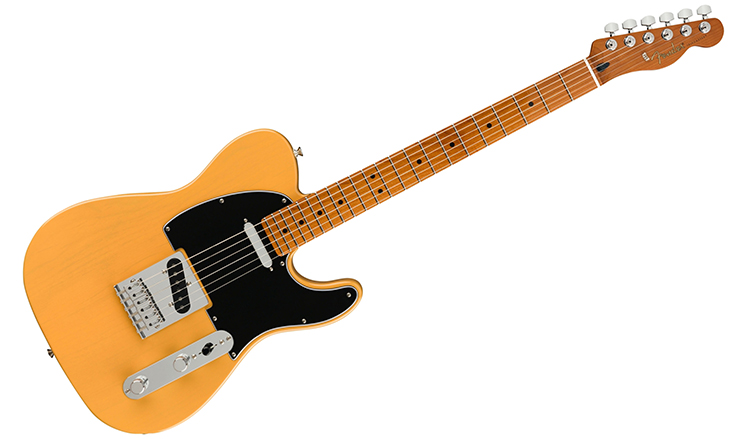 As with those roasted Player Stratocasters, this is an excellent 'enhanced' version of an already excellent guitar, and entirely deserves your attention while it is available!
Player Jazzmaster Shell Pink
Here's another guitarguitar exclusive from the Fender Player range. This time, it is the Jazzmaster, and he have it in a most excellent Shell Pink finish!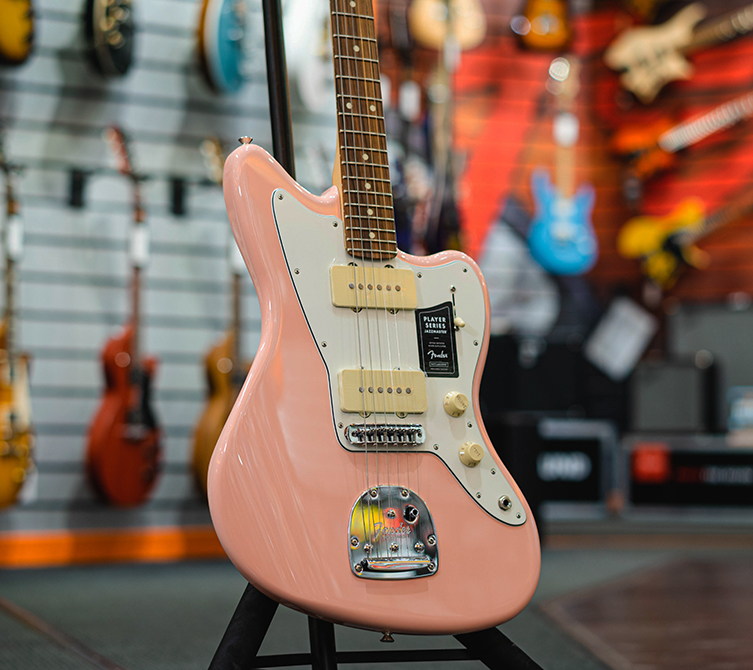 Shell Pink is something of a classic Fender colour, and it really suits this popular offset. Fender have also opted for an Olympic White painted headstock, to make this guitar truly unique!
The other great addition is a set of full-sized Pure Vintage 65 Jazzmaster single coil pickups. This changed not only the look of the guitar but the whole vibe! Fender's Player Jazzmaster currently sports a set of humbuckers, and whilst it sounds ace, we do sometimes miss those classic 'big pickups', so it's great to see them returning here for this exclusive, limited edition Shell Pink model.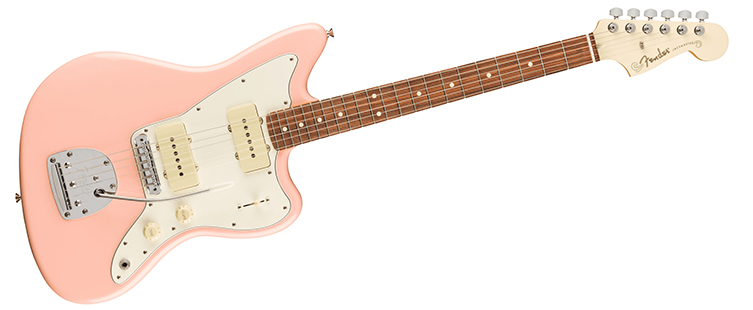 FSR 'Tribute' Strats
Stratocasters are, as we know, the most popular electric guitars on the planet. They are also very 'modular' in the sense that parts can be easily switched around and replaced. Because of this, an inordinate number of famous players have modded their own strats over the years and then worn theirs into battle, as it were. This means that by simply changing up a pickguard, hardware colour or finish, we were able to create a limited line of Strats that paid tribute to some very iconic Strats!

We currently have three different takes on the Player Strat, in various guises. None are meant to be replicas at all: they are contemporary Player series Strats that collectively tip their hat to famous name Strats without having any overt associations. Without being too explicit in our descriptive terms, let's see what's available, and beware: you are entering an area of the blog with liberal use of puns…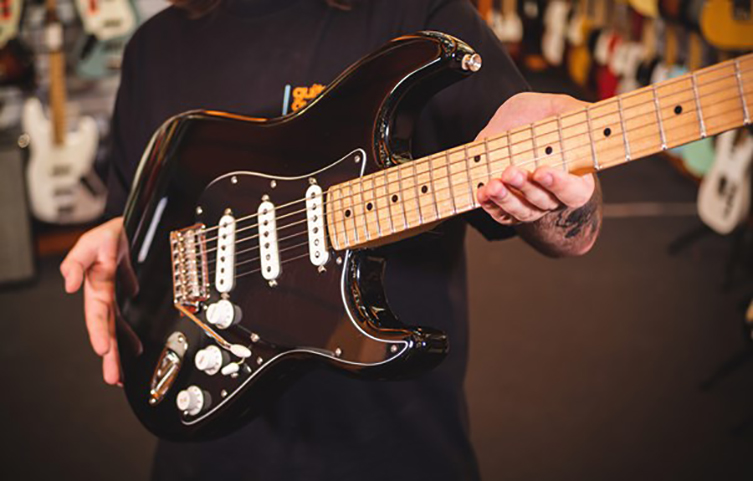 First down is a wonderful FSR Tribute Black Stratocaster, armed with some serious pickup upgrades! The already-nice Player single coils are now proper Fender Custom Shop Fat 50s pickups, which add more of that authentic twang to the classic Strat vernacular. Slightly beefier sounding than true vintage units, these bring out the flavour whilst remaining useful to more contemporary players.
This bumps the guitar into the stratosphere for sure, so whether you're planning to play this in Pompeii or even on the dark side of the moon, you'd be equipped with a guitar that looks and sounds the part. You'll have time to play this one, and you won't have to spend too much money either, so it won't leave you uncomfortably numb! If you want a fantastic sounding Strat with excellent pickups, a famous look and a great price, this is a prime choice indeed.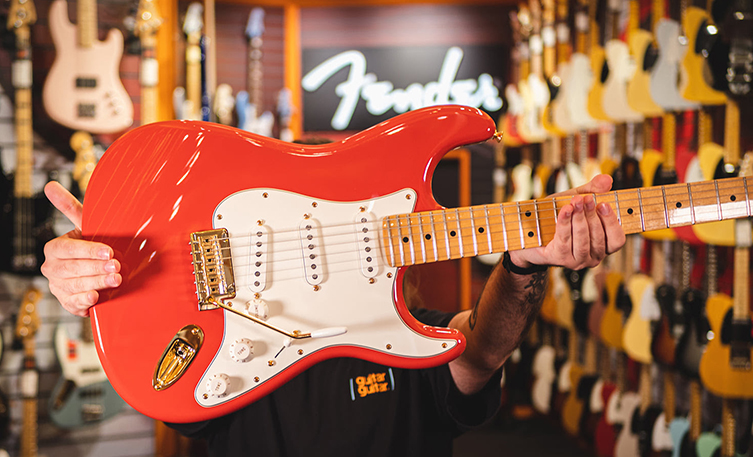 Next up is one for all lovers of classic twang. You're on the weekend shopping trip and manage to slip away like some sort of man of mystery into guitarguitar, where you spy this beauty! 'What a wonderful land!', you think as you plug it in and try a few bars of Apache. Bliss.
This Fender Player Series FSR Fiesta Red is dressed in the appropriate shade and comes with gold hardware to finish a look that's super-famous. Arrange your hair in a quiff, throw on a set of black rimmed spectacles and turn up your echo pedal! This stunner is also equipped with Fat 50s single coils in order to provide you with that inimitable yesteryear tone.
Finally, our third Player Series Tribute summons the floods of Texas, as it were. We don't need to have three initials etched into the black pickguard to know who the inspiration for this guitar is, do we? Gold hardware, a pau ferro fingerboard and a lovely sunburst finish all conspire to capture the vibe of a certain blues legend. With those Custom Shop Fat 50s pickups installed here too, you'll never again be caught in the crossfire with less than stellar tone! This limited run FSR Stratocaster 3 Tone Sunburst Gold Hardware will be your pride & joy for sure!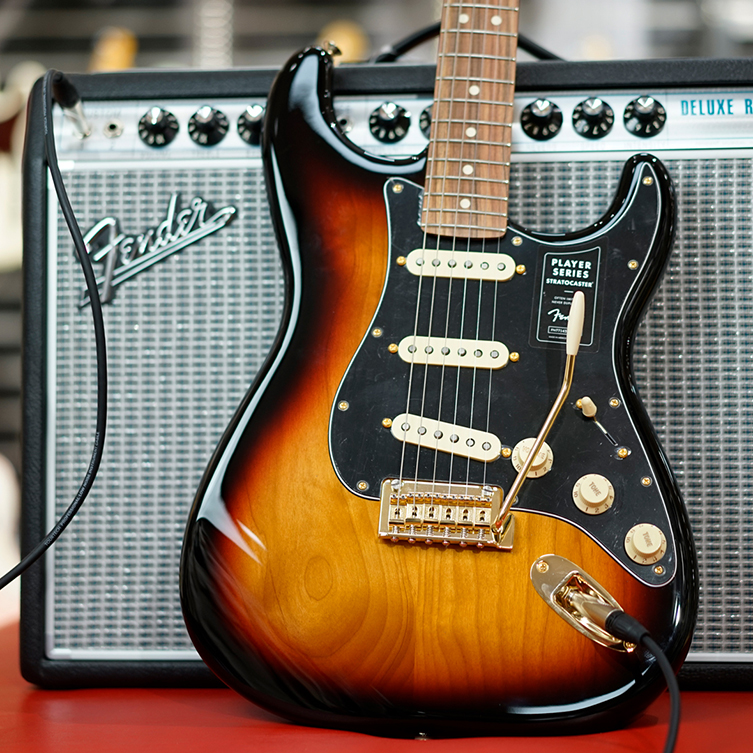 Limited Runs, Exclusive in Europe to guitarguitar
As mentioned, each of these fantastic guitars is only available from us in terms of Europe and the UK. We've spec'd these to offer the most value and the most tone that we possibly could, and then we made sure they looked great too! Every guitarist needs Fender in their lives, and these selections are just a little less usual than the choices you get every day. We think they've surpassed our high expectations, and we hope you love them as much as we do! Visit us to try them for yourself, or simply click through to order yours today!