FREE Guitar Lessons on us!
Published on 30 November 2021
On the first day of Christmas, my true love gave to me, three months of Fender Play guitar lessons for FREE!
Yes, folks, here it is. A gift from us to you. It's been amazing to see so many of you pick up the guitar for the first time over the past year or so and we know that there are so many more budding-guitarists out there. We want to help you out on your guitar playing journey! Whether you've never strummed a guitar in your life before or you are looking to refresh your skills after having some time out, we want to give you the right tools to get started.
We're very pleased to announce that we'll be giving you three months of Fender Play guitar lessons for FREE when you buy selected participating models from us, instore or online.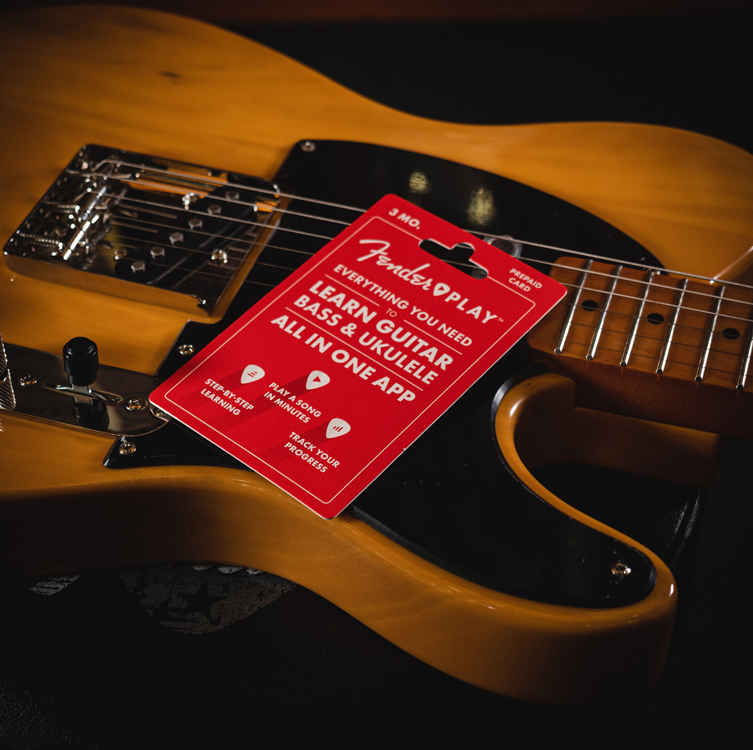 Fender Play
So, what is Fender Play? The guitar giants have created a whole system of online lessons that you can access at any time in the comfort of your own home. Whether you want to learn your favourite songs or compose your own original masterpiece, you'll find what you need among Fender Play's catalogue of chords, scales, songs, and skill-based tutorials. Fender Play consists of a large series of videos that can be watched and re-watched until the lesson is successfully completed. The nice thing about this is that you can easily fit the lessons around your day, and of course, rewatch them to make sure what you're learning is properly sinking in!
During your three month subscription to Fender Play you'll never get bored, trust us! There are over 3000+ lessons to get your teeth stuck into and also fun extras like chord challenges, backing tracks to jam along to and a community of fellow musicians where you can share your progress with and chat to. You'll also be able to customise your lessons so you can choose your own path, learn what's important to you and go at your own pace. Fender Play is accessible across the web, tablet and mobile devices. All sounds good, right?
The Details
For a limited time only, we're giving you the chance to bag yourself a FREE three months subscription to Fender Play when you purchase any new Squier or any new Fender, Jackson, Charvel and Gretsch up to the value of £799, either instore or online. With your purchase, you'll receive a gift card for the subscription that you can redeem over on Fender's website. Fill in your details and get started. You'll be shredding in no time!
Shop participating models:
More Details
Get a feel for what Fender Play has to offer below!