Gibson Les Paul Standard Sunburst
Published on 02 December 2021
Among guitars, it is a titan. Recognisable the world over, and linked to some of the greatest practitioners of the art we all know and love, the Gibson Les Paul Standard is a guitar for the ages.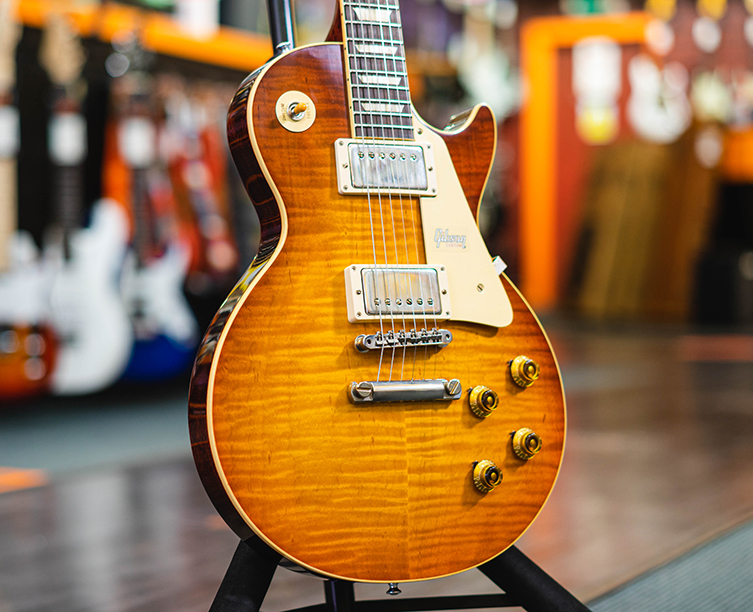 Alongside the Fender Stratocaster, it is the most obviously iconic electric guitar ever designed. The Les Paul name has been attached to many models since 1952, such as the Junior, Special, Custom and Classic, but it's fair to say that the real DNA of the Les Paul blueprint resides in the Standard. The curves, the binding, the Burst finishes… It's the stuff we dream about as guitarists, and this blog is a brief celebration of the guitars themselves, the players and the beautiful examples we have in stock for you right now! A fresh delivery of stunning Standards is actually what inspired this blog, so we'll make sure we take a good look at some Les Paul eye candy as we go!
The Les Paul Standard Sound
When people talk about a 'Les Paul tone', the entire guitar universe immediately understands what's being said: thick, resonant notes, rich in lower mids and long in sustain. People talk about a 'cello-like' sound, which is kind of both abstract and on-point. A Les Paul is, sonically, about as far away from a Stratocaster tone as a standard electric guitar model can be.
So, where does this thick, resonant tone come from? Three main factors come into play here: the wood, the construction and the pickups. Les Pauls are generally made from solid mahogany, and the body is thick, measuring roughly 46-47mm at the edge (slightly more at the centre of the carved top). Mahogany imparts a thick tone to begin with, so the sheer amount of wood plays a part here!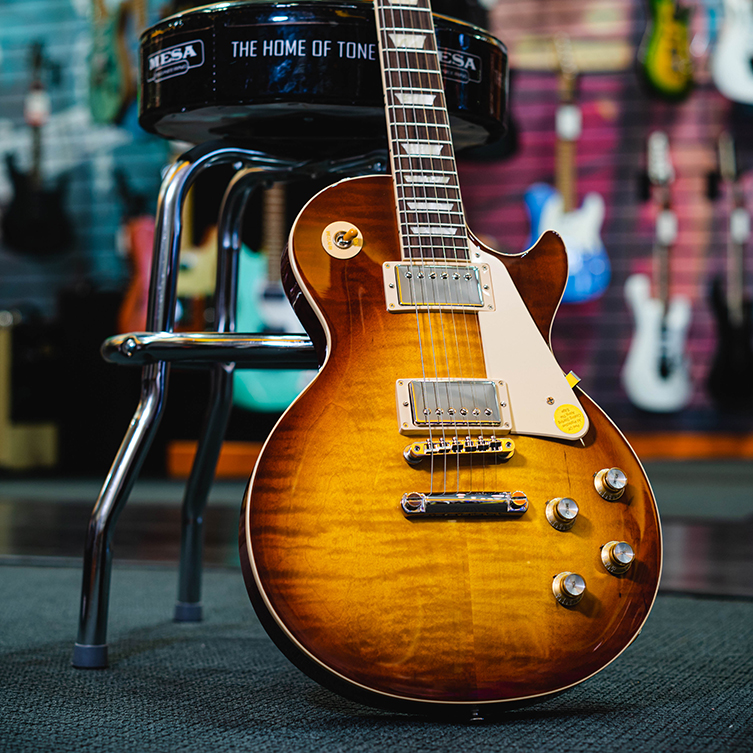 Some Les Pauls have degrees of 'chambering' in them, which are hollowed out areas in wood (which are then concealed by the guitar's top) to relieve the sometimes considerable weight of the guitar. Does this affect the tone? Some say yes, others say they can't hear a difference. We'll diplomatically say that ALL guitars sound at least a little different, and many other factors come into play (amps, the player themselves), so it's a difficult factor to judge in isolation. Chambered Les Pauls obviously sound at least very similar to 'full fat' models, otherwise everyone would be able to hear a difference straight away! Today's Les Paul Standard models do not have chambering anyway, so they are as reassuringly hefty as aficionados insist upon! For many,the depth of tone is synonymous with a heavier, completely solid mahogany body.
The Maple top of a standard adds a little top end to the sound, and that's why Les Paul Customs (which do not have Maple caps) often sound 'darker' than Standards. We'd say the extra maple is a very worthwhile addition to the Standard's tonal profile, as well as an opportunity for beautiful looks!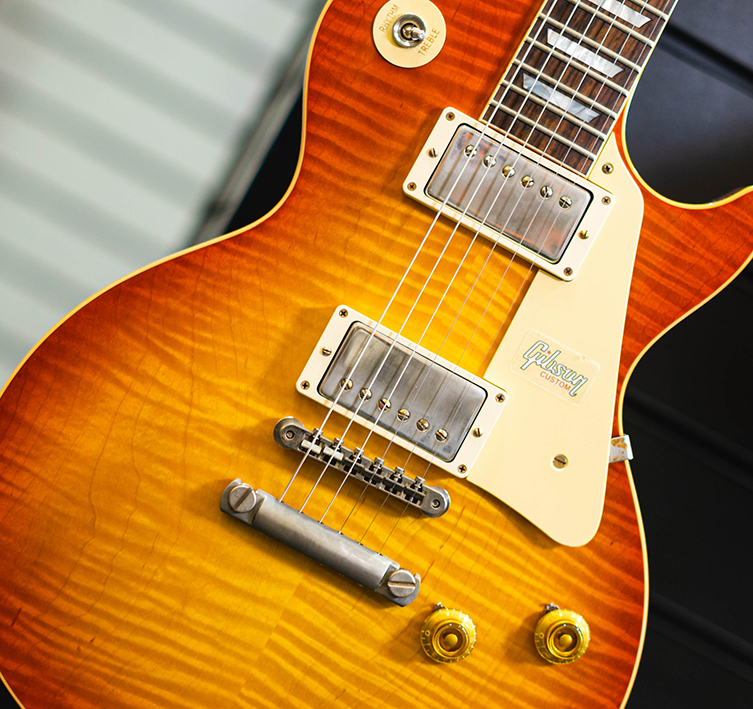 The construction plays an important part, too. Les Pauls have Mahogany necks, and these are 'set' into the body, in other words glued in. The necks have a piece that extends into the body called a 'tenon', so the neck reaches further inside the Les Paul body than you'd maybe expect just by looking at one. The glueing process effectively creates one big vibrating piece of wood, unlike bolted-on neck construction which stops the vibrations to a small degree. This accounts for the near endless sustain of the Les Paul, though volume is also a factor here!
The last part of the sonic puzzle is the pickups. Putting aside the 1952-style Standard which has P90 pickups (we're assuming you agree with us in saying that two humbuckers is the norm for Les Pauls), Les Paul Standards are fitted with two humbuckers. In the legendary golden era of the late 50s, these were relatively low-powered units that were nicknamed PAF due to their (at the time) Patent-Applied For status. Even low powered humbuckers give a tone that's altogether bigger than any single coil, with a fatter, more rounded sound. The lack of output, by today's standards, arguably just allows more of the guitar's inherent tone to shine through. Rest assured, they still sound enormous, they just have more tone.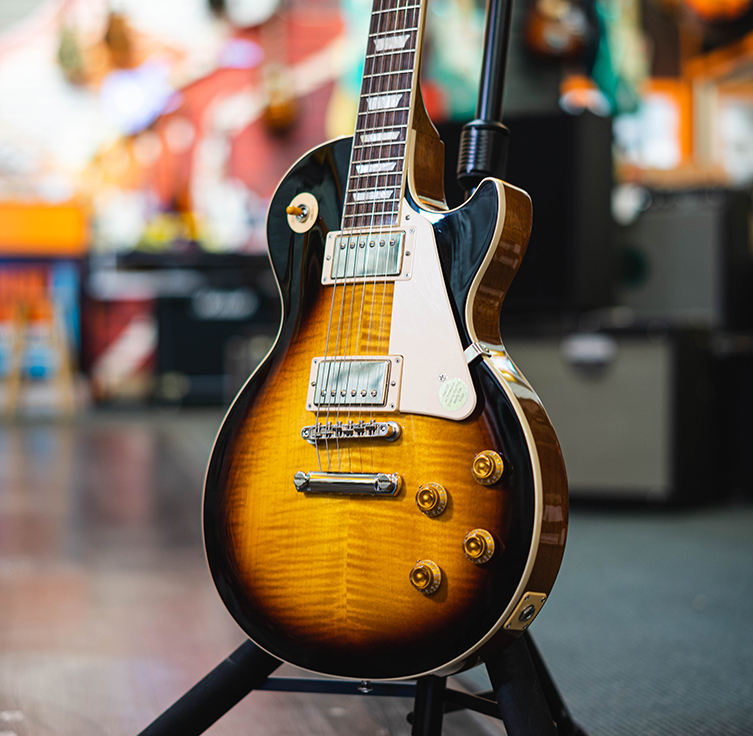 Today's Les Paul Standards have different takes on these PAF-style humbuckers. You can choose between a 50's Les Paul Standard or a 60's version, and both have subtle differences. In terms of pickups, the 50s model has slightly less-powerful (it's pretty marginal) BustBucker 1 and 2 units, and the 60s model sports a pair of ever-so slightly hotter (the coils have more windings around the magnet) BurstBucker 61 R & T humbuckers. The differences are subtle, and both deliver that famous Les Paul tone.
The Players
Without great players, guitars are just attractive bits of wood 'n' wire. Thankfully, there's a massive list of world-class guitarists who've chosen the Sunburst Les Paul Standard as one of their main tools of the trade. Whilst there are definitely too many to list here today, we thought we'd at least highlight a quick few for the sake of fun and some good music!
Peter Green
Is this the most famous Les Paul of them all? Known as the 'Lemon Drop' due to the original Cherry part of the Sunburst fading away over the years to leave only the Amber, this stunning '59 Les Paul Standard made history first with Fleetwood Mac's Peter Green before finding itself in the hands of blues master Gary Moore. Nowadays it resides with none other than Metallica legend Kirk Hammett, who scoffs at insurance premiums and takes it out on world tours with him. Bravo, that man!
And here is a short video of the guitar itself, when it was brought into our Epsom store!
Billy Gibbons
ZZ Top's stylish mainman is the owner of one of the world's most famous Bursts. Known as Pearly Gates, Gibbons bought the guitar, which is a doozy of a '59 model, from a man who found it under his bed. He plays it with 7-gauge strings (which is CRAZY) and attacks those strings with a Mexican peso instead of a pick (which is CRAZIER). We love him.
Jimmy Page
A hero to many, the great mastermind behind Led Zeppelin is closely associated with the mythology of the Sunburst Les Paul. Sure, the early Zep records were all recorded with a Telecaster, but everyone remembers the dragon-suited Page striding 70s stadia like a mythical god, firing sparks of magic from his '59 Burst Les Paul.
Mark Knopfler
Owner of the most famous headband collection on earth, Dire Straits' Mark Knopfler is as well known for his Sultans of Swing Stratty tones as for this, one of the very best Les Paul tones ever recorded. Even if he never picked one up ever again, this video forever cements Knopfler as a 'Les Paul guy'. And let us settle the debate once and for all: there is NO wah pedal on this track!
Slash
There's more epic headgear here with the one and only Slash. Doing more for the Les Paul's visibility throughout the gunslinging 80s than any other high-profile guitarist, the GNR mainman has been nothing if not consistent in his tastes. Now rightfully a Gibson brand ambassador, Slash has his own entire range of gorgeous Les Paul models, including finishes with appropriately excellent names such as Appetite Burst and November Burst.
There are a great many more Les Paul legends, but that may be a story for another day. Let us move on, and check out the Burst finishes themselves!
The Bursts Demystified
We all know what they look like, and yet every single one is different. We're talking about the burst finishes on most Les Pauls, of course!
Today, we'll look at the different finishes available on current Les Paul Standard models, but one thing worth bearing in mind is that, back in the late 50s when the Sunburst Standard was first released, there was only ever one type of Sunburst! All of the beautiful variations you can find today have actually been inspired by those older finishes ageing! Yes indeed, decades of different environmental situations have resulted in vintage Les Pauls acquiring a huge variance of bursts. These range from the almost-amber of Peter Green's famous Les Paul, through to examples that still attain their rich red hues, thanks to them being carefully concealed from adverse weather, temperature and lighting conditions.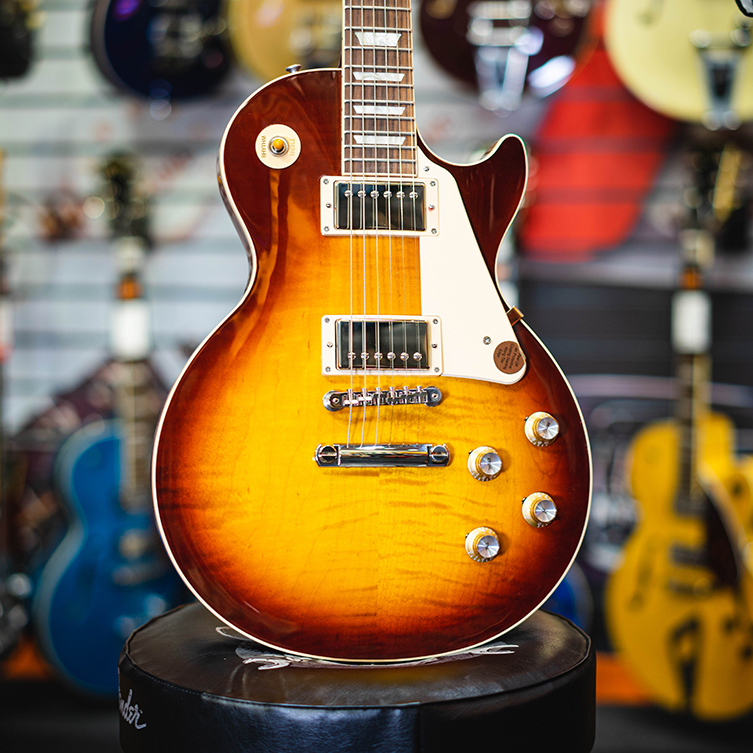 Sunburst, in terms of Gibsons, is a finish that begins with a translucent amber, which then has the edges of the instrument coated in a darker, less transparent colour such as Cherry Red or Black. The guitar is then coated with light layers of nitrocellulose lacquer, a thin finish that ages and darkens. 'Nitro;, as we refer to it, plays a big part in how a Burst finish looks, as well as contributing to certain pigments fading more than others. Today's Gibson guitars still use these methods and materials to finish their instruments. Nitro has a specific look, touch and smell, and many Gibson aficionados are of the opinion that it's an essential part of the instrument.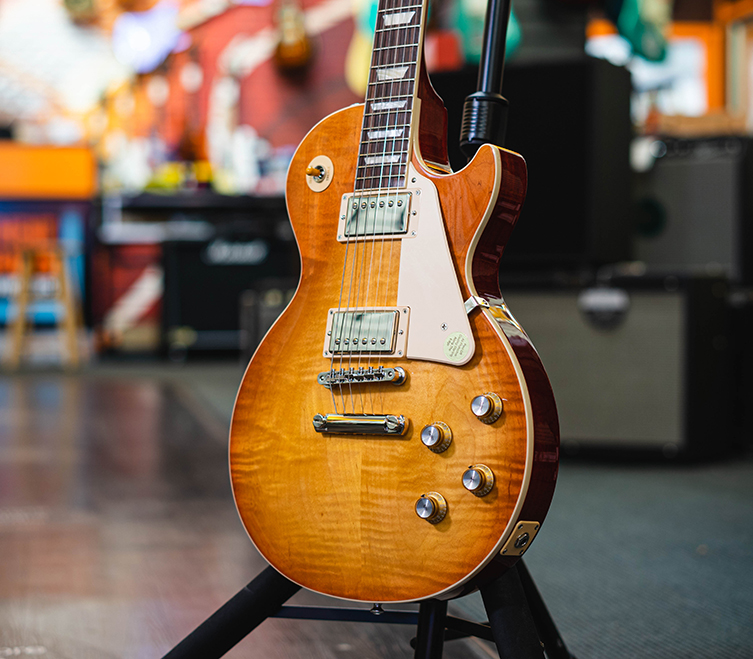 Gibson's Custom Shop really go to town with their Sunburst varieties: 'Aged Dirty Lemon', "Washed Cherry Sunburst', Tangerine Burst' and 'Aged Golden Poppy Burst' are just a few of the many, many names they apply to differing takes on Sunburst. They look spectacular, but there's next to no reason to list the differences here since each Custom Shop guitar (and therefore each accompanying burst) is a unique one-off! The Gibson Original Series offers five Bursts over it's 50s and 60s models, so we'll focus on those since they are production models.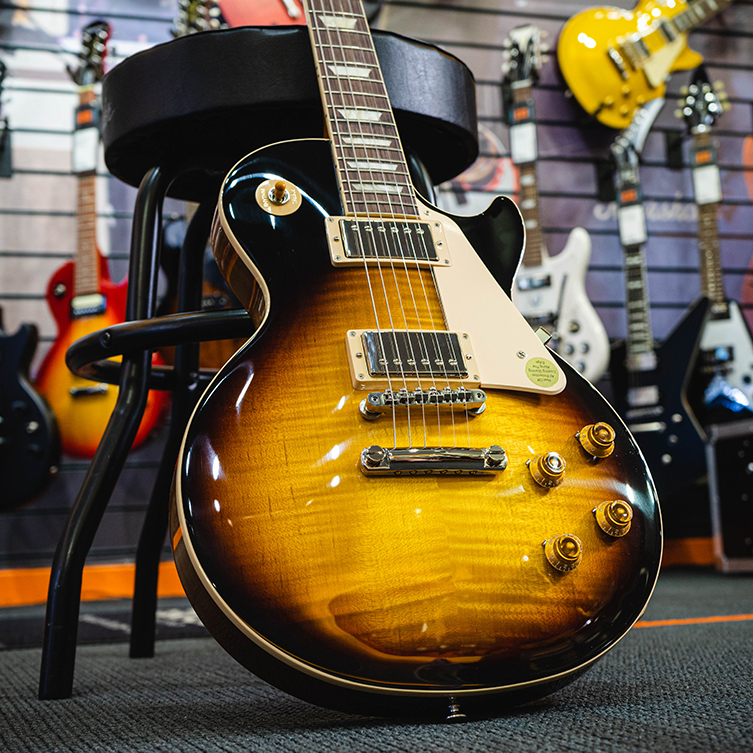 Today's Les Paul Standard Finishes
As we mentioned earlier, GIbson currently offers the Les Paul Standard in two varieties: 50s and 60s. There are, in fact, a great many more, such as the Classic and the Modern, but those models adopt features that take them away from being straight-up 'Standards', so we'll not focus on those today.
Each variety offers its own range of finishes, as well as specification differences. Let's take this chronologically, then. First up is the 50s Les Paul Standard. This model features a thicker neck, no weight relief in the body and the aforementioned BurstBucker 1 and 2 humbuckers. In terms of finishes, you get 3, one of which is a fabulous Goldtop. Our blog is about Bursts, but let's just include a pic of it anyway, for completion's sake!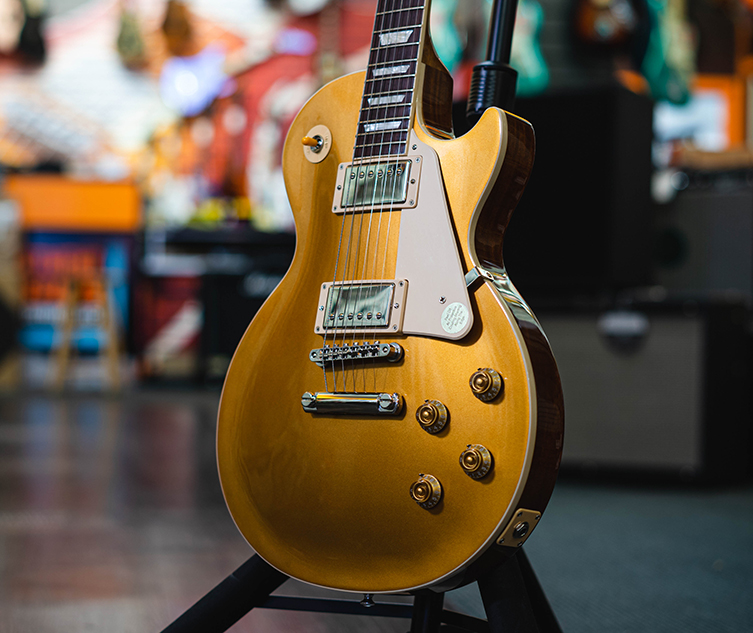 The Heritage Cherry Sunburst is the 'proper' Sunburst finish: the red colouring is strong, just as the original late 50s models would have been as they left the factory.

Heritage Cherry is the colour you'll see used across the board by Gibson, particularly on their SG models. Next up is the other 50s burst finish, Tobacco Burst. This is where the Cherry is replaced with Black, and the Amber remains in the middle. It's a long-running classic in its own right, and a wonderful alternative to the Heritage Cherry Sunburst.

Now we move on to the 60s Les Paul Standard. You get a slightly thinner neck on this model (though it's worth remarking that Gibson don't really do super-thin shred necks, so it's all still relative), and also no weight relief chambers. The pickups are the ever so slightly hotter Burstbucker 61T and R humbuckers, and the choice of finishes is different.
First up is Bourbon Burst, an alternative take on Tobacco Burst that's more dark brown than straight up black around the edges.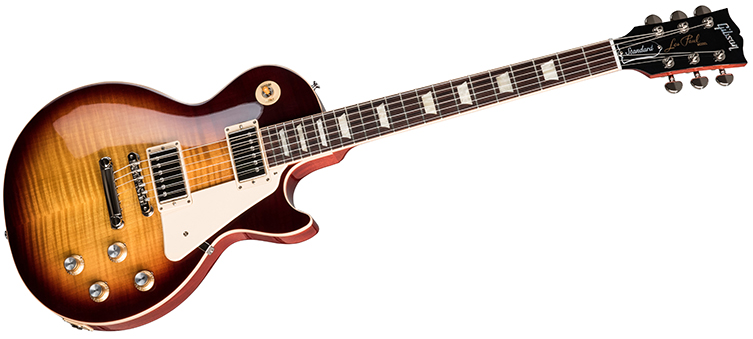 Another lovely finish on the 60s Standard is Iced Tea, which looks to us like a darker shade of Heritage Cherry Sunburst. It's less bright and perhaps slightly moodier, but every bit as beautiful.

Finally, there is no Goldtop option for the 60s model (roughly in accordance with history), so Gibson offer up another burst instead, and it's a beauty! 'Unburst' takes inspiration from the famous Peter Green/Gary Moore/ Kirk Hammett LP and uses a light translucent orange as it's outer gradient from the inner amber shade. Very 'lemon drop'-like, if not a slavish copy, it's a gorgeous and bright look that is great to have straight away, without waiting 5 decades for the paint to fade!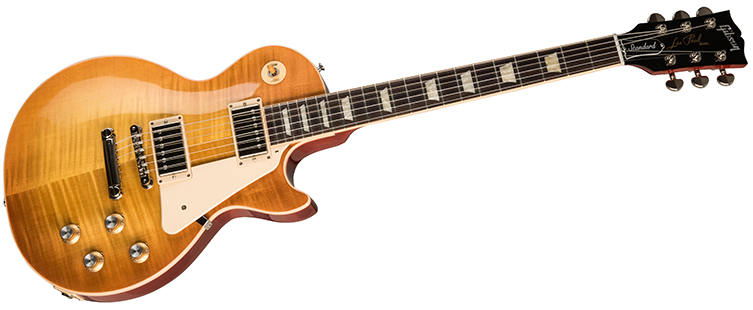 The Beauty of the Burst
Sunburst Gibson Les Pauls are undoubtedly some of the finest, most beautiful instruments on earth. Whether you are a die-hard Les Paul acolyte, or a player who appreciates all styles of guitars, there's really nothing quite like strapping a Sunburst Les Paul over your shoulder, plugging into a roaring amp and unleashing that powerful and sonorous voice inherent to them all. There's a lot of choice out there, and as we mentioned earlier, they are all quite unique due to their colours and figured tops. This is why, when you buy a Les Paul Standard at guitarguitar, you can choose the exact model you want from our site! We photograph every Gibson Les Paul standard individually and post up online with their serial numbers, so that the one you choose is the one you get! That way, you'll not be disappointed when your heart is set on one particular guitar, and then another quite different one is delivered. We know how important these decisions are, and we want you to get the one you love! So, armed with all of this knowledge, click below to see our current stock of Gibson Les Paul Standards, and enjoy picking your new dream guitar!
Click to View our Gibson Les Paul Standards
Ray McClelland