New TAYLOR Acoustics for 2022!
Published on 19 January 2022
It's a new year for us all, and that often means new guitar models! Winter NAMM is off this year but that hasn't stopped a number of big hitters releasing exciting new guitar models to get us through these cold winter months!
Chief among these is Taylor, who have just unveiled a couple of beautiful new acoustic models: the GTe Mahogany and the AD27e. You want to see them, we want to show you them, so let's just get to it!

Taylor GTe Mahogany
The first of today's two new Taylors is the all-Mahogany GTe. GT refers to Taylor's relatively new Grand Theater body shape, which is another design from Andy Powers, the company's main designer. What makes the Grand Theater different? Well, it all starts with the strings and the feel. The Grand Theater uses a scale length that sits in between a standard acoustic guitar and that of a travel guitar such as Taylor's own meteorically successful GS Mini. The Grand Theater uses a 24 1/8" scale length, which lowers the string tension somewhat. Taylor then built up the body around that decision, making the shape correspond to what Powers thought was required in terms of sonic properties. The lower tension is somewhat akin to playing a guitar in Eb tuning, where everything is a little looser and 'slinkier'. The Grand Theatre style achieves this feel in standard tuning, with the body shaped accordingly to offer a strong, full sound in response.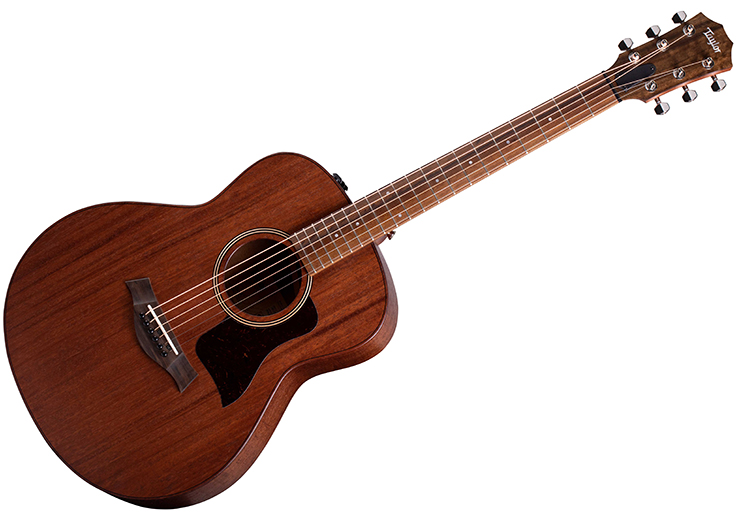 Here's what Andy had to say:
"So with the GT design, that Grand Theater body shape with its different proportions, its scale length and whatnot, I find that musicians approach that instrument differently than all the other guitars that they have. Even if you compare it to something like the GS Mini, which is smaller still, your approach is different."
Mahogany Build with C-Class Bracing
The Taylor GTe Mahogany uses solid 'Neo-Tropical' Mahogany for the body and soundboard. From what we can surmise, Neo-Tropical Mahogany refers to timber that is grown in South America, where it is responsibly farmed. As we know, Mahogany is one of the world's great tone woods for both acoustic and electric guitar building. In this case, the choice to go with Mahogany entirely (apart from the fingerboard and other details like the bridge etc, which are made from Eucalyptus) makes for a very strong, mid-focused sound. Very direct, if you like, with a strong emphasis on note fundamentals as opposed to harmonic overtones.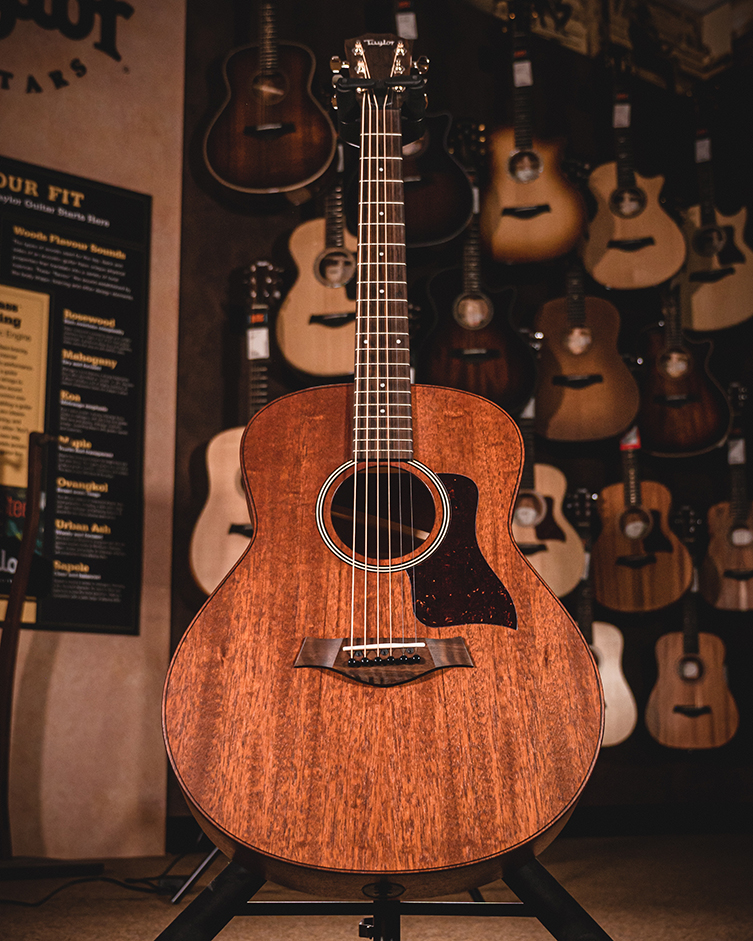 The C-Class bracing shapes the sound to allow more bass response from what is a slightly smaller guitar body. Bracing helps shape the 'behavior' of the soundwaves, and it's something Taylor have pioneered over the last few years, first with V-Class bracing and now with this C-Class version. Couple that with the wonderful tone woods and slinky feel, and you're looking at quite a special prospect for players everywhere!
Taylor AD27e
Our other new model today is from the American Dream range. This is the AD27e and it uses Taylor's Grand Pacific body shape. Awesome, but what do these terms even mean?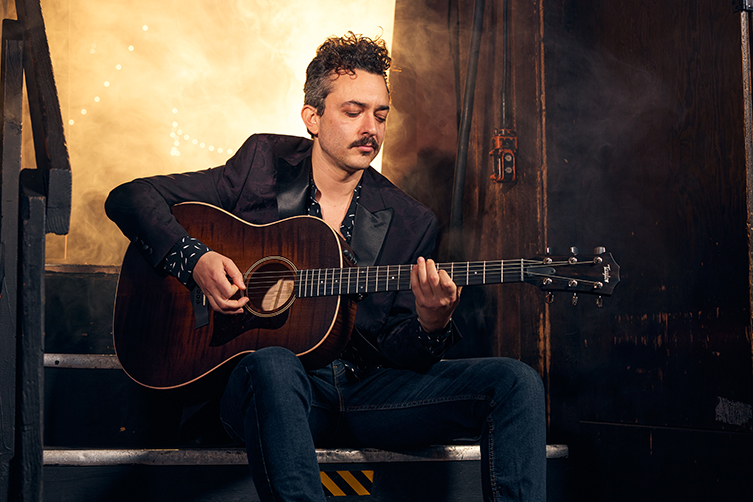 Firstly, the American Dream range is Taylor's most affordable USA-made range of guitars. They utilise all-solid timbers and they are built just outside San Diego. The American Dream range eschews more ornate decoration in order to deliver a more cost-effective guitar, but they don't skimp on materials or workmanship. Indeed, each model - including today's AD27e - features Taylor's highly lauded V-Class bracing, an innovation found on some of the brand's highest-priced guitars.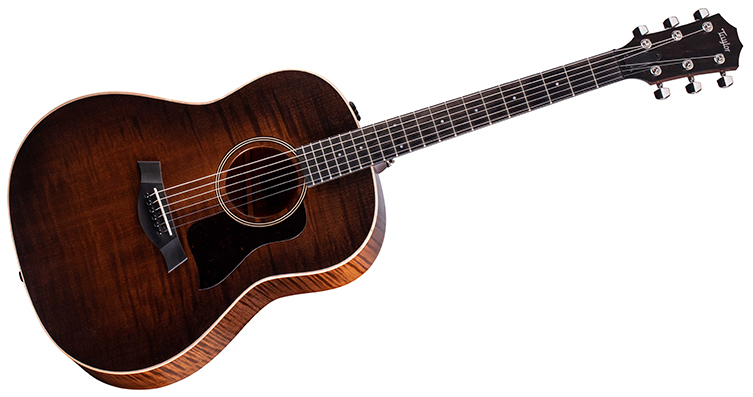 As for 'Grand Pacific', well, that's a relatively new addition to the Taylor family of silhouettes, as it were. Put simply, the Grand Pacific is a round shouldered dreadnought shape. As we see it, this makes them as versatile as standard dreadnoughts whilst more closely aligning them with the rest of the Taylor body shapes.
Maple and Flames
This Taylor AD27e is a beautiful guitar, and also somewhat unusual. This is because the body and top are both made from Maple, a dense and bright wood normally used for guitar necks, as you'll have experienced. It's not unheard of to have all-maple acoustic guitars, it's just uncommon. Used here, in this context, it's a masterstroke of design.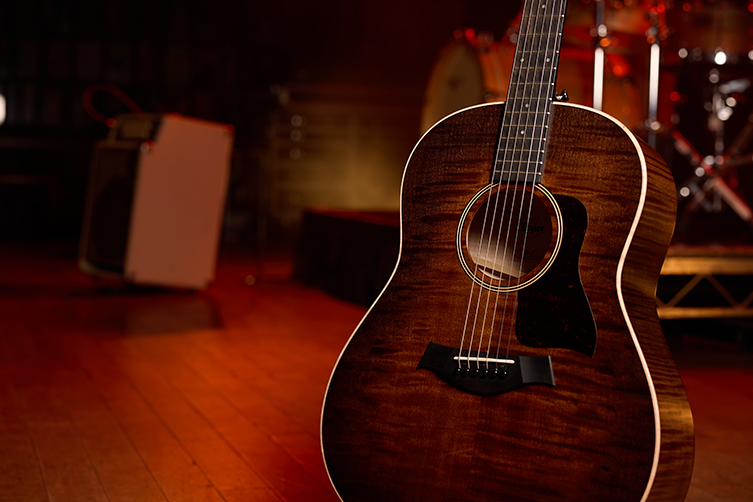 The large, room filling sound of the Grand Theater body design is both balanced and reinforced by the strength and top end response of the wood, making for a guitar that has a mellow yet rhythmically strong sound. This is helped by the V-Class bracing, which basically allows the top to be both stiffer and more flexible. The result? Louder notes that project more and last longer. It's an altogether richer experience, for the player and audience both.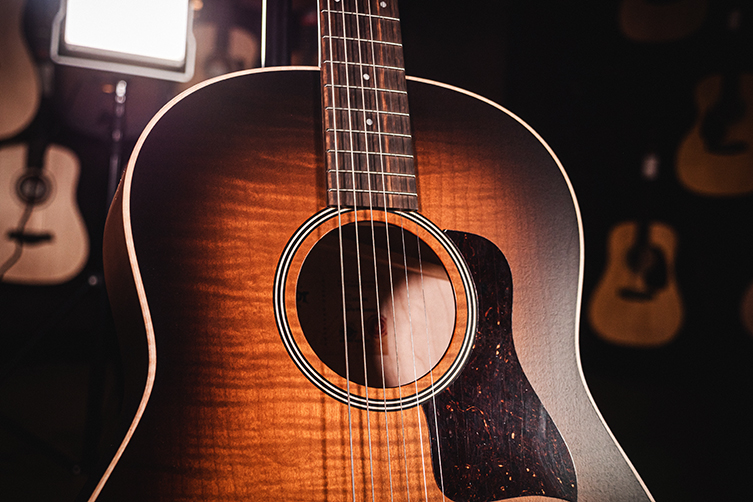 So the body is Big Leaf Maple, and the top is Figured Big Leaf Maple, and as you can see, our example has delicious flame figuring, brought to elegantly understated life by the Shaded Edgeburst matte finish. It's a lovely mix of fancy and subtle, which really works for us! The chamfered body edges add an additional touch of class for everyone who notices this upon picking the instrument up.
Exciting New Additions
Both of these lovely new Taylors are obviously designed with the player's experience foremost in mind. If you prefer a more intimate sound and feel, you'll likely love the GTe with its Mahogany construction and slightly shorter scale length. If you're more likely to strum in a band, you'll certainly appreciate how well the AD27e fits into that context.
It's worth noting that both models are fitted with Taylor's exemplary Expression System 2 pickup, and each comes with the fantastic Aerocase for a lightweight, sturdy solution for transporting your beloved new Taylor. Check out both of these brand new guitars now on the site, and please get in touch if you want to know more!
Click to View our Latest Taylor Guitars
Ray McClelland