Duesenberg Guitars: Modern Classics
Published on 02 March 2022
It is by no means easy to bring a new style of electric guitar to the market and have it be a success. Us guitar players are a conservative lot, and it takes something really quite special to entice us away from that handful of famous 1950s designs that we constantly gravitate to. For every successful Reverend there is a failed Parker Fly, and it never seems to be an issue with quality (Parker Flys were incredibly well made), either. It's a difficult and arcane task to succeed with originality in this market, hence why a great many makers stick to copying the classics.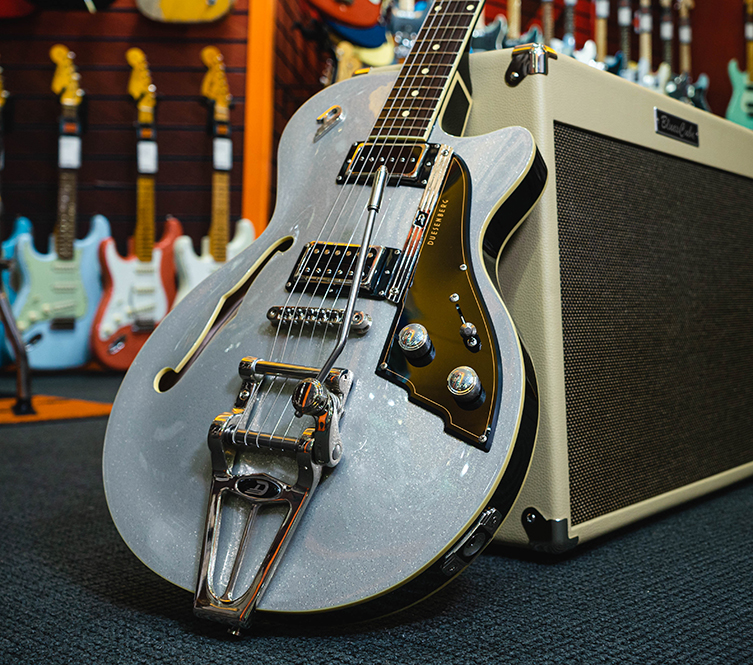 That said, it does help if your original designs are insanely, inarguably cool. There can be no question that today's brand, Duesenberg, are excessively cool. Their blending of '40s Jazz guitar-references in the design work, blended with a liberal dose of ever-suave Art Deco stylings work together to produce an aesthetic that is strong, individual and yet somewhat familiar. Could this be the key? They also play and sound fantastic, but we'll get to that. Priorities!
From Hannover with Style
Duesenberg, as we know them, started life in Hannover, Germany in 1986. Founded by Dieter Golsdorf, the idea behind Duesendberg was not, interestingly, to rewrite the book on electric guitar, but rather fit in and around players' needs, demands and expectations. Their Starplayer model, which we'll see in various guises throughout the blog, was "designed to bring something new to any table". The notion of 'as well as' rather than 'instead of' seems to be a smart move!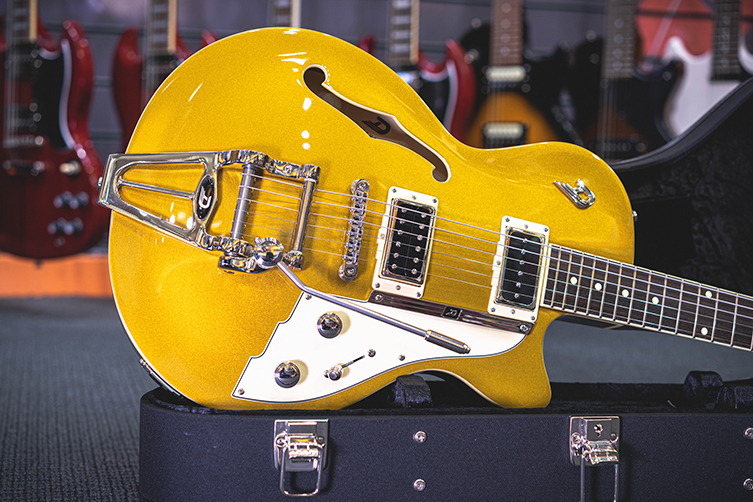 This refreshingly inclusive attitude is reflected in much of the brand's design work, from the 'in-between' shapes to the non-traditional (and yet not achingly modern) pickup choices and switching. It is fair to say that Duesenberg are rethinking and redrawing traditional styles and concepts, with an eye on particular schools of design. Here's what Dieter has to say:
"The distinctive appearance of Duesenberg Guitars demonstrates the Art Déco design from headstock, pickguard and hardware, while most of the body-designs are based on classic Jazz-Guitar shapes, as manufactured from the 1940s in Germany and the USA mainly by German emigrants." -Dieter Gölsdorf.
There's also the link to Duesenberg cars, but that's more in the grand stylings of the instruments than anything else: the car company has no direct connection to the guitar brand. We still see the similarity!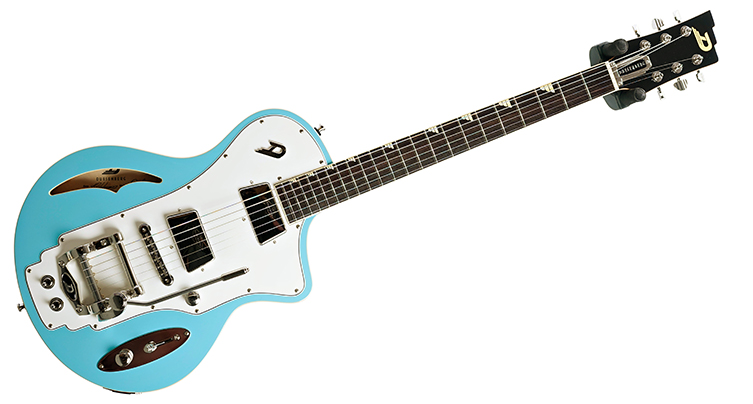 Distinctive, Unique, Versatile
Distinctive, unique and versatile. Those are the three words that we keep returning to when considering Duesenberg guitars. From solid body instruments like the Paloma to the semi-hollow Starplayer, there is a real 'identity' to each Duesenberg instrument.
The versatility is actually matched to the engineering and construction. For example, the Diamond Deluxe tremolo system, whilst obviously inspired by the Bigsby, has been continually worked on and refined over the decades, so that nowadays, it's well known as one of the most comfortable, smooth and efficient non-locking tremolo systems on the market. The function and feel informed the design and look.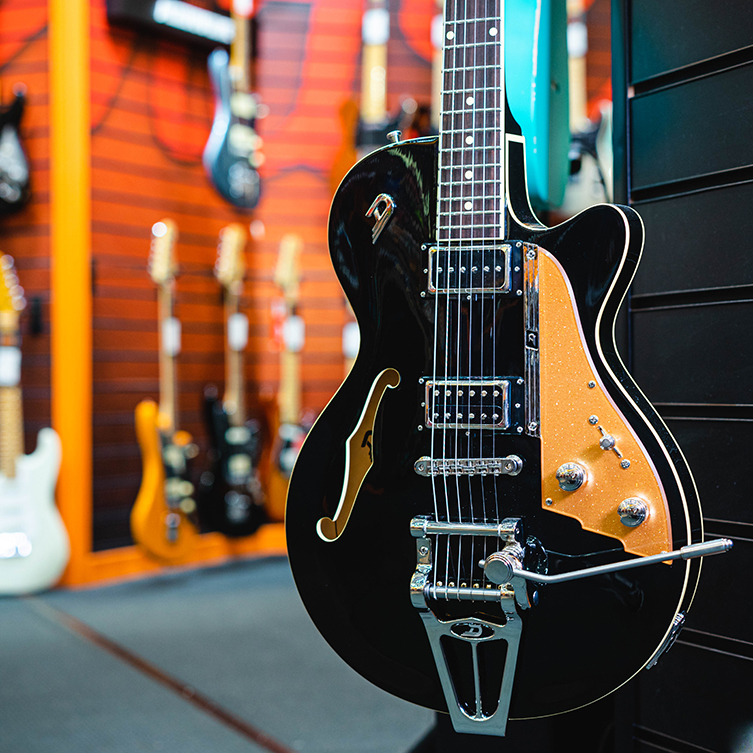 Indeed, that dedication to crafting a superior feel is reflected in the many comments from top-name players. Here's a quote from the late, great Chris Cornell:
"When you play a Duesenberg, you quickly find out why so many artists play it."
Pickups and Other Details
We've mentioned the tremolo unit already, so let's look at Duesenberg's pickups. They make these themselves in the same German facility that assembles the guitars. Varieties of humbucker, P90 and single coil are produced in order to cater for various sonic needs. Most Starplayer models are equipped with the PAF-style Grand Vintage humbucker, but there are also higher output Crunchbucker and D-Tron models available, too.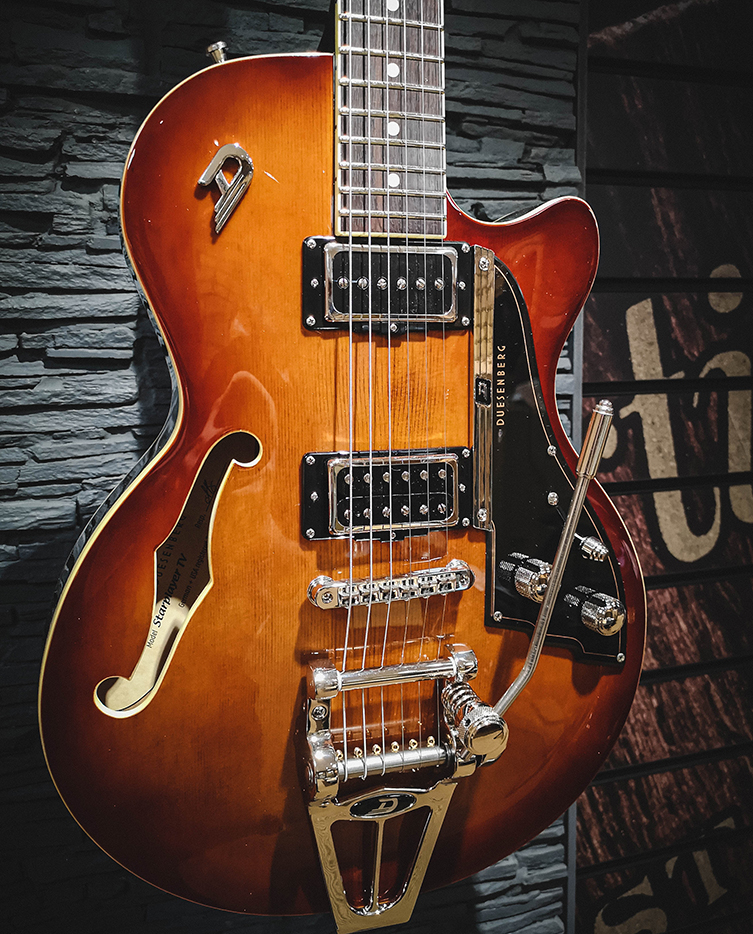 Another great example of Duesenberg's player-centric innovations lies in how some of the instruments are wired. Take the Starplayer guitars, which are probably the brand's signature model. These sport the aforementioned bridge humbucker, but are usually also equipped with a neck position Domino pickup, which is a humbucker-sized P90 pickup. Both units are selectable via a three-way switch, though here's the twist: the middle position remains with the humbucker, except it introduces a filter that removes low-end frequencies, resulting in a thinner, funkier sound. These types of useful features are what keep players interested in Duesenberg.
Another interesting detail with the pickups is Duesenberg's use of 'German Silver' for the pickup's base plate and cover. German Silver - otherwise known as nickel silver - is an alloy (actually invented in China) made out of copper, zinc and nickel. Lightweight and tougher than actual silver, German silver is highly resistant to both corrosion and electricity. To the player, this means that the material is excellent at transferring sound, whilst remaining transparent.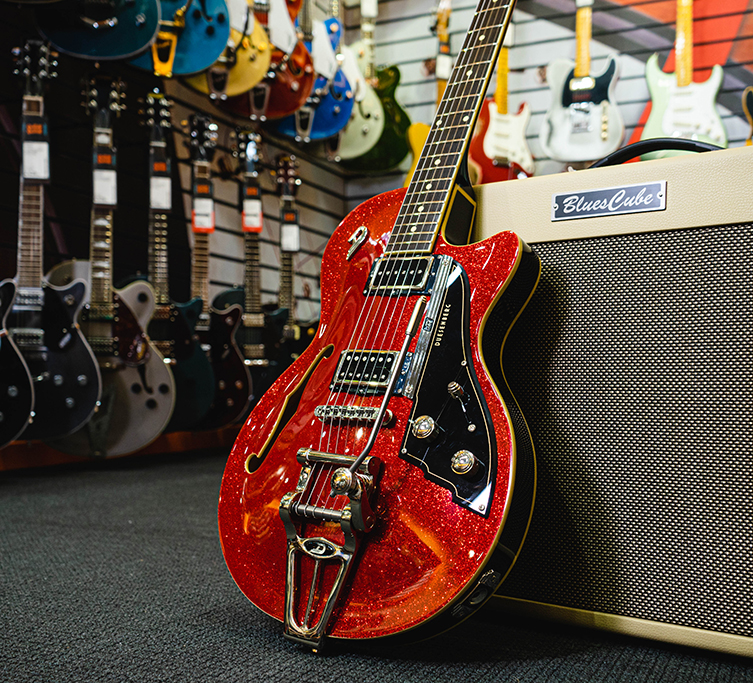 Duesenberg Starplayer
So, the 'Doozy' Starplayer is the first of our choices today. There are a few variations of this particular theme, but all of them share the same singlecut outline and semi-hollow construction. The main two, and the two we'll be looking at today are the Starplayer TV and the Starplayer III.
The Starplayer TV is the quintessential Duesenberg guitar. Singlecut, semi-hollow and flashing that Art Deco/Hot Rod-inspired style like no other, this is an inspired axe indeed. The TV model has an arched top and back (the back showing a subtle flaming of figured maple for extra class) with a solid centre block to minimise feedback. As with all Duesenberg guitars, the Starplayer TV's initial woodwork is carried out in Croatia, before the rest is taken care of in Hannover. Doing this keeps the quality levels high and the final price reasonable, for what is a professional player's instrument.
As mentioned earlier, there's a Grand Vintage humbucker at the bridge and a Domino P90 here, with that innovative three-way switching on board, too. The range of tones on offer is wide, and each available tone is distinctive, thanks to the clarity provided by the German Silver in the pickups, not to mention that inimitable 'bloom' of great PAF pickups combined with a semi-hollow body.
The scale length of the neck is 25.5", and Duesenberg string each Starplayer with a set of 10-50 gauge strings for a perfectly balanced, snappy response. From twangy, rootsy tones to contemporary hard rock, there's no genre that the Duesenberg Starplayer TV can't lend it's uniquely appealing voice to. These guitars are seen being played by Country stars, Rockabilly players and hard rockers, so there's an all-round appeal.
Starplayer III
So, that was the 'TV' model, so what makes this Starplayer III model different? After all, a cursory glance would suggest that they are in fact very similar!
Yes indeed, the difference is subtle but relatively significant: the III model has a flat front and back with no arched surfaces. This changes how the player interacts with the guitar completely, and also has an ever so slightly different tone, too. There's a quicker snap here, and perhaps a little less in the lower mids, though it's all relative since both guitars sound excellent. Both guitars sound wonderfully 'open' and expressive, so it's a matter of which one you prefer handling and hearing!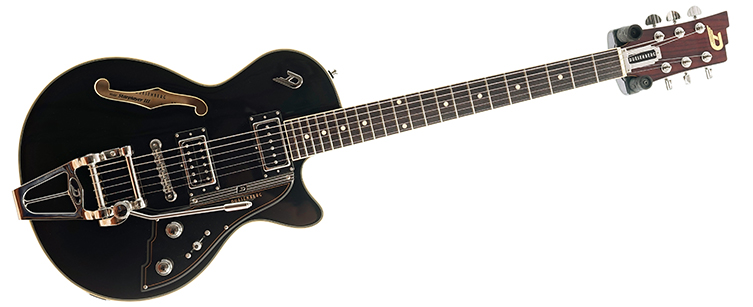 The flat body lessens the body's overall form, and is designed to be an easier on-stage proposition. We don't necessarily see ourselves having problems with either version of the Starplayer, but the flat surfaces here certainly speak to a 'taking care of business' mentality, which we wholeheartedly approve of!
Duesenberg Paloma
As so to a solid body option, the Paloma. Duesenberg's distinctive stylings play well on this offset option, with its bound offset Alder body and cool mid '40s 'stepped' detailing on both the headstock and pickguard. The Diamond Deluxe Tremola is present here too, adding an extra touch of vintage mechanics - and its attendant steampunk-ey looks - to the overall vibe.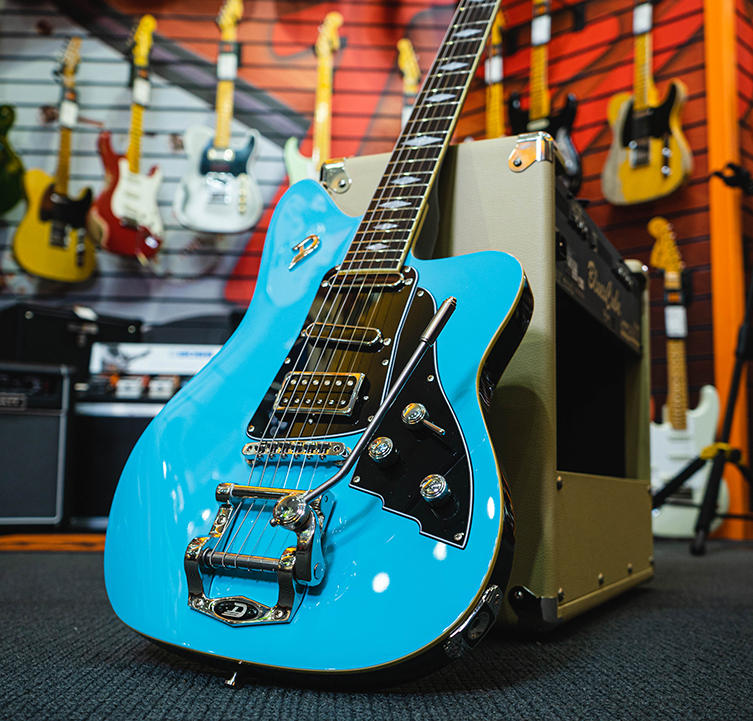 Pickup-wise, it actually feels somewhat unusual to find an HSS configuration here: it's normally the domain of Superstrats and 80s shred machines, but there's no doubting the versatility offered. We've encountered the Grand Vintage humbucker already, and the single coils fitted here are actually completely individual models: there's a Pearlito in the middle and an Alnico in the neck, both of which are specially wound by Duesenberg. The same top components and build quality are here too, making this a very stylish, very capable instrument for those requiring many bases to be covered during their gigs.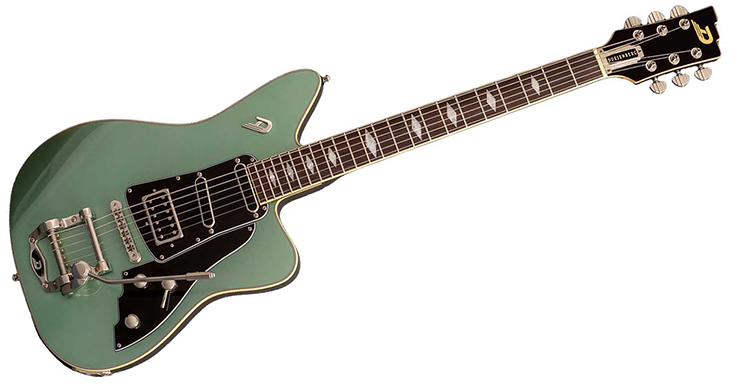 Modern Classic
We're big fans of Duesenberg. The quality is there, the playability is high, the selection of tones available from one instrument is impressive and they look gorgeous. They remind us of things we already love without being derivative, and that's perhaps the key nut to crack here: familiar but fresh, and thus inspiring. There's a real brand cohesion, but every guitar has its own charms too, and the overall vibe is not too specific to any particular genre. A new classic? Well, they're hardly new, but they are definitely coming into their own golden age. Learn for yourself why so many players like Joe Walsh, Jason Isbell and Johnny Depp are using Duesenberg.
Click to View our Selection of Duesenberg Guitars
Ray McClelland