The Best Left-Handed Electric Guitars for All Budgets
Published on 22 April 2022
Lefties often have it tough. There's less choice of models and colours for a start, and availability is never as plentiful as with guitars that are 'the right way around'. At guitarguitar, we've been conscious of this for many years, and have made a point of sourcing as many southpaw instruments as we possibly can. It makes sense to us: if we have what you want, you'll know where to go to get them!
We actually have more left-handed guitars than ever, and that's a wonderful thing! That said, it may now be beneficial to the prospective buyer for us to sift through this comparative Aladdin's cave of lefty treasures and sort them into some semblance of recommendation. If you are looking to buy a new left-handed electric guitar, this blog will highlight some examples that we find particularly good, from beginners to pros, and with a few genre-specific choices in there too.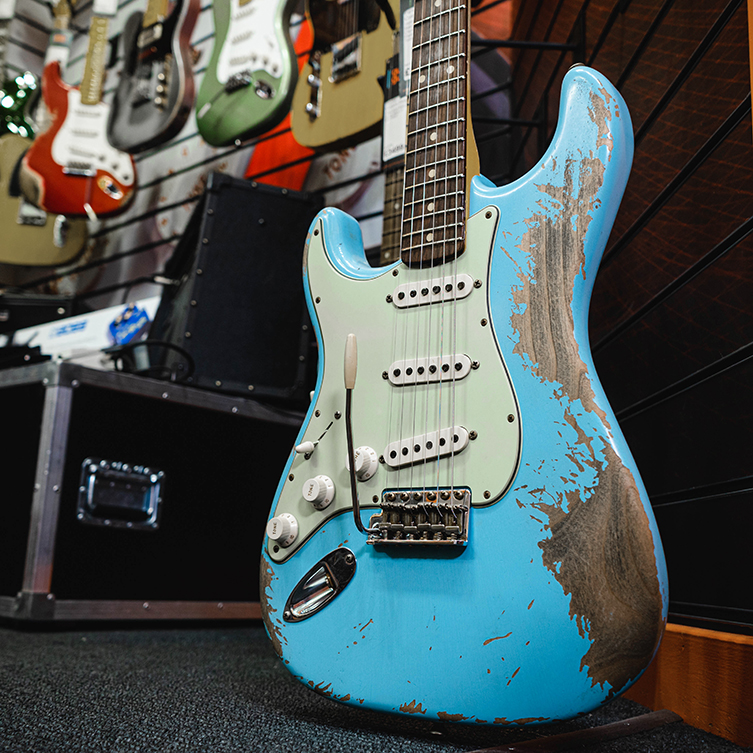 Each subsection here will contain one or two choices based on our experience as players, and for some of us, as actual lefties ourselves (check out our Confessions of a Lefty blog to read a more personal account). These choices are perhaps more indications than direct recommendations, given that your own taste and sensibilities will play as much of a role in your choosing as anything we could say! We do hope that this blog points you towards some very worthy instruments, though. Also check out our Lefty Legends blog for more inspiration.
Today, we'll begin with our beginner's choice and travel onwards from there. Let's begin!
Best Left Handed Guitar for Beginners
This choice was by far the easiest, when we were whittling ideas around for our selections. The Yamaha Pacifica 112 has been - and continues to be - the guitar to beat for beginners. Why? It's simple, really. The Pacifica feels, plays and sounds like guitars that are twice the price. Yamaha are famously consistent with their quality, and even at this modest entry level price point, they have produced a very solid, playable instrument with a range of nice tones. It holds tune well, it's fun and responsive and we really can't find anything to grumble about. For your first step as an electric guitarist, it's very hard to beat this.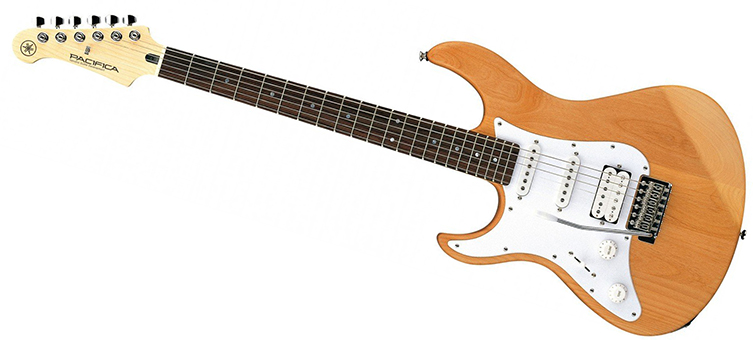 Best Budget Left-Handed Electric Guitar
It can sometimes be difficult to quantify what constitutes 'beginner' from 'budget', but for this article, we'd say that budget choices are what might be seen as a worthy upgrade from beginner models, as well as being excellent beginner models as well, of course. Whilst inexpensive, these guitars are of a good enough standard to be considered as excellent instruments for the lefty player a little further on in their quest for excellence!
We have two examples here for you today, and the first is the Squier Classic Vibe Jazzmaster. We've included this model for a number of reasons. Firstly, it's just great to see such an affordable take of Fender's popular offset being available at all (for years, you'd have to go for a more expensive range to get the Jazzmaster), far less in a left-handed model! Secondly, the Jazzmaster is a very hip instrument to own, and offers a sound and look that many players will be hoping to get in on.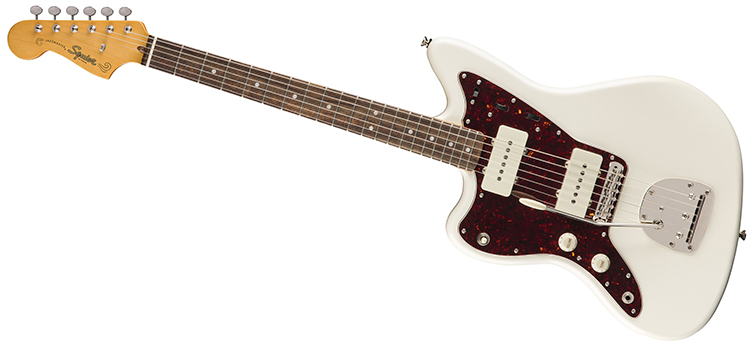 Also, these Classic Vibe Jazzmasters (Classic Vibe is a sub-brand of vintage-inspired Squier guitars) are actually more vintage-correct than many more expensive Fender models! Some contemporary Fender Jazzmasters eschew the extra circuitry, which for some players takes away a lot of the guitar's charm! We applaud Squier for all of this, and for producing an instrument with such character and quality for the price. Jazzmasters are very alternative/indie in terms of their genre appeal, but in reality, their open, chimney sound will suit most mainstream types of music. We think these Squiers are some of the smartest buys out there at the moment.
Another aesthetic altogether is catered to with the Jackson JS32L Dinky. Jackson are well loved for their high-performance rock axes, and this affordable model has all of the hard rock trimmings you could possibly ask for! Famous Jackson trademarks such as the pointed headstock and 'sharkfin' inlays are included here on their equally influential 'Dinky' body, which is their term for a bolted-on construction 'Superstrat' style.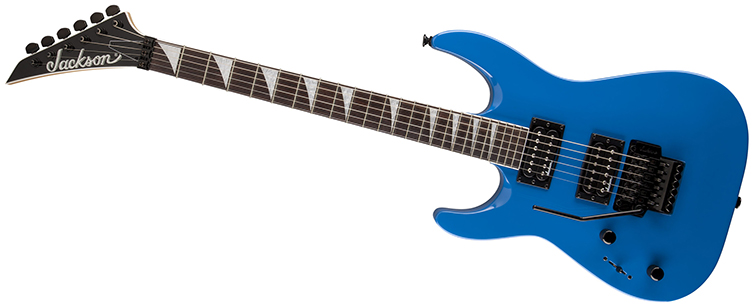 Jackson don't mess around here at all. This great value guitar comes complete with high output pickups and even a Floyd Rose locking tremolo. Some players will find the tremolo slightly more difficult to manage (mainly when tuning and restringing) but the sonic/playing benefits balance out the extra hassle in our eyes. Jackson offer plenty of models without the locking tremolo, but this beautiful blue Dinky offers tons of features to the left-handed player, at a great price. Given how influential the brand is, we think it's a real triumph to get so much of the Jackson vibe in lefty form, with such excellent value built in.
Best Mid-Priced Left Handed Electric Guitar
The area from around £500 up towards £800 is perhaps the most hotly contested 'league' of the electric guitar market outside the beginner's area. There are loads of great guitars for left-handers here, so we'll save some of the potential choices in this section for when we look at a few specific genres later on. Having said that, we're still increasing this section to three selections!
Our first choice, then, is the Fender Player Stratocaster. We do think that most lefty players probably see more than enough Strat-style guitars already, given that it's the most imitated shape of all, but we also recognise that the reasons for that is due to the Strat's evergreen popularity. It's the most popular guitar on earth for a reason, after all! A great many guitar lovers dream of owning a Fender Stratocaster, and luckily, lefty models are quite abundant.

The Fender Player Series Stratocaster LH is one of the iterations of Strat we've ever seen at this price point. Fender have wisely chosen to stick close to a classic blueprint here, with a 'spaghetti' logo on the headstock, a more vintage correct body size (they do differ slightly from era to era) and a set of quite excellent sounding alnico pickups. We're impressed by the tones available, and would encourage prospective buyers to think twice before budgeting for an automatic pickup upgrade, as we think it quite an unnecessary move here.
Concessions to modernity are in appearance too, in places like the tremolo (it's a more reliable '2-point' version instead of a vintage '6 point') and the neck (a thin C carve, 9.5" fingerboard radius and medium jumbo frets all give a contemporary playing feel), making an affordable Strat for the ages. Every lefty guitarist should at least take a test drive on one of these!
Another great choice today comes from Schecter, a brand who've more than made this corner of the market their own. They have a wide catalogue available, and offer a large selection of left-handed models, from which we've selected the Schecter Omen-6 Left Handed. This guitar is available both with and without a Floyd Rose tremolo (a Hot Rod model with a push in arm, no less!), so you can decide if whammy action is for you without missing out either way!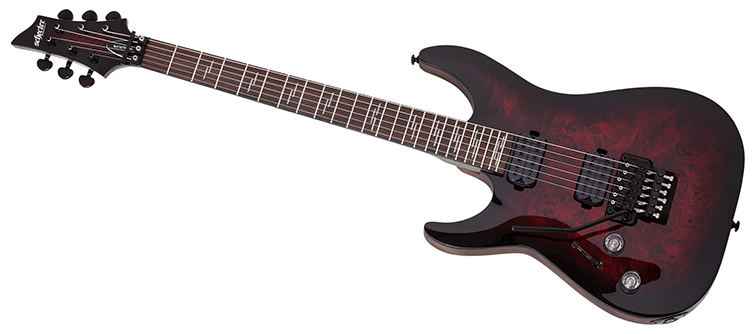 Schecter guitars typically do sit on the heavier end of the style/tonal spectrum, as this Omen does, but it would be a mistake to overly pigeonhole the instrument. Aside from its cool and slightly mean dark Cherry Burst finish, this is simply a very well put together, very 'capable' guitar that is not overtly 'metal'. Two octaves' worth of extra jumbo frets and a flat 14" fingerboard radius make this a hugely pleasurable playing experience, whilst the hot sounding humbuckers are actually versatile and quite able to be tamed with judicious use of the volume knob.
We applaud Schecter for making guitars of their own original design, rather than jumping on the familiar copycat bandwagon. Quality is high here and it'll look great on stage, too!
Finally, we feel it's only fair to include what is possibly the most popular mid-priced guitar in recent history. It is, of course, the Epiphone Les Paul and we've opted for the 50s variant from the current catalogue. The Les Paul is a powerhouse of tone, a classic instrument with beauty to match the guitar's ferocious roar and sustain.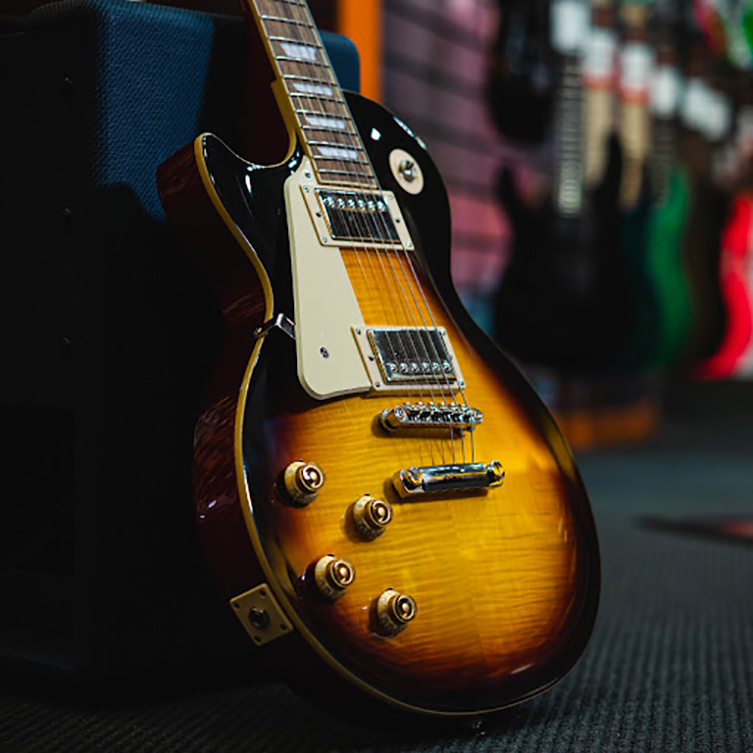 Epiphone offer both a 50s and 60s Les Paul, each with their own particular features. The 50s Les Paul, for example, has a thicker neck carve and that's something we feel we'd like to see more of! It's a very comfortable shape which adds significantly to the overall playing experience. Probucker pickups and good quality electronics help elevate an already excellent instrument into the realms of the must-have. The best part for lefties is that there's still a choice of three finishes. A classic take on a classic guitar, undoubtedly.

Best High-End Left-Handed Electric Guitars
This section of the guide is where we'll highlight a couple of guitars that are what we'd call 'professional' in quality. Whilst we'd definitely agree that many guitars these days are more than ready to grace a stage or studio, the guitars in this price range tend to be made with higher grade parts and with more meticulous attention to detail. This translates into instruments that can more capably stand the repeated rigours of life on the road, during sessions and everywhere else for a good number of years.
Style and genre obviously come into play at any price point, but our two choices for big-spent lefties are exceptional instruments with style and charisma to spare.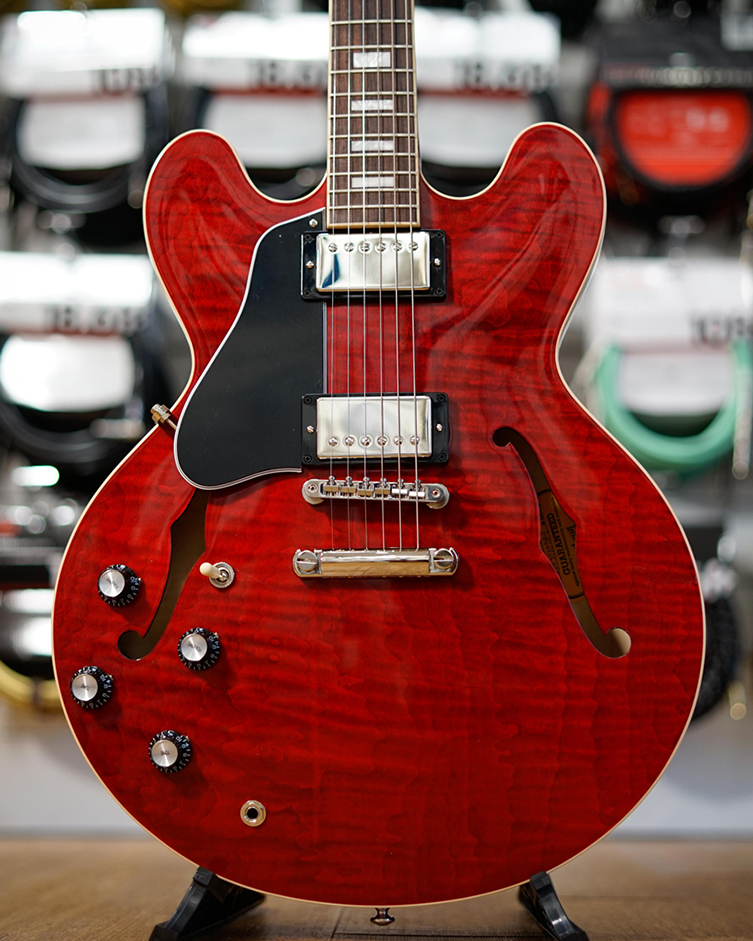 First up is a guitar that almost everyone can agree on loving: the Gibson ES335. We've opted for a particularly special model here, too. The Gibson ES335 Figured Sixties Cherry Left Handed adds a lovely figured maple veneer to the top and some nice mini block inlay details to the famous semi-acoustic design we all love.This is a stone-cold classic: a beautiful Cherry 335 for the left-handed player who prizes heritage and timeless appeal, as well as gorgeous tone.. Apart from punishingly heavy metal, the 335 is able to comfortably handle any genre, and has a real visual and sonic authority. A keeper, for sure.
Pete Thorn is a player of rare talent and ability, and his signature axe therefore has to be pretty world-class to match up. Lucky, then, that John Suhr and his team were on hand to provide him with the Suhr Pete Thorn Signature guitar! Pete plays a right-handed model so it's extra cool to see this great instrument being made available for southpaw guitarists.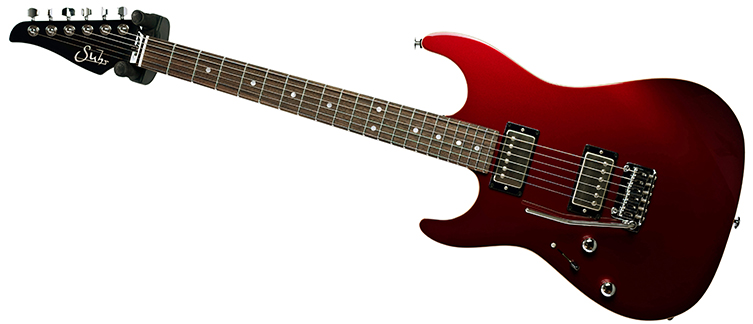 Handmade in Lake Elsinore, California, this subtly stunning guitar combines the best of the Gibson and Fender worlds in a way that doesn't feel derivative of either. This is a real player's guitar, with a huge amount of attention given to the (stainless steel) fretting, neck profile and overall fit & finish. Thorn's own signature humbuckers adorn this guitar, of course, and the chambered mahogany body keeps the sonic weight high but actual weight low. Although this is most certainly a 'technical' guitar, its understated, streamlined beauty allows it to effortlessly infiltrate any gig or session and feel immediately at home. It's a powerhouse, much like its owner.
Best Left-handed Guitars for Indie/Alternative Music
Indie and Alternative musicians can of course employ any type of electric guitar, but there is a definite trend toward certain styles over others. Particularly mainstream guitars like Strats and Les Pauls are usually less preferred in favour of offsets with slightly more quirky details, or affordable semi-acoustics. We've gone for one of each today, though please do bear in mind that many of the guitars we've already seen would be more than suitable for Indie guitar styles.
First up is a lovely semi, the Gretsch G2622LH Streamliner. No brand can out-cool Gretsch, and even at this very affordable level, the Streamliner packs a punch! We love the style decisions that have been made with this range: block inlays, small 'Baldwin-era' f-holes (look closely and you'll notice the difference, it's very attractive) and 'toaster-top' pickups all help make this Gretsch too cool for school.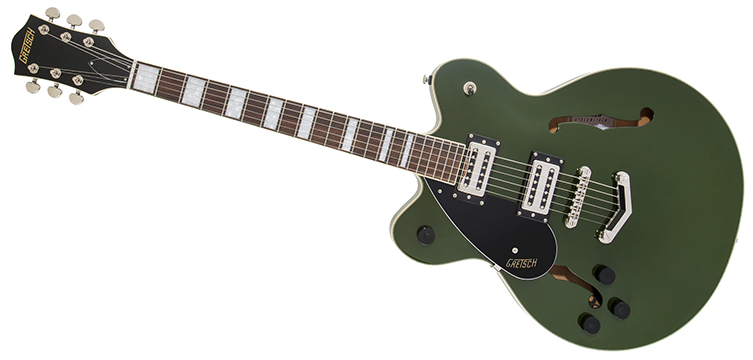 It's not just a guitar for posing with, though: there's some serious tone to be had from those pickups! Gretsch call these Broad'Tron pickups 'high gain' but we're not talking EMG monster metal units here. We'd say they handle gain really well and sound punchy, but are still definitely on the more 'vintage' side of the tone canyon, as it were. Their increased output is great for live use, and the guitar as a whole is very playable and dependable. Also, since it kind of matters, this particular style of guitar works really well visually as a left-handed instrument.

Our next choice goes straight to the heart of 1960s London culture. Burns are a brand who are linked to both a pre-Strat Hank Marvin and to countless psychedelic bands, so indie fans will appreciate the idiosyncratic stylings and retro tone. This left-handed Burns Marquee model in Fiesta Red includes all of the appointments that made Burns stand out back in the day, from the inimitable scroll headstock to the multi-part pickguard; the rez-o-matik pickups to the gold hardware. It's a style like no other guitar, and these current examples capture the appropriate golden era sonic chime, too.
Best Left-handed Electric Guitar for Metal
Metal-loving lefties have lots of choice when it comes to riff-monsters and shred machines. Metal is one musical genre in which the guitar is always central and supreme, so there's never a drought in terms of high-performance metal axes. We're picking two of our favourites today, but there are lots of excellent choices out there.

That said, we're super impressed with Solar guitars. Solar are a dedicated metal brand and cater well for left handed guitarists. Our choice today is the Solar E1.6FBB LH, and it's about as metal as it gets! The body shape is like a specially sharpened Explorer with a headstock to match, and the guitar is extremely well-specced. We're talking stainless steel frets, an Evertune bridge (never go out of tune again!) and great woods like ebony for the fingerboard and Mahogany & Flame maple for the body. It's a bold statement, but we are talking metal here, not trad Jazz! This excellent axe gives the lefty metal monger everything they'll need to unleash the fury, and then some!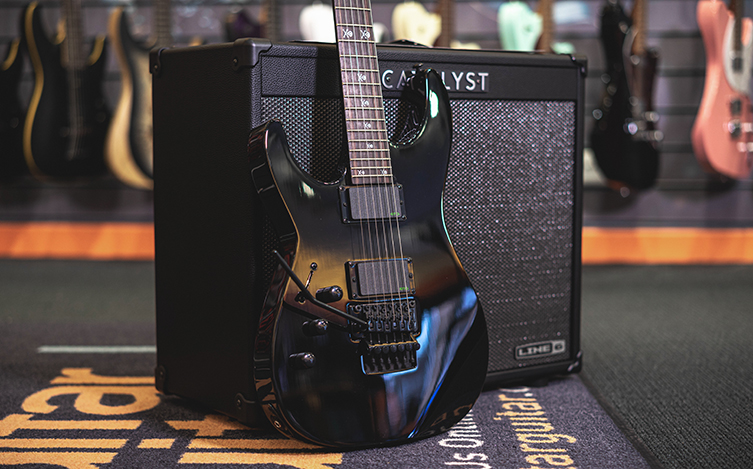 Our second choice is a signature model from one of the world's biggest metal bands. The LTD KH-602 is Kirk Hammett's famous ESP guitar in affordable left-handed form, and it's pretty great! The neck-through construction makes this guitar a real delight to play, and the active EMG pickups summon an unearthly crunch that's perfect for world-melting riffs and solos. This guitar has the Floyd Rose, it has the Skull 'n' Crossbone inlays, and perhaps surprisingly, it brings some beautifully mellow tones with it, along with the 'heavy'. Metal needs its quieter passages in the music, and this awesome KH-602 model understands that intrinsically.

If your tastes run towards the more modern and brutal, then you'll already have heard of Mayones. These Polish masters of the modern-style guitar build have been impressing us for years with their creations, handmade in Gdansk and stunning in every way. The Mayones Duvell Elite 7 LH is a sleek and deadly 7 string with stunning wood choices and features. Most contemporary heavy music makes use of extended range guitars these days, and this model boasts a 26.5" scale length in order to better handle those low B notes. Swamp ash, AAA Eye Poplar and Ebony collide in a gloriously deadly package here, ably assisted by a set of custom wound Bare Knuckle pickups. This marvellous creation can be as refined or as savage as you want it to be, and it's a real head-turner, too. Mayones are kings of this type of build, and lefties have not been left out!

Best Left-Handed Electric Guitars
We think there are more great left-handed guitars now than ever before. Hopefully, today's article has demonstrated that, as well as demonstrating how diverse the selection is. Gone are the days of a choice between only a black Strat or red SG! Your perfect instrument may well be one of today's selections, but make sure you chat to our staff and try out a selection of guitars before you settle on something: having a group of possibilities is a lot of fun, and it's not necessarily something you could do in other shops in the past.
We hope you enjoy your hunt for your next left-handed electric guitar. As ever, we are here for you, so do get in touch with any questions!
Click to View our Full Selection of Left-handed Guitars