Upgrading Your Guitar : A Beginners Guide to Modding - Fender Edition
Published on 06 June 2022
Back in the 50's, there was a small company by the name of Fender who released a few guitars and the rest was history…
Ok, ok, there is a lot more history to talk about, but I think most of us can agree that the release of the Telecaster in 1952 (technically 1950, but that's a story for another time) and the Stratocaster in 1954 shaped guitar culture, with its impact still being felt today. When looking back at the original releases there is an argument to be made that Fender nailed it at the starting gate, with other guitar builders and even the big F themselves creating guitars based on these original years.
Something we really love here at guitarguitar is that every player is different, which means a "one size fits all" mentality sometimes doesn't apply to some guitars. This is why we love Fender! Not only do their guitars come in countless different varieties, but they also are one of the easiest brands of guitars to modify and really make it yours! In this blog we will discuss a few different modifications that can be done on your Fender guitar. Some of these can be relatively easy to do yourself at home with minimal guitar tech knowledge, but for some of them we would recommend taking it to a luthier if you don't feel too comfortable doing it yourself.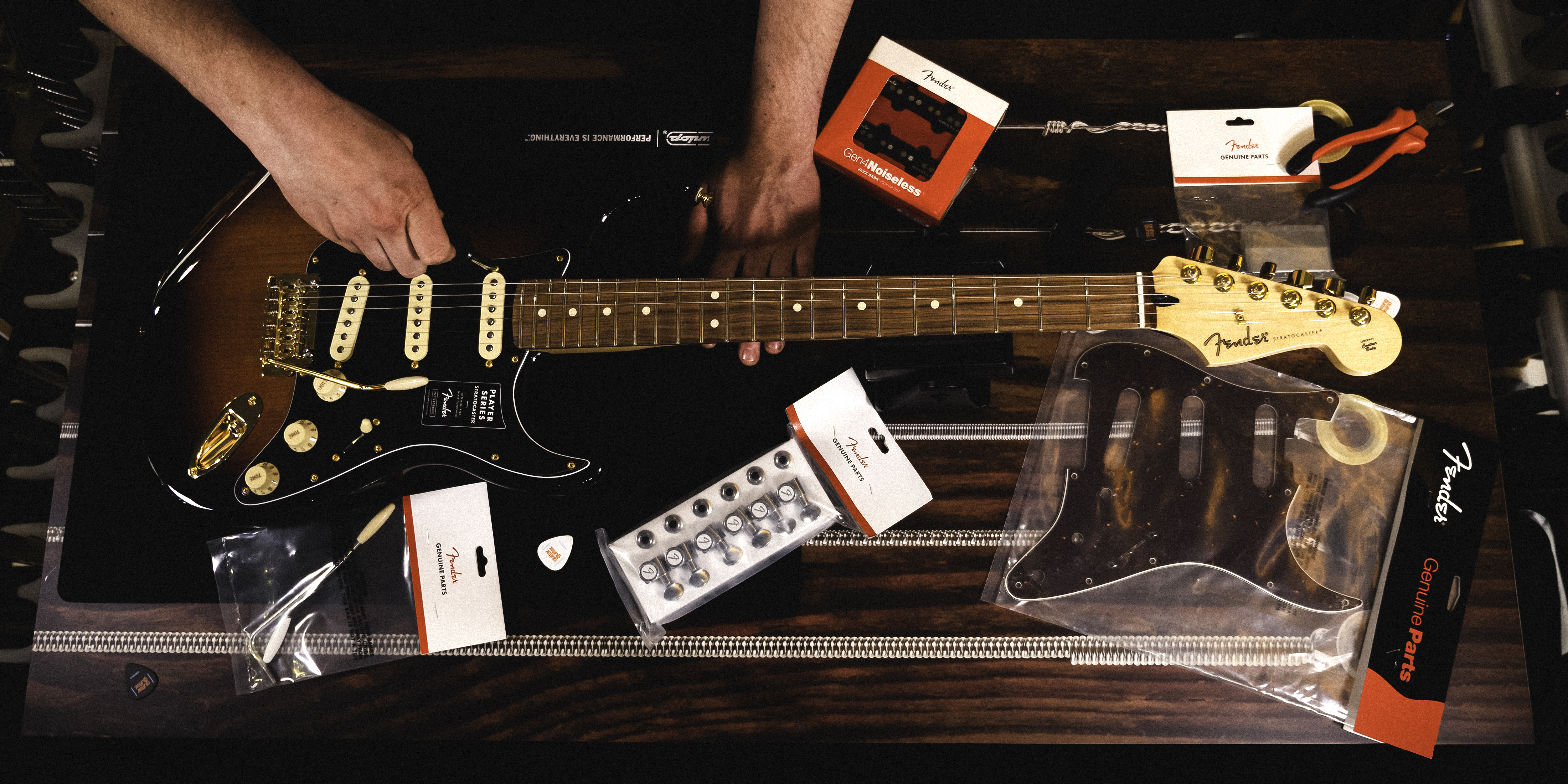 Let's get on with it!
New Pickguard
Let's start off with one of the easiest! Each Fender guitar model usually has a pickguard that can be swapped out for another style & colour very easily allowing you to completely change the look of your guitar with minimal effort. The Telecaster is probably the easiest with the pickups being mounted to the body, whereas on a Strat, the pickups can be mounted to the guard themselves. This isn't a difficult job but if you aren't comfortable with screwdrivers or putting your pickups to the correct height then a guitar tech can install a replacement guard for you.
Replace the Tuners
Depending on what style and function you are looking for in your number one, replacing the tuners is a quick and easy way to change an integral part of your guitar. If you are looking for easy string changes and a more modern look and function, check out locking tuners! These take a lot of the hassle out of changing your strings and also give you rock solid tuning stability, especially if you use the vibrato bar on your Strat or Jazzmaster a lot. If you are looking for a more vintage aesthetic, then a set of vintage inspired machine heads can not only make your guitar look the part but can also alleviate some weight in your headstock if you find your guitar has a little neck dive. Replacing stock tuners with higher spec models can also improve the accuracy of your tuning too, as they tend to have a much more sensitive gear in them which allows for much more intricate movements as you tune.
Hardtail Your Strats Bridge
Do you find yourself not using your floating tremolo on your Strat? The option to hardtail it may be for you then! What this involves is bringing the bridge flat to the body, and setting it up in a way that stops the bridge from moving. What are the benefits of this you may be thinking - this mod allows you to regularly change the tuning on your Strat without totally knocking the tension of the floating bridge out, which can cause issues with your tuning. If you do a lot of bending, this will keep the rest of the strings in tune too, because if you haven't noticed, when you bend a string on a Strat with a floating trem, the whole bridge will usually move when you bend a string. It's also a great way to stabilise your bridge if you are more of a riff focused guitarist allowing for rock solid rhythm playing! There are a few different ways of doing this. One of the easiest ways is to add a few extra springs to the back of your strats tremolo cavity, there are several signature models that already have this, like the Jimi Hendrix & Eric Johnson Strat. Or, for a more rock solid option, those handy with woodwork can place a wooden block between the trem block and the body in the tremolo cavity (don't worry, you can always take it out!). Your set-up may need a few adjustments, especially your action, but any guitar tech can fix this for you, as well as block your trem off if you want it all done in the one go.
New Neck
As most Fender guitars are bolt on necks, the option to totally replace the neck on your instrument does not require a saw and a power sander! Want to stick a Roasted Maple Tele neck on your Strat? You got it! Turn your Jazzmaster into a Baritone? Easy peasy! Not only will this change the look of your guitar, but going for a particular neck shape will give your guitar a totally different feel and allow you to mix and match specific neck shapes with the hardware that is installed in the body. Much like blocking a trem, if you don't feel comfortable with replacing the neck yourself and the adjusting that will require, then take it to a guitar tech and get it installed properly. More than likely your guitar will require a set up after installing a neck and this will mean you can get right to playing it without having to worry about dead notes or an uncomfortable action.
New pickups
The pickup options on Fender guitars are extremely vast, ranging from vintage inspired single coils all the way to face melting high gain humbuckers, a pickup replacement can completely change the characteristics of your guitar. One of the coolest things about Fender guitars is that most have the capabilities to install different sized pickups into them without having to gouge out massive sections of the body. Much like every item on this list, if you aren't comfortable doing this yourself, especially when it includes using a soldering iron, a guitar tech will happily install some new pickups for you. Fender and brands like Seymour Duncan have also made the process much easier by making Pre-Loaded pickguards that have all the pickups wired already and require much less soldering.
There is also a variety of pickguard options on these Pre-Loaded guards so you get a totally different look also! Double win!
This is just a small introduction to the wonderful world of modding your guitar. Your imagination can sometimes be the only limiting factor and you may well be on your way to creating a truly uniquely spec'd guitar which suits your playing to a tee. After all, this is how most signature models started!
Now, go forth and mod!