A Closer Look: Fender George Harrison ROCKY Strat
Published on 26 July 2022
"Be Bop a Lula"
"Go Cat Go"
They are one of the most beloved bands in history, and this guitar is one of their most memorable. We're talking, of course, about The Beatles and George Harrison's famous 'Rocky' Stratocaster. Fans of The Beatles (most human beings, right?) will instantly recognise this instrument, which will surely connect them to very fond memories of the Fab Four's psychedelic phase.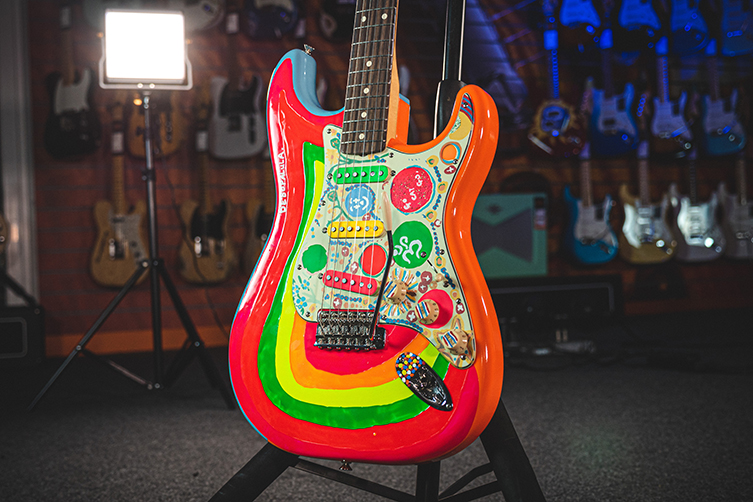 We all have our favourite Beatles period, whether it be their early leather jacketed Hamburg days, their aforementioned 'cosmic' time or their sober last stretch as a band. Whichever period floats your musical boat (submarine?), there's no doubt that the post-Rubber Soul records were a golden time for the band. This is the era in which George created what is now known as the 'Rocky' Strat.
The Rocky Strat
George Harrison's Rocky strat began life as a 1961 Sonic Blue Fender Stratocaster. Both he and John Lennon acquired matching Strats in 1965, but it wouldn't be long before George made it easy to tell them apart!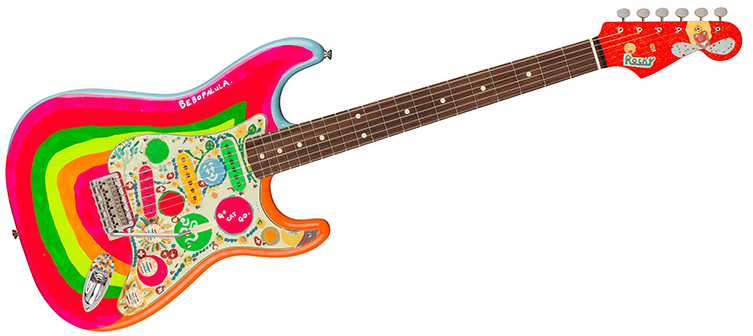 The Rocky Strat (no one seems to know why it's called that, and our best guess is that it looks like a stick of rock from a seaside ice cream shop) was created when George quite literally set about it with a set of fluorescent paints. He just went to town on it, building up the colours and adding details to the pickguard and knobs as he went along. It's a crazy piece of modern art as much as it is a record that sits in on some of the world's most famous music.
There's so much fun and personality to what George painted, too. It seems to sum up both his own personality and indeed the zeitgeist of the optimistic 'hippy' mid-60s. As George said himself:

"Colourful clothes, colourful houses and cars, and it was just logical to have a colourful guitar, so I got some dayglo paint out of a tin and just painted it with a brush."
The Rocky Strat appeared on Revolver, Magical Mystery Tour and Sgt Pepper's Lonely Hearts Club Band amongst many more. It later saw lots of use in Harrison's solo career, too, so to say it is a significant instrument is a huge understatement.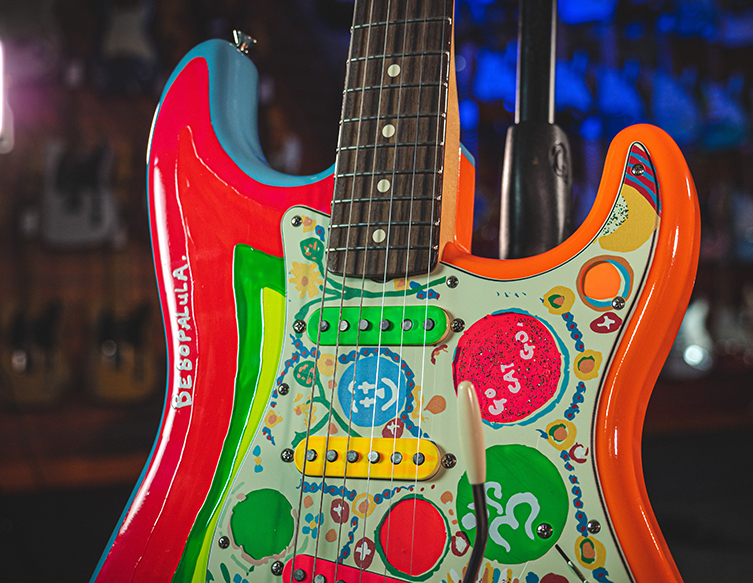 Fender George Harrison Rocky Stratocaster
All of the pictures you see in this blog are from Fender's brand new George Harrison Rocky Stratocaster. These are stunning, hand-painted Strats, each one bursting with psych-rock charm and colour. How great do these look? This is one specific occasion where we really, really recommend seeing these guitars in person, because no photos, by either Fender or us, are able to capture just how cool this Strat is! Even the few non-Beatles fans in guitarguitar have been commenting on how great it looks! Fender have really nailed it, and at a pretty reasonable price point, considering how hand-painted each guitar is.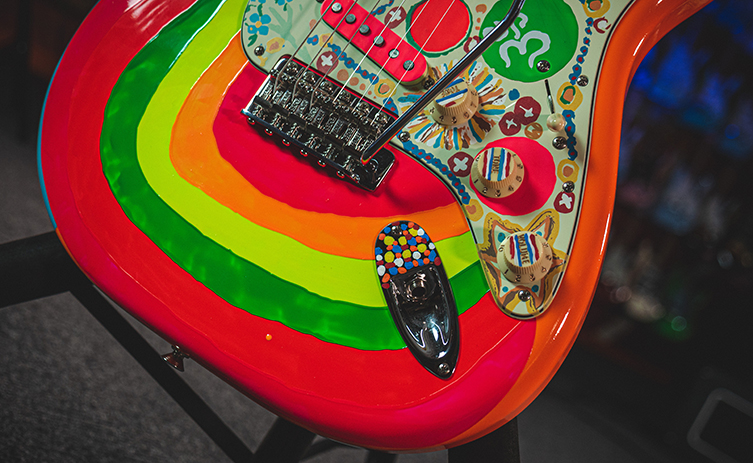 So, those of you who need no more encouragement should just know that these are currently in stock (as of time of writing) and you should click through to get yours as quickly as you can!
For the rest of you, we'll take a quick look at this wonderful new version of the famous Rocky Strat…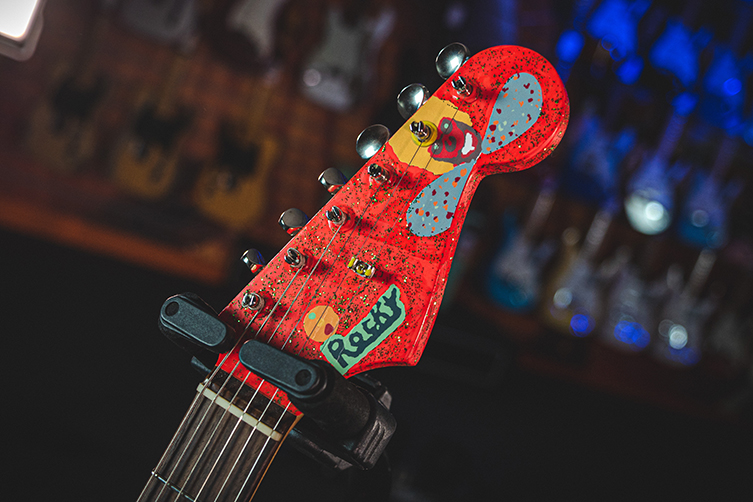 Hand Painted for Maximum Psychedelia
Yes, each of these guitars is hand painted, with quite an exhaustive level of detail. Each colour is matched to George's original, and each little 'imperfection' is recreated. It's quite something, given that these are Mexican-made Fenders that are not (as far as we know) limited edition guitars. All of the detailing, including the strips on the control knobs and the song lyrics (Gene Vincent's "Be Bop a Lula" and Carl Perkins' "Go Cat Go") are painstakingly applied here, and the cumulative effect is quite astonishing. As per the original guitar, you'll see the initial Sonic Blue finish on the back of the body, before it is eventually consumed by artfully (yet carefully) applied fluorescent paint. What a vibe!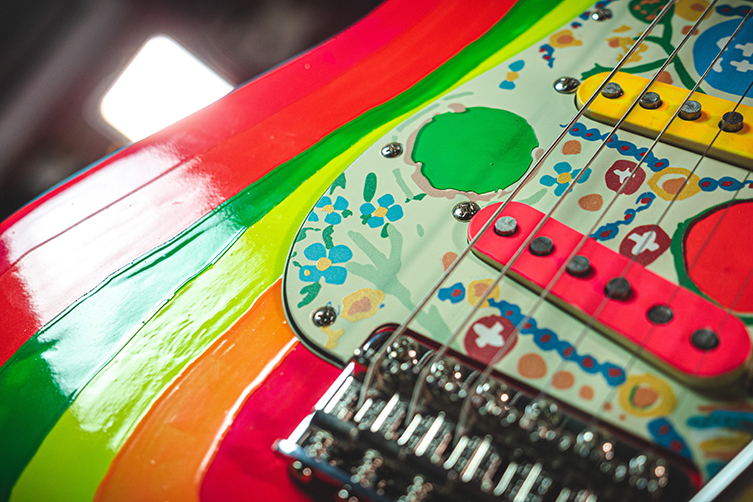 The Guitar Itself
So, the hand painted finish is amazing, but what of the guitar?
Well, it's a prime example of what Fender's Ensenada plant is putting out right now: brilliantly playable instruments with tons of vintage appeal. Our first impression (well, after getting over the great paint job, we mean) is how solidly put together it all feels. This is one serious Strat, with a feel and sound that will meet the standards of professional players.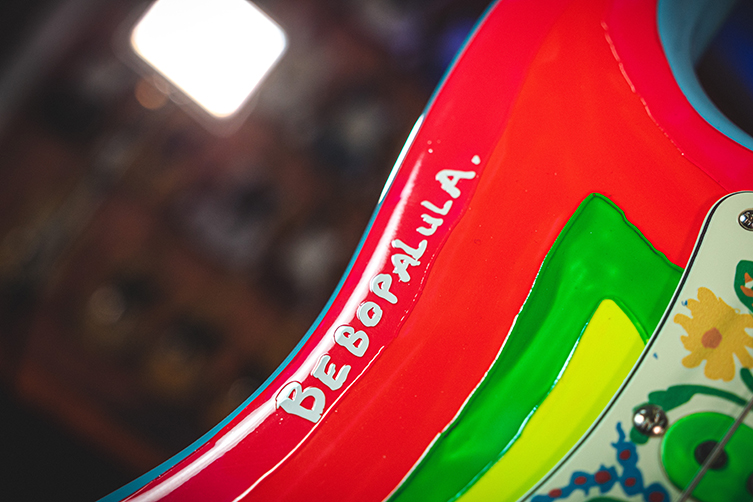 The neck left a big impression on us. It's a 60s C-shape profile, which feels nicely substantial in our hands without becoming 'fully SRV' if you get us! Fender mention a slab rosewood fingerboard in their literature, and whilst this does not necessarily change too much in terms of playing, it's a historical detail and it shows that Fender are fully committed to recreating George's guitar. A slab fingerboard is where both the neck and the fingerboard are levelled flat and glued together. It's the opposite to a round laminate fingerboard, which is when a thinner, rounded fingerboard is placed on top of a rounded neck. As we say, it's more a nod towards authenticity than anything else, but on this type of guitar, authenticity is everything! A vintage 7.25" radius (which gave us no problems on 'Gilmour-style' bends when we gave it a brief twang) and 21 frets contribute to the historical feel.
With that in mind, the other appointments are suitably 60s in their design. The pickups are vintage-voiced 60s units, so they are wound a little hotter than, say, 50s equivalents. A 6-screw tremolo unit is another authentic feature.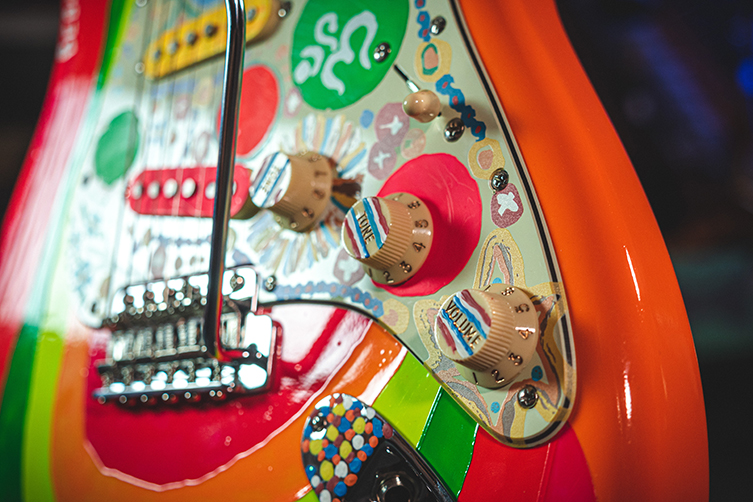 Extra Details
This guitar is a treasure trove of details. We've mentioned the striking paintwork, we've mentioned the painted control knobs and pickguard, and we've highlighted the song quotes painted on as text, just as George did in the 60s to his original. This replica Strat has further details, too! The back of the headstock has a sticker from the guitar shop where George (and presumably John) bought the original Strat, and there's a special engraved neck plate with an 'om' symbol. We reckon George would approve!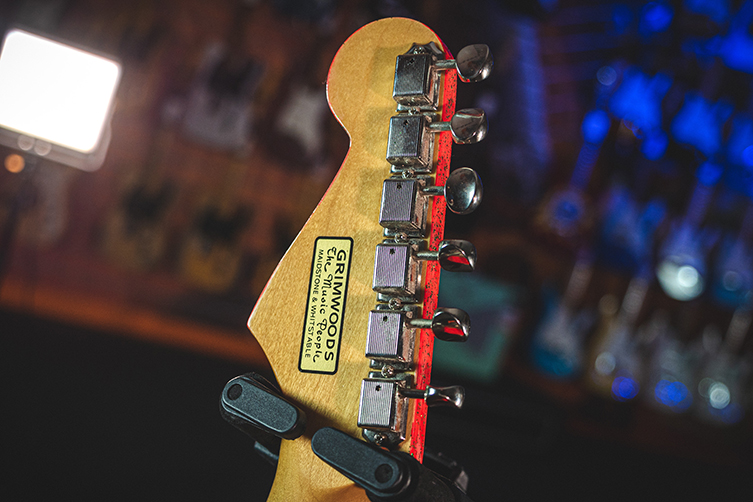 Be Bop a Lula
We think these Fenders are a fantastic tribute to not only the original Rocky Strat but to George Harrison himself. Fender have managed to bring to market an excellent guitar that's vintage correct and also meticulously hand painted, making the most of the famous association. It's an entirely effective and satisfying instrument, and the care taken in its creation is obvious to see.
Open up the included brown and orange hardshell case, delight in the vision you see before you, and get ready to explore 60s psychedelia like never before, using a great guitar that's based on one of Beatle George's favourite ever instruments.