Taylor Series Explained - Which Model is Right for Me?
Published on 25 May 2023
Are you feeling the pull towards Taylor guitars for your next six-string purchase? We fully understand that feeling: after all, Taylor make some of the best sounding, most beautiful and playable guitars in the world. It's inevitable that, if you appreciate good acoustic instruments, you'll end up eyeing the Taylor ranges with an intense interest.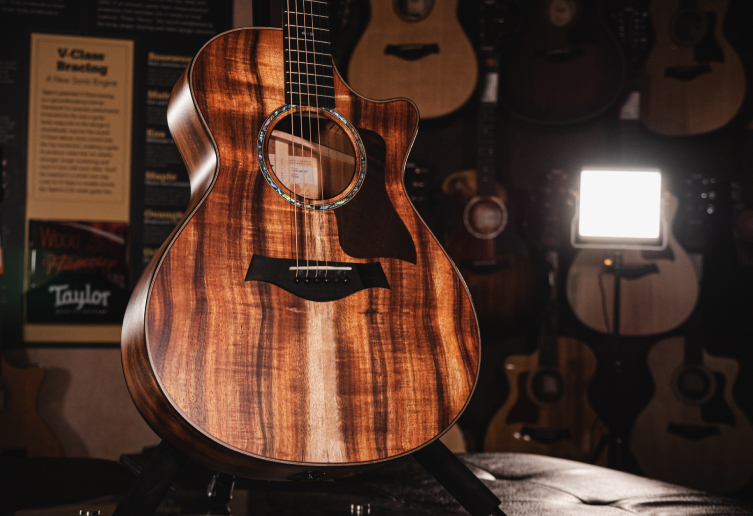 But what of those ranges? There are a lot of Taylor guitars available today, and they mostly fall under a numbered coding system that, from the outside, has more than a whiff of the Da Vinci Code about it. What does it all mean? How can you navigate these arcane numericals in order to more quickly get to the stuff that's important to you?
That's where we come in, friends. We are all Taylor enthusiasts here at guitarguitar, and as one of their biggest dealers, it befits us to have this knowledge stored away. Today, it's time to share that info so that you can walk into any gg store and quickly identify and locate the guitars you're interested in. We'll go into the numbers, what each digit means and also what each series is largely comprised of.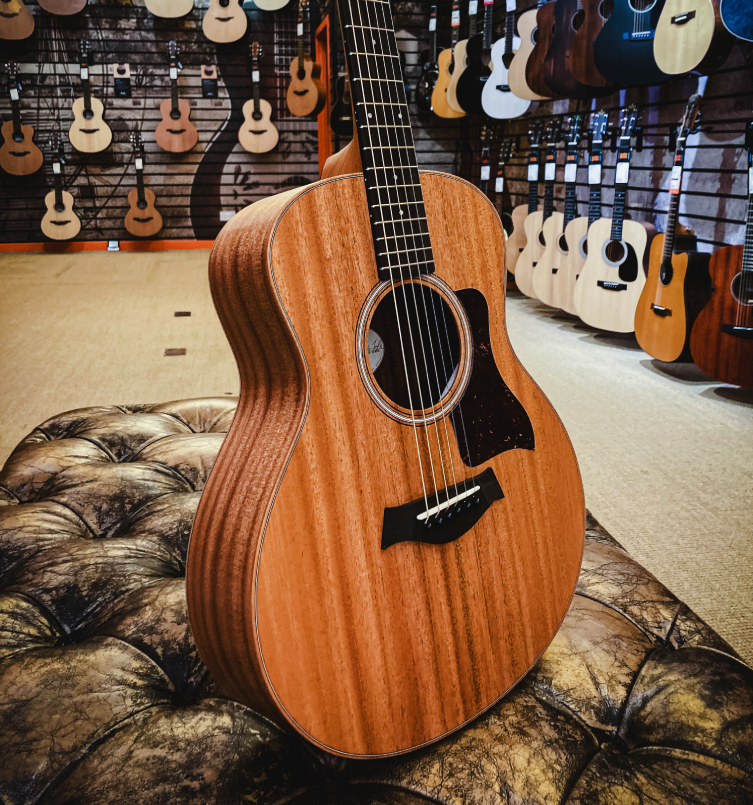 Once thing we'd say off the bat is that there will always be exceptions to the rule, not least in Taylor's Builder's Edition guitars (which we'll look at soon): take today's guide as a largely accurate blueprint but not an exhaustive tome and you'll be kept as right as rain. So, saddle up and join us for the ride, where we'll begin with the numbers and go from there…
Taylor's Numbering System
Let's just jump right in to the main naming structure Taylor uses for the majority of their output. It's a three number system and it's actually pretty darn straightforward. Here's the nuts and bolts of it:
First Number: this indicates the Series (which normally uses a specific wood for the back & sides of the body, plus a specific level of decoration that Taylor call 'appointments'), which we'll look at in a second. There are nine numerical Series form 100 to 900, plus a couple of others which we will include soon but not confuse you with here!
Second Number: this determines two things. Firstly, whether a soft (Spruce or Cedar) or hard (mahogany, koa) wood is used for the guitar's top. It also tells you if a guitar is a 6 or 12 string model. So, a 1 or 2 for the second digit dictates a soft or hard wooded 6-string guitar, and 5 or 6 translates as a soft or hard 12-string guitar.
Third Number: This last number tells you which body shape is used. The digits here range from 0 to 8, but miss out a few, for reasons that we do not know. In order to make the data simple to read, let's have another little list right below this one…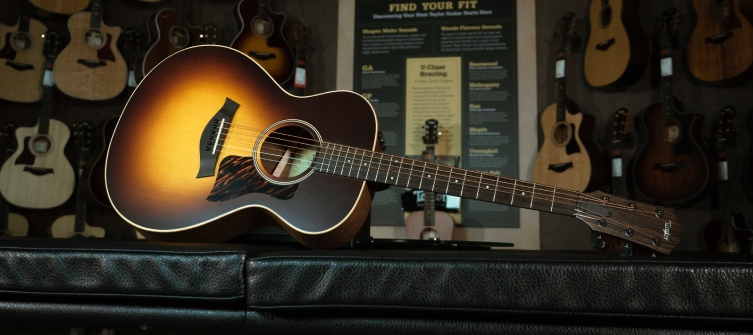 Taylor Body Shapes by Numbers
This list tells you which body shape the third digit of a model name applies to:
0 - Dreadnought
1 - Grand Theater (or GT)
2 - Grand Concert
4 - Grand Auditorium
6 - Grand Symphony (GS)
7 - Grand Pacific
8 - Grand Orchestra

So, from this data, we can deduce that a Taylor 114ce, for example, is from the 100 Series (1), is a 6 string with a Spruce top (1) and has a Grand Auditorium body shape (4). All in, it's 1-1-4. The 'ce' part simply means that it has a cutaway in the body and is an electro model with a pickup.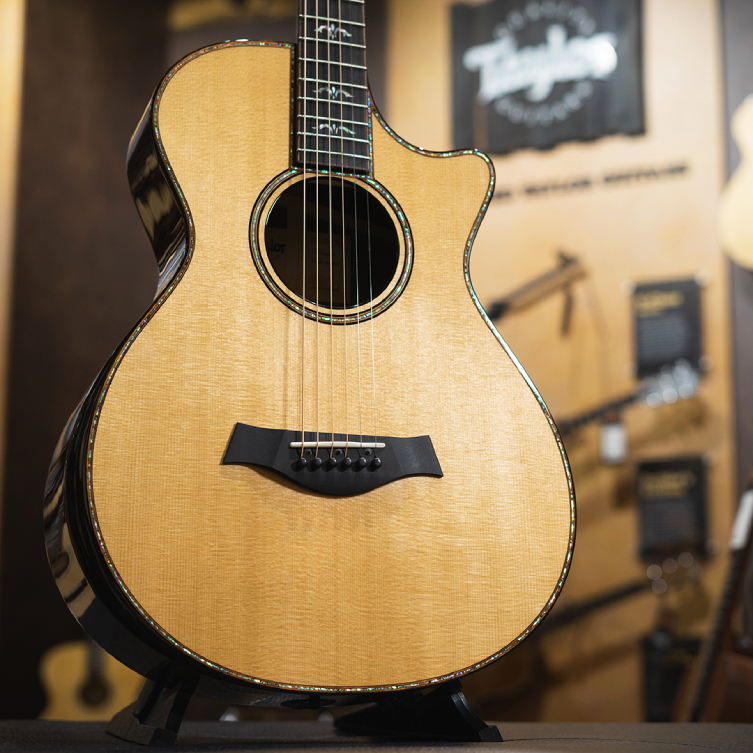 Another example could be a 912ce, which is a 900 series (9), with a spruce top again (1) and is a Grand Concert shape (2). 9-1-2 ce.
Make sense? Good, onwards to the Series themselves!
The Taylor Series
Each Taylor Series tends to refer to two main things. One is the style of appointments used (inlays, binding and other decorative elements) and the other is the type of timber used for the back and sides. Often, it'll also include the tonewood used for the top, but this is not a hard and fast rule.
Also, Taylor make a number of Builder's Edition guitars within each series. These are not bound by the same codifications of each Series, so you'll see alternate wood choices with Builder's Edition guitars, but the appointments generally still fall within Series parameters.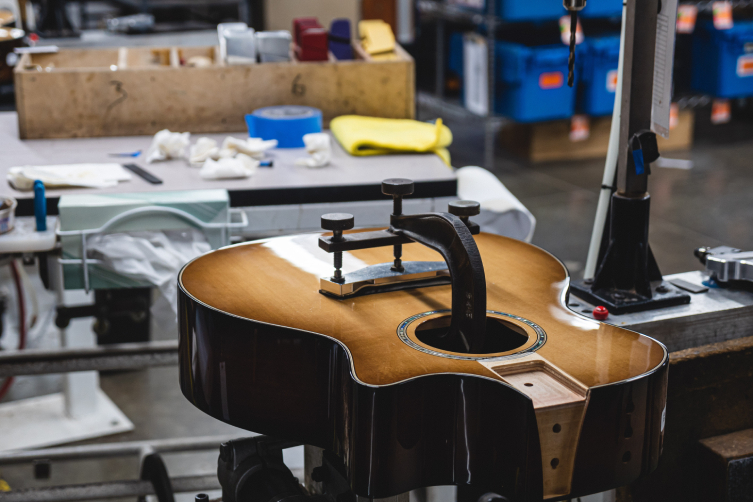 Oka, with that all said, let's break these Series down!
Baby Taylor: It's Taylor's original travel guitar, made with a bolted on neck.
GS Mini: Taylor's most popular model, it's a downsized Grand Symphony model, available in an ever-changing selection of woods.
Academy: Taylor's most accessible and affordable range. We hesitate to say 'full-sized' because they are a tiny bit shorter than the rest of the range (though still full-sized compared to the GS Mini). The narrower nut makes for easy playing and each guitar has a carved armrest.
100: Solid spruce tops, layered walnut back and sides. Limited body shapes, and a 12-string dreadnought is available.
200: Solid spruce tops with a choice of layered rosewood, maple or koa for the back & sides. There is slightly more decoration here than with the 100 series, plus there's a nylon string option too. The ES2 pickup system is fitted in all steel string models. Hugely popular range!
American Dream: Taylor's most affordable all-solid range. V-Class Bracing (more volume, sustain and punch, according to designer Andy Powers), a unique visual look that's different to all other ranges, and chamfered body edges.
300: All-solid (as are all subsequent series) with lots of body choices. Guitars will be made from either spruce & sapele or Tasmanian blackwood & mahogany. 12 fret models, 12 string and nylon models are included in the 300 series.
400: Entire range is Sunburst, with spruce & rosewood construction, V-Class bracing and ES-2 electronics. Italian acrylic is used in the inlay work, and body shapes include Grand Concert, Grand Auditorium and Grand Pacific.
500: Urban Ironbark (reclaimed wood) back & sides with a torrefied spruce top. Italian acrylic and faux pearl appointments are used here.
600: Maple back & sides, torrefied spruce top.
700: Made entirely with solid Hawaiian Koa. Fountain inlays, rosewood & paua rosette, polished bronze tuners and a very thin skin finish.
800: Indian rosewood & Sitka spruce timbers, ebony fingerboard and headstock veneer, 'radius' armrest, maple binding, mother-of-pearl Element inlay work.
900: Top shelf, deluxe upgrade of the 800 series, with same tonewoods but added deluxe appointments. Koa & paua edging around entire instrument, ebony armrest, Gotoh 510 tuners, Ascension inlays on West African ebony fingerboard.
Koa: Different to the 700 series, smoother, more refined sound, higher graded koa, ultra thin gloss finish, Expression System 2, some models have a spruce top.
Presentation: Absolute top end, best and most unusual tonewoods, non-standard combinations, high level of detailed decoration such as ebony and paua purfling and edging, intricate paua vine inlay work etc.

Which Taylor is Right for You?
So that's the differences you'll find in each series, but which is the correct Taylor for you? The obvious advice is to visit us at your earlier convenience and take advantage of the large amount of Taylor guitars we have ready to play in every store, but can we actually narrow things down a little first? Why, yes!
First off, assess what kind of player you are. If you are a strumming songwriter, a larger body like a Grand Symphony or Grand Orchestra may be good, as will a spruce top. Why? The bigger body gives a larger, deeper accompaniment as you strum, and the brightness of the spruce allows a percussive element into the mix.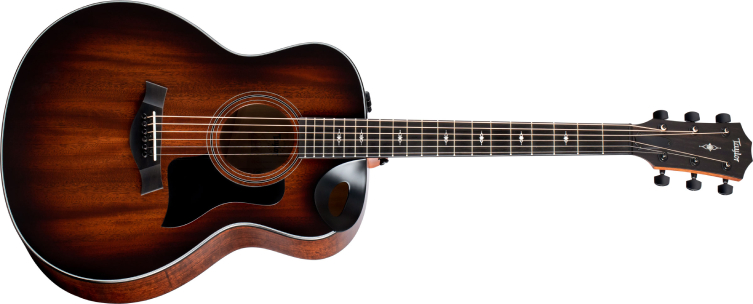 Fingerpickers might like the size of a Grand Concert model, and a 12-fret model will increase the intimate playing feel you may prefer by bringing your left hand ever so closer to the body. You may prefer mahogany or koa for your wood choices. Why? These woods are warmer and richer, and the smaller body makes individual notes more defined, a perfect thing for melodic playing.

If, like many players, you like doing a little bit of everything, then the Grand Auditorium seems to be the preeminent choice. It doesn't every really nicely, with enough low end to satisfy the strummers without the body being too large for comfort. Another great choice is the relatively new Grand Pacific body shape, particularly with a spruce top.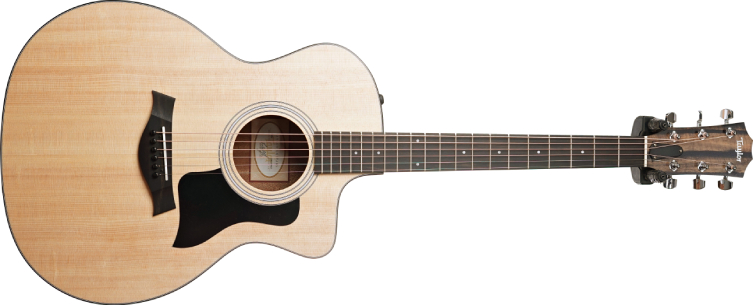 In terms of actual models, well, that depends on your visual tastes, not to mention the depth of your wallet! As you've hopefully seen today, the more expensive Taylor series bring more decorative features and higher graded timber to the party, but the actual sonic and player-centric features are at a high standard throughout all series. Put simply, you'll enjoy a professional feel and sound from a 312ce, an experience which will not be a billion miles away from the likes of a top-end 912ce when it comes down to it. You're paying for extra beauty, skill and scarcity when you climb the Series, but after a point, it's less about objectively 'better' sounds.
Taylor make a large number of guitars to fit a wide ranges of requirements and preferences. There is almost certainly a Taylor acoustic guitar to suit you, so if you are unsure, please do get in touch with us and we're set you on the path to your dream Taylor!
Click to View our Entire Taylor Range